So you've arrived in the Eternal City – now what? Getting used to a new transport system in a foreign city can be intimidating. We're here to help make it a smooth transition.
We'll help you get to grips with the best ways to explore the city, from reaching the center from the airport to navigating the city itself.
---
Getting To & From Rome
Airports
Rome has two airports – Fiumicino (Leonardo da Vinci) and Ciampino.
Fiumicino
As Rome's main airport, Fiumicino is very well-connected to the center of the city. Most major airlines and long-haul flights into Rome will land here.
During the day – roughly between 5 am and 11.30 pm – you can catch the Leonardo Express train and arrive at Roma Termini within 30 minutes. However, it isn't the cheapest option. The regional FL1 train takes longer but can also get you to the center for less.
Buses and shuttles are the most budget-friendly alternatives available at Fiumicino Airport.
Ciampino
Rome's smaller airport is mostly used by charter flights and budget airlines like Ryanair.
It's not as convenient to reach the center from Ciampino, but it's still a fairly large airport and has public transport links into Rome.
You can catch a bus into the center and get off at either Laurentina station to reach Metro Line B or Cinecittà for Metro A. From there, you can easily reach Termini station and most parts of the city.
If you're arriving late at the airport, the only way to get to Rome is to take a taxi or have a private transfer pre-arranged.
Airport Transfers
It should be clear by now that you'll have several options for transfers into the city.
The cheapest airport transfers will be the buses, but if you want the most convenient option, a private transfer or taxi may be preferable. Often, your hotel or accommodation will offer a private transfer, and the driver will wait in arrivals for you. It's typically more expensive but stress-free.
You don't have to worry about being scammed by taxi drivers from the airport; all taxi trips from Rome Fiumicino to the center (within the Aurelian Walls) are charged at a flat rate.
Rome from Other Cities
If you're arriving in Rome from other cities without flying or driving, you're probably arriving by train.
You can reach Rome from almost any city in Europe by train if you're willing to make a few changes – for instance, you can get to Paris by switching trains in Milan.
As for direct trains, you can visit Naples (and from there, Pompeii and Sorrento), Milan, Florence, Turin, and even Venice easily from Rome using only public transport. The vast majority of these services will arrive at and depart from Rome's largest train station, Roma Termini.
Getting Around Rome
The historic centre is not particularly large (only 2,5 km/1,5 miles from the Colosseum to Piazza di Spagna), and so is easy to visit on foot, as most monuments are to be found in the same area.
There are times you might want a break from all the walking or venturing a bit further out from the main sights. Thankfully, there is an extensive public transport system that makes traveling around this ancient city a little easier.
Public Transportation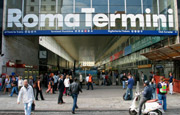 Rome's bus network is extensive and functions quite well, but the metro (subway) is much simpler for short-term visitors to master.

Metro

The Roman metro (called Metropolitana by residents) goes around rather than through the historic city.
Digging out a metro line is hugely expensive and complex in Rome, as there are so many historically significant sites – hundreds of excavations have to take place to prevent accidentally destroying precious artifacts. For this reason, Rome only has two main lines, A (red) and B (blue), which cross at Termini Central Station.
You can reach the likes of the Vatican and Colosseum by metro, though, so it's still a useful service for visitors. Trains run approximately every 7-10 minutes, from 5:30 am until 11.30 pm every day (until 0:30 am on Saturdays), and you can purchase tickets in machines at each station.
Buses
There are hundreds of bus lines, running from 5:30 am to midnight. It's by far the most extensive public transport network in Rome and is great for neighborhoods on the southwest side of the city, where the metro doesn't reach.
There's also a night service that runs from Termini (Piazza dei Cinquecento) and Piazza Venezia between 00:30 am to 5:30 am – perfect for night owls.
Barring the night service, you should know that all bus tickets must be purchased before getting on the bus. You can buy tickets from tabacchis, newsstands, bars, or vending machines (exact change only) at metro and major bus stops. You can't buy a ticket on the bus. You'll need to validate your ticket by stamping it in the small machine onboard or risk a fine.
Trams
The tram network in Rome is also excellent and skirts around the center of the city. They follow a similar timetable to the buses (but without a night service) and have the same ticket system.
For visitors, the most useful line is likely to be the route from the Colosseum to the lively neighborhood of Trastevere. Trams offer a clean and smooth service and aren't beholden to waves of traffic, making them one of the faster ways to move around the city.
Trains
Unless you're transferring to the airport or going to another city, you're unlikely to be using any trains when visiting Rome.
There are some local services running from Termini to the suburbs, like Tiburtina or Ostiense. As mentioned earlier, trains are great for inter-city travel in Italy or reaching Fiumicino Airport.
Taxi
If you need a taxi, remember to look for the official metered white or yellow taxis. There are taxi ranks in many locations throughout the center, but it's nearly impossible to hail one driving down the streets, particularly at night. Make sure your taxi is metered; insist on the metered fare rather than an arranged price.
To call a taxi within Rome, you can try 06 3570, 06 4994, 06 6645, 06 5551, or 06 8822.

Although most of the sights in Rome are within walking distance or accessible by public transportation, two wheels will give you the freedom to see exactly what interests you and in less time.
To really do as the Romans do, you have to drive around on a Vespa. You'll have no trouble finding rental places all around the city. Electric scooters are also commonly used in Rome and are great for short journeys.
Transport Tickets
You have a few options when it comes to transport tickets in Rome.
A standard one-way ticket (BIT) is valid for 100 minutes after validation (on the bus, by stamping it; on the metro, passing through a turnstile). You can use it for as many transfers as you like in that timeframe, but can't use it again after exiting through a metro turnstile, even if it's within 100 minutes.
If you don't want the fuss of purchasing multiple tickets from a Tabacchi shop (or similar), you could buy a multi-day pass.
There are 24-hour, 48-hour, and 72-hour travel cards available, which may well end up significantly cheaper if you're planning on using the buses and metro regularly. If staying longer, there is a week pass available.
If you purchase a Roma Pass, you have unlimited access to public transport while the pass is valid.
Hop-On-Hop-Off Buses
Hop-on-Hop-off buses are a staple of tourist cities everywhere. These open-top double-deckers can be a fun, no-hassle way to explore the city; they stop at the major tourist points, including the Vatican, Trevi Fountain, and the Colosseum.
While quite expensive for a single day, the price is more reasonable if you buy a 2 or 3-day pass.
FAQs
Is Rome a walkable city?
Yes, Rome is an incredibly walkable city. 

All of the main attractions are close to each other and can be reached on foot. If you're hoping to go straight from the Colosseum to the Vatican, you'll probably want to get the metro. But most attractions are a maximum 10-minute walk away from one another and allow you to enjoy the beautiful streets of Rome's historic center.
What is the best transportation to use in Rome?
The metro system is the easiest to use – if you've used a subway system at all before, it will be instantly familiar. It is a bit limited in where you can reach in Rome, so the buses may be preferable if you're hoping to visit the likes of Trastevere.

If you're confident, you might find a Vespa is the best transportation for you.
What is the best way to travel around Rome?
Whichever way is most comfortable for you is the only answer. I would advocate for walking if you're in the center, giving you time to soak in your surroundings, but this may not be possible for you.

If you're using public transport, the metro and buses are the best way to travel around Rome.
What is the cheapest way to get around Rome?
Walking, of course. But in all seriousness, public transport, in general, is very cheap in Rome. The BIT one-way 100-minute ticket can be used on the buses, metro, and trams.
What is the main transportation in Rome?
Other than cars and scooters, the metro is the main mode of transportation in Rome, closely followed by buses.