The Sistine Chapel is home to some of the most fascinating frescoes in the world. Come join visitors from all four corners of the earth in gazing up at the world's most famous ceiling.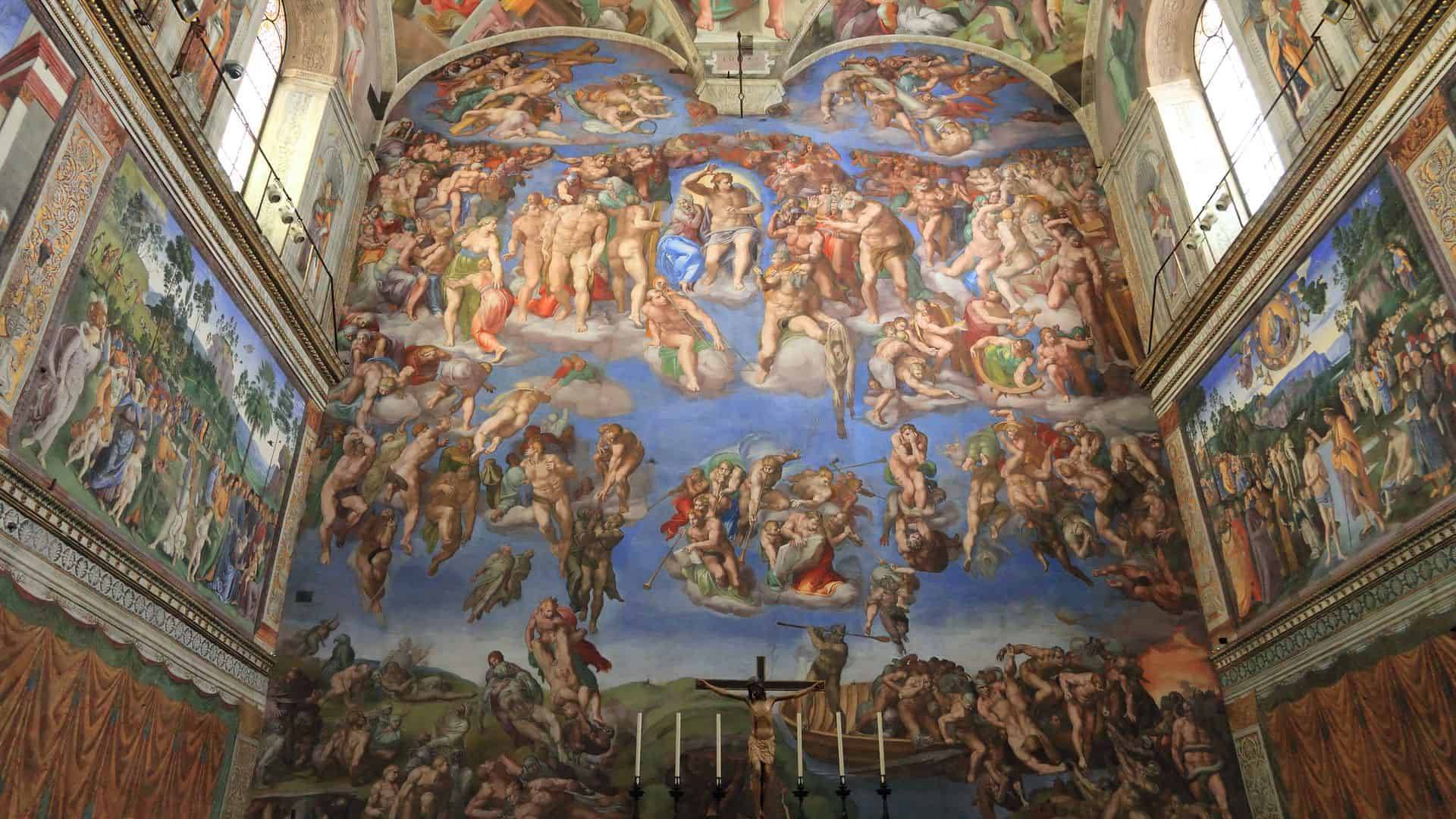 Highlights
Rediscover one of the most famous images in Western art: the Creation of Adam
Explore the lofty heavens and the fiery depths of hell in Michelangelo's Last Judgment
Get lost in the details of the chapel's walls, painted by a team of top Renaissance artists, which include Botticelli and Perugino
Visiting the Sistine Chapel
To visit the Sistine Chapel, you must also visit the Vatican Museums.
Or at least buy a ticket for the Vatican Museums, walk through them blindfolded, and then visit the Sistine Chapel. There really is no other way.
Here's the thing, though; visiting the Vatican Museums is like going to a Michelin-starred restaurant and having a fifteen-course meal. It's all great, but what you're super excited about is the dessert (in this case, the Sistine Chapel).
The trouble is, by the time it's served, you barely know where you are or what you are looking at anymore.
Such is the way the Vatican Museums are laid out, and such is the vast amount of stamina that will be required of you when you go.
Should you go?
Absolutely.
It's how you go that's going to change everything. The Sistine Chapel is more than just Michelangelo's ceiling.
But first things first. Let's get you there and discuss what to wear.
Tickets & Prices
Tickets grant you access to the world-famous Sistine Chapel, as well as the many other galleries and collections in the Vatican Museums.
By booking online, you'll avoid the queue – infamous for being the longest in Rome. Use that saved time to spend even longer enjoying the galleries.
Visit the Sistine Chapel with one of these hand-picked tickets.
A few things to keep in mind:
Book your time slot online and arrive at least 15 minutes before your designated time.
The tickets will arrive in your email, which you can then show either printed out or in digital form.
Discounted tickets for children aged 12-17 and students up to 25 years old (with a valid student ID).
Optional audio guides are available, for an additional fee, in Italian, English, French, German, Spanish, Portuguese, or Russian.
Get this nifty card and enjoy skip-the-line access to the collections of the Vatican Museums and the Sistine Chapel.
With the same pass, you can also enjoy visiting other famous Roman attractions, such as a guided tour of St. Peter's Basilica; an audio guide of the Pantheon; and priority entrance to the Colosseum, Roman Forum, and Palatine Hill.
Additional ticket information:
Includes an audio guide in 10 languages, plus a guide to the city of Rome.
Select your visit dates online and receive tickets by email. Arrive at least 15 minutes before your designated time.
The Vatican City Pass
Discover the holiest country in the world with this handy pass. Simply book your visit dates online and receive tickets by email. Valid for three days from the starting date.
What's included:
Skip-the-line access to the collections of the Vatican Museums and the Sistine Chapel.
Guided tour of St. Peter's Basilica with an official Vatican guide.
Rome: City Audio Guide App with over 130 hotspots to discover.
Additional ticket information:
Big bags and suitcases are not allowed inside. You can leave them in the on-site lockers
Shoulders and knees must be covered
Photos and videos are strictly forbidden inside the Sistine Chapel
Getting There (And What Not to Wear)
It's a museum, but the Sistine Chapel is still an actual place of worship, so be mindful of modesty rules.
Basically, regular-length shorts are acceptable. Very short shorts and strappy tops are not. Make sure you have a thin scarf to cover up those shoulders, just in case. If you're planning on visiting St Peter's on the same day, the same rules will apply, so keep a scarf handy.
(Souvenir and convenience shops are aware of this and will often sell scarves, so if it does slip your mind, you ought to be able to pick something up along the way).
Metro

Your closest Metro stop is Ottaviano on the A-line (orange). It's a six-minute walk away.
It's worth noting that Rome only has 2.5 lines – the A, B, and the interminable work-in-progress C.
Walking
If you're staying in the historical centre, you'll have already seen that metro stations are few and far between. Most of the time, you're better off walking (you will get to see more of the city that way).
If you choose to walk to the Vatican City, try the following:
Walking Directions From Piazza Navona
Take Via dei Coronari until you reach Via del Panico, and then cross Ponte Sant'Angelo. From there, the dome of St Peter's Basilica will be visible, and signs for the Vatican Museums will be plentiful.
It's a 25-minute walk – only ten more than the bus, and a far more scenic route.
Walking Directions From Metro Stop Ottaviano (6 minutes)
If you are staying near a Metro stop, get off at Ottaviano (A). If you need to take the B line (blue), you will need to change at Termini.
At Ottaviano, take one of the left-hand side exits up.
As you come up to street level, you will start to see signs for the museums.


Conflicting directions as
you exit Ottaviano Station
There are a couple of routes (as the conflicting signs indicate), but I'd recommend the following:
Take Via Ottaviano as far as the gourmet store Castroni on your right hand side

Turn right down Via Germanico.
Three reasons for this recommendation:
Castroni. Bookmark Castroni as a gourmet Italian produce store or somewhere for random items you crave from their world foods section. There are several Castronis in and around central Rome.
Pam. On Via Ottaviano, a one-minute walk from Castroni (on the same side of the street), is a supermarket called Pam. Cheaper than other local supermarkets; come here for water and honestly-priced snacks. You're going to need them.
Clementina. At the start of Via Germanico, opposite Castroni, is Cafe Clementina. Come here for fruit bowls, eggs, pancakes, and salads in addition to traditional Italian breakfasts. If you like a big breakfast, this might be the perfect pre-museum spot.
3. Continue down Via Germanico until you reach the end, where you meet Via Leone IV.
4. Cross over, and straight ahead on the right, is Viale del Vaticano flanked by the huge Vatican City Walls, where the pavement has been split in two by a metal railing.

The left side is for non-ticket holders, while the right is for ticket holders. Official staff will check with you and guide you to the appropriate lane.
The ticket holder line will be much shorter and should move quite quickly.
(This guide is on the assumption you have a pre-booked ticket and a Vatican-guided tour).
Entrance

Once you've walked up Viale del Vaticano, head to this canopy, where staff check tickets and direct you towards the entrance.
Vatican Museum Staff, scan the QR code on your ticket at the door. Bags go through the metal detectors.
(Water bottles are permitted).
You're Finally In. Now What?
As instructed on the Tiqets app, after you've passed the metal detectors, look for the big 'guided tours' sign. Go up a short flight of stairs, and on your right, you'll see the guided tours ticket office.
Big 'Guided Tours' sign you see just after the metal detectors
The ticket office for guided tours where you get your physical tickets.
Join the line and show a member of staff your ticket (a printout or on your phone). They will once again scan the code and give you a receipt and a physical ticket in return. Hold on to both of these.
The letter they write on the receipt corresponds to the Meeting Point stand you need to wait at for your guide.
At the Meeting Point, someone will take your receipt in exchange for an earpiece for the tour.
You will need the physical ticket to go through the museum barriers with your guide once you've joined your group.
You scan the barcode on the back of the ticket, which allows you through the barriers just like on the Metro.
One of the meeting points.
Staff will ask you to redeem
your receipt for an earpiece.
In the high season, groups can reach up to 30. Your Vatican Museums guide will be carrying a pole with a numbered yellow flag attached at the top. Be careful not to fall behind too much, as the radio signal gets weak, and you won't be able to hear the guide.

The earpiece
How to Ace Your Sistine Chapel Visit
Official Vatican Guided Tours end just after the Raphael Rooms. After this, you are instructed to walk through the Contemporary Art Collection, at the end of which is a short flight of stairs that take you to the Sistine Chapel.
While it's true that good things come to those who wait, it's utterly unfair to sandwich what is actually a semi-decent collection of modern art between the Raphael Rooms and the Sistine Chapel.
How can you possibly take in Matisse, Picasso, and Van Gogh (not to mention countless other contemporary artists) in full knowledge that you're about to witness one of Renaissance Art's greatest masterpieces?
Here is where you will need that stamina and resilience. The Sistine Chapel isn't even the finishing line in this museum marathon, so stay focused.
At the start of your Vatican Museums tour, your guide will take you to either an interactive screen like this or to a series of old-school panels outside in the Belvedere Courtyard.
Both show details of the Sistine Chapel.
The reason for this is that guides (Vatican Museum tour guides, at least) do not go in with you to the chapel. The tour ends just before.
So they give you the spiel beforehand and hope you remember the key takeaways by the time you get there.
Our guide Kinga was great – she pointed out this detail from the Last Judgment.
Here we see a poor soul, condemned to hell, with donkey ears and a serpent apparently biting his member.
Then we learn that this is, in fact, an archnemesis of Michelangelo, a purist priest called Biagio da Cesena, here depicted as Minos from Greek mythology.
He violently opposed Michelangelo's depiction of the angels and saints in total nudity and ordered they be covered up instantly.
(Another painter later covered up people's unmentionables with loincloths).
Michelangelo never forgave him, and this was his final revenge.
Sign indicating the Sistine Chapel
and the Contemporary Collection are next.
At this point, your guide will collect your radio earpieces and wish you farewell.
You'll be pretty excited to see the Sistine Chapel by now.
But there's still a way to go, I'm afraid. You'll first come to the quite lovely Matisse Room. Which, in any other museum, would be a considerable 'wow' moment, but here, it's like, 'yeah yeah…let's keep it moving'.
It's really remarkable. I really can't think of anywhere else in the world where one would be that dismissive of a Matisse collection.
A very sweet depiction of the Virgin and Jesus Christ by Henri Matisse.
Above: Examples of Matisse's 'Cutouts' collection, donated by his son Pierre Matisse in 2011.

You will then go through several more rooms featuring works by Chagall, Picasso, and even a couple of small Van Goghs. If you like modern sculpture, this is also a place to linger for a while.
Alternatively, steel yourself, and keep your eyes firmly facing forward until you get to a short flight of stairs and finally a sign pointing you in.
Guards will greet you at the door, and there will be several up on the raised platform by the altar on the lookout. Expect to be reminded at regular intervals:
'No photo'.
'No video'.
'Silenzio'.
You are almost there.
Dos and Don'ts for Visiting the Sistine Chapel
Do
…be prepared mentally. Arm yourself with patience. It will quite likely be extremely busy. You will have seen a lot by the time you get there.


…dress appropriately. Remember to keep your shoulders covered. Technically, you should also remove any hats and caps too.


…research a little before you go. Hey, I'm not saying get an MA in Art History before you go there or anything like that. But it will help to know a little bit about what you're going to see, a little backstory. (Don't worry, I'm going to help you out on this one).


…download some music on your phone to listen to (reception is patchy down there, you might not be able to get online). This is optional, but it might be helpful to create a little ambiance for yourself amid the crowds of people.
Don't
…hurt your neck by looking up too much. Seriously. Looking up at all those Renaissance wonders had me fantasising about VIP sessions where they bring in sun loungers for a more comfortable 'horizontal' viewing experience.


…take pictures. Don't do it. Guards get really cranky about it, which kind of harshes the vibe. It turns the Sistine Chapel into one big school trip with the guards keeping us unruly kids in check. They have microphones, too, and will routinely remind everyone, 'No photo, no video'. And then add a solemn (and arbitrary) 'silenzio' when people get too rowdy.


…forget about the Last Judgment behind the altar. It's not just the ceiling that's impressive.
Ok, I'm There. So What Am I Looking At?
I know you know The Creation of Adam … but then what?
Let's divide the Sistine Chapel into five more manageable parts and then pick out a 'best of' from each one. I'm no art historian, but here's what I liked the most.
The Ceiling – that's a no-brainer. This is what we paid for, right?
The ceiling, painted by Michelangelo between 1508 and 1512 is the real showstopper here. The nine panels depict key scenes from the book of Genesis, From The Separation of Light and Darkness to The Deluge (Noah's Ark).
Everyone will be inching towards the centre of the chapel to see The Creation of Adam.
Ok yes, your eyes are going to immediately want to go there. It's a real visual kind of 'gimme, gimme' moment. But you have time. Why not build up some anticipation here?
Take a look at The Creation of the Sun, Moon, and Planets; it's the second one along. See God there with the long beard? OK, now see a shapely behind seemingly flying away? Yep, that's also God, flying off again after creating the planets. As our guide pointed out, how often do you get to see a painting of God's rear?
The Expulsion of Adam and Eve from Paradise, sixth panel along. Note how grotesque Eve is all of a sudden now she's to blame for the downfall of all mankind.
The North Wall (the Stories of Jesus)
Take some time to appreciate Christ Consigning the Keys to Peter by Perugino, depicting Jesus handing over the keys of heaven to Saint Peter. It's the fifth panel. Widely considered to be a cornerstone of Western Art in terms of linear perspective (it's all math) – take some with this one.
The Baptism of Christ by Botticelli, the first panel, also gets my vote for the pleasing composition. (But what do I know… we like what we like.).
The South Wall (the stories of Moses).
I liked Botticelli's The Temptation of Moses the best here.
What looks like a chaotic scene is actually seven different crucial scenes of Moses' life. Instantly recognisable will be Moses receiving the ten commandments in the top left, followed by leading the Jews out of Egypt beneath.
It doesn't get a lot of press on this wall, and it will be less crowded in this section, so it's actually a good place to hang back. The two frescoes are not the originals since back in the 16th century the doorway caved in and the walls collapsed, destroying the frescoes and taking the life of a Swiss Guard, narrowly avoiding taking Pope Adrian VI's life too.
The frescoes show the Resurrection of Christ and the Archangel Michael defending the body of Moses.
Last but not least is the Last Judgment. Michelangelo painted this when he was in his 60s between 1533 and 1541 and it is immense. In every sense of the word.
Sooo much to look at here. We've already covered bad boy Michelangelo's revenge portrait of the Puritan priest; it's in the bottom right corner. You can check it out for real now.
Have a look at St Bartholomew, below and to the right of Jesus, holding his own skin (a reference to being flayed alive). His face is thought to be a self-portrait of Michelangelo himself.
Also, notice the radical way Michelangelo painted Jesus. Apart from being mega ripped, (as is everyone in this painting, women included) the way Michelangelo painted his torso is said to be inspired by the Belvedere Torso. Callbacks like that are great.
The cluster of super sculpted angels (no pudgy cherubs here) blowing trumpets, bottom centre, are awakening people from the dead- but only Jesus can decide their fate.
Walk back to the Entrance Wall. It's less busy than the main hall, you might be more likely to find some free seating and look up without straining your neck. When you've composed yourself, you can go back to the main part of the chapel. Head over to the Last Judgment and look at all the details.
Keep an eagle eye out for a free spot on the benched seats against the walls.
If you've got some good quality earphones, now might be the time to use them. Listen to some soothing music and take it in.
Bars/Restaurants / Gift Shops / Recommended Souvenirs
Exit through the gift shop(s).
After the Sistine Chapel, you will still have yet to walk through what will feel like fifty more sumptuous galleries that look like the one below.
Smart marketing folk at the Vatican have positioned two pop up gift shops along the way to break the monotony as well as provide pockets of retail relief. (In case you're absolutely bursting for a magnet).
Eventually, you will arrive at the main foyer / gift shop next to the spiral staircase that heralds the end and will lead you out.
Here, you can expect overpriced artbooks on Michelangelo, various religious artifacts and paraphernalia, and decorative plates featuring Popes of years past. Frankly, not much you couldn't find outside the Vatican City Walls for a fraction of the price.
Just as I was about to leave, I spotted the Vatican Pharmacy. Not a real pharmacy, but a perfume store.

Did you know Vatican City has its own laboratories? With monks creating and distilling perfumes and colognes, all with their own secret formulae? Unavailable to buy outside the Vatican City Walls and modestly priced, I went for this gift set for my mother.
You'll find Farmacia Vaticana at the very end right before you exit the gift shop area and take the spiral staircase down.
Solid Lemon-scented soap with Vitamin E.
Vatican Eau de Cologne.
(Only available to buy within the Vatican City).
Restaurants
There are several places available for a pit stop, albeit an overpriced one:
After leaving the Sistine Chapel, look for signs to take you to Caffetteria Il Forno- a cafe split over two levels, providing a welcome moment of respite before continuing on.
On Level 1 (where you enter the museum after getting your ticket), you'll find the Self Service (offering cafeteria/canteen style food), the Caffetteria Centrale for a quick espresso, and the Pizzeria.
The most evocative bistrot restaurant has to be La Pigna – placed in the middle of the Belvedere (Pinecone) Courtyard, shown below to the left. Expect inflated prices and below-average food (by Italian standards).
The tranquil Belvedere Courtyard with La Pigna to the left and plenty of benches to relax on.
If time is on your side, then plan to spend the day.
Get a morning ticket for the Vatican Museums with a guided tour. Our Vatican guide Kinga was a Doctor in Art History and she really brought the whole thing alive.
My top tip is to bring a packed lunch/trail mix since it's essentially a marathon (over 7kms of galleries).
Take a well-earned break after the Sistine Chapel but do not leave the museums (as you won't be able to get back in).
Make your way back out into the Cortile of the Pigna (above), find a bench, and take a load off. Rest your eyes. Hydrate. Refuel with that trail mix or a sandwich from Pam.
It's been a lot.
Now head back in.
Nearby Attractions / Food & Drink
Once the site of Emperor Hadrian's tomb, then a fortress, a castle, and now a museum covering two thousand years' worth of Roman history.
Very nice views from the top and photos on Ponte Sant'Angelo practically take themselves, it's that photogenic.
The area alone is worth a visit. There's an outdoor library/bar to the right called Bibliobar which has echoes of Paris and the Seine.
Castel Sant'Angelo and Sant'Angelo Bridge.
Bibliobar. An outdoor / cafe with snacks, coffee, and drinks.
Food & Drink
The area closest to Vatican City is Prati. It can be a bit on the pricey side, but this is still Rome, and good food at honest prices is never too hard to find.
7 minute walk away (closest metro- Cipro on the A):
Eroi della pizza – Piazzale degli Eroi, 4, 00192
Superb pizza by the slice and cracking supplì. Friendly staff and friendlier prices.
Fischio – Piazzale degli Eroi, 00136
Cross over and you'll find Fischio (FISkio); an outdoor kiosk turned bar where you can buy spritz and gin and tonic in hipstery cans, or a glass of organic (quite pungent) wine. It's laidback and potentially just the ticket after all that high culture at the Vatican.
10 minute walk away:
Il Sorpasso – Via Properzio, 31/33, 00193
Relaxed wine bar with a great wine selection (without being pretentious about it). Try one of their Italian ham and cheese boards (with advice on which order to eat the cheese). Good mix of locals and expat residents. Where pretty Prati people go for a chilled out wine evening.
15 mins metro and or walk away:
Argot (Prati) – Via Alessandro Farnese 2, 00192 (Closest Metro Lepanto, one stop after Ottaviano on the A line).
Superior cocktails and food at trendy yet friendly cocktail bar/restaurant Argot. Cocktails are a bit expensive but made by people who know their stuff and go down a treat.
Did You Know That: 5 Interesting Facts
Michelangelo initially didn't even want to paint the ceiling of the Sistine Chapel because he considered himself a sculptor and not a painter. He was eventually persuaded to accept by Pope Julius II.


Biagio de Cesena, the papal master of ceremonies, was a harsh critic of the Last Judgment's composition, so Michelangelo painted him into it as Minos, the supervisor of the damned into hell. He's the one with donkey ears.


It took four years for Michelangelo to complete the ceiling, and the experience was so unpleasant that he wrote a poem about his physical discomfort.


The nudes in the Last Judgment were considered improper for a papal commission, so Pope Pius IV ordered many of them to be covered up with strategically placed cloths. Luckily, that was mostly undone during later restoration work.


Michelangelo was much more adept at painting the male body rather than the female. In fact, the few female figures represented are considered by many to be quite 'manly'.
History
Pope Sixtus IV, from whom the Sistine Chapel gets its name, had it built between 1473 and 1481. It was originally called the Cappella Magna ('Great Chapel'). It served as a place of religious and functionary papal activity.


He also commissioned a team of great Renaissance artists to paint the walls, which they finished in 1482.


In 1483, Sixtus IV celebrated the first mass there, at which the chapel was consecrated and dedicated to the Virgin Mary.


It wasn't until 1508 that Michelangelo Buonarroti was commissioned to paint the ceiling, under the patronage of a new pope: Julius II.


A further 22 years passed before Michelangelo returned to paint the Last Judgment under the patronage of Pope Clement VII and Paul III.


In the 1980s, major restoration work began on the artworks in the chapel and many of Michelangelo's figures were finally returned to their nude selves.


Today, apart from being an extremely popular tourist destination, the chapel still serves as the venue for the papal conclave, the process by which a new pope is elected.
FAQs
Where is the Sistine Chapel located?
The Sistine Chapel is located in the Vatican City of Rome.
How long did it take Michelangelo to paint the Sistine Chapel?
It took Michelangelo 4 years to paint the Sistine Chapel.
Why did Michelangelo take 4 years to paint Sistine Chapel?
It took Michelangelo 4 years to paint the Sistine Chapel due to the scale of the task and his reluctance to do it. Not only was it physically taxing but also permanently damaged his eyesight.
How much was Michelangelo paid for the Sistine Chapel?
Michelangelo was paid around 3000 ducats for painting the Sistine Chapel.
Address: Sistine Chapel, , 00120 Vatican City, Vatican City · view larger map