Rome public transportation system consists of buses, trams, metro and train lines conveniently connecting every corner of Rome.
Getting around Rome
Once you've arrived in Rome, you can sigh in relief, especially if you're a second time around visitor and have experienced Roman traffic; many improvements have been put in place and efficiency is a term which can actually now be used when describing public transportation in Rome.
Route Planner
Using the Atac website, (www.atac.roma.it/) – the public bus transportation company – you can plan your route and receive reliable information on live arrivals of buses.
Traffic is heavy, especially in the 7:30am-9:00am and 6:00pm-7:30 pm time brackets, when buses are overflowing with passengers, so avoid if possible.
Useful routes:
bus 40 Express – special bus for tourists going through most of touristy sights:
Vatican area and St.Peter's Basilica – stop Borgo Sant'Angelo (beginning/end of line)
City centre (Pantheon, Spanish Steps, Piazza Navona, Trevi Fountain) – stop Piazza Argentina
Colosseum (Imperial and Roman Forum) – stop Piazza Venezia
Termini Train Station (beginning/end of line)
---
The Metro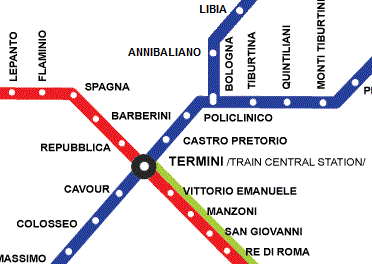 Second option if you're looking to less travel time , choose the underground transportation system, the "metro". The metro has two main lines: A and B – which dissect the city diagonally and intersect at Termini station.
Line A from Termini in Battistini direction will take you to: Piazza di Spagna (Spanish Steps) and the centre, to Ottaviano/San Pietro (St. Peter's Square) and to Cipro/Musei Vaticani (Vatican Museums).
Line B from Termini in Laurentina direction will take you to: Colosseo and to Circo Massimo.
Beware of pickpockets, especially on crowded buses and always carry your valuables in a safe place.
---
Public Transport Tickets
BIT ticket: usable on buses and metro lines for up to 100 minutes from first time it is stamped, price 1,50
BIG ticket: usable on buses and metro lines, valid from the first time it is stamped to 24:00 of the same day, price 6 euros.
BTI ticket: usable on buses and metro lines from the first day it is stamped until 24:00 of the third day, price 16,50 euros.
ROME PASS: the three day option has an alternative worth considering: the Rome Pass. Also valid for three days of unlimited travel in the city, it additionally offers reduced prices on many sights, museums, theatres and cinemas, price is 36 euros.
CIS ticket: starting on any weekday, usable on buses and metro lines from the first day it is stamped until 24:00 of the seventh day, price 24 euros.
---
How to buy tickets
Generally, tickets can be easily bought from newsagents (tabaccai or bar tabacchi) , newspaper kiosks, vending machines located next to main bus stops, Atac booths in metro stations, rarely on buses themselves .
The Atac booths in the following metro stations sell the weekly CIS ticket and others:
Line A: Anagnina, Battistini, Lepanto, Ottaviano/San Pietro, Piazza di Spagna, Termini.
Line B: Laurentina, Eur Fermi, Ponte Mammolo,Porta San Paolo, Termini.
If you don't want to tackle buses, it's very possible to simply walk. Distances in Rome are not impossibly vast and many sights are within walking distance of each other. Monument clusters are a rule, so if you've reached one major sight, you can be pretty sure many others are at a stone's throw.