Rome's public transportation system consists of buses, trams, metro, and train lines conveniently connecting every corner of Rome.
Although Rome is a very walkable city, sometimes you need to rest your feet up or travel a little further afield. Public transport is a great, cost-effective way to get around the Eternal City – here's what you need to know.
Types of Public Transport in Rome
For an ancient city, Rome has excellent modern public transportation.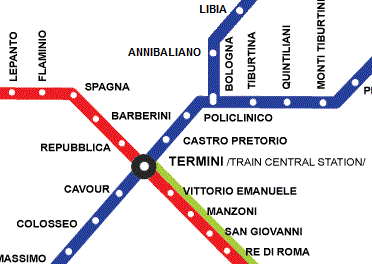 The metro is an efficient and cost-effective way to get around Rome, even if it isn't the most extensive system. Rome's metro is the smallest in Europe, but almost a million people use it daily.
There are three lines, A (orange/red), B (blue), and the smallest, C (green), but only the former two are likely to be used by visitors. You can get to the Vatican, Spanish Steps, and Colosseum easily via the metro, but it doesn't connect to areas in the southwest of the center, making it slightly limited.
A train will arrive approximately every 5-10 minutes, from 5:30 am until 11.30 pm.
Buses are the most widespread means of public transportation in Rome, with 338 bus lines and over 8000 stops. They're frequent, but I wouldn't expect them to always come on time. You can reach practically every corner of the city via bus, so if you're venturing out of the historic center, it's likely you'll become familiar with the system. 
Hop-on hop-off buses are not part of the public transport system, so don't expect your ticket to be usable on them.
Trams aren't as widespread in Rome, but there is a small network consisting of 6 lines and 192 stations. It's a smooth and quick way to travel, perhaps the most comfortable of the four types.
Both buses and trams run from 5:30 am until midnight every day, but there is a scaled-back night bus service available after these hours.
There are urban trains in Rome, besides the inter-city lines stopping at Termini. The overground trains aren't going to be used by people wanting to travel around the historic center, but are great for reaching outer boroughs or the cruise port of Rome, Civitavecchia.
---
How to Use Public Transport in Rome
How to Buy Tickets
Buying tickets for buses and trams in Rome is a little different to most cities in Europe and, in many ways, a bit outdated. You don't normally purchase tickets on the bus, for example – and there's no contactless card system as of yet – but buy them beforehand from places such as:
Newsagents (tabaccai or bar tabacchi)
Newspaper kiosks
Ticket machines are located next to main bus stops and at metro stations
Atac booths in metro stations
The Atac booths in the following metro stations sell the weekly CIS ticket and others:
Line A: Anagnina, Battistini, Lepanto, Ottaviano/San Pietro, Piazza di Spagna, Termini.
Line B: Laurentina, Eur Fermi, Ponte Mammolo,Porta San Paolo, Termini.
Buying tickets for the metro is very straightforward; the ticket machines are at each station, and you have to pass through a gate to enter, which immediately validates the ticket. There's also a contactless system in place, meaning you can just tap your card when you enter and exit to pay.
For the buses and trams, however, it's important to buy your ticket in advance from one of the places mentioned previously – you don't want to be caught out rushing to catch a bus only to realize you forgot to buy a ticket. Many people will buy multiple single-use tickets at once for this reason (if they're not buying a pass with a longer duration).
How to Plan Routes
It's easier than ever to plan your route around the Eternal City. Gone are the days of staring at maps and asking for help in broken Italian – if you have a phone, you're good to go.
Google Maps is a simple choice, as many of us already have it installed on our phones or can easily access it. You can get around Rome easily just by using Google Maps, as it will show you the quickest way to reach your destination through public transport, whether that involves a single journey on the metro or catching a bus, tram, and metro all in one trip.
It isn't the best choice available, however, as it doesn't give real-time updates on times and delays to the same degree of accuracy as some other apps.
Moovit is a great alternative to Google Maps, which helps you to plan your route while staying updated with any delays, while Probus Rome is another useful app for keeping an eye on time.
When on the metro, you may find it useful to have a downloaded version of the metro map. This will help you keep an eye on the number of stops left until you get off after you inevitably lose your connection to the internet.
How to Navigate the City
Using an app is the easiest way to navigate the city, but it's important to remember just how walkable Rome is.
It's probably not worth jumping on the metro for one or two stops, and if you're going from the Pantheon to the Trevi Fountain or another central site, it is far quicker to walk. Public transport in the city is great whenever you need it, and it's easy to find your way around – but don't rely on it completely and utterly.
---
Public transport fares are very reasonable in Rome – it's one of the cheapest ways to travel around the city.
Types of Tickets and Fares
Besides finding a place to purchase your ticket (and later validating it), you'll find that the ticket system in Rome is actually quite straightforward. You can buy a ticket that allows you to use the bus, metro, trams, and some urban trains, rather than having to buy a separate ticket for each.
Ticket Options Available in Rome
Single-use (BIT) ticket: usable on buses, trams, and metro lines for up to 100 minutes from the first time it is stamped.
24-hour ticket: unlimited use of buses, trams, and metro lines, as well as some urban train lines for ticket duration; valid from the first time it is stamped for the next 24 hours.
48-hour ticket: same as above, except for a validity of 48 hours.
72-hour ticket: useful if you want to make the most of public transport for a long weekend.
the three-day option has an alternative worth considering: the Roma Pass. Also valid for three days of unlimited travel in the city, it additionally offers entry to two sites and reduced prices on many sights, museums, theatres, and cinemas. There's also a 42-hour Roma Pass available.
Week Pass (CIS)
Starting on any weekday, usable on buses and metro lines from the first day, it is stamped until 24:00 of the seventh day.
For a next-level tourist pass, look to the Omnia Card. It's expensive but includes access to several popular tourist sites, as well as unlimited use of public transport for 72 hours.
Ticket Validation
Always remember to validate your ticket. There are hefty fines if you're found to be without a validated ticket – just having an unvalidated ticket on your person often isn't enough.
On the metro, this isn't a concern, as you will validate your ticket by simply passing through the turnstiles. The only thing worth noting with the metro is that if you've bought a single-use ticket, you can swap lines, but once you have exited through a turnstile, you won't be able to get back in on the same ticket.
For buses and trams, you will have to remember to stamp the ticket in the machine onboard to validate it. The validity will depend on your ticket type, but a standard single-use ticket lasts for 100 minutes (and you can swap buses within that timeframe). Transportation to the airport isn't included in the travel passes.
---
Navigating Popular Tourist Sites Using Public Transport
Getting to major tourist sites like the Colosseum, the Vatican, and the Pantheon is simple using public transport. Remember that downloading an app like Moovit will help you plan.
You can catch a bus that will take you either right outside or very close to practically every popular tourist site in Rome, while the metro also leads to a handful of the most notable spots.
The Colosseum has a metro station, Colosseo, which is on Line B, as well as a tram stop (lines 3 or 8) and several buses that arrive just outside (including 38, 75, 175, and 271). This is also the best way to get to the Roman Forum and Monti neighborhood.
To get to the Vatican, you can catch metro Line A to Ottaviano or, again, several buses, including 62, 64, and 81. There is also an overground train that stops at the nearby train station, St Pietro, but this would be more useful for people traveling in from Civitavecchia.
Many of the other sites in Rome are very close to one another – the Pantheon, Trevi Fountain, and even the Spanish Steps are within easy walking distance of each other. You can catch metro Line A to Spagna station for the steps and walk down to the others from there. A few buses that stop near the Pantheon are 51, 60, and 62, but you should check an app for the best option.
Keep an eye out for the bus 40 Express, which is a special bus for tourists going through most of the famous sights:
Vatican area and St.Peter's Basilica – stop Borgo Sant'Angelo (beginning/end of the line)
City center (Pantheon, Spanish Steps, Piazza Navona, Trevi Fountain) – stop Piazza Argentina
Colosseum (Imperial and Roman Forum) – stop Piazza Venezia
Termini Train Station (beginning/end of line)
Sometimes it's better to walk if places are close to one another. Equally, if you're hoping to avoid crowds – for example, if you're going from the Colosseum to the Spanish Steps – public transport will allow you to skip the busy streets.
---
Best Times to Use Public Transport in Rome
Everyone knows that rush hour is a less-than-ideal time to travel, wherever you are. Rome is no different, so the mornings and evenings around the typical working day will see buses, trains, and all public transport rammed full of commuters.
An app like Moovit can give you updates on how crowded a train or bus is, making it a useful tool for avoiding the busiest periods. Generally, though, any time outside of these commuter hours is fine to use public transport – except perhaps in mid-afternoon in the height of summer, when these buses and trains tend to get very hot.
---
Accessibility and Inclusivity
Public transport in Rome is relatively accessible, though some modes of transport are better than others. The buses are the best option for disabled passengers, with 98% of the fleet equipped with a boarding platform and wheelchair area. Newer buses are also equipped with next-stop announcements to aid the visually impaired.
Trams and the metro are a bit more mixed in terms of accessibility. Line B is accessible, but Line A is less so: stops Spagna, Barberini, Repubblica, Vittorio Emanuele, and San Giovanni all do not have lifts or stair lifts connecting with the platforms. 70% of trams have a platform-level floor to ease boarding, but many have steps instead.
The trains of the Termini-Centocelle line are also not accessible to passengers with reduced mobility, though there are some buses that run the same route.
Parents with strollers will also want to avoid the metro where possible or use a sling to carry small children as it can get quite crowded. Buses are a better alternative.
---
Benefits of Using Public Transport in Rome
While not always the most luxurious way to travel, there are some great benefits to using public transport in Rome:
Cost-effectiveness – besides walking, this is by far the cheapest way to travel around the city. 
Convenience – you can get pretty much anywhere in Rome with public transport, as you're never too far from a bus stop or station.
A time-saver – the metro comes regularly and skips all the traffic on the roads. The same trip in a taxi would take much longer.
The environmentally-friendly way to travel – public transport is more eco-friendly, making it the greener choice.
---
FAQs
What types of public transport are available in Rome?
Buses, trams, the metro (a subway system), and trains are all available in Rome.
How do I purchase tickets for public transport in Rome?
You purchase tickets from any Tabbachi shop (newsagents), newsstands, Atac booths in metro stations, and ticket machines, which can be found at metro stations and larger bus stations. The ticket in Italian is biglietto.
Are there different types of public transport passes available for visitors?
Yes, besides the 24, 48, and 72-hour passes, there is a weekly pass. Limitless use of public transport is often a feature of tourist passes, including the Roma pass.
How do I plan my route and use public transport efficiently in Rome?
Download an app like Moovit to help you plan your route, see live times, and know when transportation is crowded.
What are the peak times for public transport in Rome, and how can I avoid crowds?
The peak times are similar to most countries: morning and evening when commuters are traveling to and from work. Avoid traveling between 8 and 9 am and 5 and 6 pm when possible; use an app to see live updates on passenger density.
What are the accessibility options for public transport in Rome?
The options aren't fantastic, but the buses are generally accessible. 98% of buses are equipped for wheelchair users. Metro Line B is another option, but Line A should be avoided.
Are there any safety concerns I should be aware of when using public transport in Rome?
Like any major city, you should have your wits about you in Rome and on public transport, as there is always a slight risk of theft. Keep your valuables in a zipped cross-body bag to avoid pick-pockets.