Rome's metro offers a fast and convenient way to move around the city, and won't cost you a fortune. Here's everything you need to know.
Rome Metro Map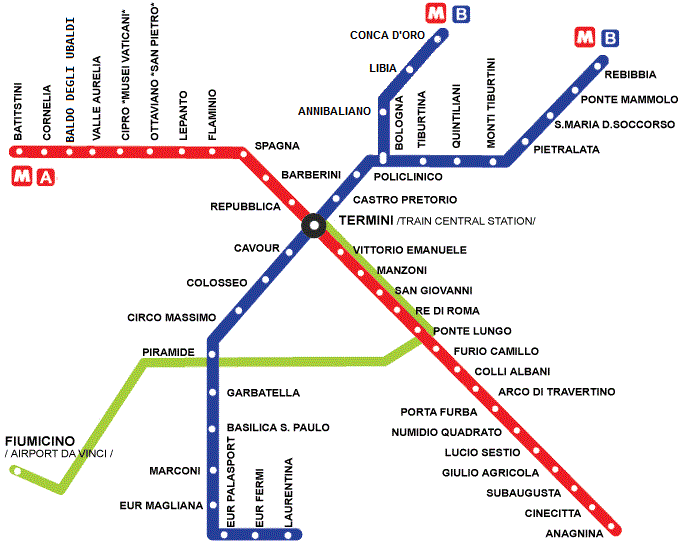 Traveling by Metro in Rome
Rome has 3 metro lines: A, B, and C. You'll probably only need to know about Line A and Line B. These cover the city center and some of the most important monuments, like the Colosseum, the Spanish Steps, and the Vatican. Line C goes through residential parts of the city and isn't useful for tourists.
Line A is orange on the subway map; Line B is blue; Line C is green. Line A and Line B run in opposite directions, meeting in the middle at the central railway station.
Rome's transport network of metros, buses, trams, and trains. Line A & B cross in the center of the subway map.
Operating Times
Line A
Monday to Thursday 05.30 – 21.00, 21.00 – 23.00 replacement bus service
Friday to Sunday 05.30 – 01.30
Early Closure of Line A in 2023
If you will be in Rome in 2023, it's really important to know that until at least the end of the year, Metro Line A will close at 21.00 on Monday to Thursday evenings for maintenance work. There is a replacement shuttle bus. In most cases, they are close to the station, but not always. Particularly hard to find is the stop for Spagna, which is on Via Veneto. Instead of a number on the front, these buses have 'MA' and the destination.
Line B & Line C
Monday to Thursday 05.30 – 23.30
Friday to Sunday 05.30 – 01.30
When the buses stop running, night (notturno) buses take over the same route. These buses have MA (line A) and MB (line B) on the front instead of a number.
The Line B night bus is shown with an owl on a sign outside the Colosseo metro
Buying Tickets
Tickets are available for a single trip (100 minutes), for 1 day, 2 days, 3 days, or 7 days. If you're staying longer than that, there are also monthly tickets.
The same tickets can be used on buses, the underground, trams, and some trains within the city.
There are many places you can buy tickets in Rome:
at ticket machines in the stations. Choose the language you want, the ticket type, and the payment method. If you buy at least €7 worth of tickets at one of the red vending machines, you will automatically get a rechargeable electronic card to use throughout your visit.
You can buy a multi-day pass or top the card up one ticket at a time from the vending machines.
at tobacconists (these are easily spotted by the sign with a big white T outside)
A newspaper stand (or edicola in Italian)
Tap&Go at the gate to the metro or on buses with your contactless payment card (VISA or Mastercard) or wearable device with NFC tech – the first time you tap your card, you'll be charged the ticket price. If you take another bus, tram, or metro within 100 minutes, you should tap your card again, but you won't be charged.
TicketAppy app – this is an easy way to buy tickets on your phone by credit card, ApplePay, or Satispay, then use the QR code at the gate.
DropTicket app – without registering, you can buy tickets on your phone for public transport in Rome and pay for trains and car parks throughout Italy.
Select the language and type of ticket you want to buy
| | | |
| --- | --- | --- |
| Type of Ticket | Duration | From July 2023 |
| B.I.T | 100 minutes | €2.00 |
| Roma24 | 1 day (24 hours) | €9.30 |
| Roma48 | 2 day (48 hours) | €16.70 |
| Roma72 | 3 days (72 hours) | €24.00 |
| C.I.S | 7 days | €32 |
| Abbonamento Mensile | 1 calendar month | €46.70 |
| Abbonamento Annuale | 365 days | €350 |
Discounts
Children under 10 years of age can travel for free when accompanied by a paying adult.
There are no student or senior discounted rates on tickets valid for less than 1 month.
RomaPass
The combined RomaPass includes unlimited access to the city's transport system for 48 or 72 hours.
How To Take The Metro
It's not hard to find the metro stations. All stops have large M signs outside at street level.
You'll find the red metro sign outside all stations
Once inside, you'll need to get through the barrier.
Single-use tickets are inserted inside the machine, with the arrow facing downwards and towards you. The machine reads the information, stamps the ticket with the date and time, spits it back out, and opens the gate.
Multiday tickets contain electronic data and are held up in front of the yellow circle to be read. The machine will beep if the ticket is valid and open the gate.
QR codes on your phone are held against the screen at the top.
The next step is to work out which way you need to go. At most stations, only the final destination is indicated. So, if you want to go from Termini to the Vatican, you need to follow the signs for Battistini (or direzione Battistini).
Some signs are more helpful
Currently, you only need your ticket to exit from the station on the B1 line. Most exits are simple turnstiles, which you can pass through without a ticket.
Exit turnstiles
Ticket Controls
As it's possible to jump over the barriers or get on buses without paying, increasingly, there are groups of ticket inspectors doing spot checks.
On the metro, you'll often find them waiting at the turnstiles to check that passengers leaving the metro have traveled with a ticket. They will be dressed in ATAC uniforms. When they ask to see your ticket, they will read the electronic data to see if it's valid.
If you don't have a ticket, or it isn't valid for the trip, you will have to show them some form of ID. They will issue a fine if you pay within 5 days. The cost is €54.90. If it takes you 6 or more days to pay, the fine goes up to €104.90. You can pay the inspectors directly by card, but not cash.
Accessibility
For wheelchair users, the metro can be hit and miss and depends on the individual station.
Signs to follow from the platform to the lift
Not all of the stations have elevators or chairlifts to reach the platform. If accessibility is an issue, avoid staying near the Spagna, Barberini, Repubblica, Vittorio Emanuele, or San Giovanni stops.
Repubblica metro station can only be accessed by stairs
Some stations have stairlifts. You'll need to press the button and call a member of staff to operate it for you.
But even where there are facilities, there's no guarantee that they will work.
For the visually impaired, there are special rubber tactile paths, that you can follow through the stations to the platform.
A tactile path and wheelchair-accessible ticket barrier
Lifts in some stations, like Termini, have braille buttons and announcements in English and Italian.
There are also announcements in both languages on the trains. These explain which stop is coming up next and which side you need to get off.
Changing Lines
You'll find metro stations close to some of Rome's most important monuments. Some of them are on Line A, and some of them are on Line B, but the two lines only have one point of connection.
Lines A and B cross at Termini, the central railway station.
Lines A and C meet at San Giovanni.
And one day, lines B and C will connect at Colosseo, but not right now.
This can make moving from one part of the city to another quite time-consuming.
For example, if you want to go from the Vatican (line A) to the Colosseum (line B), it can be faster to take a bus.
Entrance to metro lines A & B at Termini Station
Popular Metro Stations and Their Monuments
Termini
Rome's central railway station is the only connection point between lines A and B. You can catch the Leonardo Express to Fiumicino here or one of the cheaper coaches outside on Via Giolitti. Termini is also the starting point for the high-speed trains that run frequently to Florence, Naples, Milan, and Venice, and out the front is the bus station, where you'll find plenty of buses going all over the city.
Metro A
Ottaviano: The unmissable St. Peter's Basilica is less than a 10-minute walk from this stop. Don't miss cocktails on the terrace with the most stunning view of St. Peter's dome at Terrazza Les Étoiles (Atlante Star Hotel).
Cipro: This will get you closer to the entrance of the Vatican Museums if you have skip-the-line tickets, though if you plan to wait in line, Ottaviano is the better choice as the line forms around the walls of Vatican City in that direction.
Spagna: The exit will bring you out on one side of the majestic Spanish Steps. Also close by are the shopping streets of Via dei Condotti and Via del Corso.
Barberini: This stop is close to the luxury hotels of Via Veneto and Rome's Hard Rock Café. You'll also find the macabre Crypt of the Capuchin Friars and Palazzo Barberini, one of Rome's most important art galleries, a few steps away. Head towards Via del Corso, and after a short walk, the stunning Trevi Fountain is off a street to the left.
San Giovanni: Rome's cathedral is just inside the ancient walls, next to the Holy Stairs (Scala Santa) and Baptistery. You can see them all and do some shopping on Via Appia Nuova from this metro station.
Vittorio Emmanuele: Piazza Vittorio is famous for its impressive food market, where you can find fresh Italian produce, sections for meat and fish, as well as ingredients from around the world.
Metro B
Circo Massimo: The historic Circus Maximus is now a public park and occasional concert venue. Wander up to Aventine Hill to see the dome of St. Peter's through the famous keyhole and visit the Rose Garden. A short walk away are the ruins of the Baths of Caracalla, where from June to August, Rome's Opera House stages its summer season.
Piramide: You can't miss the adorable pyramid-shaped ancient tomb just outside the station. A short walk will also take you to the world's biggest Eataly store, the popular Testaccio market, and lots of traditional restaurants. On Sunday mornings, this is the stop you'll need if you want to visit the Porta Portese flea market for a mix of bargain prices and antiques. You can also catch trains here to the beach, Ostia Antica, and Fiumicino airport.
Shopping by Metro
The main shopping streets in the center are Via del Corso (Spagna or Flaminio metro) and Via Cola di Rienzo (Lepanto metro). Here you'll find a mix of Italian brands and international stores like Zara, GAP, and Mango.
More designer shops like Gucci, Louis Vuitton, and Tiffany & Co. are on the super stylish Via dei Condotti and in Piazza di Spagna, including the flagship store of Rome's most famous designer, Valentino.
At Barberini, check out the Rinascente department store for its choice designer labels and stylish household items. Don't miss the restaurant with a view on the roof and the ancient Roman aqueduct conserved in the basement.
The Roma-Lido Train
Next to the Piramide metro station is the Roma-Lido station. This little overground train leaves every 15 minutes and goes to Ostia, Rome's closest beach.
It's a convenient way to get to Ostia Antica without driving. It takes about 30 minutes to reach the Ostia Antica station. From there, it's less than 10 minutes on foot to reach the ruins of the ancient port, but there is an overpass from the station to the site that isn't accessible to anyone who struggles with steps.
Insider Tips
Rush hour is from 07.30 to 09.00 in the morning and in the evening from 18.00 to 20.00. It's best to avoid traveling at these times, if possible, as trains can be very crowded.
Sometimes it's quicker to walk. For example, going from the Colosseum to the Circus Maximus or from Termini to Repubblica is quicker on foot than going underground and waiting for the train.
Line B has 2 destinations. The line splits at Bologna, so if you need to go to Tiburtina Railway Station, make sure to get on the train to Rebibbia, not Jonio.
A Line B metro train going to Jonio
At Cavour and Circo Massimo, there isn't an underground station. Instead, there are entrances directly onto each platform, one on either side of the street, which can be very confusing. If you want to go to Termini, you'll need the Rebibbia/Jonio entrance.
At Cavour metro station there are different entrances for each platform
Escalators and elevators are frequently out of order. If you rely on them, you can check on the ATAC website, which is currently working.
Don't be surprised if the metro seems particularly inefficient in the summer months. Large numbers of staff (and Romans) all go on holiday at the same time in July and August, and waiting for trains to pass can increase from 3 minutes to 10-12 minutes in high season.
Learn the word sciopero (pronounced something like this: sho (like shock) pe (like pear) row (like row a boat), the Italian word for strike. Italians love to strike, and ATAC staff do it a lot, especially on Fridays. Typical strikes run from 08.30 to 17.00 and restart at 20.00 until close. Strikes are announced some days in advance, and there will be warning signs at metro stations, usually taped to the gates, to inform travelers.
What will happen on the day is impossible to predict. Everything might close; one line could be operating; there could be a reduced service. Checking the website after 08.30 on the day, or following ATAC on Twitter, is the only way to know for sure.
Other words to learn: ingresso (entrance), uscita (exit), acensore (lift), vietato (forbidden)
An exit sign in a metro station – sometimes signs are only in Italian
If you are planning to stay on Line C, be aware that it's a commuter line, and metro trains only pass every 10 minutes.
FAQs
How much is a 3 day metro pass in Rome?
A 3-day metro pass (which also covers buses, trams, and some overground trains) costs €24 at the time of writing. Check the Atac official website for the latest prices.
How much is a metro ticket in Rome?
For a single journey, a metro ticket is currently €2.
Is it safe to take the metro in Rome?
Taking the metro in Rome is perfectly safe. When using any public transport system in a major city, you should keep your wits about you. Pickpockets will target tourists on crowded trains so make sure that your valuables aren't easy to access.
Is the metro free in Rome?
No, the metro is not free to use, though it is very reasonably priced. Confusion may have come from various tourist passes, like the Rome City Card, which includes 'free' use of public transport.