Rome metro (subway), simply called Metropolitana by Italians. The metro runs approximately every 7-10 minutes, from 5:30am until 11.30pm every day (until 0:30am on Saturdays). Ordinary tickets can be bought throughout the metro stations from vending machines or booths. Tickets can be purchased also in newsstands and tabacchis. The drivers do not sell any tickets. For daily or weekly tickets see Rome public transport tickets.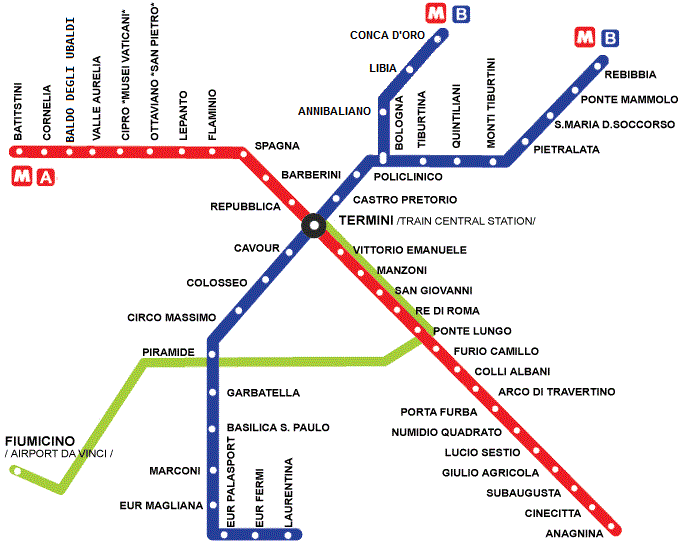 ---
Rome metro routes and stations
Although Rome airports are not directly serviced by the metro system, all trains and buses departing from Fiumicino Airport to the city centre will stop at either Termini Central Train Station, where you will find the major metro station from which to catch all metro lines in all directions, or at Tiburtina, Ostiense, or Trastevere train stations which will also connect you with the metro lines.
To plan your journey from Fiumicino to a specific train station metro stop, see our Rome airport transfer section.
In Rome itself, the underground metro lines are the quickest way of moving around, travel time being considerably reduced especially for lengthy journeys.
To reach the Vatican Museums, Cipro metro station is the closest but not necessarily the most convenient if you arrive when a long line to the entrance has already formed. To avoid having to walk to the end of the line and extended waiting, try visiting in the afternoon or midday.
From Piazza di Spagna metro station line A many major attractions are within walking distance: Pantheon, Piazza Navona, Trevi Fountain.
Use metro line B for Ancient Roman sites: it will carry you directly to the Colosseum with nearby Roman Forum and to Circo Massimo which is close to the Caracalla Baths.