Buses are the most widespread network of public transportation in Rome – if you want to explore the city beyond the center or give your feet a rest, chances are you'll have to familiarise yourself with them!
Here's a full breakdown of using buses in Rome.
Types of Buses
A bus is a bus, right? Well, yes, but with more than one bus type available in Rome, it's useful to know your electric minibusses from your tourist double-deckers.
Local buses
Most of the buses you see in Rome will be local buses. They ferry people around the city from early in the morning until late at night, and are normally filled with a mixture of locals and tourists in the city center.
These buses cover most of the city and are essentially the same as most other bus systems. Routes will cover a set amount of stops, and you push a button when the stop you want is close; one difference with Rome's buses is that you buy tickets before you get on the bus. They're very low-cost and will get you to almost anywhere you want to in Rome.
Using them is simple, as we'll discuss, and navigation is made easy through route planning apps. At bus stops, normal local buses will be marked with a U on signs. Keep an eye out for express buses, marked with an X on signs, as these buses will only drop people at a handful of stops.
Hop-on hop-off buses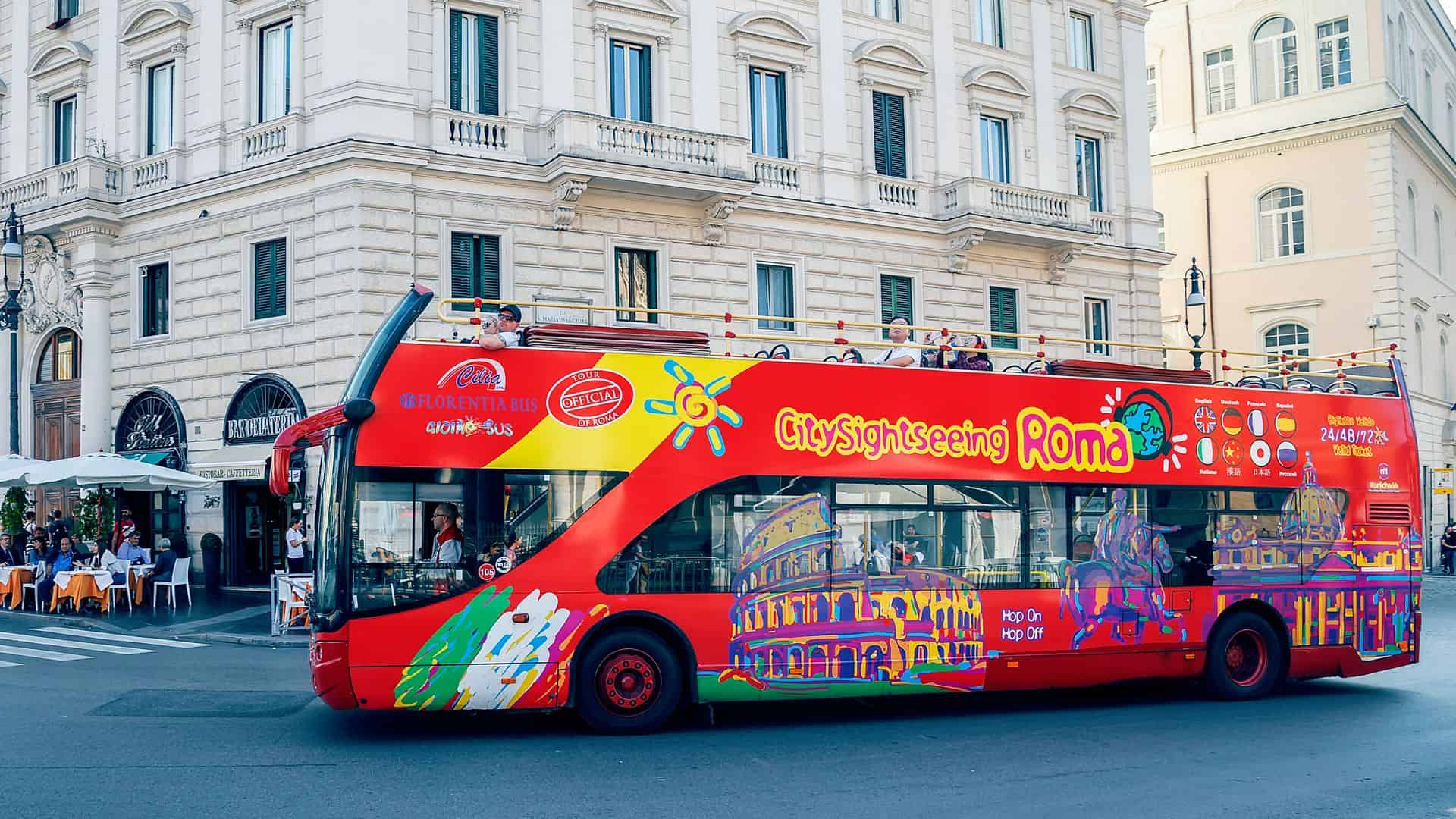 Every major, tourist-friendly city in Europe has these buses. They're often open-top double-deckers, inspired by the famous red buses of London.
They circle around the major tourist sites of the city, allowing passengers to 'hop-on, hop-off' at their convenience. You can do a full circle just to see the sights, or get off at the stops you want to see a little closer. There's no limit to the number of times you can use the buses within operating hours (usually between 8.30am and 19.00), which makes them useful for getting around the city.
There are several hop-on hop-off bus operators in Rome, and they usually work on a day or multi-day pass basis. You could choose to use the buses for one day only, but they are often more cost-effective over multiple days. Some may even offer the option of simply doing a single circuit of the city, without getting off the bus.
Stops for hop-on hop-off buses in Rome typically include:
Termini Station
The Colosseum
Circus Maximus
Trevi Fountain
Piazza Venezia (Pantheon, Capitoline Museums)
Spanish Steps
Vatican
Night buses
When the metro and trams grind to a halt, the night buses provide a way to get around the city on a budget. While the service is limited to a handful of lines, it's a valuable service for late-night revelers in the center – buses depart from Piazza Venezia every 30 minutes.
Check on a route planner beforehand so you know where you're going; especially if you've been drinking! Unlike the normal day buses, you can purchase tickets onboard these services.
Electric buses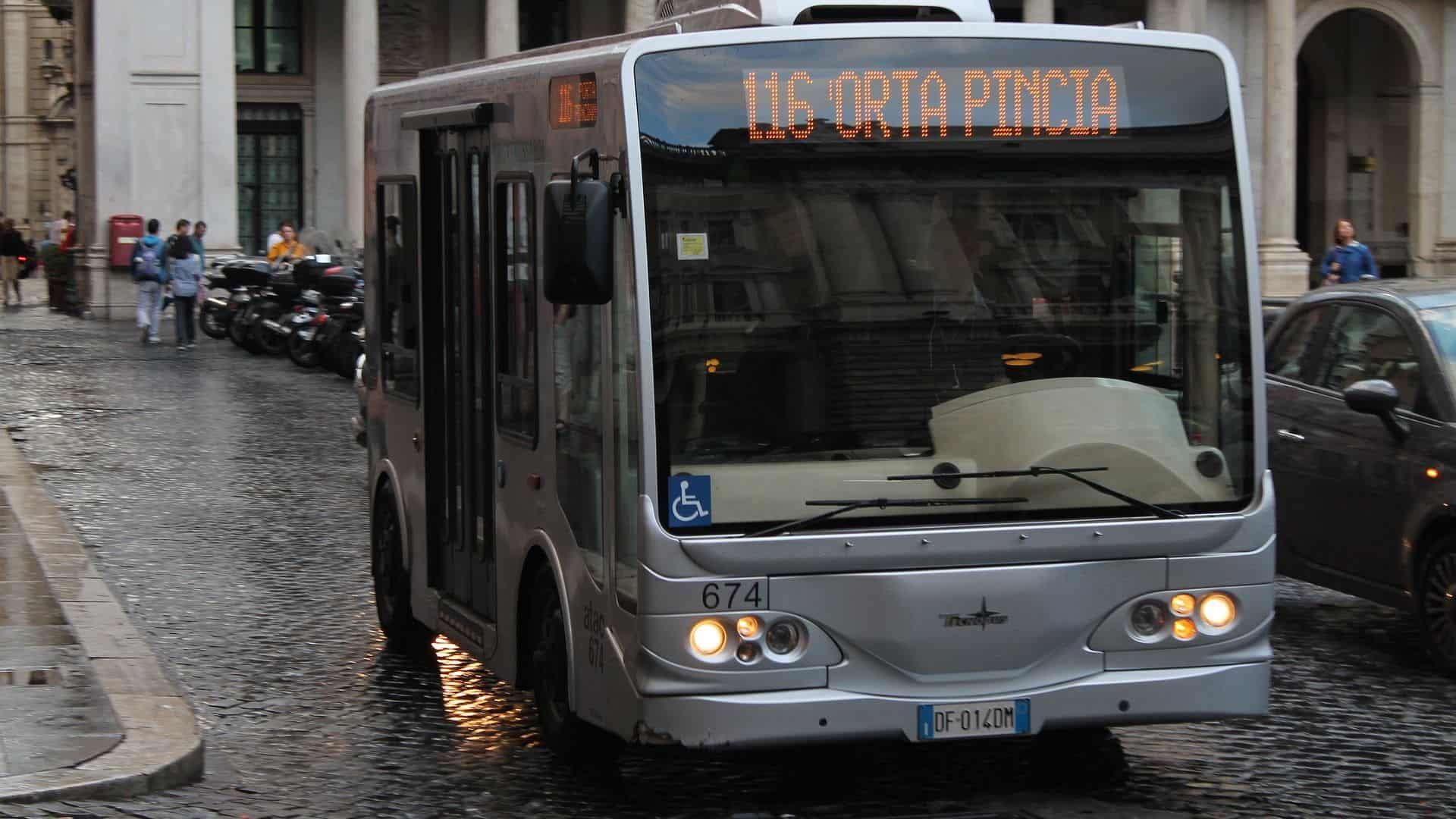 While not a different bus type altogether, you may notice that some of the buses in Rome run a little quieter than others. Plans are in place to slowly remove polluting buses from the city altogether (replaced with hybrid models). 
There is a long way to go until they reach that goal, but there are a few lines already running with electric minibusses. Lines 100, 117 and 119 use electric minibusses, making them a greener choice for visitors!
Routes and Stops
As mentioned earlier, of all the public transportation options in Rome, buses cover the largest area. The network of routes and stops is pretty extensive, and helps visitors to reach, even in just the historic center, areas that other modes of transport do not.
It would almost be quicker to run through the places the buses don't reach! Anywhere narrow and cobbled obviously isn't going to be on the agenda, so don't expect to be dropped off right outside the Pantheon, for instance. Every main road has a bus route, however, so you can get pretty close to every major tourist site. There are 338 bus lines and over 8000 stops in total; you can get to sites like the Vatican and Colosseum via bus, but also neighborhoods like Trastevere and Testaccio, which aren't as easy to reach.
If you just want to get to the most famous sights, there is one route that should be of particular interest. The 40 express bus is meant for tourists, stopping at the most popular spots:
Vatican area and St.Peter's Basilica – stop Borgo Sant'Angelo (beginning/end of line)
City center (Pantheon, Spanish Steps, Piazza Navona, Trevi Fountain) – stop Piazza Argentina
Colosseum (Imperial and Roman Forum) – stop Piazza Venezia
Termini Train Station (beginning/end of line)
If you're worried about finding bus stops, don't be! Google Maps and other route planners will lead you right to them – just keep an eye out for a sign that marks the stop.
Bus Fares and Tickets
Understanding fares for public transport in Rome is very straightforward – the same tickets can be used across buses, trams and the metro.
A standard, 100-minute ticket (biglietto in Italian) is €1.50. This is all you would need for most journeys – it can be used across multiple buses within the time limit, so it's fine to change lines if needed. You can purchase these tickets at any tabacchi shop (marked with a 'T' sign outside the shop) or, alternatively, grab them from newspaper kiosks, major bus stops or metro stations.
While much of Rome is very walkable, you may have plans that mean you need to use the buses regularly. In these cases, it may be preferable to purchase a travel pass.
Travel passes:
24-hour – for €7 you can have unlimited use of Rome's buses, as well as the metro and tram system. It's valid for 24 hours from the first time you stamp the ticket in the machine.
48-hour – for two days, it's €12.50
72-hour – for three days, €18
Week pass (CIS) – for a full week's access, €24
Some travel cards, like the Roma Pass, combine entrance to attractions with use of public transport. A two-day Roma Pass is €32, while three days is €52.
Important: Always remember to validate your ticket!
While you won't be asked to show your ticket to the driver, inspectors periodically get on the bus to check tickets.
And just having a ticket isn't enough, it has to be validated! There's a small yellow machine on the bus you use to stamp your ticket – just insert the ticket and it will be validated. Some inspectors may be nice and validate your ticket for you, while others will issue you a fine.
The fine isn't small, either. If you pay the fine within six days, it's €50, plus the cost of your ticket and processing fees, which totals €54.90. After the six days you will be adding an extra €50, making the fine €104.90.
Rome Bus Map, Schedules, and Operating Hours
While the bus schedule in Rome admittedly seems more of a suggestion than a hard rule at times, it's still worth knowing. It helps you to plan out your day and get an idea of potential routes to take. You can get live updates of bus times on several apps that make life a little easier.
The most up-to-date bus schedule will always be on the Atac website, so it's worth checking there when planning ahead. Apps like Google Maps and Moovit can also provide you with the bus schedule – and can often give you a pretty accurate arrival time.
They also update you on how crowded the buses are, helping you avoid an uncomfortable journey; though generally steering clear of the buses at rush hour is a good idea!
The local buses will usually begin their routes at 5.30am and end their operating hours at midnight. There is a night service that runs from 00.30 to 5.30am, but it is limited to a handful of lines, and buses arrive every 30 minutes.
Accessibility and Safety
While transport in Rome isn't winning any awards for accessibility, the buses are the best option for disabled passengers. 98% of the bus fleet in Rome is equipped with boarding platforms and a wheelchair area, with next-stop announcements for people with visual impairment.
You can check if your journey is accessible by ticking the 'accessible route/only' box on the Atac website's route planner. It will provide you with a route that removes any uncertainty over accessibility options.
As for safety, you don't have much to worry about. Buses in Rome are perfectly safe, but you can still take steps to protect yourself from pickpockets. To protect your belongings, keep them in zipped-up bag compartments, not easy-to-access locations like your pockets.
Tips for Tourists
The unspoken rules for bus etiquette are much the same in Rome as they are elsewhere.
Wait for everyone to get off the bus (if you're at the same door) before you get on, give up your seat to elderly, disabled, or heavily pregnant passengers and keep your voice down. Just be respectful of others!
A few other tips:
Leave earlier than planned as the buses are notoriously unreliable – you don't want to be catching the bus that gets you there just in time. Give yourself a bit of a time cushion to be safe.
Know your route and how many stops before you get on, so you don't have to stress if you lose connection to the internet.
As we mentioned earlier, make sure valuables are stored safely, and never forget to validate your ticket!
All the big tourist sights are easily reachable by bus, including:
The Colosseum
Trevi Fountain
Vatican City
Spanish Steps
The Pantheon
You can also reach Trastevere and Testaccio by bus; two neighborhoods famous for their food!
FAQs
How much do buses cost in Rome?
For a single journey, 100-minute ticket, you will only need to spend €1.50.
Are buses in Rome free?
Buses in Rome are not free. You can purchase passes that allow unlimited travel on buses within a set time period, but you will otherwise need to validate a ticket each time you catch a bus.
Can you pay by card on Rome bus?
No, unfortunately, contactless card systems are not available on buses in Rome. You can't actually purchase a ticket onboard at all – you need to buy one beforehand, from a tabbachi shop or newsstand.
Are buses easy to use in Rome?
Buses are easy to use if you take advantage of the many journey planners available online. Once you know where your bus stop is and when the bus is (roughly) due to arrive, you'll find the rest a breeze.