In Rome, many hotels are as much part of the city's heritage as historical sights. Housed in the city's palazzi, convents or villas, there is accommodation to cater for every budget. Treat yourself and stay in a plush suite or live carefree in cheap accommodation.
Please use the search form below or list the preferred hotels in Rome.
Hotel prices
Rome may have cheaper accommodation than London or New York, but rates for comparable establishments are catching up due to Rome being one of the most visited cities in the world.
Rates may vary considerably according to season, with prices peaking at Easter and during summer months. Apart from late autumn and January-February, when the number of visitors to Rome decreases, hotels are usually fully occupied – so book early!
We advise to book your hotel online to secure your room and get the best price possible – online booking always comes off cheaper than booking directly.
Book your accommodation with a reputable booking company such as our favorite: Booking.com. Most of their offers include a free breakfast – there's nothing better than filling yourself right up for free before a long walk around Rome! You can check rates for available rooms and even apartments. Usually, with Booking.com, if you reserve accommodation than change your mind, you can cancel and/or amend your booking without being charged, so there's no pressure! Sometimes, after confirming your reservation with Booking.com, they email you a nifty map and tips for where to go and explore, you'll need this for Rome, as the options are endless!
ADVICE: Rome gets pretty busy during the summer season, we advise that you book your hotel in advance.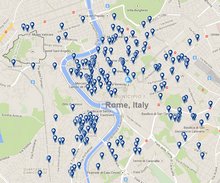 A Roman treat: The area around Piazza di Spagna offers beautiful boutique style hotels, nestled with haute couture stores such as Valentino, Prada and Givenchy, it's a fabulous location if you feel like a splurge!
The west of Via del Corso, Via Veneto, The Vatican surrounding area (Prati distict) and the lively quarter of Trastevere can also be quite pricey. Hoever the locations are fantastic. Most of the main tourist attraction are on your doorstep. So you do get what you pay for!
If you are looking for a peaceful retreat, try the area around the Aventine, or one of the high-class hotels next to the Villa Borghese park.
On a budget: Area around the Termini station(Central railway station) is particularly suitable for those who plan to travel to other parts of Italy. Termini is one of the areas where you will find cheaper accommodation due to its location (the area can be quite grubby)- this is more or less true for any hotel near a station in any city.
Continue reading about best hotel locations.