Glide around the Eternal City on Rome's tram network.
While not the most widespread means of public transport in the city, it is often cited as the cleanest and smoothest option – and it can still help you reach the Vatican and Colosseum, as well as the foodie neighbourhood of Trastevere.
Here's everything you need to know.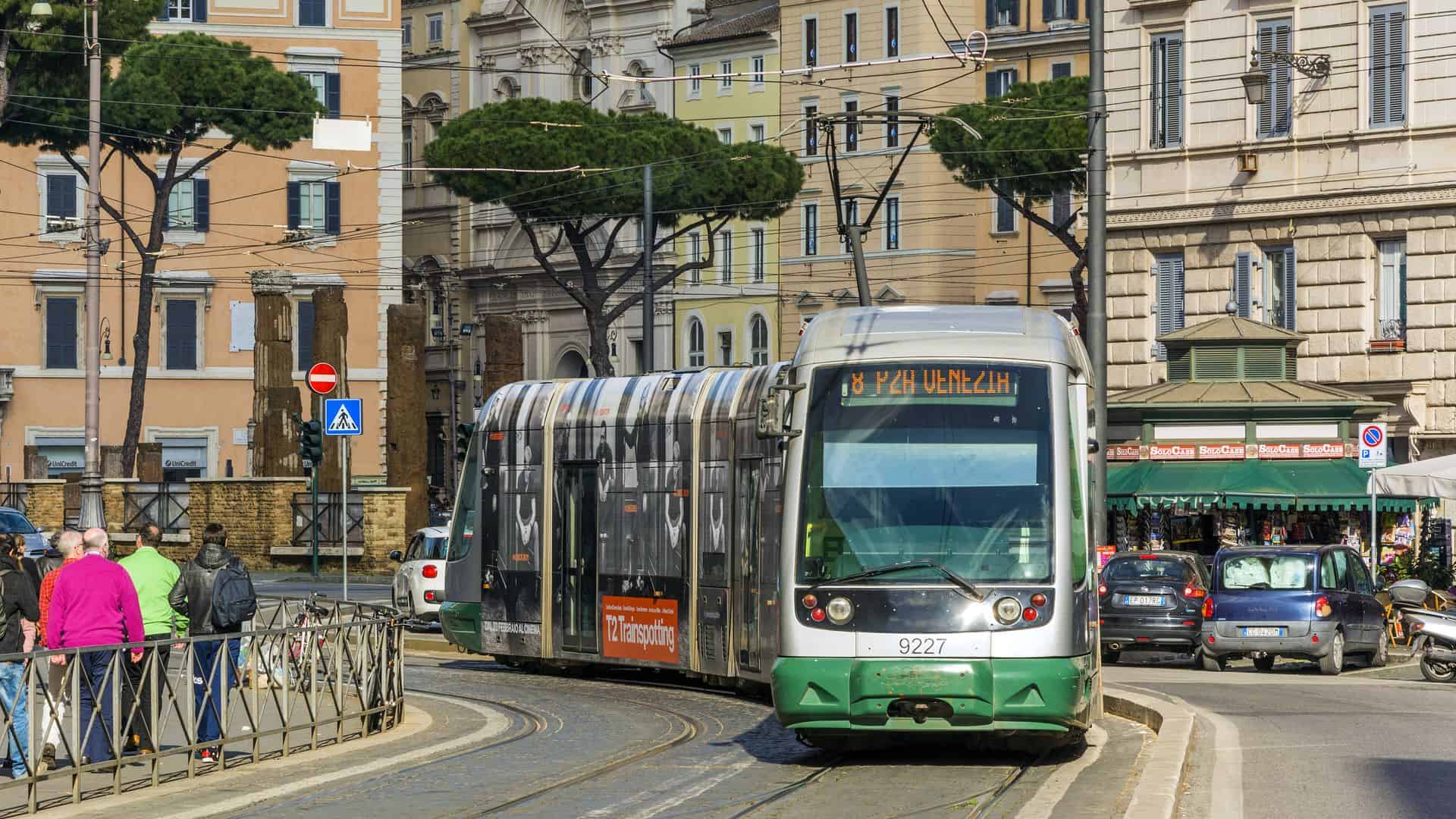 Tram Lines
There are six lines in total, which, just to make it a little more confusing, are not numbered one to six.
Line 2: Piazza Flaminio – Piazza Mancini.
Line 3: Valle Giulia – Trastevere.
Line 5: Roma Termini – Piazza dei Gerani.
Line 8: Piazza Venezia – Via del Casaletto (Trastevere)
Line 14: Termini – Togliatti.
Line 19: Piazza Risorgimento (near the Vatican) – Piazza dei Gerani.
They generally run every 5-10 minutes, though it will be a longer wait on Sundays when fewer trams are in operation.
Most of the tram lines are not particularly useful for tourists, as they don't stop in the historic centre. The most useful lines are 3, 8 and 19; number 3 takes you into the leafy neighbourhood of Trastevere from Villa Borghese, stopping at the Colosseum along the way. Line 8 runs through the centre to Trastevere, while 19 takes you to the Vatican.
Tram Map
To make things easier, the tram map is a simplified design of the city. You won't see streets or big tourist attractions on the map, it's a straightforward depiction of the tram lines and their stops.
Each line has its own colour:
Line 2 – dark blue.
Line 3 – green.
Line 5 – red.
Line 8 – yellow/lime.
Line 14 – light blue.
Line 19 – orange.
You can see where the lines connect, the number of stops, and where you can get off to catch a metro connection. It's simple to follow and, when used alongside a journey planner app, makes travelling around the city via tram easy.
There are a few out-of-date tram maps online, so it's best to grab the map from the official Atac website. If you want an offline map handy, you can download it from the Atac website here.
Tram Stops
As we've mentioned, the tram network isn't very large compared to the bus system and the metro. There are still 192 stops though, so you may find it useful at some point in your trip!
Use an app like Google Maps to find the exact location of your stop. Some trams will have raised boarding platforms – these are the accessible trams; if accessibility is a concern, use the Atac journey planner and tick the accessible only box to find your route.
Tram Fares and Tickets
In Rome, public transport tickets are essentially interchangeable. You don't buy a bus, metro or tram ticket – you purchase a ticket that can be used on any of the three.
Most visitors will buy a single-journey, 100-minute ticket. It's very inexpensive, at €1.50, and with a 100-minute validity from the time of stamping, covers virtually any journey in the city. It can also be used across two trams, as long as it's within the allotted time period.
24-hour ticket: if you plan on using trams, buses, and the metro extensively in a single day, you may find the €7 24-hour pass more cost-effective. To put it into perspective, you would have to make five journeys in a day to make it worthwhile, 100 minutes apart.
You have unlimited use of buses, trams, and metro lines, as well as some urban train lines for ticket duration; it's valid from the first time it is stamped for the next 24 hours, price €7.
48-hour ticket: valid for 48 hours, with a price of €12.50; works in the same way as the 24-hour ticket.
72-hour ticket: if you plan on using public transport regularly over a long weekend, the 72-hour ticket, at €18, may prove good value.
Week pass (CIS): starting on any weekday, the pass can be used from the first day it is stamped until 24:00 of the seventh day; price €24.
You can buy your ticket from a number of places, none of which are on the tram itself. Ticket machines at metro stations and larger bus stations are one option – metro stations will also usually have a ticket booth, if you'd rather buy a ticket from a person.
The easiest way to get a ticket is probably a Tabacchi shop or newsstand, simply for the sake of convenience. These newsagents, marked with a 'T' sign outside, are found all over the city, and are likely to be closer to your tram stop than a metro station!
Rome Tram Pass Options
Again, there's no specific tram pass but instead passes that grant you access to all of Rome's public transport. There are the day-to-week passes discussed above, which give you unlimited access to trams, buses, and the metro, but there are also passes aimed at visitors, which also include entry to attractions.
ROMA PASS: an excellent tourist pass, the Roma pass offers three days of unlimited travel in the city, as well as entry to two sites and reduced prices on many sights, museums, theatres, and cinemas. The three-day pass is €52, but if you're only in Rome for a weekend, there's also a 42-hour Roma Pass available at €32.
There's also an Omnia card travel pass which includes transport for 72 hours, but it is very expensive, at €129 for adults. It grants access to several popular tourist sites, but think carefully about whether this pass would be good value – you would likely need to go to all the sites on the card to make it worth it!
Tram Operating Hours
Trams run from 5.30am to midnight every day. At night, while there are no actual trams running, night buses offer a useful replacement.
It's always worth checking the Atac website though – sometimes planned maintenance works can derail your plans.
Journey Planner
Travelling without knowing your way in a foreign country can be scary – if you're worried your Italian is a little rusty and want to avoid asking for directions, it's best to plan your journey beforehand.
Luckily, planning your route has never been easier.
You can use the journey planner on the official Atac website, simply putting your current location and destination into the appropriate boxes; it will show you the quickest route for your journey. If accessibility is a concern, there's a box you can tick that will mean only accessible routes are shown.
For ease of use, you may prefer Google Maps or Moovit. These apps are familiar and quick to use; more often than not, you can just put your destination in (it already knows your location) and they will find you several routes, starting with the fastest.
Accessibility and Safety
Accessibility is unfortunately not a guarantee on Rome's tram network. While 70% of the fleet is now accessible, with boarding platforms and wheelchair spaces onboard, there is still a significant number of old trams that are inaccessible – though they are slowly being phased out.
To guarantee you're getting on an accessible tram line, tick the accessible only box on Atac's journey planner.
As for safety, there really isn't much to worry about. Trams in Rome are perfectly safe. Taking the usual precautions you would in any major city will help you feel reassured – namely, not leaving valuables in pockets; place them in a cross-body bag instead.
Tram Travel Tips for Tourists
Simply planning your journey and following our safety tips should be enough to guarantee a smooth and easy journey.
Buying your ticket well in advance (not 5 minutes before!) can also help, and if you're buying single tickets, pick up a few at once – it will save you a trip back to a Tabacchi shop when you're rushing to a tram stop. Always remember to validate your ticket, or run the risk of a hefty fine.
Avoiding the busiest times of the day will also make your journey more pleasant!
FAQs
Are there still trams in Rome?
There are still trams in Rome! With only six lines, it's not the most extensive system, but they definitely exist.
Are the trams in Rome free?
No, trams are not free. While your ticket isn't likely to be checked every time – the driver does not inspect tickets – random ticket inspections do happen. You don't want to be caught out without a ticket!
How do you use the tram in Rome?
Simply purchase a ticket beforehand, head to your stop, and hop on. Don't forget to validate your ticket in the small yellow machine onboard!
How do you pay for trams in Italy?
You buy a ticket or pass before you board. This can be at a ticket machine at a metro or large bus station, but perhaps more easily can be found in 'Tabacchi' shops, which are basically newsagents and are dotted all over the city.