While not the most widespread means of public transport in the city, it is often cited as the cleanest and smoothest option – and it can still help you reach the Vatican and Colosseum, as well as the foodie neighbourhood of Trastevere.
Here's everything you need to know.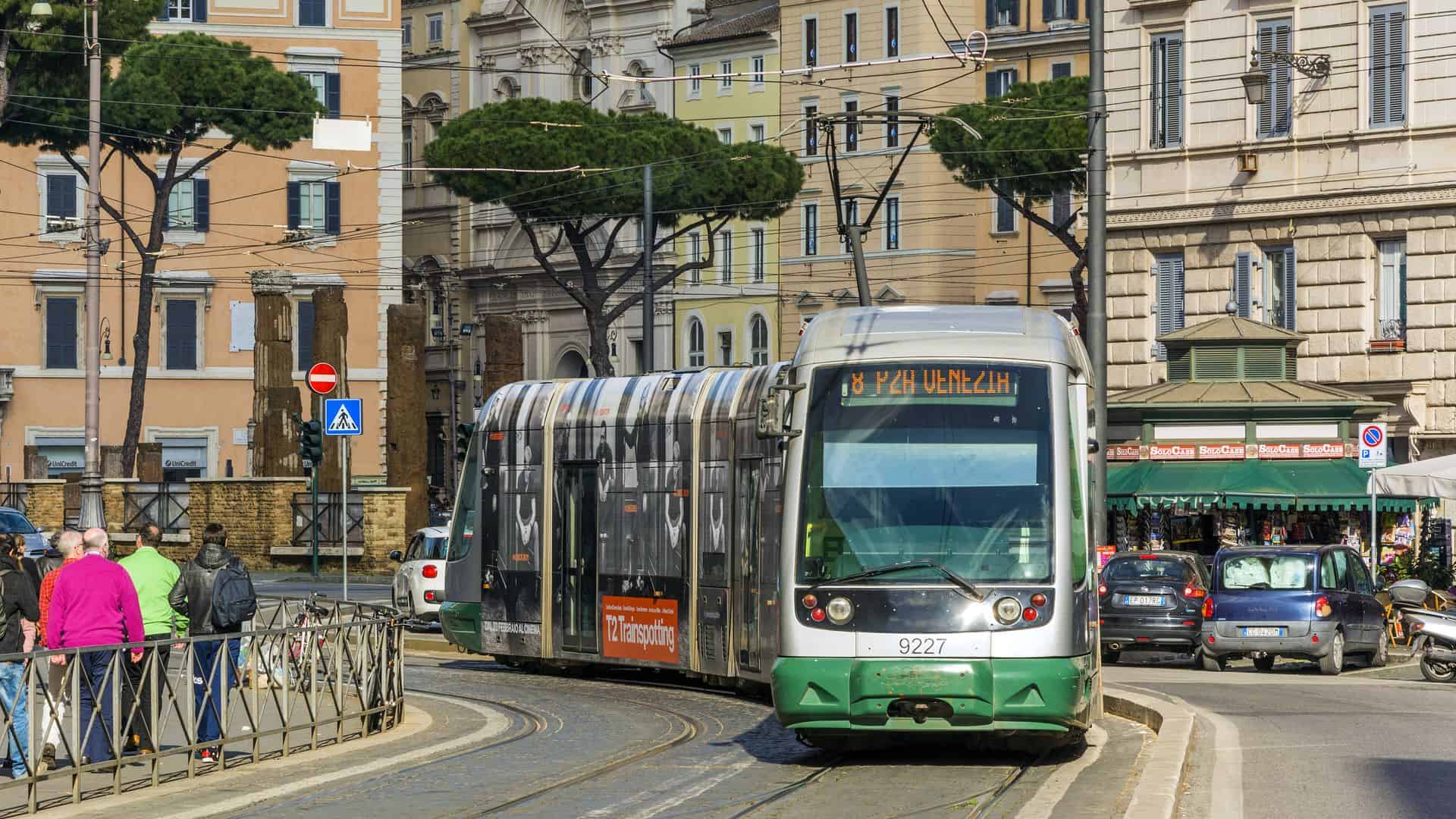 Tram Lines
There are six lines in total, which, just to make it a little more confusing, are not numbered one to six.
Line 2: Piazza Flaminio – Piazza Mancini.
Line 3: Valle Giulia – Trastevere.
Line 5: Roma Termini – Piazza dei Gerani.
Line 8: Piazza Venezia – Via del Casaletto (Trastevere)
Line 14: Termini – Togliatti.
Line 19: Piazza Risorgimento (near the Vatican) – Piazza dei Gerani.
They generally run every 5-10 minutes, though it will be a longer wait on Sundays when fewer trams are in operation.
Most of the tram lines are not particularly useful for tourists, as they don't stop in the historic centre and don't cover a wide area of Rome. Many will also take you close to other forms of transport like the Metro and train stations.
The most useful lines are 3, 8, and 19; number 3 takes you into the leafy neighbourhood of Trastevere from Villa Borghese, stopping at the Colosseum along the way. Line 8 runs through the centre to Trastevere, while 19 takes you to the Vatican.
How to use Trams in Rome
Tram Fares and Tickets
In Rome, the tickets you buy are valid for all the public transport types inside the city. Mind that you will need to buy tickets beforehand. Some trams now have a tap-on tap-off e-ticket that you can pay with a credit card, but in most cases, there isn't a way to buy tickets when on board the tram.
One of the new tap-on tap-off machines
You can buy tickets from the vending machines at major bus stops, Metro stations, and tobacconists (Tabacchi). The latter are recognisable because they are usually marked with a big T outside.
Vending machines at a Metro station
If you prefer a paperless ticket, you can download the app Ticketappy, the official app from Rome's public transport company.
An e-ticket in TicketAppy:
Keep in mind that if you decide to use the Tram without a ticket, you may get a fine of € 50 to €100.
Single Journey Ticket
It's quite affordable (€1.50) and is valid for 100 minutes from the time of stamping. Can be used across two or more trams or buses within 100 minutes. One single metro or urban train line journey is included.
24-Hour Ticket
This is a cost-effective ticket if you're planning on taking several trams, buses, and metro rides during the day. For €7, you'll get unlimited use of public transport in Rome from the first time it is stamped and for the next 24 hours
48-Hour Ticket
The 48-hour pass works just like the 24-hour one. It costs €12.50.
72-Hour Ticket:
At €18, it's one of the best options if you're visiting Rome for the weekend.
Week Pass (CIS):
The week pass can be used from the first time it's stamped until midnight of the seventh day. It costs €24.
Roma Pass
A different option is purchasing a Roma Pass for tourists. Roma Pass will give you discounts both on public transport and on some attractions. It's available at most tourist information offices.
Plan Your Journey
To plan your journey, you can look up the tram system map. The maps show all the lines colour-coded and the number of stops. All the connections between the trams and the metro are also shown on the maps, making planning your journey easier.
Tram map
Each line has its own colour:
Line 2 – dark blue.
Line 3 – green.
Line 5 – red.
Line 8 – yellow/lime.
Line 14 – light blue.
Line 19 – orange.
To view a map of Rome's tram network:
Visit ATAC official website. You'll be able to download an updated and printable one.
Have a look at some of the tram stops in most Metro stations and inside most trams.
Use apps like Google Maps, CityMapper, and Moovit.
Find your stop and wait for the tram to arrive. When all passengers have disembarked, you can hop on.
A map of the metro, urban trains, and trams
Validate The Ticket
Once you have stepped on board, you must validate your paper ticket using one of the machines. Slide the end with the arrow into the slot, and the machine will stamp your ticket. If one of the machines is broken, you should write the time and date on the ticket, so keep a pen with you.
Use this machine to stamp your ticket
Disembarking
Unlike the metro, tram stops will not be announced. So to know how where you should disembark, you can:
Use an app like Google Maps that tells you when you have arrived at your desired stop.
Count the stops beforehand and get off when you have reached the correct stop.
Look out the window and read the name of your destination on top of the stop.
When you want the driver to stop at the station, click the red bell or the stop button.
Etiquette
As with all transport, it is good manners to let people get off the trams before you hop on. Be mindful that there is seating that prioritises elderly and disabled people. Make sure you're ready to free up these seats when they board.
The inside of a Roman tram
Accessibility and Safety Tips
Access to wheelchairs on Roman trams is limited. Thus, there is a chance you may have to wait for one that is accessible. The older trams have two steps to access them. The newest models are equipped with platform-level floors to help with wheelchair access.
[one of the accessible trams]
Rome is a big city, yet it's quite a safe one. Common sense when using trams will be enough to avoid unpleasant situations: keep your bags zipped up and watch your pockets, especially when onboarding or disembarking the tram. Unfortunately, there can be pickpockets about.
Nearby Attractions
Line 2
From Piazzale Flaminio, a few steps away from Villa Borghese and the Spanish Steps, you can take the tram line 2.
Head to Piazza Mancini to attend a football match at AS Roma football team's stadium Stadio Olimpico. In walking distance, you will also find MAXXI, Rome's Museum of Arts of the XX Century.
Get off at Piazzale Flaminio for a stroll on Via del Corso
Tram stop in Piazzale Flaminio
Line 3
If you're a tourist, this line reaches several interesting sightseeing spots.
If you want to visit the Circus Maximus and the Aventine Hill, stop at Aventino / Circo Massimo. You'll also find a B-line metro stop here.
Trastevere is a popular area for those wanting to indulge in Rome cuisine and nightlife. You can check out many restaurants and bars here, perfect for lunch or for an evening drink. Get off at the Belli stop.
Line 19
This will take you to the Vatican Museums and to St. Peter's Basilica. Use the Piazza del Risorgimento stop, and it's a short walk from there.
The line 19 tram
Line 5
This tram takes you to the alternative neighborhoods in East Rome.
Get off at Porta Maggiore to reach San Lorenzo, a lively area attended by university students.
Head to Piazzale Prenestino to have aperitivo like a local in the Pigneto area.
The line 5 tram
Line 8
The tram stop Piazza Venezia is ideal for the Via del Corso area, which is famous for its shops.
Head to Casaletto stop to reach Villa Pamphili, Rome's largest park. From via del Casaletto, you can grab a bus or walk for about 20 mins.
Just like line 3, tram 8 stops in Trastevere and is a few steps away from Romes' Jewish Ghetto. Look for the stops Belli, Arenula / Ministero Giustizia and Trastevere / Mastai
Tram Travel Tips for Tourists
Simply planning your journey and following our safety tips should be enough to guarantee a smooth and easy journey.
Buying your ticket well in advance (not 5 minutes before) can also help, and if you're buying single tickets, pick up a few at once – it will save you a trip back to a Tabacchi shop when you're rushing to a tram stop. Always remember to validate your ticket or run the risk of a hefty fine.
Avoiding the busiest times of the day will also make your journey more pleasant.
FAQs
Are there still trams in Rome?
There are still trams in Rome. With only six lines, it's not the most extensive system, but they definitely exist.
Are the trams in Rome free?
No, trams are not free. While your ticket isn't likely to be checked every time – the driver does not inspect tickets – random ticket inspections do happen. You don't want to be caught out without a ticket.
How do you use the tram in Rome?
Simply purchase a ticket beforehand, head to your stop, and hop on. Don't forget to validate your ticket in the small yellow machine onboard.
How do you pay for trams in Italy?
You buy a ticket or pass before you board. This can be at a ticket machine at a metro or large bus station, but perhaps more easily can be found in 'Tabacchi' shops, which are basically newsagents and are dotted all over the city.