Visit the Pope's church in the Vatican City.
St. Peter's Basilica is one of the biggest churches in the world and the headquarters of the Roman Catholic Church. Whether you're hoping to catch a glimpse of the pope or examine the breathtaking art and architecture, this holy site is unmissable.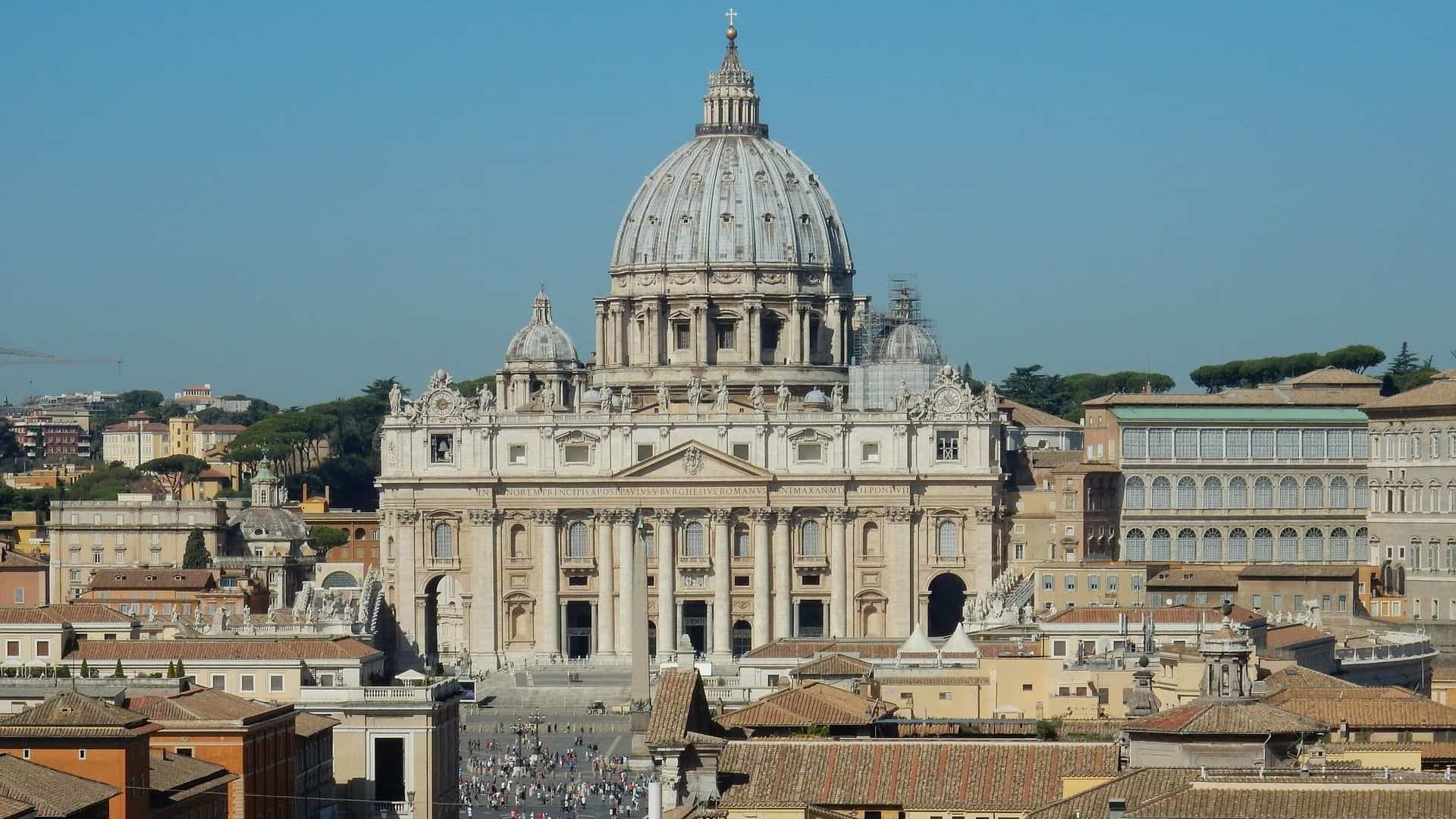 Highlights
Tickets & Prices
St. Peter's Basilica is not just any old church, it's the most important one in the world for the Catholic church. Its impressive history, priceless works of art, and jaw-dropping architecture are all best discovered with a guided tour.
Discover which St. Peter's Basilica ticket best suits your needs.
A few things to keep in mind:
Live guides are available in English, Italian, French, German, or Spanish.
Children between the ages of 7-17 (with a valid photo ID) get a discounted ticket.
You have free cancellation up to 24 hours before your scheduled tour.
Select your date and time slot online and arrive 15 minutes before your scheduled tour. ​​
Tickets are sent via email which you can then show either printed out or in digital form.
You will meet your guide at the welcome desk in the atrium of the basilica.
St. Peter's Basilica: Guided Tour Tickets
Learn about the wonders of the world's largest church on this 1-hour guided tour of St. Peter's Basilica with an official Vatican guide, and enjoy unlimited free time after the tour to explore the Basilica at your own pace.
Get this nifty card and enjoy a guided tour of St. Peter's Basilica with an official live guide.
With the same pass, you can also enjoy visiting other famous Roman attractions, such as skip-the-line access to the Vatican Museums and the Sistine Chapel; an audio guide to the Pantheon; and priority entrance to the Colosseum, Roman Forum, and Palatine Hill.
Important Ticket Information:
Includes a headset so you can always hear your guide.
Select your visit dates online and receive tickets by email. Arrive at least 15 minutes before your designated time.
Free time afterward to explore the basilica at your own pace.
The Vatican City Pass
Discover the holiest country in the world with this handy pass. Book your visit dates online and receive tickets by email. Valid for three days from the starting date.
What's included:
Skip-the-line access to the collections of the Vatican Museums and the Sistine Chapel.
Guided tour of St. Peter's Basilica with an official Vatican guide.
Rome: City Audio Guide App with over 130 hotspots to discover.
5 Things You Need to Know Before Visiting St. Peter's.
There is no such thing as skipping the line. Only the Pope himself has that privilege. 


Security lines are long. Everyone has to go through metal detectors before going in. There's no way to speed it up.


It gets hot in summer in St Peter's Square. Go for a morning tour if you can. Bring a hat and an umbrella. It can get pretty brutal waiting in the square to go through the metal detectors. 


There is a dress code. Despite the heat, rules stipulate no bare shoulders and no overly exposed legs. Staff will check before you enter. Your guide will let you know if you're OK.


St Peter's Tomb is behind a glass screen. There's conflicting information on the internet about this. Basically, you will see it, but you can't get up close to it, that's all. 
Getting There
This guide assumes you have pre-booked a guided tour. I used the Tiquets App, which comes with very helpful instructions and a map showing you the precise location of your meeting point.
That said – I get it. You have a lot on. There's a lot to see. You're still tired from your trip, so allow me to break it down. Rome is amazing, but we're not exactly working with a grid system here. The GPS on your phone will definitely have a meltdown or two, so best to sharpen up those orienteering skills. 
Let's Get Started
My tour was arranged by a local tour operator called Touriks (partnered with Tiqets). I booked a guided tour of St Peter's Basilica, which included the Dome Climb.
The meeting point (on Largo del Colonnato, just outside St Peter's Square) is used by many other tour operators too, so it's quite likely that if you book a guided tour, you'll be meeting there too.
Public Transport
Bus: 40 – Traspontina/Conciliazione
64 – Cavalleggeri/S. Pietro
32, 81, 982 – Piazza del Risorgimento
492, 990 – Via Leone IV / Via degli Scipioni
Tram: 19 – Piazza del Risorgimento
Metro – closest station, Ottaviano. 10-minute walk.

Ottaviano Metro stop
From Ottaviano Metro, take the Via Ottaviano exit and walk all the way down Via Ottaviano until you arrive at Piazza del Risorgimento (a big oval-shaped piazza in the middle of a thoroughfare). 
On the way, you'll pass the gourmet food store Castroni on your right (which is how you'll also know you're going in the right direction). 
Cross over to Piazza del Risorgimento and continue straight on to Via di Porta Angelica. 
Keep going until the end of the street. On your left, you will see a fountain, this is where the short street Largo del Colonnato begins (veering to your right). Follow it all the way down until you see a gift shop called Galleria San Pietro. You will have the colonnades of St Peter's Square on your right-hand side. 

The fabulous curved and shade-giving
colonnade of St Peter's Square and a flock of nuns.
Street sign showing Largo del Colonnato, opposite the colonnades. 


Galleria San Pietro at 5 Largo del Colonnato.
The exact address of the meeting point is Largo del Colonnato 5. You can see the tiny number 5 on the wall. (Or 5 Largo del Colonnato if that makes more sense in your head). It's the address of a popular and well-stocked gift shop called Galleria San Pietro. 
Largo, in this context, means plaza/street. Kind of something in between. (It also means 'wide' in more everyday contexts). 
Street numbers are placed at the end of the street names in Italian. 
Finally, Colonnato means colonnade. So Largo del Colonnato 5 in English would be 5, Colonnade Street (and not column no. 5). 
If your tour happens to be with local tour operator Touriks, you will find friendly multilingual ground staff holding yellow labels like these opposite the gift shop Galleria San Pietro.
Go over, introduce yourself, and you will be assigned to a group. You will then be instructed to wait at a designated spot for your guide, who will hand out your radio sets and earpieces.
Top Tip:

I used my own earphones – if you choose to as well, you'll need the old-fashioned kind with a jack. Bluetooth earphones won't work. Otherwise, earphones will be provided. 
Entrance
Our guide was a giant Roman called Marco, with charming English and thoughtful touches like pausing for bathroom breaks and water whenever possible in and around the basilica.
He kept us entertained in the midday heat with non-stop history and trivia.
When I went (in late May,) all in all, it took around forty minutes from the time I started queuing up to when I physically entered the church. In peak season, you can expect to wait at least an hour.
St Peter's Basilica is located in the Vatican City, which is a different country. Therefore you have to go through security just like at the airport. You won't, however, need to show your passport.
Security is manned by Italian Police under the colonnades in the shade. Once you've gone through this, you're in a different country, and you will be in the hands of the Swiss Guard (Vatican City Police).
A Swiss Guard. If there's any trouble, he's your man.
The imposing entrance to St Peter's Basilica. It gets pretty busy. 
What Not To Miss At The Basilica
There are countless things to see and take in, but here are the standout moments from my tour. Our guide Marco was fantastic, but the great thing about guided tours is that no two are ever the same. Even with the same guide.
The first thing that will strike you as you enter the basilica is the immense scale of the place.
The central hall leading up to Bernini's bronze canopy
and the Altar of the Chair of St Peter behind.
La Pieta – Michelangelo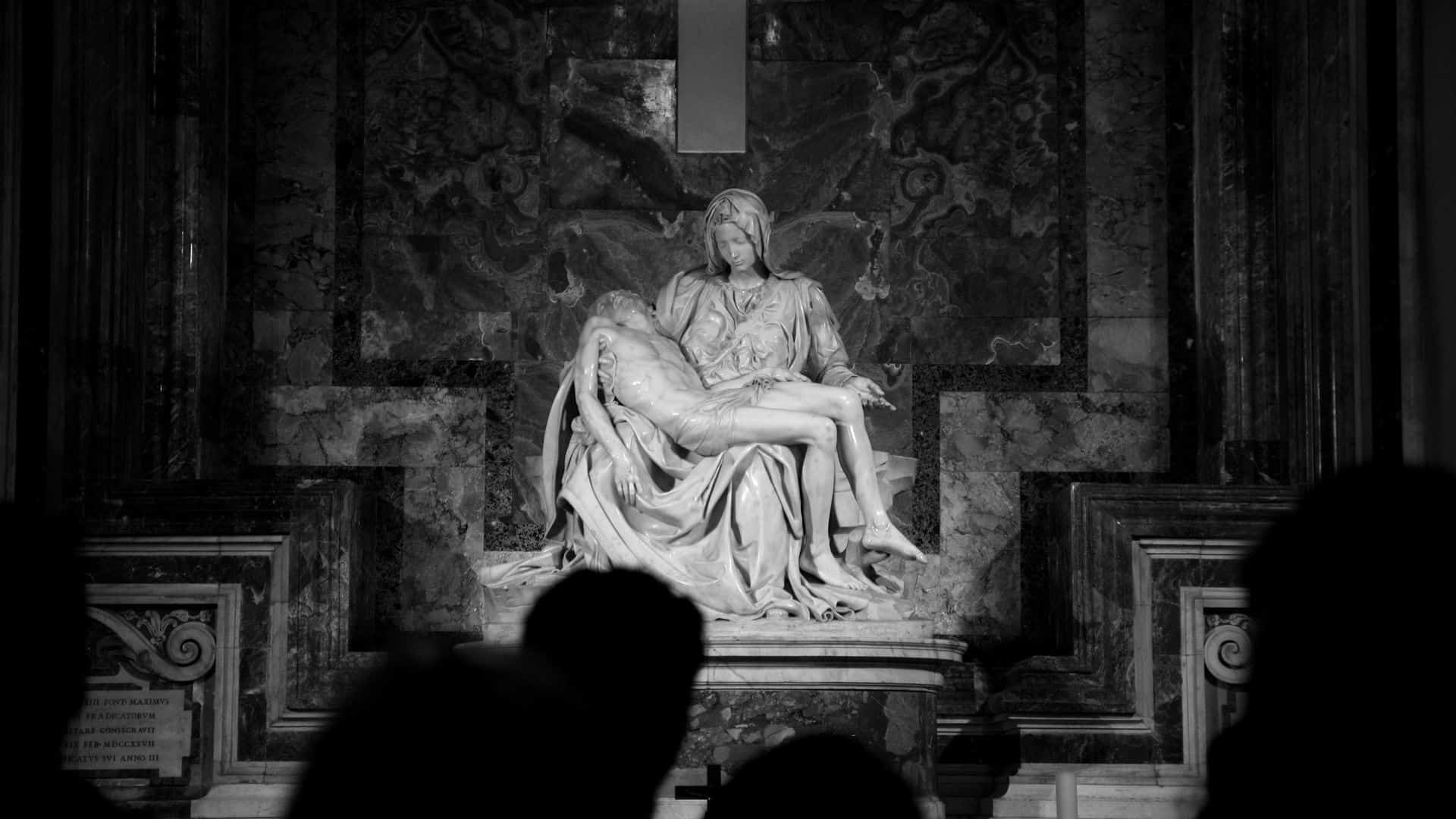 The first stop on any tour is always La Pieta, completed by Michelangelo in 1499. 
In 1972 an extremely mentally unwell person, under delusions of being Jesus Christ, brutally attacked this beautiful sculpture with a hammer. It was painstakingly restored and has been housed behind a bulletproof acrylic screen ever since.
An anachronistic portrayal of Mary (who looks far too young to have a 33-year-old son, the age that Jesus died); some art historians argue that her face is actually a rendering of Michelangelo's own mother, who died when he was just a boy.
Take a moment to appreciate the heartbreaking realism of her facial expression.
Ancient Bronze Statue of Saint Peter (Thirteenth Century)

Catholic tradition has pilgrims kiss and touch the right foot of Saint Peter when they visit the church. This has been going on since the 1300s, so you'll understand why his right foot is now visibly worn down. 
He's had a break from all the foot kissing since the pandemic for obvious reasons. When I visited in May 2023, he was still cordoned off. But take a second to notice the worn-down foot.
Baldacchino di San Pietro – 1634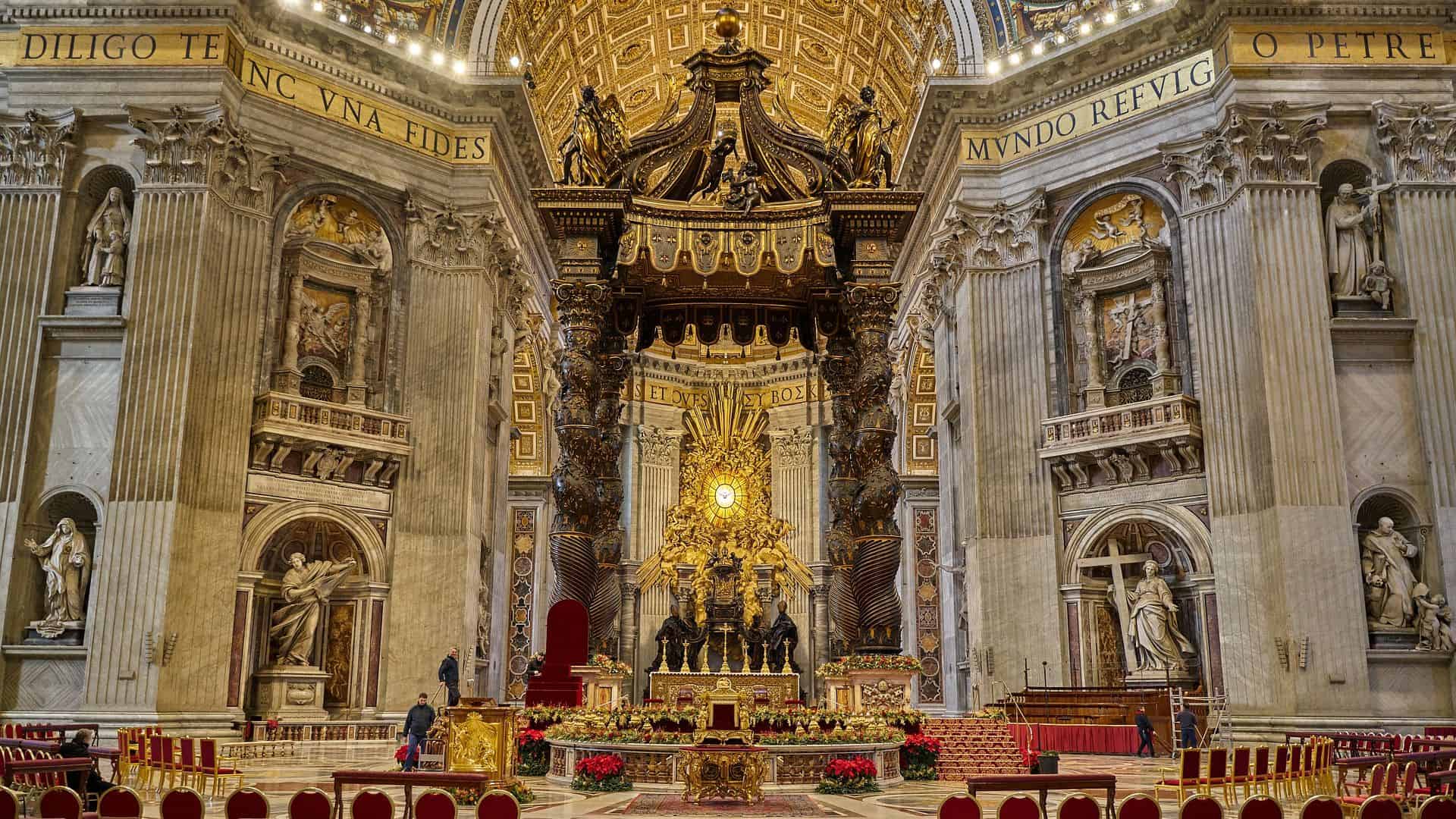 This enormous bronze canopy, standing at 20 meters (66 feet), was designed by Gian Lorenzo Bernini and completed in 1634. Its precise location marks Saint Peter's tomb.
Michelangelo, referred to as 'The Divine' even in his own lifetime, does, in fairness, live up to the hype. But do some groundwork on Bernini. You'll be hearing his name a lot too. 
Tomb of Pope Alexander II by Bernini – 1678.
Bernini. See. There he is again. There's a lot of hype about St Peter's Tomb – but honestly, I don't know why the Tomb of Pope Alexander doesn't get more press. It is absolutely wild.
Pope Alexander sits atop a doorway in prayer above the figure of death seen here as a gilded bronze skeleton holding an hourglass draped in fabric (actually painstakingly carved jasper). 
There are also four statues representing the Virtues. But look out for the Virtue of Truth on your right. She's got her foot on a globe, with a thorn coming out of England stuck in her big toe.
This represented the Pope's ongoing battle with the Church of England (the thorn in Pope Alexander's side)
Seriously, there's a lot going on. It's a wild, wild ride. 
Papal Grottoes
No pictures were allowed down there, so I obeyed the rules. 
You'll see St Peter's Tomb from behind a screen.
Unless you have a passion for this kind of thing, I think it's the most overrated part of the tour. Maybe if it wasn't for all the Bernini and the Michelangelo, I'd have been more impressed. But as it stands, papal tombs and old crypts don't really do it for me. 
It will also be the most whistlestop part of your tour as, technically, guides aren't supposed to stop and talk down there. No photos, and keep it moving is their M.O. 

Next Up
The elevator rides up to the interior of the dome to see the mosaics.
If you've opted for the Tour of Basilica + Dome Climb, it will be included in your guided tour.
However, it's only possible to buy the elevator tickets on the day. So you'll have to line up with your guide and wait for them to get all your tickets and then go back inside again and line up for the elevator (there's only one). This is going to be the most tedious part of the tour….but it will be worth it. 
You've waited in longer lines at theme parks. You're going to see something amazing, I promise. Keep the faith.
The elevator takes you to the roof of the Basilica. It's pretty exciting already up here though you won't be able to see much yet.
There's a gift shop and bathrooms up here in case you need a mini pit-stop before seeing the inside of the dome up close and bracing yourself for the demanding Dome Climb.
Prepare to be wowed.
The interior of the main dome (cupola) depicts the saints and is awesome in the literal sense of the word. 
Details of the mosaics you can literally reach out
and touch. Above, detail from floral decoration.
Below is one of the keys of Saint Peter. 
I give you keys. Translation of
Latin inscription all in mosaics.
From the viewing balcony, which loops around the interior of the dome, you really get a sense of the scale of this place. Visitors down below, antlike and indistinguishable. 
It's not just the amount of steps. It's that the stairwell gets extremely narrow at various points, and then as you ascend the dome, there's a point when the walls start to cave in slightly, and you find yourself having to bend over to the side as you climb to accommodate the curve of the dome.
However, if you're not claustrophobic, then you will be rewarded when you get to the top.
Breathtaking view. Literally. The Dome Climb is a rewarding workout. 
Fittingly, by the time we made it to the top of the Dome, the heavens were about to open. That said, even though the sky was grey, it was still mesmeric and beautiful. Somehow I found it more pleasing with grey skies. Perhaps after all that visual stimuli from the dome mosaics.
The sky matched the general colour palette of the city from up high; the buildings' pastels and creams and the charcoal cobblestones of St Peter's Square and the Via della Conciliazione straight ahead.
Recommended Souvenirs And Gift Shops 
There is a gift shop on the roof by the cupola after you take the lift and before you go in again to see the mosaics.
I didn't get a chance to go in as I was ushered along by my guide and had to keep up with the group but was informed you can buy rosary beads there from the nuns who run the shop.

Vatican City stamps – once a unique selling point because technically, Vatican City is a separate country. Despite being quite a Boomer thing to flaunt, a lot of tour guides still have it as part of their repartee. I actually think it makes for a nice souvenir for the right person.
If interested, head to the Vatican Museums Information Point, located at the exit of St Peter's on the right of the square (if you have the Basilica behind you). 
Best for Bibles, pope biographies, postcards, and stamps. You can also send your postcards from here. 
If it's figurines to add to your (or your nana's) Nativity Set, try Galleria San Pietro (the meeting point for the tour). Also good if you're looking for a generic Rome sweatshirt or T-shirt. 
The most evocative place for souvenirs, though, to my mind, is the neighbouring street, Borgo Pio. Head back to Via di Porta Angelica, it's the second on your right after the fountain.

You'll find a more traditional scene here. I love this store at number 129 for religious icon art on papyrus. It just feels very much stuck in time. Opposite is another store (Turella Adriana) selling religious artifacts if rosary beads or icons of the Virgin Mary are what you're looking for.
If you have a penchant for Catholic religious artifacts verging on the kitsch (I totally do), it's worth having a little wander around Borgo Pio, Galleria San Pietro, and countless other souvenir stores along the Via della Conciliazione.
Beware of inflated prices – the holiness of the location won't necessarily mean honesty in prices. But if you shop around, you might just walk away with something memorable. 
And finally ….
We need to talk about the 'hot priests'.
Now in its 20th year of publication, the 'hot priest calendar'  (not its official name) is officially a classic Roman souvenir.
Since 2023 saw the release of its 20th-anniversary edition, they have been selling like hotcakes (priests). Photographed by Piero Pazzi, It's not ironic, and it's not even affiliated with the Vatican.
It's just a guy who likes taking very good black-and-white pictures of priests who are, objectively speaking, not bad to look at.
Make of that what you will, and if it appeals, good luck finding one. (You'll find them dotted around most kiosks and souvenir shops in the historical centre and near St Peter's). 
Nearby Attractions 
Formerly the site of Emperor Hadrian's tomb and erected around AD 134, subsequent emperors and popes converted it into a fortress and then a castle. It's now a museum, housing two millennia of history, and has pretty nice views from the top.
FYI, this is the same Hadrian as Hadrian's Wall in Scotland and Hadrian's Villa (Villa Adriana) in Tivoli. 

The bridge adorned with angels leading up to it is dreamy, especially at dusk.
If going in feels like too much, the surroundings are still worth spending time in. There's a library / outdoor bar on the right as you walk along the river called Bibliobar, which has a subtle Parisian vibe to it.

Bibliobar. An outdoor library/cafe
reminiscent of the Seine. 
Food and Drink
8 minute walk away:
Il Sorpasso – Via Properzio, 31/33, 00193 
Stylish yet relaxed wine bar with a great wine selection (without being pretentious about it). All are available at reasonable prices. Enjoy their Italian ham and cheese boards (and advice on the correct order in which to eat the cheese.). Good mix of ex-pat and local clientele. A nice place to observe the Prati people. 
15 minute walk away:
Argot (Prati) – Via Alessandro Farnese 2, 00192 (Closest Metro Lepanto on the A line).
After taking a leisurely stroll down the shopping street Via Cola di Rienzo from Piazza del Risorgimento, try Argot, where you'll find above average cocktails and food. It's trendy but friendly. Cocktails are a bit on the pricey side but not your run of the mill. All made by people who know their stuff. 
7 minute walk away:
Morrison's – Piazza del Risorgimento, 16, 00192 Roma RM, Italy
If you fancy a pint (and maybe a burger to go with it), look no further than Morrison's. You can expect slightly better than 'pub grub' ; and their lunch specials, in particular, are surprisingly decent, with traditional Italian on offer in addition to your pub food classics.  
And for an 'Irish' pub, not too gimmicky at all. 
Did You Know That: 4 Interesting Facts 
The basilica was named for St. Peter, the leader of Jesus' 12 disciples. He was sentenced to death by Emperor Nero and crucified upside down.


The location for the basilica was not chosen at random. It was built on the site of St. Peter's crucifixion.


In 1950 human remains were found, underneath the altar, dating back to the 1st century CE. It's widely believed that they belong to St. Peter himself.


The Holy Door (Porta Sancta) is only opened every 25 years by the pope. The last time was in the year 2000.
History
The original basilica was built in the 4th century under the command of the emperor Constantine, known for making Christianity the main religion of the Roman Empire.


It stood for 1200 years before being demolished and replaced by Pope Julius II in 1506.


It took around 120 years to complete the construction, and many prominent artists and architects worked on it. Donato Bramante created the original design but died in 1514.


Raphael and Antonio da Sangallo continued to work on the project, but little progress was made.


It wasn't until Michelangelo took over in 1547 that real progress was made. He simplified Bramante's original plans and designed the impressive dome, the greatest architectural achievement of his life. Sadly, he didn't live to see it built.


Carlo Maderno took over the project in 1605. He's responsible for lengthening the nave and designing the magnificent facade.


The last major artist to leave his mark on the basilica was Gian Lorenzo Bernini, who added the final additions, such as the Baldacchino and St. Peter's Chair.


Today, the basilica remains the most important building in Christendom and receives millions of visitors a year from both pilgrims and tourists alike.
FAQs
What is St. Peter's Basilica famous for?
St. Peter's Basilica is famous for being one of the biggest and most important churches in the world for the Catholic church.
Is St. Peter's Basilica free?
St. Peter's Basilica is free to enter, however, you can expect cues of up to 2 hours. We recommend purchasing skip-the-line tickets to avoid the wait.
What is the difference between the Vatican and St. Peter's Basilica?
The Vatican Museums and St. Peter's Basilica are different buildings and are not connected to one another, though they are both located in the Vatican City.
Address: St. Peter's Basilica, Piazza San Pietro , 00120 Città del Vaticano, Vatican City · view larger map