"Finest selection of restaurants by Francesca Fabi"
Romans love to eat. And they love to eat good food. Despite their easy-going "whatever happens, happens" attitude, they can become really picky when it comes to food.
The city centre has obviously the highest concentration of tourists so it can quite easy to fall into the tourist traps but if you see a restaurant packed with locals, go for it, as you can't be wrong.
Most likely, it will be a good place. In Rome, you'll find out that Italians are more than just pasta and pizza.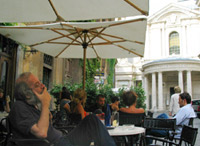 The hundreds and hundreds of restaurants of this city will delight you with all kind of gastronomic specialties:
from the food of Rome's tradition to dishes from the different regions of Italy to exotic menu from all around the globe.
There are possibilities for every pocket and for every mood. There are hip spots that attract a fashionable crowds, haute cuisine restaurants, countless pizzerias, those popular eateries called "trattorie", where it is not hard to find an old mama(no, it is not only a stereotype, I have stepped into a couple of those myself!) making fresh hand made pasta or even wine bars where you can nibble while enjoying a glass of wine.
LIST OF MOST RECOMMENDED ROME'S RESTAURANTS:
SEAFOOD RESTAURANTS
Crab, via Capo D' Africa 2, Phone: 06/77203636
area: Celio/ Colosseum
Not far from the Colosseum, it is a good address for fish lovers, offering lobster, oysters, crab, sea bass, octopus- you name it, they got it
La Gensola, piazza Gensola 5, Phone: 06/58332758
area: Trastevere
In this fish Rome's restaurant of old tradition, located in a XV th century palazzo, you can savour pasta dishes with sea-urchin, grilled cod with tomato sauce and tuna fish.
Riccioli Cafe, piazza delle Coppelle 10/a
area: Pantheon
Sea food heaven in a high tech atmosphere. Also sushi and oyster bar with international wines list.
Alberto Ciarla, piazza San Cosimato 40, Phone: 06/5818668
area: Trastevere
Be prepared to pay a bit more than usual here but you' ll be rewarded with one of the best restaurant in town. The high quality of ingredients and the excellent proposals will definitely please your senses
INTERNATIONAL CUISINE
Duke, viale Parioli 200, Phone: 06/80662455
area: Parioli
Hip, hot spot that attracts a glamourous crowd with amazing, creative and sometimes exotic food, inspired by California and the West Coast and cooked by a great Chef. Also cocktail bar. Chic location and chic crowd
Akropolis, via San Francesco a Ripa 103, Phone: 06/5833260
area: Trastevere
In a non formal and casual ambience, you can enjoy real greek recipes such as moussaka , spanakopita, wine. leaves and much more. Open only evenings
Franz, via di Porta Castello 23/24, Phone: 06/6873921
area: Vatican/ Castel San Angelo
Fancy a bavarian snack after a long day spent around the Vatican area? This is the place for you. Dig into a Bavarian and Austrian feast with their goulash, knodel and luscious desserts like sacher torte.
Mahrajah, via dei Serpenti 124, Phone: 06/4747144
area: Monti
Cozy and quiete even when crowded, it has a very rich menu that includes many northern Indian specials. Very attentive service.
Doozo Art Books and Sushi, via Palermo 51/53, Phone: 06. 4815655
area: Monti
Here you can have fresh sushi and sashimi while taking a look at their photography and contemporary art books.
Sciam, via del Pellegrino 55, Phone: 06/68308957
area: Campo De' Fiori
You can come here until late at night to enjoy an Arabian night, nibbling on middle eastern courses and surrounded by candlelight.
Ketumbar, via Glavani 24, Phone: 06/57305338
area: Testaccio
Come here to see and be seen. Local celebrities and Rome soccer players have been spotted here in this sophisticated, minimalist restaurant of Rome where you can try Mediterranean but also fusion courses and sushi and listen to chill out music.
ITALIAN CUISINE RESTAURANTS
Ditirambo, piazza della Cancelleria 74, Phone:06/6871626
A welcoming restaurant where the dishes of italian tradition changes with the season. A pleasant and refined oasis right behind the crowded and noisy Campo De Fiori.
Alfredo alla Scrofa, via della Scrofa 104/a, Phone: 06/68806163
area: San Eustachio area
Have you ever wondered where the legend of the famous Fettuccine Alfredo started? Right here, since 1907. Beside this worldwide known dish, you can also have here eggplant parmigiana, fish and meat and a tiramisu to finish off your meal.
Capricci Siciliani, via di Panico 83, Phone: 06/45433823
area: Castel San Angelo
Cross the San Angelo Bridge and you'll find a little piece of Sicily in the heart of Rome and all the best delicacies of this beautiful island. Let yourself be tempted by their Pasta alla Norma, swordfish roulade, cassata and cannoli
Alfredo al Campidoglio, via dei Fienili 56, Phone: 06/69191024
area: Campidoglio
Overlooking the Campidoglio Hill, this is a place that will welcome you after a long day wandering around the nearby archeological sites. Great selection of cheeses and cold cuts, pasta dishes cooked with a sometimes creative touch and truffle specialties.
La Pentolaccia, via Flavia 38, Phone: 06/483477
area: Via Veneto
Located near Via Veneto and the american Embassy, it is an elegant address( but with good prices) and it has a gastronomic repertoire based on traditional, Italian cuisine. Try their ravioli with mozzarella di bufala while sipping on one of the Italian wines on their list.
Supper Club,via De Nari 14, 06/68301011
area: Pantheon
Warning: this is not a traditional restaurant at all. You can come here to enjoy the amazing, unusual and sometimes cosmopolitan atmosphere and the bare-chested waiters who will serve you creative superb food while you will be seated on snow white lounge sofas while listening to dj sets and enjoying art performance. Booking is essential.
Santa Lucia, Largo Febo 12, Phone: 06/68802427
area: Piazza Navona
Romantic location( it has also some tables outside) for this restaurant that is also a destination for many cinema stars once they are in Rome. Not without a reason: the food here, inspired by Naples and Campania region, is excellent and inspite the show biz guests that may appear here from time to time, the atmosphere is relaxing.