No authentic Roman experience is complete without a little shopping and some souvenir hunting. While Rome has several shopping areas full of international stores, the fun starts when you wander off into the narrow streets and start to explore the one-off boutiques.
Different Types of Shopping in Rome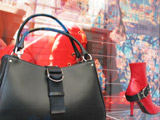 Rome is an expensive city, so don't expect to find too many bargains. Nevertheless, window shopping is a joy, especially if you're roaming around Piazza Di Spagna, where you'll find luxurious haute boutiques such as Gucci, Valentino, and Fendi.
Rome also has its fair share of high-street fashion shops too, such as H&M, Tezenis, and Aldo. If you venture out a bit towards Testaccio and Trastevere, you'll find many indoor and outdoor markets selling everything from clothes and bags to books and antiques.
Luxury Brand Shopping
If you want to shop the latest high-end fashions while in Rome, Via dei Condotti is the place to be. The street is lined with internationally renowned brands like Dior, Gucci, and Louis Vuitton. And don't miss the flagship store of Roman designer Valentino around the corner in Piazza di Spagna.
Mid-Range and Affordable Fashion
For Rome shopping streets, head to Via del Corso (metro Spagna or Flaminio). Here you'll find shops like Zara, H&M and Gap. Many of the shops are spread out over several floors. Near the Vatican, Via Cola di Rienzo (metro Lepanto) also has a similar selection of small stores with more limited choices.
Vintage and Second-Hand Shopping
Vintage in Rome doesn't always mean bargain prices. In Monti (metro Cavour), you'll find vintage shops that look more like boutiques than thrifty stores. A bit easier to spot are the second-hand clothes stores on Via del Governo Vecchio, where you'll have to push your way through pre-loved clothes just to get inside.
Secondhand markets are popular for buying and selling furniture, books, music, and clothes. One of the most central is on Viale Aventino (metro Circo Massimo). This is an affluent neighborhood close to the UN building, so expect good quality and designer labels are not unusual.
Artisan and Handcrafted Goods
Rome has plenty of shops dedicated to the finest products from around Italy. You can pick up leather bags from Florence, Murano glass from Venice, and Amalfi ceramics without ever leaving Rome.
Food and Gourmet Shopping
Rome is home to the world's largest Eataly, which has become a popular destination for souvenir food shopping in recent years. You'll also find plenty of specialist shops dedicated just to cheese, wine, or chocolate that will make sure your purchases are travel-ready or will ship internationally.
Markets

The cheaper and more colorful places to buy goods are in the markets. Some are situated in the centre of Rome, such as Campo dei Fiori.
They are open from 7 am-1 pm, Monday to Saturday. A word of warning – crowded open-air markets are ideal hunting grounds for nimble-fingered pickpockets, so please be careful.
Best Things to Buy in Rome
Italian Fashion
Take home a truly unique souvenir of your Roman holiday with a pair of custom-made sandals. At Di San Giacomo near Piazza Navona, you get to decide on the colors and jewels you want, and your sandals will come to life right there in the store.
Artisan Goods
For some memorable Rome-made jewelry, go to Co.Ro on Via della Scrofa. I particularly love the bracelets inspired by the architecture of the Collegio Romano behind Galleria Doria Pamphili and the Gasometro in the Ostiense neighborhood.
To bring a touch of Italy to your dining table, head to De Sanctis 1890 in Piazza di Pietra (close to the Pantheon). This store sells collections of ceramics from towns around Italy that have been producing hand-painted tableware for centuries.
Italian Food
Testaccio is a great place to go for food. The restaurants are known for their authentic Roman recipes (vegetarians beware), Testaccio Market is a favorite with food tours, and there are more than a few specialist food shops to explore.
Eataly is a high-end supermarket selling quality products from around Italy. Over 4 floors, you'll find the best of Italian ingredients and plenty of eateries where you can try them if you're looking for gifts to take home. Check out their choice of pasta in every shape imaginable, jars of truffles and porcini mushrooms, sundried tomatoes, and selections of olive oil and wine from every region of Italy.
The heady scent of seasoned cheese will greet you before you reach the door of Volpetti. Inside you'll find the best cheese and cured meats from across Italy, from Fontina, produced in the mountains of Valle d'Aosta in the north, to spicy Calabrian Nduja sausage.
You'll need some wine to go with your cheese, so make Bernabei your next stop. This store is stacked high with wines and spirits, and the staff is ready to help you find the right one to match your taste, occasion, or food.
Italian Beauty Products
Walk from Barberini to Via del Corso along Via del Tritone, and you'll find some great places to pick up beauty products. The ground floor of the Rinascente department store has lots of perfumes and luxury beauty products for men and women. Further along the street, you'll pass one of several Sephora stores in Rome and Douglas, an Italian chain specializing in beauty products.
Art and Antiques
Every Sunday, there is an art and antiques market along the river at Ponte Milvio. Jump on the tram at Piazzale Flaminio, and it'll take you about 20 minutes to get there. Expect dealers from around Italy selling paintings, statues, collectibles, and furniture.
If you want to splash out, Via dei Coronari is home to various art galleries and antique shops. At Art Gallery Rome, you'll find works by local artists, including many scenes from Roman life and some of her famed landmarks.
Essentials for Shopping in Rome
Where To Go For What
The area around Piazza di Spagna is the best shopping area in Rome if you want to spend spend spend.
Prada, Valentino, Gucci, Fendi (Via Borgognona)
Missoni and Armani (Via Condotti)
The more prestigious antique shops, as well as several smart restaurants, can be found on Via Margutta, Via del Corso, and Via del Banbuino.
Understanding Opening Hours
Don't rush your breakfast to hit the shops, as most places won't open before 10 am.
The usual closing time is between 7 pm and 8 pm.
Larger shops are open all day, 7 days a week, while smaller stores are likely to be closed on Sundays and will take a lunch break for a couple of hours between 1 pm and 4 pm during the week.
And watch out for the chiuso per ferie signs from mid-July to mid-September. Independent store owners have no problem shutting up shop at the height of tourist season and heading to the beach for a month or two.
Currency and Payment Methods
Italy is part of the eurozone and uses the same currency (the Euro) as 18 other countries in Europe – very convenient if you are on a European tour.
VISA and Mastercard are accepted almost everywhere these days, though some places will not accept American Express.
There are plenty of ATMs around. Some are on the street, others are inside the foyer, and you can enter by swiping your card. Try to use a machine attached to a bank, rather than small machines with 'ATM' on them in big letters. These machines are targeting tourists and have very high fees.
Bargaining Etiquette
Bargaining isn't normal in Rome. Prices should be clearly marked, even in street markets, and that's what you pay.
Tax-Free Shopping (How Tourists Can Claim Tax Back on Their Purchases)
If you are a non-EU resident, you can claim the VAT back when you spend more than €154.94 on a single transaction at a shop that offers tax refunds. VAT in Italy is 22%, so if you like to shop, this can quickly add up.
To claim the tax back, you'll need to tell the shop you intend to do this before buying anything. Most shops in the center will have a tax refund sign in the window, but they often won't ask you if you want a refund, so make sure you do it. They'll need a whole lot of information and your passport number. In return, you'll get a tax-free cheque which you'll need to get stamped at the airport.
Shopping Etiquette and Tips in Rome
Greetings and Politeness
It's usual to be greeted with buongiorno when entering a small store. In larger stores, there might be a security guard, but they probably won't say anything.
Trying Things On
In smaller stores, you may have to ask for your size and to use the changing room. Don't be surprised to find the staff hovering outside, ready to bring you a different size, and suggest other items if you don't seem thrilled with the first.