If you're staying in Rome for more than three days, you should definitely consider a day trip out of the city. A nighttime stroll around Rome's major sites is often quieter and somehow even more enchanting. 
Regional trains are relatively inexpensive and usually pretty reliable, although the weekends tend to be when there is the most disruption, so bear that in mind. 
Rome's surroundings offer pretty much something for everyone. Whether it's luxuriating over fine wines and local produce in charming historical towns, getting away from it all in small seaside resorts, or lounging by the lake, read on for some day trip inspiration. 
Everything listed below is reachable by public transport. 
1. Santa Severa
Just an hour away on the train is this small but charming nugget of a beach destination.
While it has its own train station, Santa Severa is little more than a beach castle (yes, the castle is actually on the beach) a beach, a small cluster of Etruscan ruins from when it was a port town back in 400 B.C.E, and a petrol station. 
But wait,  that's what makes it so special. In the summer, they use the castle grounds to stage music concerts, and there are several restaurants where you can have a lovely lunch, and there's even a pizzeria at the castle. 
If you've ever been to a beach in Italy, you will be familiar with the lido (beach club) phenomenon. Italy has basically monetized the beach, and they are often dominated by privately owned stabilimenti – lidos. For a fee, you get access to all the facilities, including showers, bathrooms, parasols, and sun loungers.
If that doesn't sound like your vibe, you need to find the free section of the beach called the spiaggia libera – where you can pop your towel down, and no one will tell you to move on. Santa Severa has a couple of reasonably sized areas such as these, one as soon as you enter. 
Get There
Trains to Santa Severa leave from Termini every hour (take the Civitavecchia train). 
To get to the beach from the station, you follow the signs, cross the main road, and walk down a pine tree-lined avenue with the castle at the end. Go past the entrance, the castle restaurant, and the Etruscan ruins to your right, and head down a path with the castle walls on your left. You'll see the sand and sea in the distance. Doesn't it sound charming already?  
Bonus
One-stop after Santa Severa is Santa Marinella. This is an actual town with a beach full of back-to-back lidos, so you're likely to have to pay if you want a relaxed beach day there. It has a lovely beach front for taking walks.
My tip, though, head there after Santa Severa for a stroll and perhaps an early evening spritz just before heading back to Termini. A ticket fare from Santa Severa will cost you just over a Euro, and you can buy it easily on the Trenitalia app. 
2. Sperlonga 
Located halfway between Rome and Naples is the beautiful seaside town of Sperlonga. It takes a bit longer to get there, but for enviable picture-perfect postcard photos to show off to your friends back home, this is the place.
Once the summer stomping grounds of Brigitte Bardot, Albert Camus, and even Andy Warhol, there's a 1950s charm to the old town that will make you want to slip on your sunglasses, don some wedges, and order a Campari as soon as you get there. 
The beaches are lined with stabilimenti (beach clubs/lidos), but there are free sections. You'll need to get there early to secure your spot, though. 
For you culture vultures who are looking for something more educational, visit the local archaeological museum and the ruins of Emperor Tiberius' Palace.
Needless to say, if you like fish, Sperlonga won't let you down. Restaurants offering seafood specialty dishes are aplenty.
Get There
From Termini, book a train to Fondi-Serlonga. Sperlonga town doesn't have its own train station per se – they share it with the nearby town Fondi. From the train station, regular buses will take you to Sperlonga (town), from where you can walk down to the beach or walk up to the charming whitewashed historical centre. 
Be warned that the centre can get quite steep in places with lots of steps and alley ways to climb. However, it's more of a beach trip you're interested in. The seafront and beach itself should be more than rewarding. 
3. Bracciano
If you're more of a freshwater kind of person, head north to Bracciano. A favourite among Romans, you can take a rather refreshing dip if the mood takes you, have a picnic on the lakeside pebbly beaches, or simply go for a stroll along the lakeside path. The water is clean as motorboats and jet skis are banned on the lake, so swimming in the lake is not only common practice but pretty safe too. 
Bracciano itself is perched upon a cliff top, with the lake down below. The town boasts a castle (the Castello Orsisni-Odescalchi), atmospheric narrow medieval streets, a church, and of course, good food. 
If the idea of a picnic on the lake sounds more like it, rest assured there are small supermarkets and bakeries nearby in the centre.
To get to the like,  be warned that it's a slight trek down but very manageable. Of course, what goes down must come up, so if you've overindulged with the carbs on your lakeside picnic, well, let's just say it's a great way to work them off. 
There is a mythical minibus running people up and down, and if you're able to find any reliable and up-to-date information as to its timetable and frequency, I will personally buy you a pizza. 
Get There
From Roma Ostiense or Roma Trastevere, take the regional train to Bracciano, taking just over an hour. To get to the lake from the station, follow signs down, but essentially, whichever road you take, as long as it's downhill, you will get you down there.
4. Marmore Falls (La Cascata delle Marmore)
The Marmore Falls were created by the Ancient Romans in 271 BC to drain the swamps above the Nera River. Over the centuries, various engineers tweaked the system, and the result today is the tallest manmade waterfall in the world, standing at 165 m or 541 feet.
The water powers a hydroelectric power plant, and the falls are effectively switched on and off twice a day. (At 1 pm and again at 4 pm). There are five trails at the Marmore National Park which offer different views of the falls, which are arranged in tiers. 
When they reach full force, they are truly something to behold. Bring a waterproof poncho.
Get There 
Take the train to Terni, and from there, a short bus ride up into the hills to enter the Marmore Falls Park. Bus tickets are available to buy from the news kiosk inside Terni station. It's very small; you'll see it on your left-hand side. 
5. Frascati: Wine Country
Frascati is one of the most easily accessible towns up in the Roman Hills (Castelli Romani). With its charming baroque cathedral, historical centre, parks, cafes, and restaurants, it makes for a perfect day trip out of Rome. 
Either just go to the town and soak it up, or why not make a structured day of it? There are pasta-making and wine-tasting activities, or visit one of the many vineyards that surround the city, topping it off with an evening stroll around town and a bite to eat before heading back to the Eternal City. 
Prices are notably lower than in the capital too, and considering how well-connected it is to Rome, might even make for a more relaxed base if you're planning to stay for a few days. 
Get There 
Regular trains leave Termini every hour for Frascati, and the journey time is just 30 minutes.
6. Perugia: Chocolates And So Much More
Another Umbrian treasure, Perugia, is a treasure trove of a city. Somewhat split in two, you'll find the modern town down below close to the station, while the real heart and soul is perched on a craggy hilltop, as many Italian towns are.
Most famous for its chocolates (Baci di Perugia), there are dozens of haute chocolatiers around the city, not to mention a very elegant historical town centre, street musicians, a buzzing university town feel, and never-ending, winding medieval streets. I was thoroughly enchanted.
Get There 
It takes two and a half hours on the train. That might be a lot if your time in Rome is short, but still worth it.
Take the train from Termini to Perugia. A short bus journey from the train station will deposit you at the main bus station. 
From here there are a series of free public escalators which will take you up to the historical city centre. It will feel like you're entering a Metro station, but it's just a series of very well-kept escalators housed in what feels like a public museum space. They are very cool. The public escalators are just one of many public transport incentives in Perugia designed to reduce traffic and pollution. (Rome could learn a thing or two). 
7. Tivoli: Triple Threat 
For a full day and trio of delights, head to Tivoli and visit Villa Adriana, Villa d'Este, and then finally, Tivoli town centre. In that order.
Surprisingly easy to get to from central Rome, Hadrian's Villa or Villa Adriana is essentially a huge park filled with Roman ruins. It's a giant complex of luxurious and decadent temples, theatres, outdoor baths, and various other Villa-type buildings that belonged to Emperor Hadrian.
Think of it like an episode of Ancient Roman Cribs. It's incredibly peaceful (bar the odd group of school kids), with a couple of great vantage points to observe the Lazio countryside. In the distance, you'll be able to see the town of Tivoli itself, up on a hill which is where you'll need to head to get to Villa d'Este. 
Villa d'Este is a baroque fantasy dream. The word villa doesn't quite do it justice. Fantasy playground palace, perhaps. The views from the frescoed walls inside are dreamy and serene, but it's the gardens outside that have everyone talking. I never thought I could ever get so excited about fountains…. Yes, fountains.
There are dozens of every shape and form, some hidden off the beaten paths and nestled in the hedges. They should really invent a Pokemon GO-style app to encourage visitors to find them all. 
After visiting the Villa, which is nestled at the edge of the historic city centre, take a stroll around the town and pick one of the many delightful bars, cafes, and gelaterias to sit down and take a well-deserved break. 
Although you might find yourself spending a disproportionate amount of time looking at property in various real estate shop windows instead. I know I did.
Get There 
Take the Metro B line east and get off at Ponte Mammolo.
From here, take a Cotral bus (Lazio's regional bus service) to Villa Adriana. It won't take you there directly; you'll need to walk up a road for roughly one kilometre, but it's clearly indicated, and if you don't mind that little walk up, it's really the most efficient way. 
From Villa Adriana, walk back down the hill and wait for the same Cotral bus you got off before, which will take you up to Tivoli town centre. From here, signs will indicate Villa d'Este. 
(There is a shuttle bus back to town, but tickets were only available to buy on a special app, and no one could give me any precise information about the timetable. The most efficient thing you can do is go back to the Cotral bus stop, in my experience.)
Regular Cotral buses take you back to the Metro station Ponte Mammolo from the main piazza, a five-minute walk from Villa d'Este.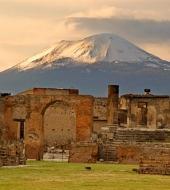 Located on the west coast of Italy, the Vesuvius is an active volcano well known due to its eruption in 79 A.D. that destroyed the cities of Pompeii and Herculaneum.
If you're coming to Naples, Mount Vesuvius is a must-see place since the area has been declared a national park in 1995. You can hike the mount up to the summit. There are also some walking paths that give access to the amazing fuming crater. From the top of Mount Vesuvius, you will get the most incredible view over the Bay of Naples.
Naples is the third biggest city in Italy, and it is certainly one of the most romantic places in the country. The historic center has been classified as a UNESCO World Heritage Site.
Naples is a perfect mix between elegance and anarchy. Next to the old architecture and the archeological remains, urban Naples is full of surprising graffiti that has found their places next to classical Italian sculptures. Naples also offers fantastic landscapes that will make your stay unforgettable. In Italy, people have an ambivalent opinion about the city, but for sure, Naples doesn't leave anyone indifferent.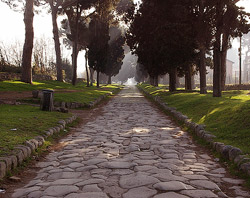 All roads lead to Rome. This is precisely because of the Via Appia Antica this idiom comes from. This road is ancient Rome's Queen of roads and goes from Rome to Brindisi's port on the Adriatic coast. In the Roman Empire, this is where boats left for Egypt or Greece. Built-in the 5th Century B.C., the Appian Way used to be the widest and the largest road of the empire.
Appia Antica is now a national and archeological park surrounded by fields with remains and ruins from the Roman period.
Have you ever imagined walking in the streets of a city and feeling like you are in an open-air museum? Then, welcome to Florence. Probably the heart of Italian classical art.
From churches to sculptures, from fountains to buildings, every single rock constitutes a piece of art in Florence. That is not even speaking of the romance that exudes from every corner of the streets and that creates a beautiful and romantic atmosphere. Florence is magnificent and full of treasures. Just look around. You'll get them.
Assisi and Orvieto are picturesque ancient villages situated at the top of hills. Located in the region of Umbria, not far from Rome, these destinations are perfect to take a day off the city life.
Assisi is also known as the town of Saint Francis. Built at the top of Mount Subasio, Assisi offers beautiful panoramas over vineyards and olive trees. The Francis Basilica of Santa Maria Degli Angeli is a very rich cultural visit to do.
From Assisi, access to Orvieto is short and easy. Orvieto owns one of Italy's masterpieces of gothic art: the Gothic Cathedral with a facade made with stained glass, sculptures, and mosaics. Visiting Assisi and Orviesto is the perfect alliance between a cultural trip and an off-time one.
Located in Tuscany, the city of Pisa is really well known for its Leaning Tower. But Pisa has so much more to offer. In fact, the city counts three leaning towers, some amazing Gothic churches, great museums, and the beautiful Piazza Dei Cavalieri.
The city is bordered by the banks of Arno and owns the best universities in the country. It bestows Pisa with a nice bar scene and vibrant nightlife. The Locals take possession of the streets of Pisa and give a modern touch to this very Romanesque city.
Siena is one of the most important cities in Tuscany and one of the most tourist Italian cities. Siena offers a medieval historic center that has been declared a UNESCO World Heritage Site.
The city organizes its very famous Palio – a horse race that takes place twice a year in summer, an inheritance from the medieval period. What makes Siena really famous and unique is the diversity of its art. Admire the architecture, visit the museums, and discover paintings, sculptures, and a lot of different pieces of art, but most important: taste the food – a real ode to Italian culinary art.
Tuscany seems to be the perfect region to spend some holidays. This area is the cradle of Italy's classical art and architecture but is also very famous for its delicious wine (especially the Chianty) and its freshly made food.
City lovers, Pisa, Naples, and Florence would make your stay delightful. Between modern and ancient, discover the treasures of Italy. For those who prefer the countryside, the region offers many activities such as hiking, cycling, or walking in the mountains. Plus, the sea coast is a wonderful place to watch beautiful sunsets and capture the magic of Toscana.