Naples, Italy's third-largest city, is, like most places in the country, a place of art, beauty, and good food. While sharing these qualities with other cities, Napoli still has his own unique identity.
The messiness of the streets, the graffiti, and the general grime give you a chaotic and anarchic feel. When you look past this, you will discover the beauty of its frescos, churches, and sculptures set against the panoramas of the mesmerizing Amalfi Coast.
After taking a second look, you will experience the good life that Napoli has to offer, being the home of pizza and known for great dishes and lots of seafood.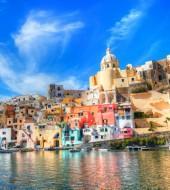 Visit the Capello Sansevero (containing almost 30 works of art, like Il Cristo Velato), the Duomo, or the impressive opera house, the Teatro di San Carlo, where operas of some of the greatest composers were performed under the beautifully decorated ceiling.
Napoli also has some museums worth visiting, like the Museo de San Martino, which displays several sculptures, old carriages, and boats that give you an insight into Naples' history.
Or you can go to the Palazzo Reale di Capodimonte, the former summer residence to the kings of southern Italy and Sicily, built in the baroque, neo-classical style, this museum is impressive on both the inside and the outside.
There is a large collection of paintings on display: the Farnese Collection (with paintings from the hands of Raffaello, Tiziano, and Guglielmo della Porta), along with collections of armors, sculptures, vases, and other miscellanea.
From Rome to Napoli takes approximately 1 hour by train (from Termini) and double that time by car.