You could also choose to take your day trip to Umbria, a province full of beautiful hills and vineyards. Assisi, one of the most highly treasured villages of Umbria, lies atop one of these hills. This place is as picturesque as it gets, with narrow streets, red-coloured buildings made of ink-stone, palaces, and structures, all on top of a green hill.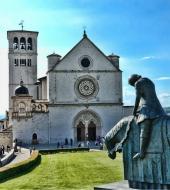 Go to the St. Francis Basilica to, among other beauty, see artworks of Cimabue and Giotto, and on your way to Assisi, you can stop in the town of Santa Maria degli Angeli to see a 9th-century basilica where St Francis of Assisi is worshipped.
This will give you some understanding of the appreciation of St. Francis, the patron of the region. If you have time left, go to the Convent of Santa Chiara, friend and protege of St. Francis. She was known for the many miracles surrounding her, she had visions of events transpiring miles away, and she wore enemies off with water. Inside, you can see the Oratorio del Crocifisso and the tomb where she is on display.
After that, go to Orvieto and admire the Gothic Cathedral and the other numerous churches in its centre.
To get to this place in Umbria, it takes 1 hour and 45 minutes from Rome on the road and 3 hours on the rails.