Competing with Rome for the title of the most beautiful city in Italy is not easy, but Firenze is doing a pretty good job. It is a busy, lively city first and foremost and is completely different from the easy, dolce vita, maybe even a little lazy lifestyle you will find in the southern parts of Italy.
This activeness in Florence once birthed a new age for Italy and the rest of Europe after the depressing Medieval Times. An age of art, knowledge, and progressive thinking: the Renaissance. Florence breathes the history and heritage of the culture, art, and Renaissance life.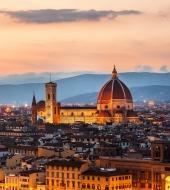 Florence has many impressive buildings, like the Battistero di San Giovani, which is one of the oldest buildings in the city and has a unique octagonal shape, which is especially impressive when you are standing inside and looking up at the gold decorated ceiling.
The oldest church in town, the Cattedrale di Santa Maria del Fiore, has a dome with magical green and pink shades, an impressive facade and bell tower, and a very bright and open interior. It is definitely one of the city's highlights, and so is the Ponte Vecchio (the old bridge), which was made in 1345. It also used to be a marketplace where merchants sold their goods. The bridge has an extra level on top of it, commissioned by Cosimo I de Medici, who had this 1-kilometer-long hallway made so he and his prominent, wealthy family did not have to mix with the public.
One of the places connected by the hallway was the Palazzo Pitti, which was one of the residences of the de Medici family and contains many treasures (lots of silverwork and porcelain) and paintings. You can see the works of Raffael, Titian, Botticelli, Caravaggio, and many more. So this day trip from Rome is definitely worth doing.
On the rear side of the Palazzo are the Boboli-Gardens, filled with sculptures.
Also, former property of the de Medici family is the Galleria degli Uffizi, and here too are the most beautiful collections on display, with world-famous works, such as the Birth of Venus from Botticelli and portraits of important family members of the family like Eleonara di Toledo.
Similarly to the trip to Naples, the train might be the best option since it only takes 1 hour and 40 minutes, compared to 3 hours by car.