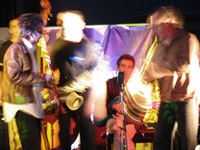 Rome's nightlife starts late. It is not unusual for locals to meet up for dinner around 9. 30 or even 10. After a big dinner, a long discussion will start ( for what it'll seem like an eternity) about where to head to for the night. So be patient. You are going to need it in Rome, You'll need it to decide where to go, where to park your car, what to order or to find that special spot.
Having said that, you have to be aware of the fact that Rome is unique, even when it comes to nightlife and entertainment. She is different from any other capital in the world. And for a specific reason.
There are surely loads of bars & pubs, clubs & disco spreaded all over the city( although, as we'll see, some areas offer a higher concentration of possibilities) but the best way to enjoy the culture, vibe and spirit of the city is outdoor. As the weather is mild here for most part of the year, every square turns often into a big outdoor bar. The locals love their evening "passeggiata" (slow(!) walk through the old town) and to stroll around the cobble stoned streets( just for your info, cobble stones streets are dangerous for the high heels, as the ladies know well), sipping a beer while chatting with friends just outside a pub or sitting at a table outside a cafe. This will allow them to practise one of the national sports here: seen and be seen. Take a walk at Campo De Fiori right before midnight and you can entertain yourself observing bunches of sleeked young man coming down from the suburbs to show themselves off and to try to chat up the foreign girls like modern( but harmless) predators. Something folkloristic and stereotyped maybe, but not so far from the truth.
When the night is almost over and it's time to go home, locals usually like to indulge in one of their favorite habits connected with the nightlife in Rome: they grab a " cornetto"( croissant) and drink a hot cappuccino on the way back home. They stop in one of the coffee bars still open or in one of the "cornetterie"( laboratory that produce those delicious sweet treats) spread all over in town( whose address is sometimes one of the city's best kept secrets) and feast over a warm cornetto( plain, filled with jam, with custard cream, with nutella or honey) to say goodbye to the night.
LET'S TAKE A CLOSER LOOK AT ROME'S NIGHTLIGE AND NIGHT ENTERTAINMENT AREAS( mostly concentrated downtown or nearby), each with its own characteristics:
The area around Piazza Navona and Via della Pace is quite chic, with wine bars and cafes and its labyrinth of alleys.
Campo De Fiori is heterogeneous and loud and it is where tourists mix up with local youngsters, a 30's and 40's year old crowd, the inhabitants of the neighbourhood and with frat students from the the several American colleges Rome hosts.
Trastevere is a little bohemienne, so roman but also so international, with coffe shops, restaurants, pubs and wine bars good for the aperitif.
San Lorenzo is where the main university is located so it is a young, laid back area where students hang out in the many pubs. The atmosphere is informal and lively.
Testaccio/ Ostiense: the main streets of Monte Testaccio and via Ostiense and the surroundings are packed with bars, from hip, posh spots to house music clubs, from salsa or gay discos to risto-bars( places where you can drink, eat and dance).
There are still a few things you should know to get accustomed with nightlife in Rome. Romans are very fond of irish( or pseudo irish) pubs so you'll find them almost everywhere. The car traffic does not necessarily slow down at night- on the contrary, it can get chaotic especially around the main nightlife zones. And Romans are not big drinkers at all, but this is not necessary a negative side, we believe.
Other thing worth noting about the nightlife in Rome is that some of the
Rome night clubs shut down during the summer time and are replaced by various "summer spots" and festival events to top up the plentiful nightlife in Rome ant its surroundings.