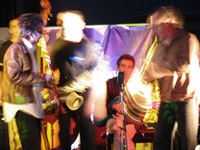 With a lot of pubs, clubs, restaurants, and bars, Rome's entertainment offers something for everyone. Its vibrant open-air nightlife sets Rome apart, allowing you to fully experience the city's atmosphere thanks to its pleasant year-round weather.
A City of Many Faces
Unlike many Italian cities, the lively Rome nightlife extends beyond just the weekends. Regardless of the day of the week, you'll discover evening activities that cater to all tastes and preferences. 
Nightlife in Rome typically begins quite late. Dinner is usually enjoyed around 8 PM, so it's uncommon to venture out for the night before 10 PM.
Exploring Rome's Nightlife Scene
The options are plentiful, so I suggest doing some research beforehand. This guide will provide you with an overview of the available options. However, to find specific events, gigs, or bars, it's best to rely on sources such as:
Facebook Events: This is the ideal way to get a clear overview of what's happening in town. From gigs to shows to art vernissages, if something is going on, it's likely to have a dedicated Facebook event page.
Google Maps: Look at what's in your area; you might discover a hidden gem or a newly opened bar.
Instagram: For last-minute discoveries, head to Instagram Places and look at recent geotagged stories.
What Does the City Offer?
In Rome, you can find a variety of experiences, including:
Pubs: Rome boasts many bars, including several Irish-style pubs. These establishments mainly cater to the ex-pat and English-speaking community.
Clubs: The city has numerous clubs where you can dance the night away to international DJs.
Restaurants: Rome is renowned for its Italian and Roman cuisine offer, with a wide selection of restaurants offering authentic dishes at affordable prices.
Aperitivo: Originating in northern Italy, aperitivo has become a popular tradition in Rome. It offers the opportunity to enjoy pre-dinner drinks while indulging in various appetisers.
Live Music: From small venues to larger concert halls, Rome has a vibrant live music scene that caters to various genres.
Street Drinking: In certain areas, it's common to enjoy drinks outdoors, creating a lively street-drinking atmosphere
Neighbourhoods That Never Sleep
If you feel adventurous, head to one of these neighbourhoods. They are known for being the vibrant hubs where the magic of Rome's nightlife unfolds.
Pigneto
The area embraces a bohemian atmosphere and is known for its alternative and left-leaning vibe. It offers aperitivo options at very affordable prices, with many establishments also providing vegetarian and vegan choices. Pigneto attracts a diverse crowd, ranging from young university students to those in their early 30s, creating a lively and inclusive atmosphere.
Centocelle
Once a working-class area, this neighbourhood has now found a balance between gourmet experiences and down-to-earth residential charm while maintaining a strong sense of community. Here, you'll encounter a slightly more mature crowd, predominantly composed of individuals in their 30s and 40s.
San Lorenzo
San Lorenzo, neighbouring the University of Rome, is a bustling student district renowned for its vibrant nightlife, graffiti-filled walls, and alternative scene. It predominantly attracts a younger crowd of twentysomethings.
San Paolo
Home to the iconic Basilica of Saint Paul Outside the Walls, in the evening, San Paolo comes alive with a variety of bars, pubs, and live music venues – including outdoor gigs in Parco Schuster during summer. San Paolo's charm lies in its local vibe and the opportunity to mingle with Romans.
Garbatella
Known for its distinctive architecture and vibrant community spirit, Garbatella has become a hotspot for alternative nightlife experiences. The neighbourhood has trendy bars, art galleries, and performance spaces where you can discover local artists and musicians.
Ponte Milvio, Parioli and Campo Marzio
Ponte Milvio, Parioli, and Campo Marzio have gained a reputation as areas where Rome's affluent and fashionable crowd gathers. These neighbourhoods exude an air of sophistication, making them perfect destinations to mingle with the city's elite. Head to their upscale bars, trendy lounges, and high-end restaurants to experience the epitome of luxury in Rome.
Renowned for its lively atmosphere and narrow cobblestone streets filled with bars, pubs, and restaurants. As the sun sets, Trastevere comes alive with locals and tourists alike, creating a bustling scene.
Testaccio, once a working-class neighbourhood, is not known for its vibrant clubs and late-night party scene. Testaccio's establishments include underground clubs playing electronic music to hip bars serving craft cocktails.
Rione Monti
A short walk from the Colosseum, Monti is a popular choice for an evening of bar-hopping or enjoying a leisurely drink while taking in the historic surroundings. 
During the day, Campo de' Fiori hosts a bustling market where locals and tourists can purchase fresh produce, flowers, and more. As night falls, the atmosphere in Campo de' Fiori shifts, and the area comes alive with bars and pubs that cater to different tastes. 
Nightlife Experiences for Every Taste
The city offers a rich array of options, from intimate wine bars in historic alleyways of the city centre to pulsating clubs where the music keeps you dancing until the early hours. Whether you like dancing to electronic music, moshing to punk, or dancing to jazz and swing, you'll likely find something that will suit you.
Aperitivo
Aperitivo is an Italian tradition that involves enjoying drinks and small bites of food before a main meal. While it typically begins around 5 or 6 PM, it's not uncommon to have an extended aperitivo with friends that lasts well into the evening, even after dinner. T
his is particularly true when you choose an aperitivo spot that offers a buffet of food alongside your drink, creating a delightful blend of aperitivo and dinner, often referred to as apericena (aperidinner).
Bars
Rome undoubtedly offers a wide range of luxury high-end bars, elegant speakeasies, and down-to-earth wineries. However, what truly sets Rome apart and embodies its unique character is the tradition of street drinking. Before you dismiss this practice, allow me to shed some light on it.
Street Drinking, a Roman Tradition
Interestingly, in Rome, it's not the trendy, upscale bars that locals cherish but the old-fashioned (and more humble) establishments. These nostalgic bars offer refreshing bottles of Peroni beer and Campari soda at affordable prices and often lack tables. People of all ages gather outside, engaging in lively conversations and making new connections. Whether standing, strolling, or finding a seat near ancient fountains or churches, these places contribute to the authentic Roman experience.
Live Music and Gigs
Rome's artistic scene is vibrant, nurturing some of the finest singers and musicians in the country. There is no shortage of opportunities to enjoy live music, as the city boasts numerous venues hosting exciting gigs. Here are some places you might want to visit:
Largo Venue – Via Biordo Michelotti, 2 (Pigneto)
Fanfulla 5/A – Via Fanfulla da Lodi 5/A (Pigneto)
MONK Roma – Via Giuseppe Mirri 35 (Portonaccio)
Stazione 38 – Piazza della Radio, 38 (Portuense Marconi)
Na Cosetta – Via Ettore Giovenale (Pigneto)
Big Mama – Vicolo di S. Francesco a Ripa, 18 (Trastevere)
Rome's LGBTQ+ Scene
Via di San Giovanni is Rome's vibrant gay street, welcoming and inclusive for locals and visitors. With a variety of gay-friendly bars, clubs, and venues, it serves as a lively gathering place for the LGBTQ+ community. 
Nightlife in Summer
Italians love their mid-August getaways, and this is particularly noticeable in major cities like Rome. During this month, many bars and clubs close. To experience Rome's vibrant nightlife at its best, I recommend visiting from mid-September to mid-July, when most events take place.
Drinking Restrictions and Safety Tips 
In Rome, temporary decrees may restrict drinking from glass bottles or glasses in specific areas during nighttime. So, if you're given a plastic cup for your takeaway wine, even if the same bar served it in a glass a few hours earlier, don't take it personally.
Rome is generally a safe city, especially in busy areas. Most incidents and fights occur late at night when people are heavily intoxicated, but that's unfortunately common in many cities. Just use your common sense, steer clear of drug dealers, and keep a watchful eye on your belongings.
Insider Tips
There are still a few things you should know to get accustomed to the nightlife in Rome. Romans are very fond of Irish ( or pseudo-Irish) pubs, so you'll find them almost everywhere.
The car traffic does not necessarily slow down at night- on the contrary, it can get chaotic, especially around the main nightlife zones. And Romans are not big drinkers at all, but this is not necessarily a negative side, we believe.
Another thing worth noting about the nightlife in Rome is that some of the
Rome nightclubs shut down during the summertime and are replaced by various "summer spots" and festival events to top up the plentiful nightlife in Rome and its surroundings.
Dress Code
Compared to uber-fashionable Milan, Rome has a laid-back style. To avoid standing out as a foreigner, opt for casual outfits like jeans and sneakers. In alternative neighbourhoods, you can go for something eccentric. Choose smart casual attire for polished places. Never, ever wear flip-flops unless you're heading to the beach.
Making a Reservation
If the bar or restaurant you want to visit has tables, booking one is advisable, especially on weekends. Give them a call or check their website for alternative reservation methods.