Enjoy the best of Rome with this nifty pass.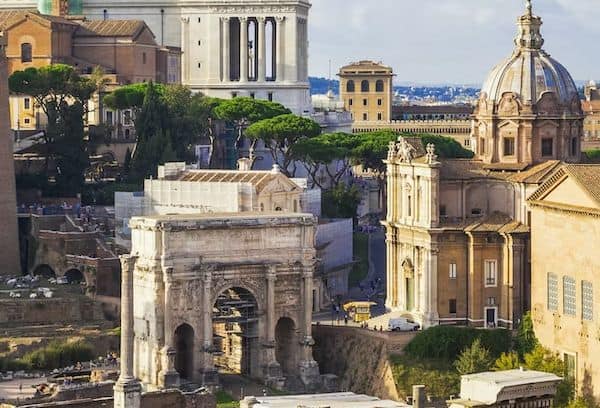 With the Roma Pass, you'll have discounted access to all the top Roman attractions at your fingertips. Creating your perfect Roman holiday itinerary has never been easier.
Highlights
What's Included
The Roma Pass has discounts on so many attractions it would be impossible to see them all in one long weekend. You'll enjoy one or two free tickets for Rome attractions of your choice and discounted tickets for everything else. You'll also have free access to all public transport (excluding trains), making your destinations easier to get to.
Below is a list of some of the things this incredible pass offers discounts on.
Museums and Attractions
Whether you prefer examining antiques or you're more into modern art, there's definitely something for everyone. With over 50 different venues to choose from, you'll never be bored. Here are some of the best:
Colosseum, Roman Forum, and Palatine Hill – A trip to Rome wouldn't be complete without visits to this trio of attractions from the ancient world.
Castel Sant'Angelo – Visit this incredible structure and learn about how it was used throughout history, from its birth as a mausoleum to its use as a prison and much more.
Borghese Gallery – It's one of the greatest private collections, with masterpieces by Bernini, Caravaggio, and Titian, to name a few.
Capitoline Museums – It's the most ancient public collection in the world, with impressive archeological displays.
MAXXI – The top museum in Rome for contemporary art, featuring collections from the 21st century.
Tours and Experiences
Looking more for an experience or cultural event? No worries, the pass has got you covered. It provides discounted tickets for theater productions, opera shows, and even amusement parks (check out Cinecitta World if you're into cinema and TV). 
And if you're looking to stay active or learn something new, join one of the cooking classes or off-the-beaten-track walking tours that they're also partnered with. The sky is the limit.
Tourist Extras
This Rome tourist pass also includes discounts on amenities handy for tourists. Whether you want to store your luggage safely, rent an e-bike or segway to travel around the city or even join a hop-on hop-off tour bus, this pass has a bit of everything.
Included with your pass is the Roma Map, a map that contains all the points of interest that you can visit with the Roma Pass, including addresses and websites for each site.
Every pass holder also has free access to toilet services on the P. Stop network.
Circo Maximo AR Experience
Don a headset and see Circus Maximus as the Romans would have seen it. This immersive and multisensory experience is the first time that augmented reality has been used in such an extensive outdoor area.
The experience lasts 40 minutes and gives you a rendering of what Circus Maximus looked like during eight different moments in its history. You'll even be able to see a Roman chariot race in action.
How Does It Work
There are two different Roma Passes you can buy. One lasts 72 hours, the other one lasts 48. The only difference between the two is that the 72 hours pass has two free attractions/experiences included in the price, whereas the other one only has one included.
You can buy up to four Roma Passes online per transaction. Simply fill in your details, choose a pickup time and date, and a voucher will be sent to your email.
You can then pick up your pass by showing your smartphone voucher and a photo ID to one of the Tourist Info Points spread around the city of Rome.
Your card will then only be validated once you use it to access your first free attraction. You must also validate it the first time you use public transport. After that, you'll have 72 or 48 hours to enjoy everything you always dreamed of experiencing in Rome.
Additional Information:
It is highly recommended to book popular attractions online in advance as the Roma Pass doesn't guarantee that there will be space available.


The passes are also available for purchase directly at one of the Tourist Info Points or at selected ATAC subway ticket offices.


Cards purchased online can be collected a minimum of 24 hours after the purchase date. This is the time required to process your payment.


No refunds are available for this pass, even if it hasn't been used.


The card is contactless, so there is no need to insert it into the reader. Just tap it.