You can spend an eternity exploring the Eternal City and still find something new to do every day. Here's a list of the best things to do in Rome to get you started – don't worry, there's something for everyone.
Walk in The Footsteps of Gladiators at the Colosseum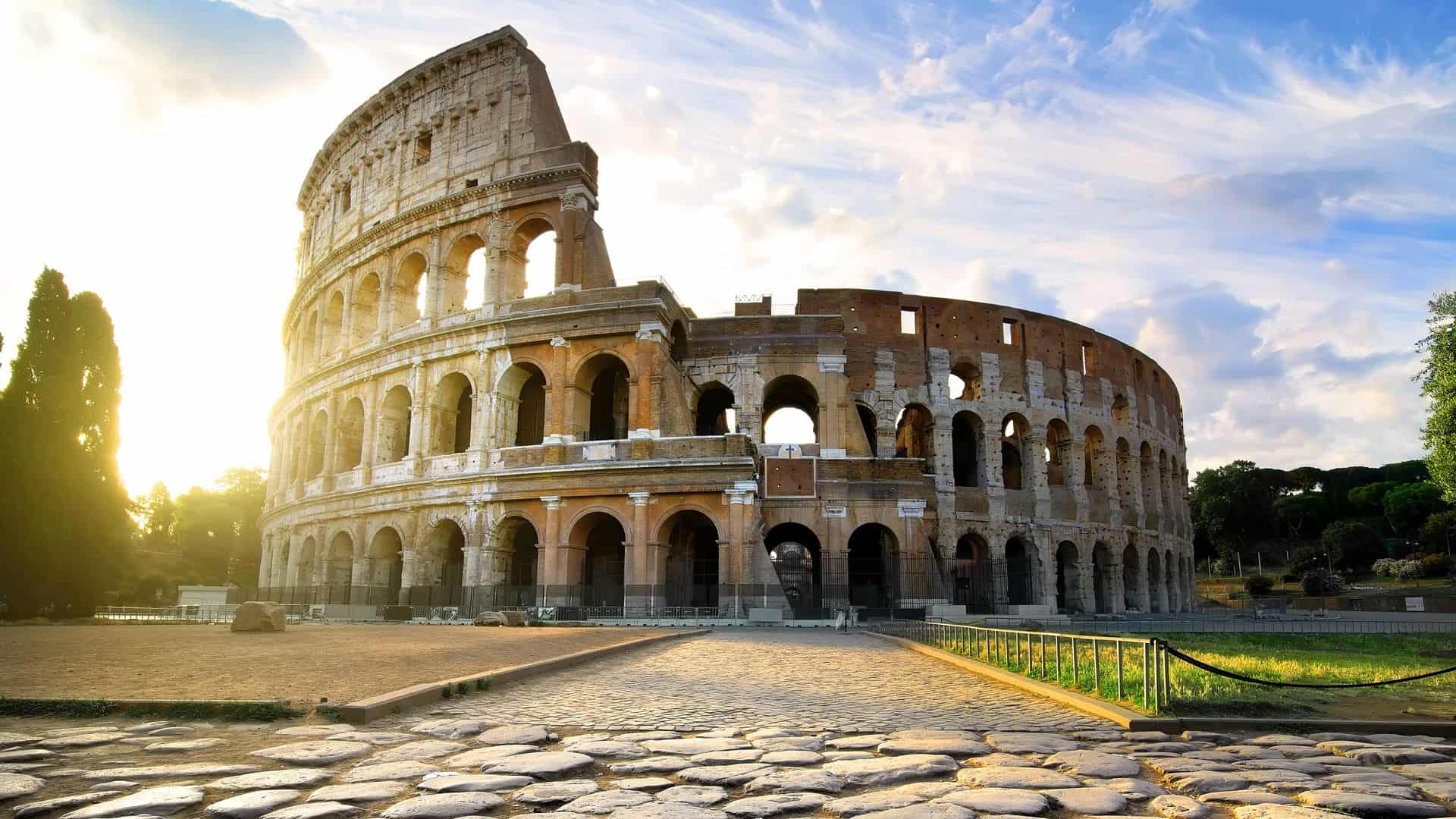 Can a trip to Rome really be complete without a visit to the Colosseum? This 2,000-year-old amphitheater is not only the most famous symbol of Rome but has also been declared one of the seven wonders of the modern world.
Step inside and be transported back into a time of epic gladiator fights, roaring crowds, and bloodthirsty emperors. You'll be able to walk around the tiers, which once held up to 50,000 spectators. See the arena floor from above, and, with a special access ticket, even visit the Hypogeum, the underground labyrinth where gladiators would prepare for battle.
Panem et circenses, anyone?
Stroll Among the Ruins at the Roman Forum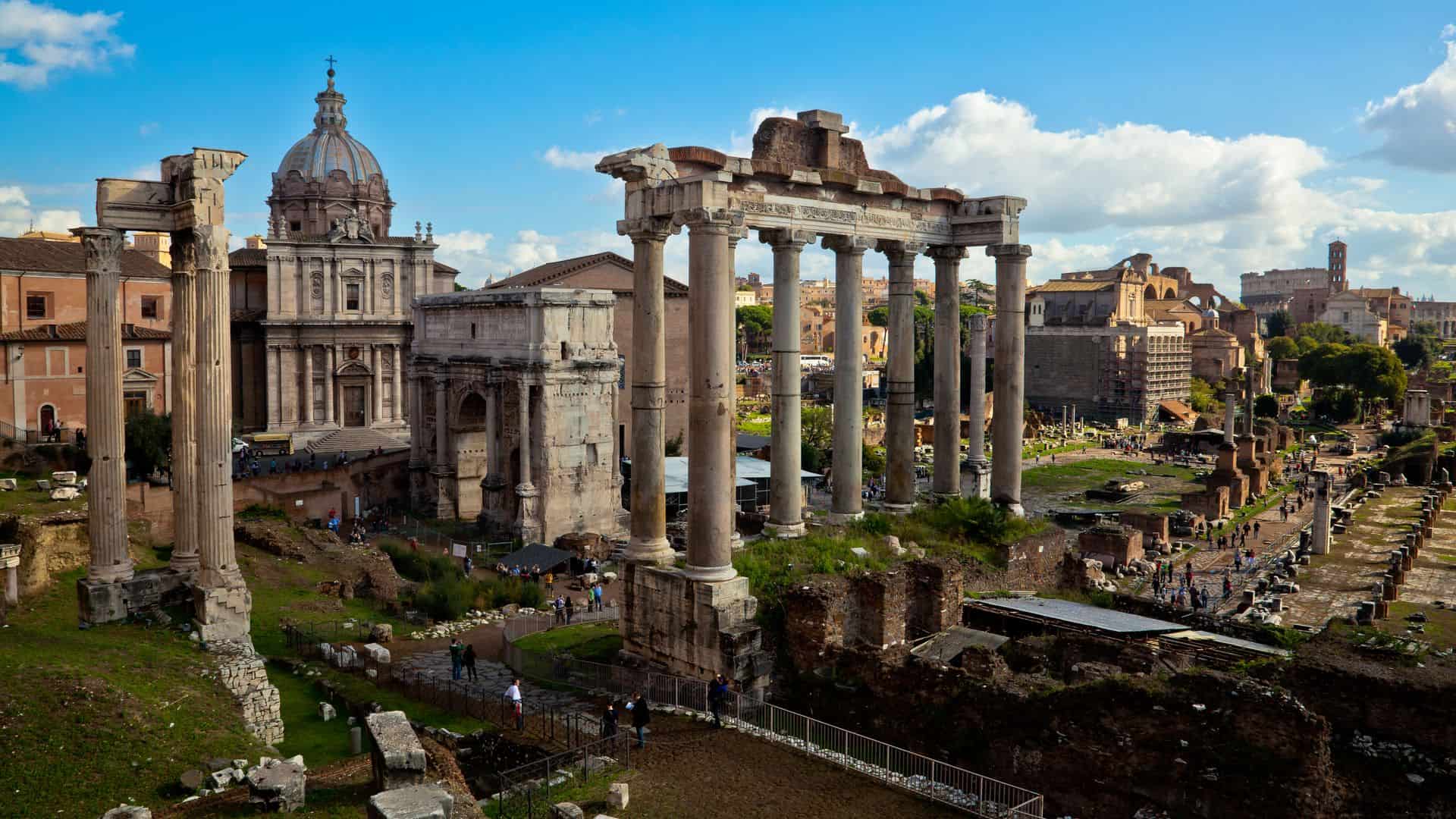 Ever wonder what it was like to live in Ancient Rome? As you walk amongst the ruins of the Roman Forum, you'll soon find out. This ancient square was once the epicenter of religious, political, and social life in the Roman Republic.
To get a better appreciation for what you're looking at, we recommend listening to an audioguide or hiring a tour guide. You'll learn about the temples, churches, and government buildings that populate the area, and you'll experience the glory of Rome at the height of its power.
Discover the Legendary Birthplace of Rome on Palatine Hill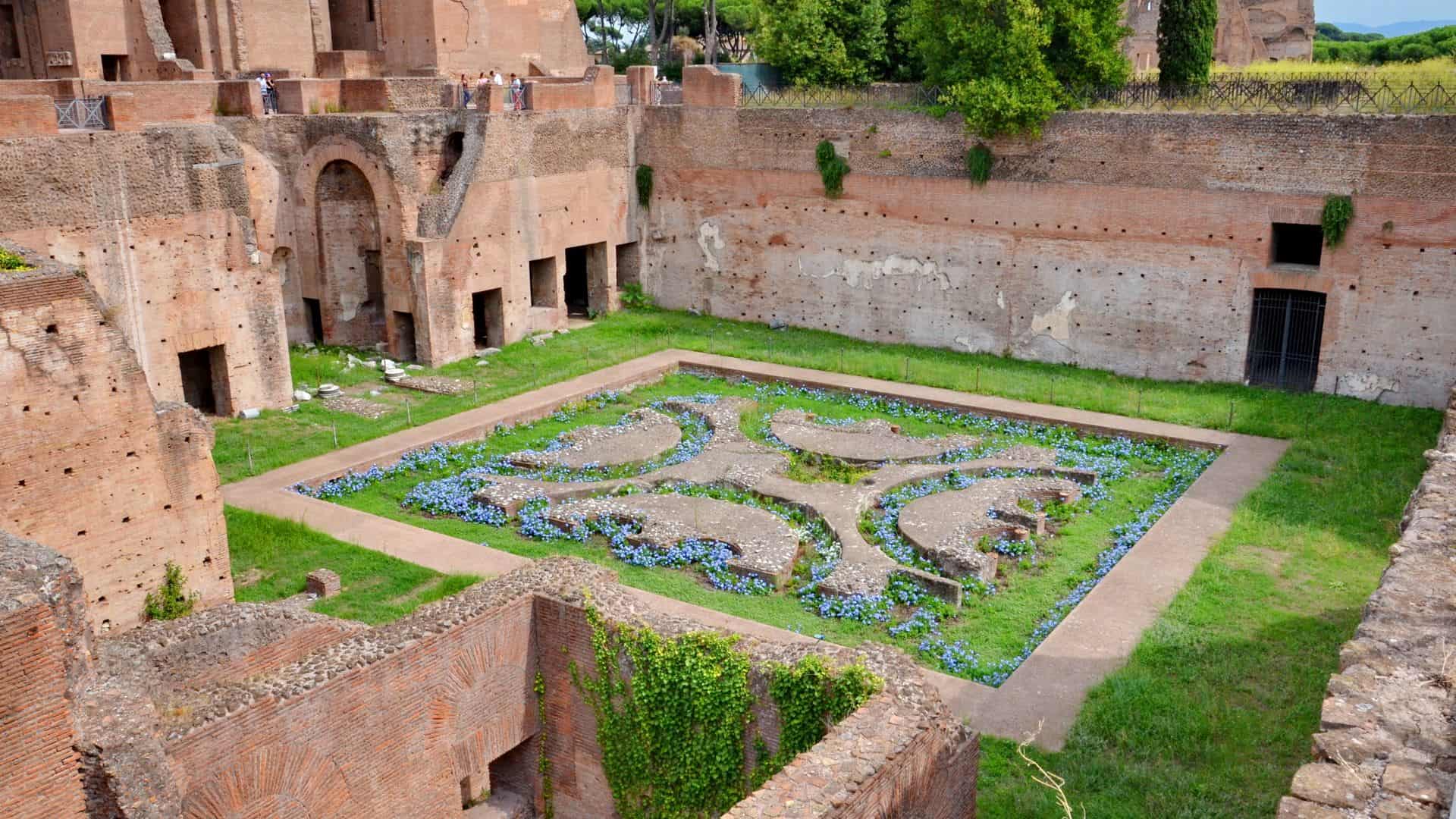 Legend has it that Palatine Hill, the most famous of Rome's seven hills, was the location of the Lupercal Cave – the cave where Romulus and Remus were raised by the she-wolf.
Because of its mythical history and its panoramic views over the city center of Rome, the hill later became known as the most prestigious and desirable neighborhood of ancient Rome, home to emperors and patricians.
Today, you can explore the ruins of ancient palaces belonging to Emperors Augustus and Domitian, learn more in the museum, and visit the Farnese Gardens, one of the first botanical gardens in Europe.
Explore the Smallest Country in the World: Vatican City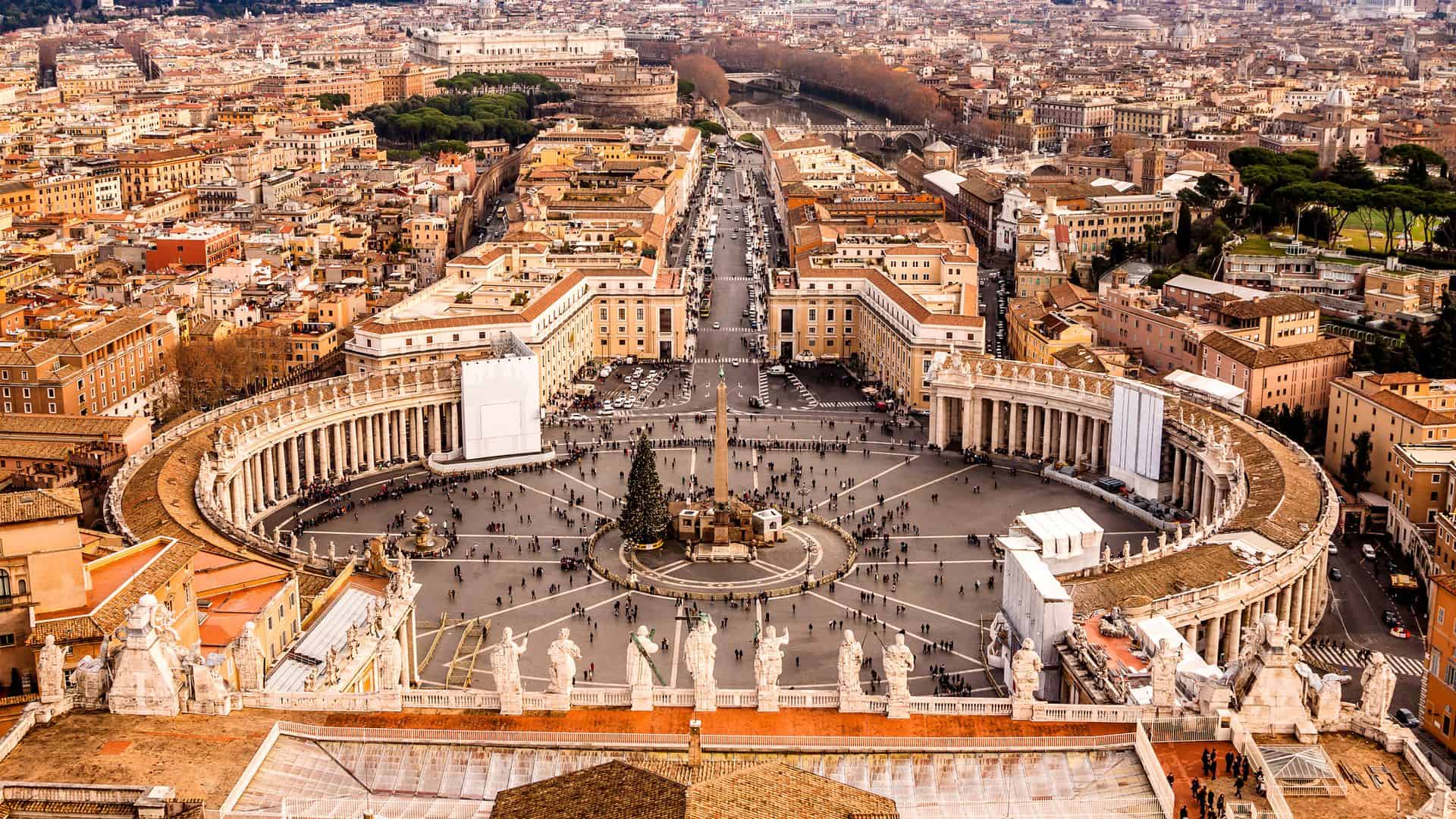 Vatican City may be a tiny enclave with an area of less than 0.20 square miles, but it's packed with stuff to do. Home to the headquarters of the Roman Catholic Church and the holiest of bishops, the pope, this microstate was declared a UNESCO World Heritage Site in 1984.
Whether you're viewing art in the extensive galleries of the Vatican Museums, exploring a ginormous church, or simply laughing at the Swiss Guards' funny uniforms, one thing's for sure: you'll never be bored.
Though it might sound contradictory, you can't leave Rome without first stepping foot in another country.
Visit the Largest Church in the World: St. Peter's Basilica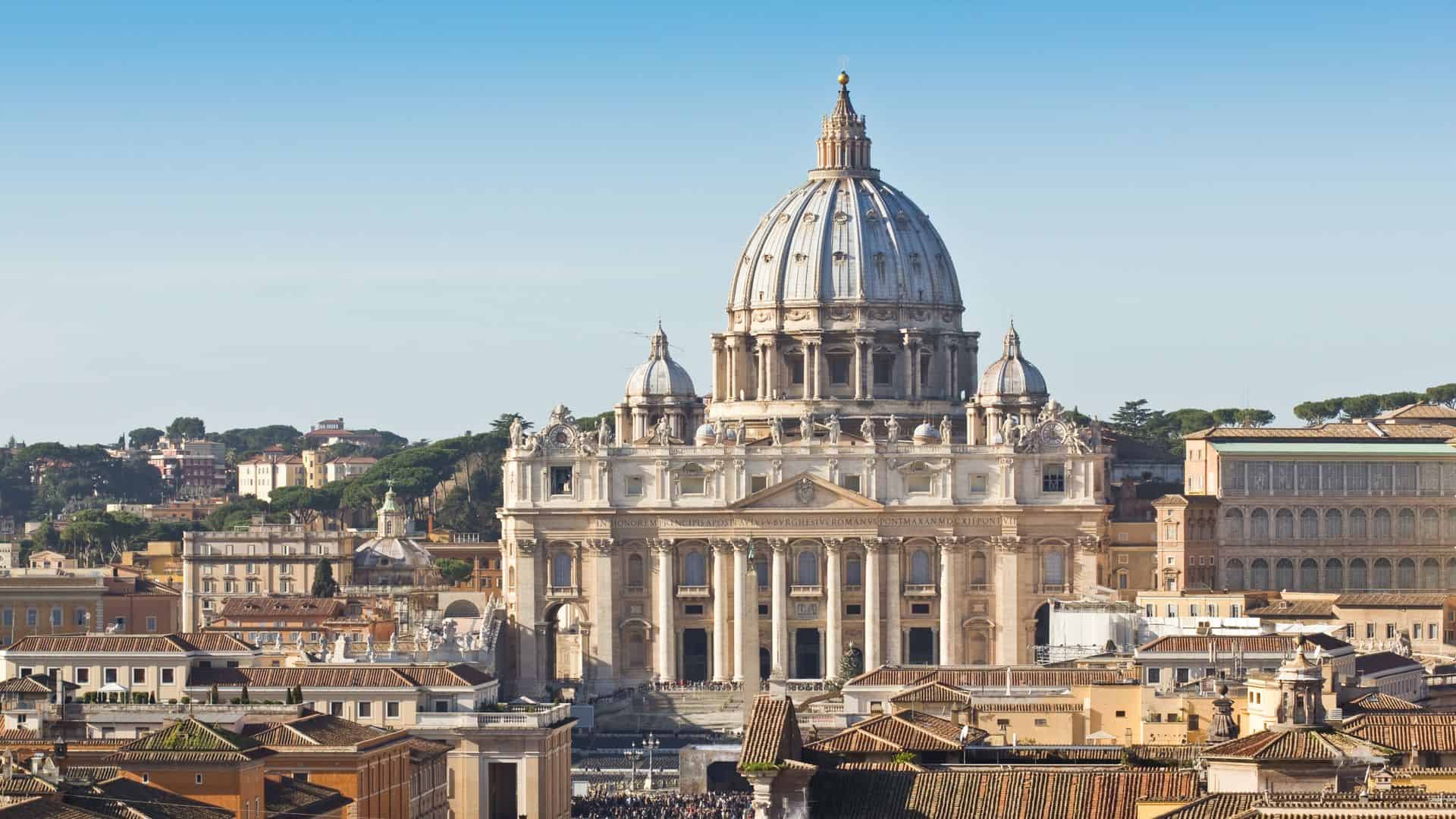 Ironically enough, the world's largest church happens to be located in the world's smallest country. St. Peter's Basilica is not only extremely holy but also extraordinarily beautiful.
Designed and decorated by some of the greatest artists that ever lived, Michelangelo and Bernini, among others, this church is definitely one attraction you just can't miss.
Though one of the free things to do in Rome, try to get there early as the lines are very long.
View World-Famous Masterpieces at the Vatican Museums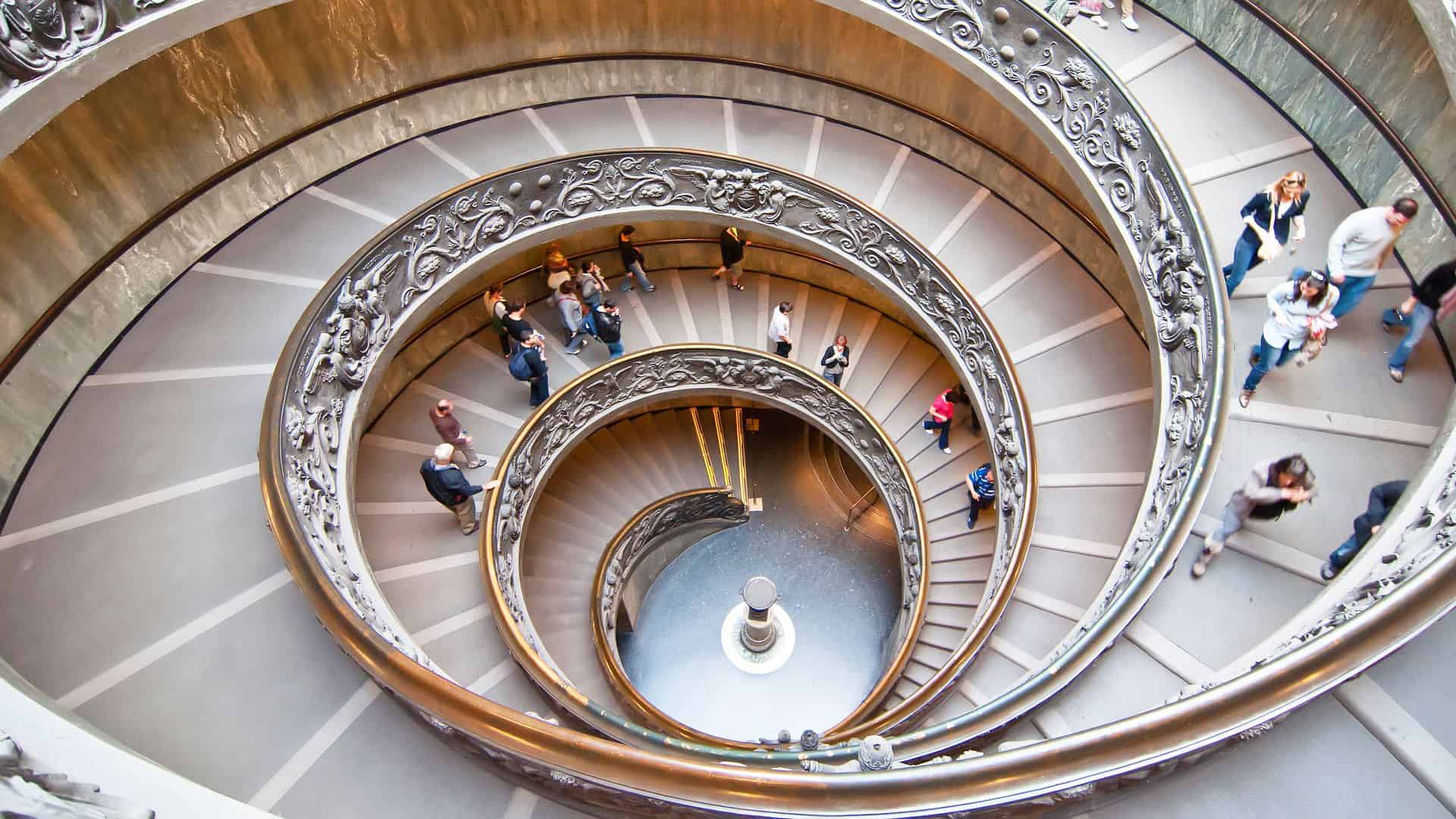 Michelangelo, Caravaggio, Raphael, Da Vinci. Whether or not you're a fan of art, you've almost certainly heard these names. Their masterpieces adorn the galleries of the Vatican Museums, but that's not all. The museums have everything from Egyptian mummies to modern art, so there's definitely something for everyone.
With 54 galleries and over 70,000 works of art, it's impossible to see everything in one day, so make sure you plan your trip well and remember to book your tickets in advance.
Gaze up at Michelangelo's Frescoes in the Sistine Chapel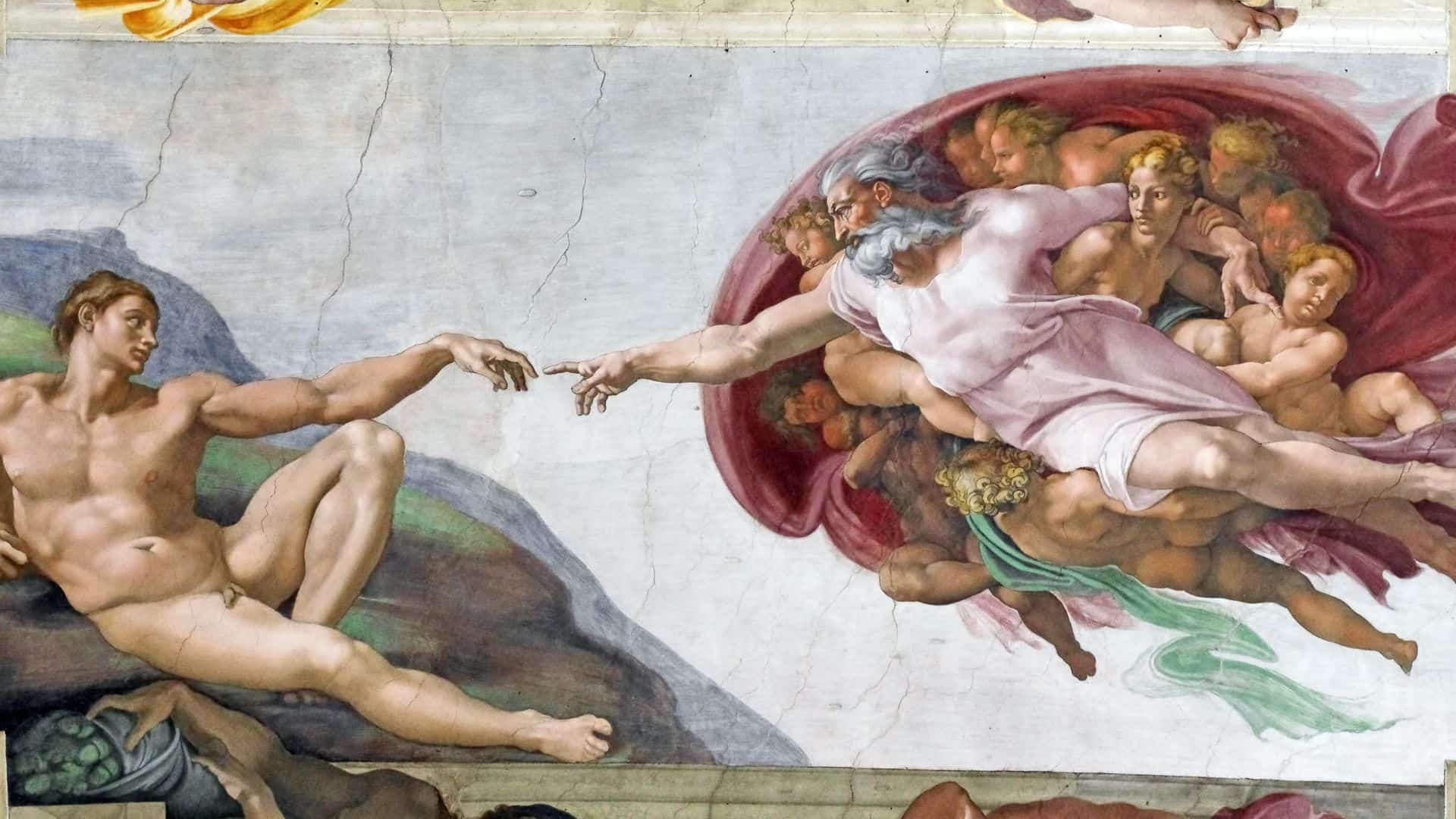 Though part of the Vatican Museums, the Sistine Chapel is so crazily famous that it deserves its own number on the list.
The chapel is most known for the nine ceiling panels frescoed by Michelangelo, particularly the central one featuring the creation of Adam, which is one of the most recognizable images in Western art.
However, the chapel walls are also very impressive, especially the enormous fresco of the Last Judgement also painted by Michelangelo. See if you can spot the artist's alleged self-portrait among the over 300 figures depicted in the scene.
Peel Back the Layers of History at Castel Sant'Angelo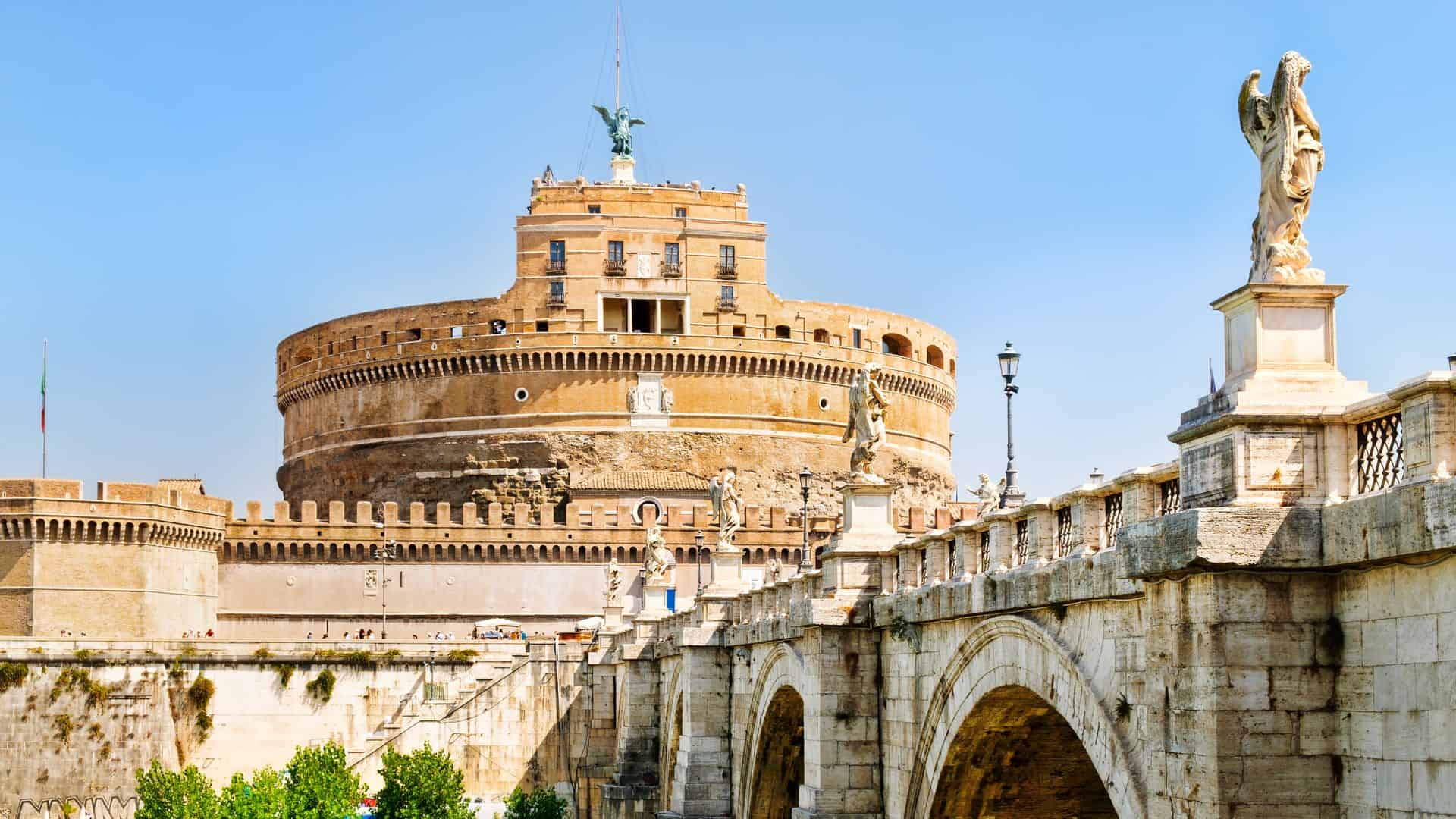 Mausoleum, castle, fortress, refuge, prison: these are the numerous terms used to describe Castel Sant'Angelo over the course of its long and turbulent history. Its various functions over time led to the unique appearance it has today.
Now, it's a museum where you can learn about its history and explore some of the rooms. Don't forget to head up to the Angel Terrace to get stunning views of the city of Rome and the Ponte Sant'Angelo below, the beautiful bridge of angels.
Marvel at the World's Largest Concrete Dome at the Pantheon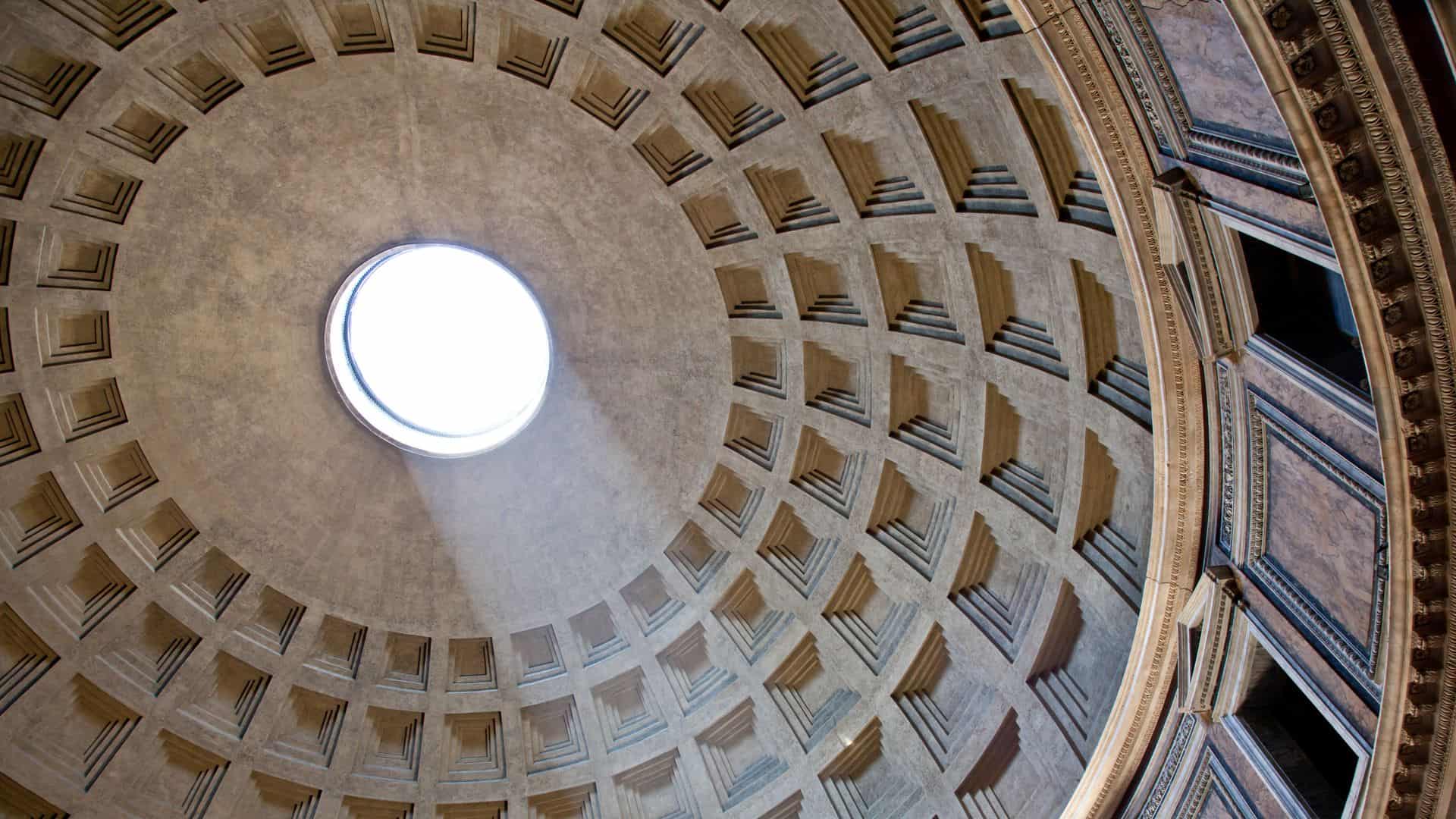 The Pantheon, meaning the temple of all gods, is the world's best-preserved ancient Roman monument. Constructed nearly 2,000 years ago, the fact that the unreinforced concrete dome is still intact is an architectural wonder.
The church is also the final resting place of the famous Renaissance artist Raphael and the first two kings of a unified Italy: Vittorio Emanuele II and Umberto I.
Insider tip: To see something truly magical, head there when it's raining. There's something about seeing water pouring freely through the oculus into this sacred space that almost feels divine.
See Baroque Fountains at Piazza Navona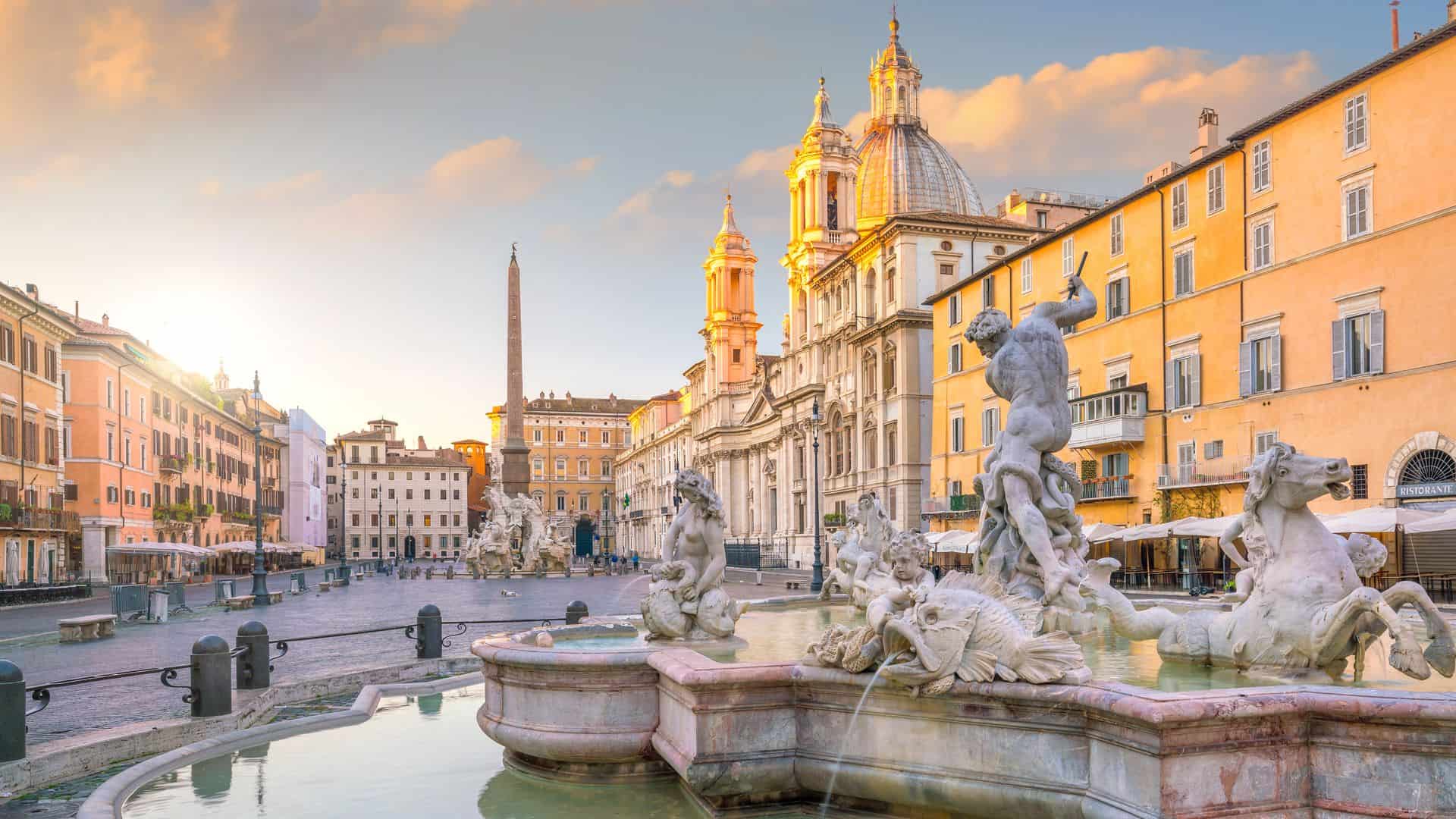 Piazza Navona is one of Rome's most beautiful squares. Known for its elongated oval shape, it's also famous for having one of Bernini's most famous fountains as its centerpiece. The Fountain of the Four Rivers is a Baroque masterpiece featuring four personified rivers and topped by an Egyptian obelisk.
Directly in front of the fountain is the Baroque church of Sant'Agnese in Agone, designed by daring architect Francesco Borromini. Legend has it that there was a rivalry between the two artists.
If you are in Rome at Christmas time, don't miss the annual Christmas market held here at the piazza.
Toss a Coin (or Two or Three) into the Trevi Fountain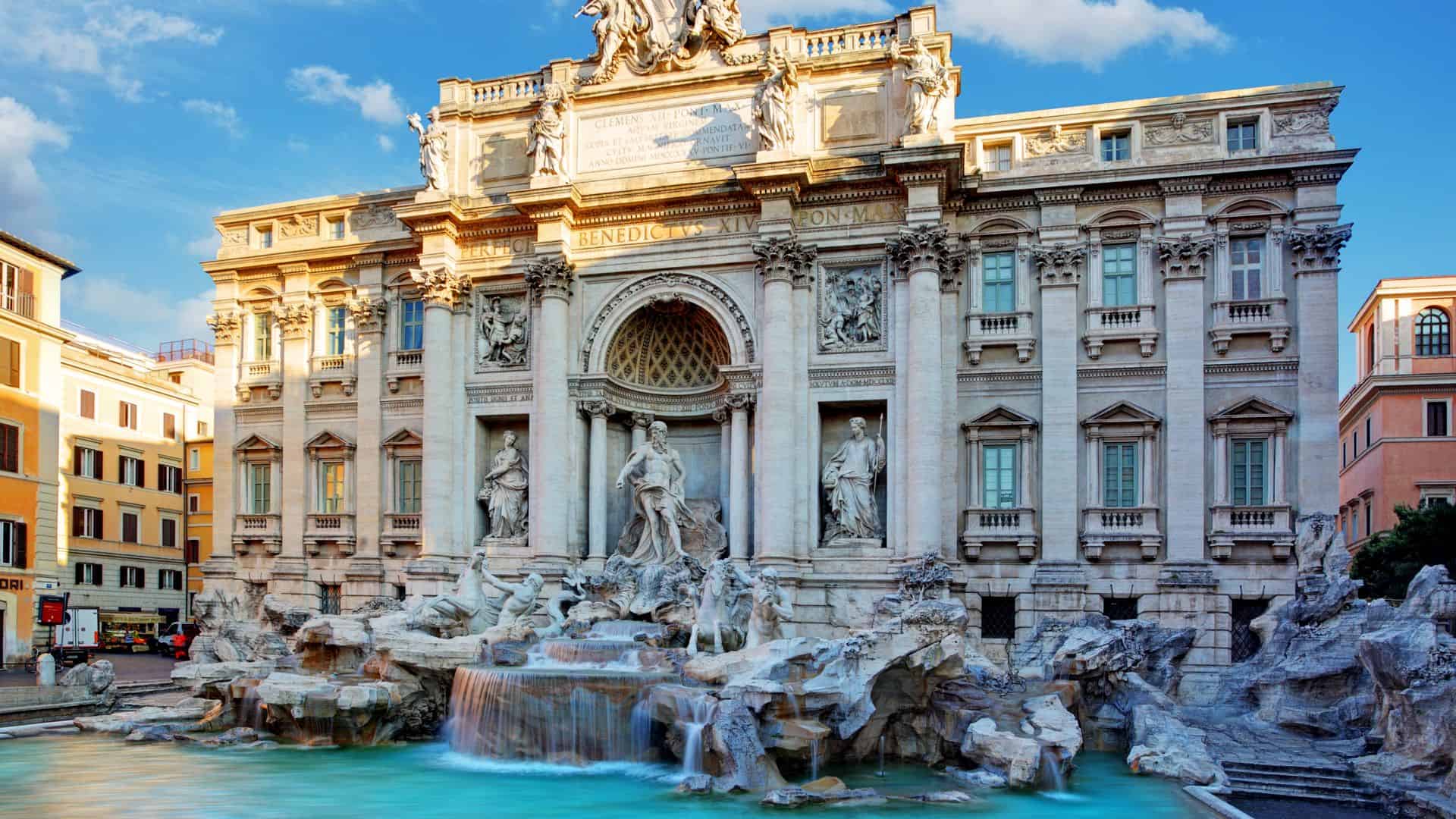 The Trevi Fountain is arguably the most beautiful and famous fountain in the world and one of Rome's most popular tourist sites. To see the fountain without the hordes of tourists, then go there at the crack of dawn. Trust me, it's worth it.
According to legend, if you toss one coin into the fountain, you'll return to Rome; if you toss two in, you'll meet your true love; if you throw in three, you'll get married to your true love in Rome.
Enjoy your Roman Holiday at Piazza di Spagna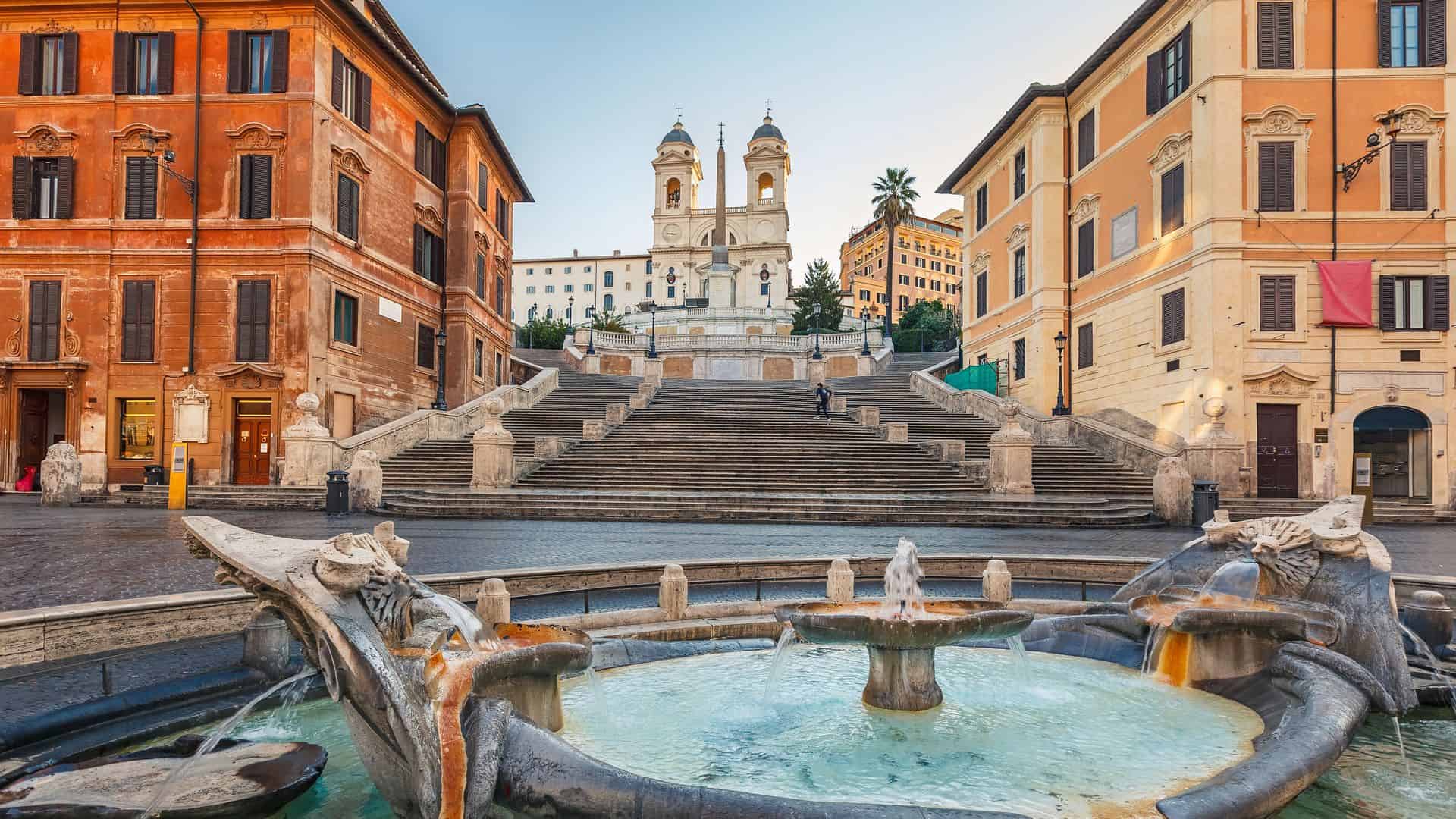 Piazza di Spagna was put on the map during the 18th and 19th centuries when travelers doing the Grand Tour would stay there. The English influence is certainly felt here, as it's the location of the Keats-Shelley House museum and Babington's Tea Room, where you can enjoy an authentic high tea experience.
Piazza di Spagna is also the site of the Spanish Steps, made famous in the 1950s Hollywood film starring Audrey Hepburn.
See the Iconic She-Wolf Statue at the Capitoline Museums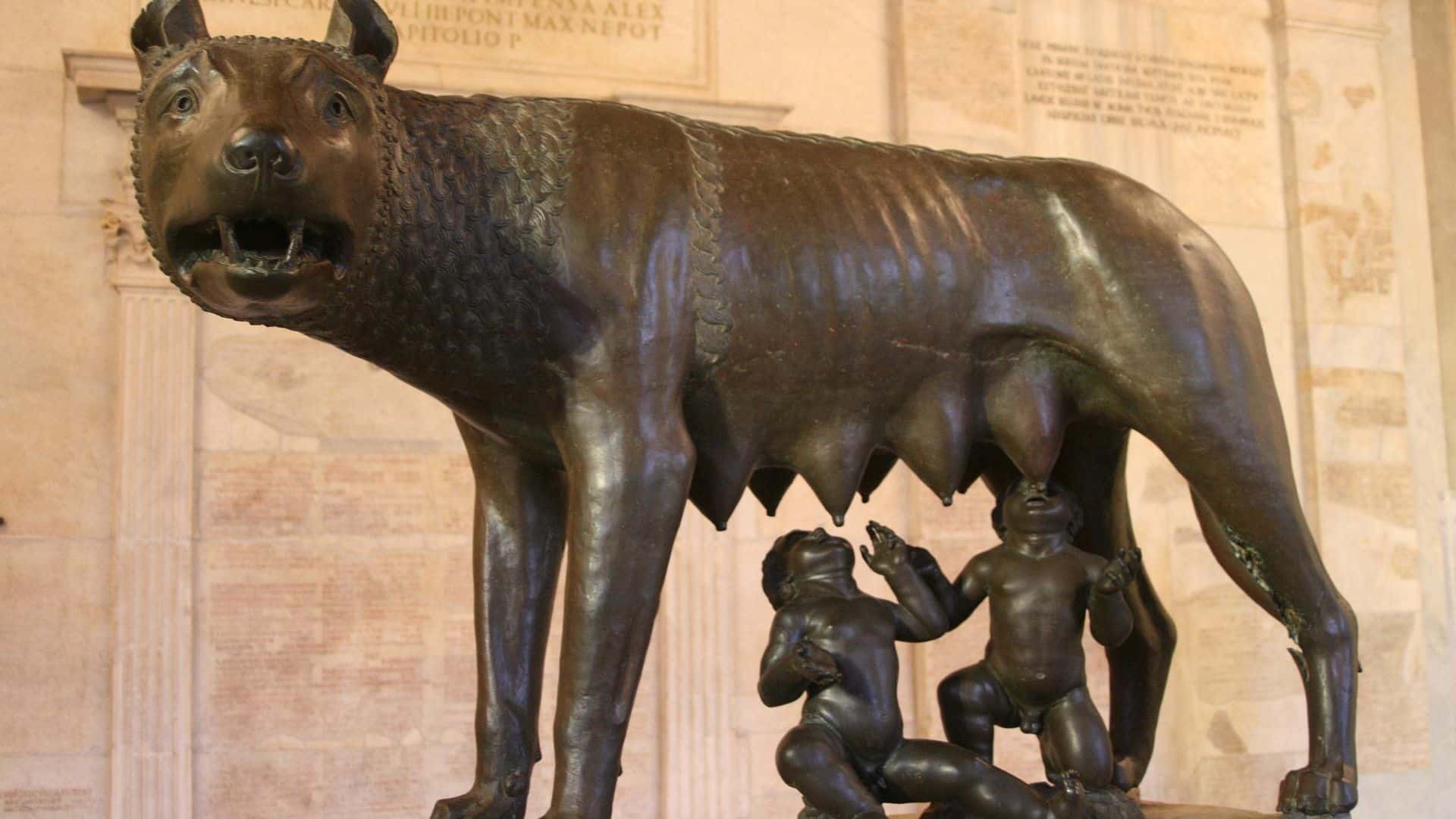 The Capitoline Museums is said to be the world's first public museum. Housed in two buildings connected by an underground tunnel, the museum contains an incredible collection of ancient statues and other art linked to the city of Rome.
Don't miss the symbol of Rome, the she-wolf suckling the twins; the gigantic remains of the Colossus of Constantine; or the Equestrian statue of Marcus Aurelius, the only intact bronze statue of antiquity.
Marvel at Michelangelo's Piazza del Campidoglio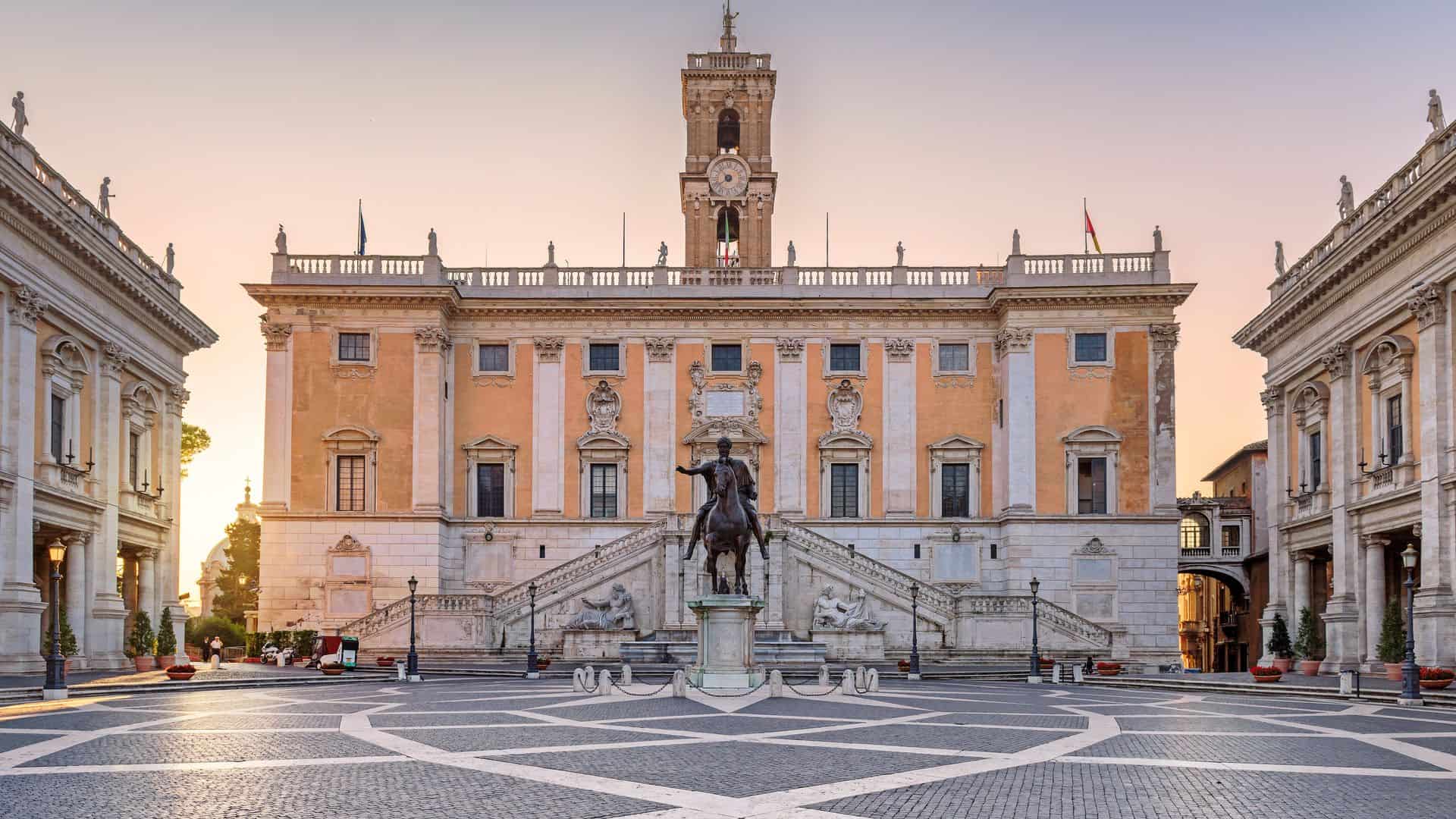 Atop Capitoline Hill is one of the most beautiful squares known to man. Head up there to see the masterpiece known as Piazza del Campidoglio, designed by none other than Michelangelo himself.
The centerpiece of the square is a towering equestrian statue of Marcus Aurelius looking down over the city of Rome, and on either side are the buildings belonging to the Capitoline Museums, but the square is also known for being one of the best places to get a view of the Roman Forum from above.
Ride a Bike Through Villa Borghese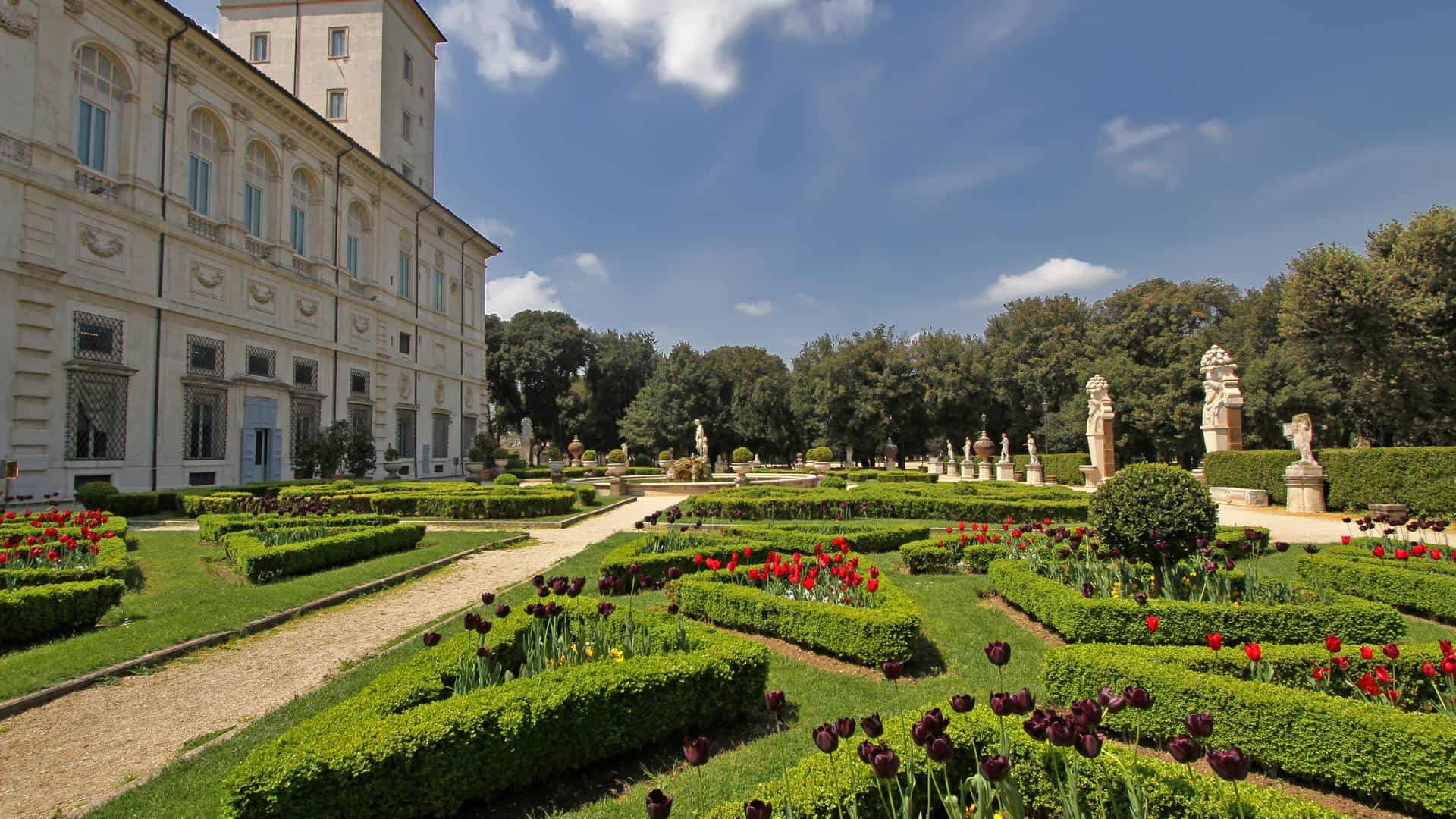 Villa Borghese is one of the largest urban parks in Europe. Situated on Pincian Hill, it's the perfect combination between lush greenery and romantic Roman sculptures and architecture.
There are many things to see in the park, such as the 19th-century water clock – a feat of engineering – or the Silvano Toti Globe Theatre – a replica of Shakespeare's Globe, but one of our favorite activities is to rent a bike or rollerskates and zoom through the park on wheels.
Don't miss the Pincio Terrace for breathtaking panoramic views of Rome. Count the cupolas and see if you can spot St. Peter's Basilica.
See Bernini Masterpieces at the Galleria Borghese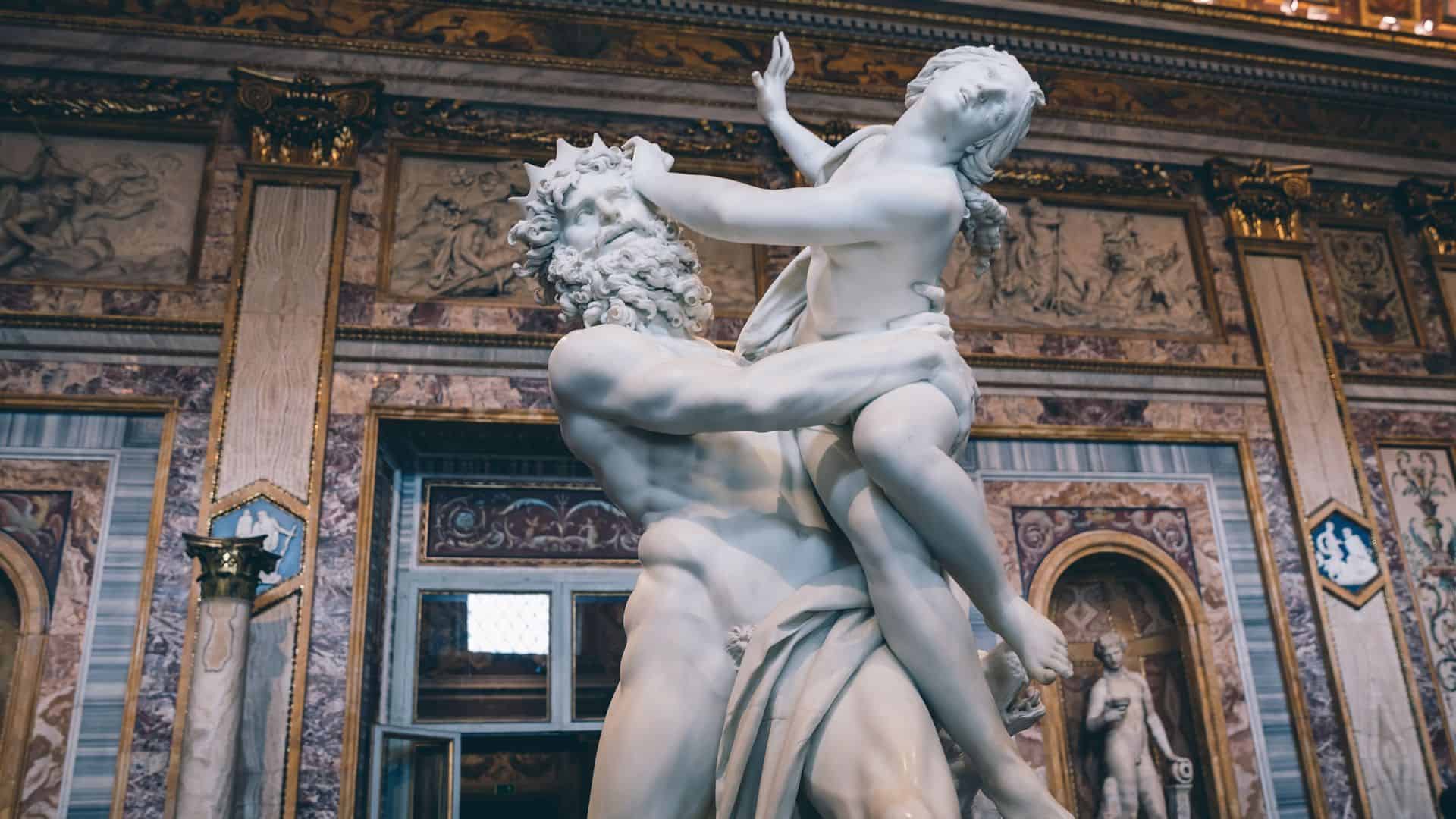 The Galleria Borghese is one of the most magnificent private art galleries in the world. Not only does it contain paintings by exceptional artists such as Raphael, Caravaggio, and Titian, but it also has one of the finest Baroque sculpture collections in Rome.
The Rape of Proserpina and Apollo and Daphne, both by Bernini, are two great examples of how movement can be immortalized in marble.
If you only have time to see one gallery during your stay in Rome, make sure it's this one. It is one of the top 10 things to do in Rome.
Explore an Archeological Site at Ostia Antica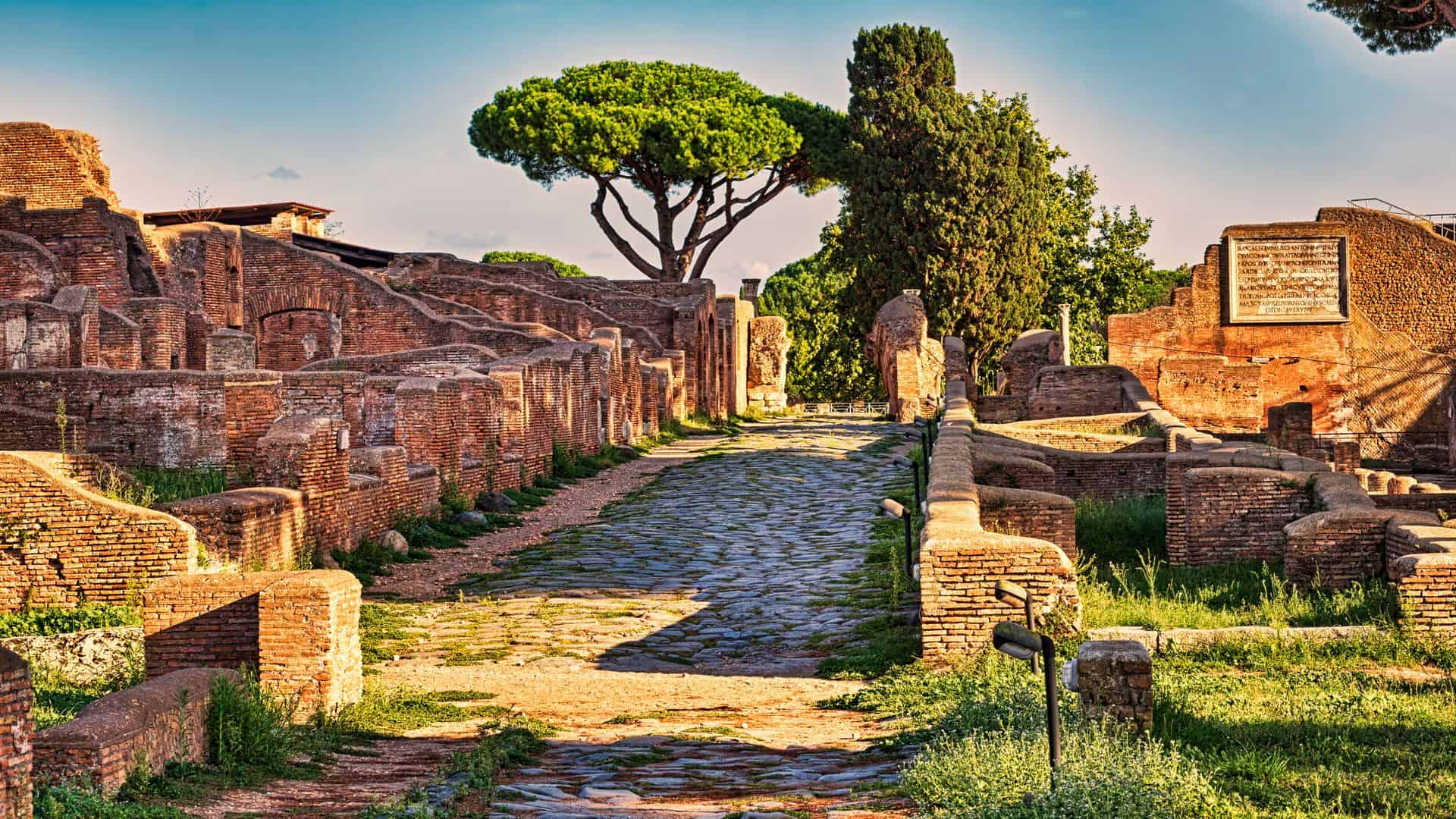 Just 19 miles (30 km) outside of Rome's city center is a large archeological site known as Ostia Antica. What was once a prospering harbor city during the Roman Empire is now a magnificently preserved ancient city in ruins.
Spend an afternoon exploring the remains of taverns, shops, public baths, and even a large theatre, and imagine what life must have been like millennia ago.
Tour an Underground Cemetery at the Catacombs of Saint Callixtus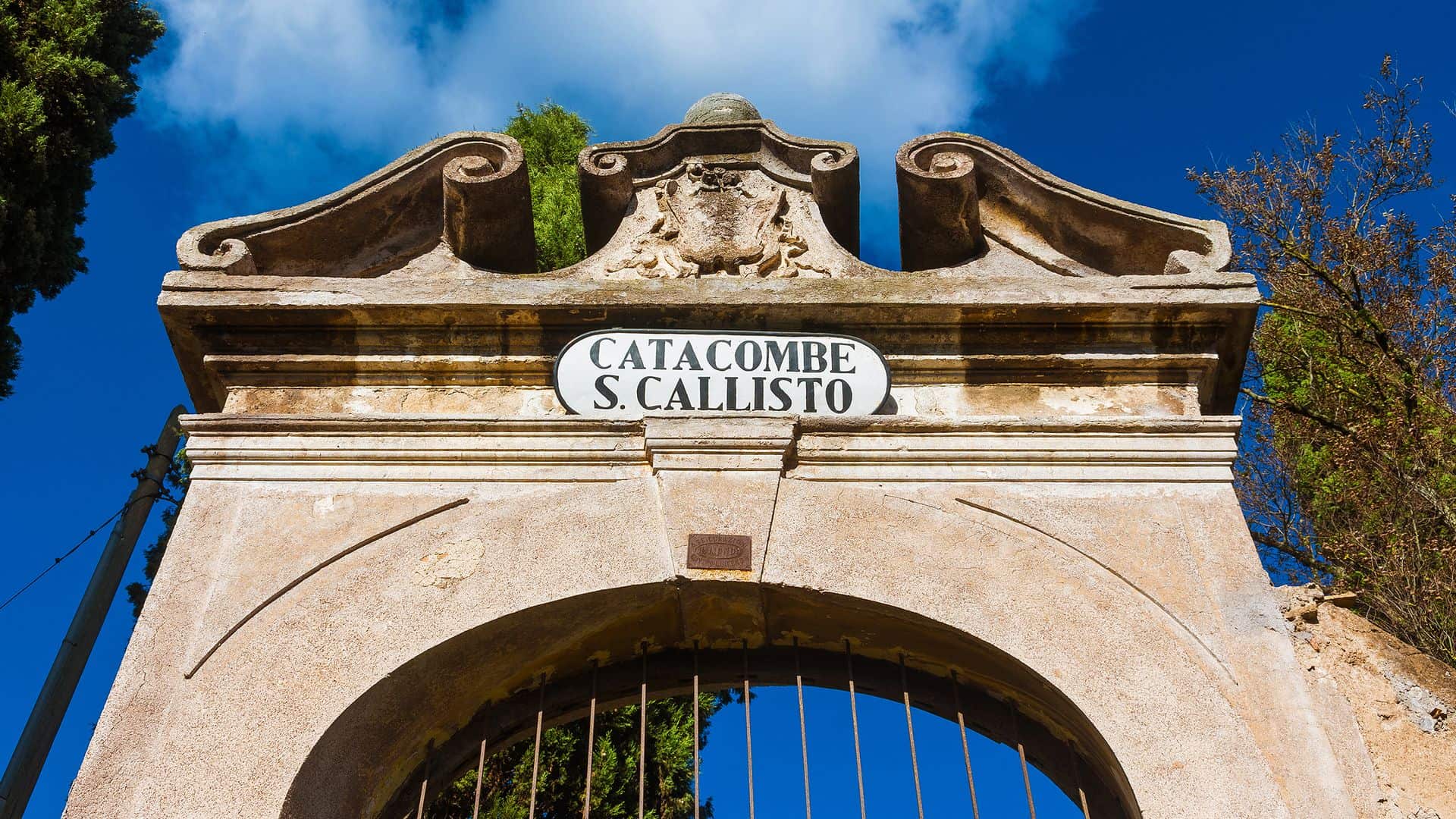 Known as the most famous of Rome's Christian catacombs, the Catacombs of Saint Callixtus are also one of the oldest official cemeteries belonging to the Church of Rome, dating back to a time of Christian persecution when they had to bury their dead in secret.
Join a tour to explore the Crypt of the Nine Popes, admire the preserved mosaics, and decode the mysterious Christian symbols carved into the walls.
Spend a day at an Ancient Spa at the Baths of Caracalla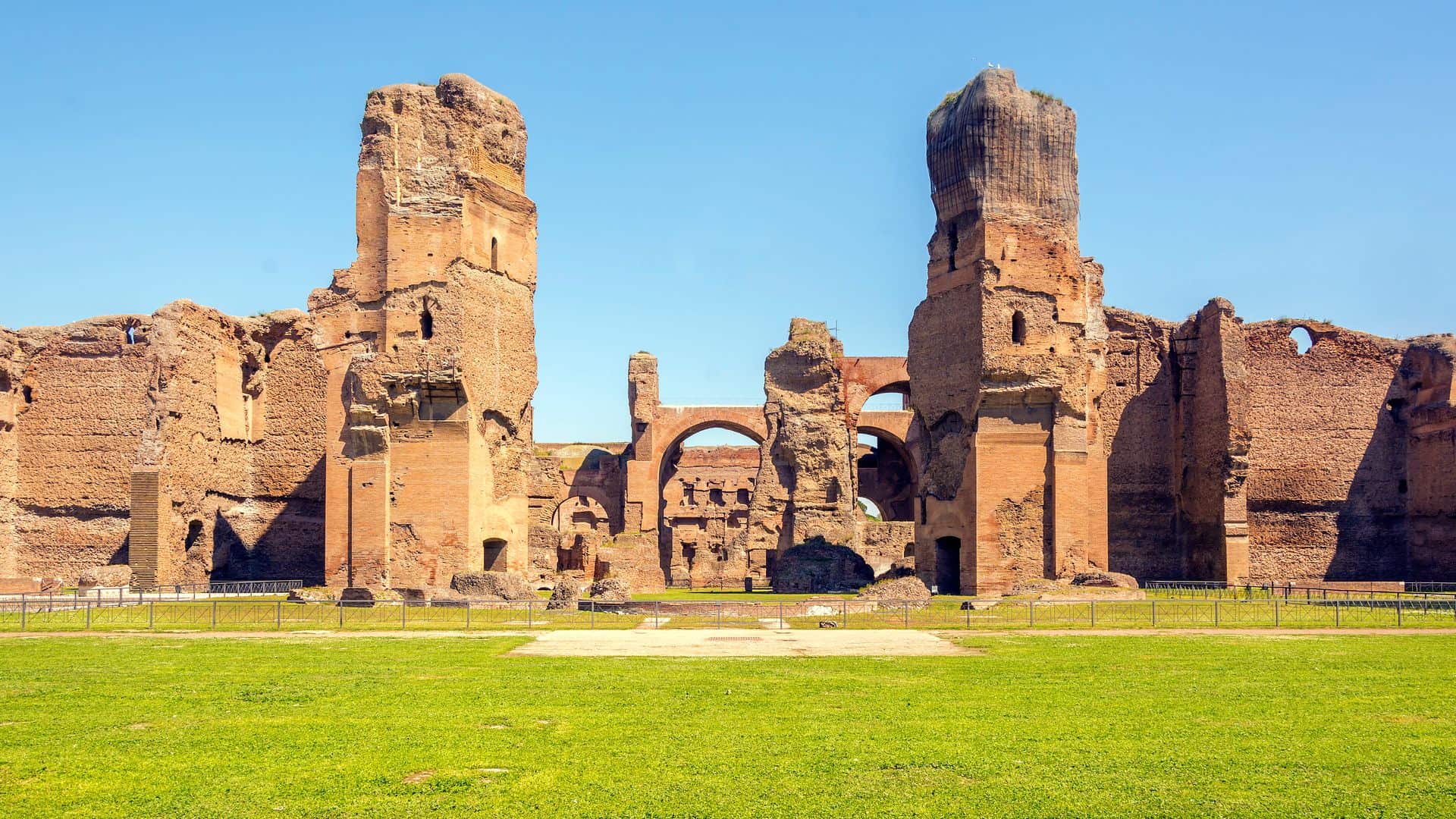 The Romans were well-known for their penchant for taking baths. Spend an afternoon exploring the ruins of Baths of Caracalla, ancient Rome's second-largest public thermae. Discover its different structures like the natatio, tepidarium, frigidarium, and caldarium.
Then head underground to the exhibition area to learn more about the history of this complex and visit the biggest Mithraeum ever documented.
Monkey Around With Marmosets at the Bioparco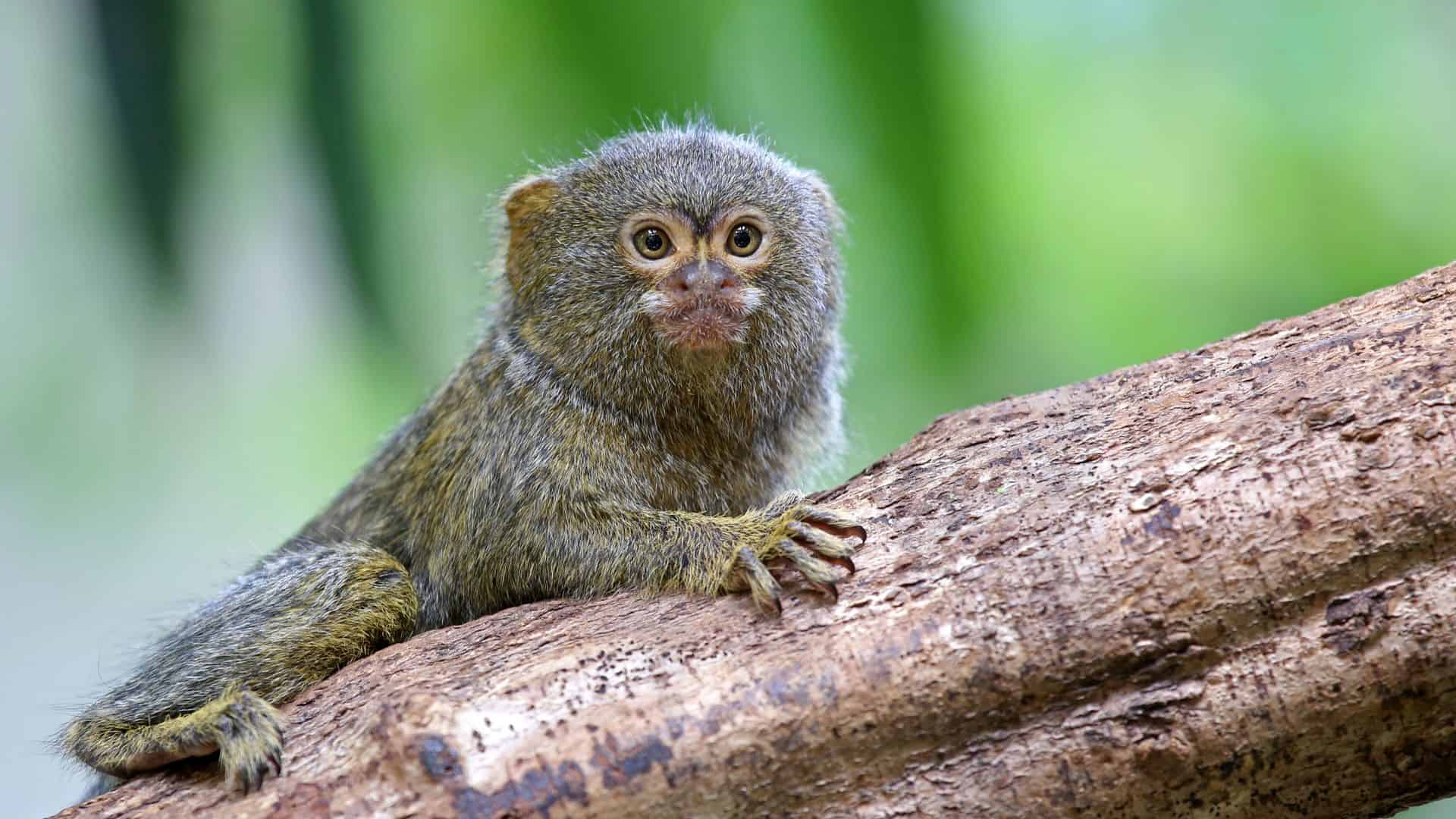 Seeing beautiful churches or ancient ruins is not the only thing to do in Rome. Located on the grounds of one of Rome's most famous parks, Villa Borghese, is Bioparco, Italy's oldest and largest zoo.
Whether you're picnicking with the flamingos by the Oasis of the Lake, gazing at the grizzlies in the Valley of the Bears, or trying to spot the pygmy marmoset, the world's smallest monkey, Bioparco is great fun for everyone, young or old.
Definitely on a list of cool things to do in Rome.
Trot Across the Tiber into Trendy Trastevere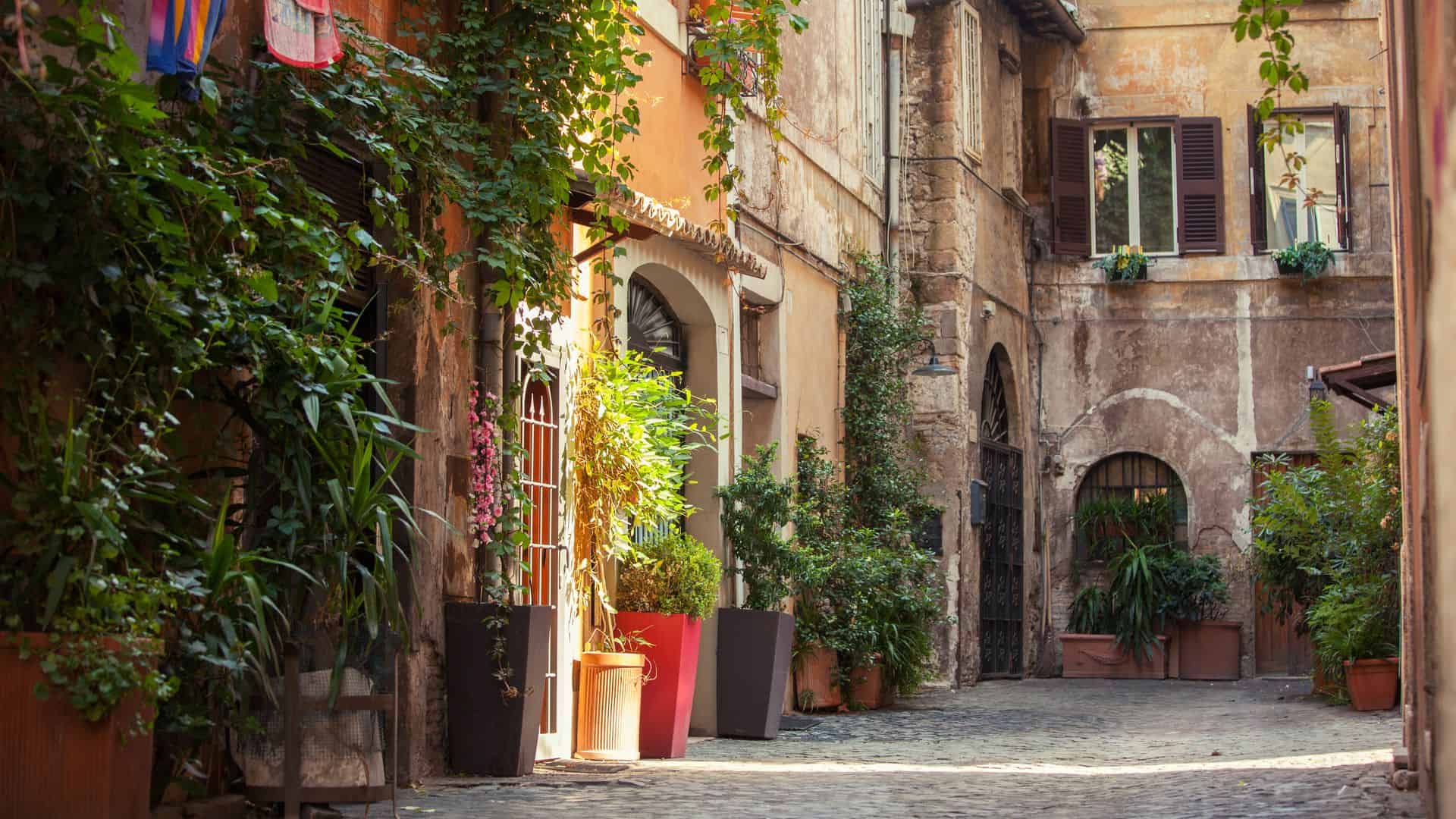 Crossing the Tiber River brings you into Trastevere, one of Rome's most vibrant neighborhoods. What was once a very local and working-class district has transformed into a funky and bohemian area complete with narrow cobblestone streets, tasty trattorias, and some of the best nightlife in the city.
Insider tip: For a truly local experience and some of the cheapest booze in Rome, grab a drink at Bar San Calisto and people-watch the quirky locals who have been coming here for decades.
Chow down on a Tasty Sandwich at Testaccio Market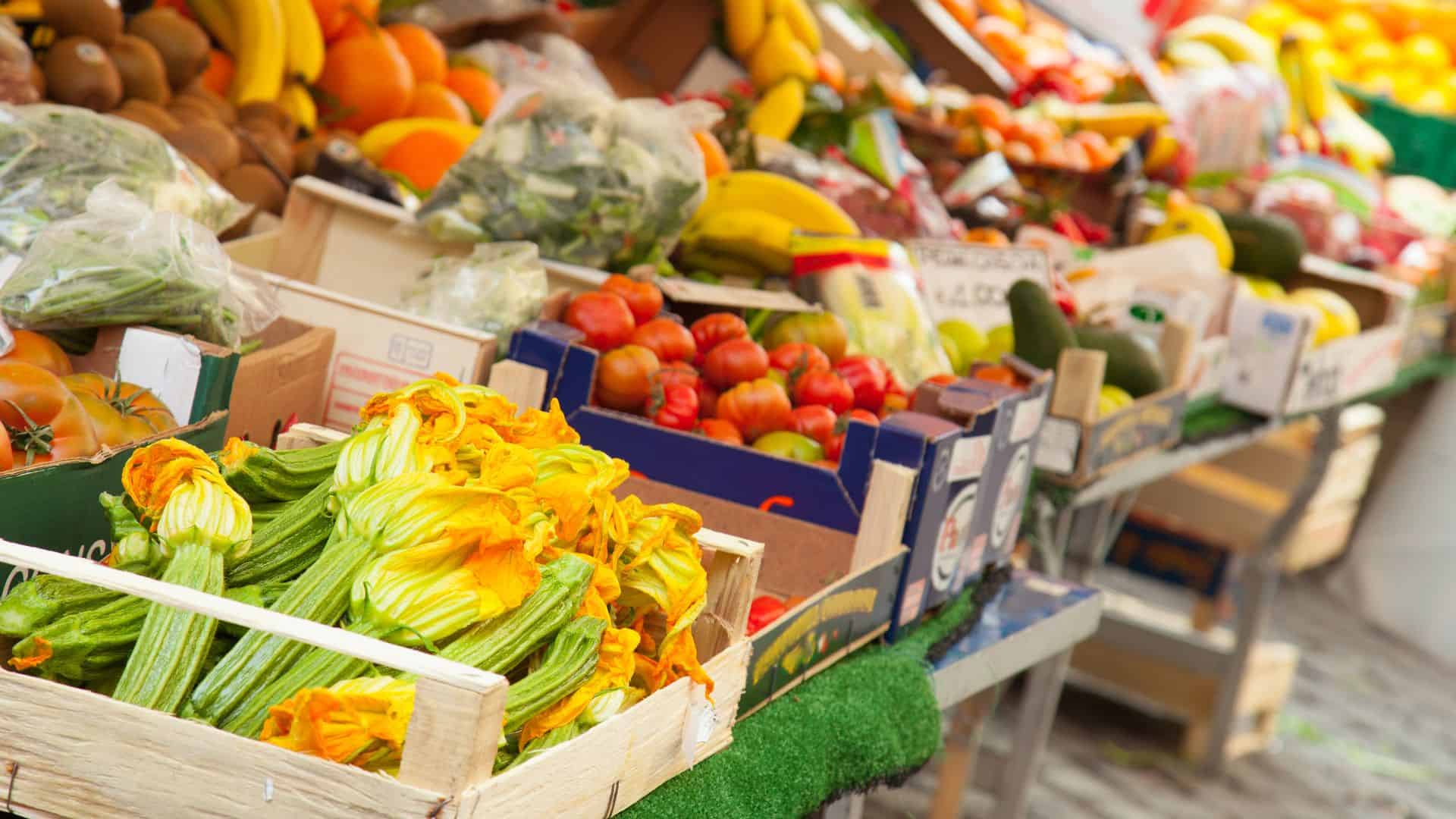 Located in the down-to-earth neighborhood of Testaccio, still largely undiscovered by tourists, is one of the best local markets in Rome: Testaccio Market. This airy, glass-roofed structure hosts over a hundred mostly family-run stalls. Though most of them sell fresh and seasonal fruit and vegetables, you can also find homemade clothing and used books as well, but it's also one of the best places to grab a quick lunch.
For a truly tasty experience, head to Mordi e Vai, a popular stall selling sandwiches with classic Roman ingredients such as 'allesso di scottona' – slow-cooked beef or, for the more adventurous: tripe or tongue.
Visit the Unusual Landmark Known as the Pyramid of Cestius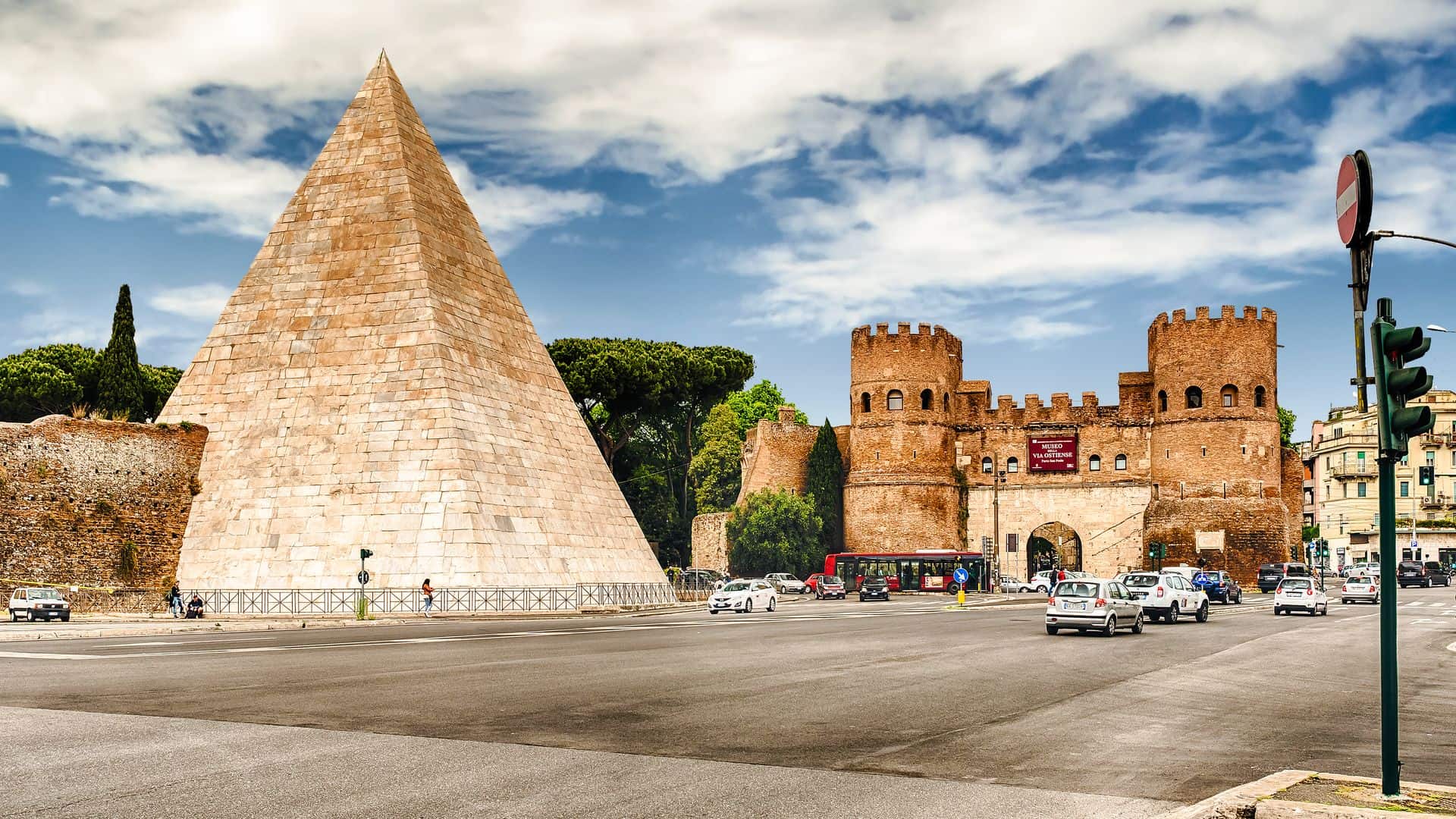 Ancient Egypt or ancient Rome? Though many have never even heard of it, this well-preserved structure, located near Porta S. Paolo, is Rome's version of a pyramid. It was built between 18 and 12 BCE to serve as the burial place for Roman magistrate Gaius Cestius, who demanded that his tomb be constructed in the style of the pharaohs.
Though the inside is temporarily closed, it's still worth taking a look at from the outside.
Have a Gastronomical Experience at Eataly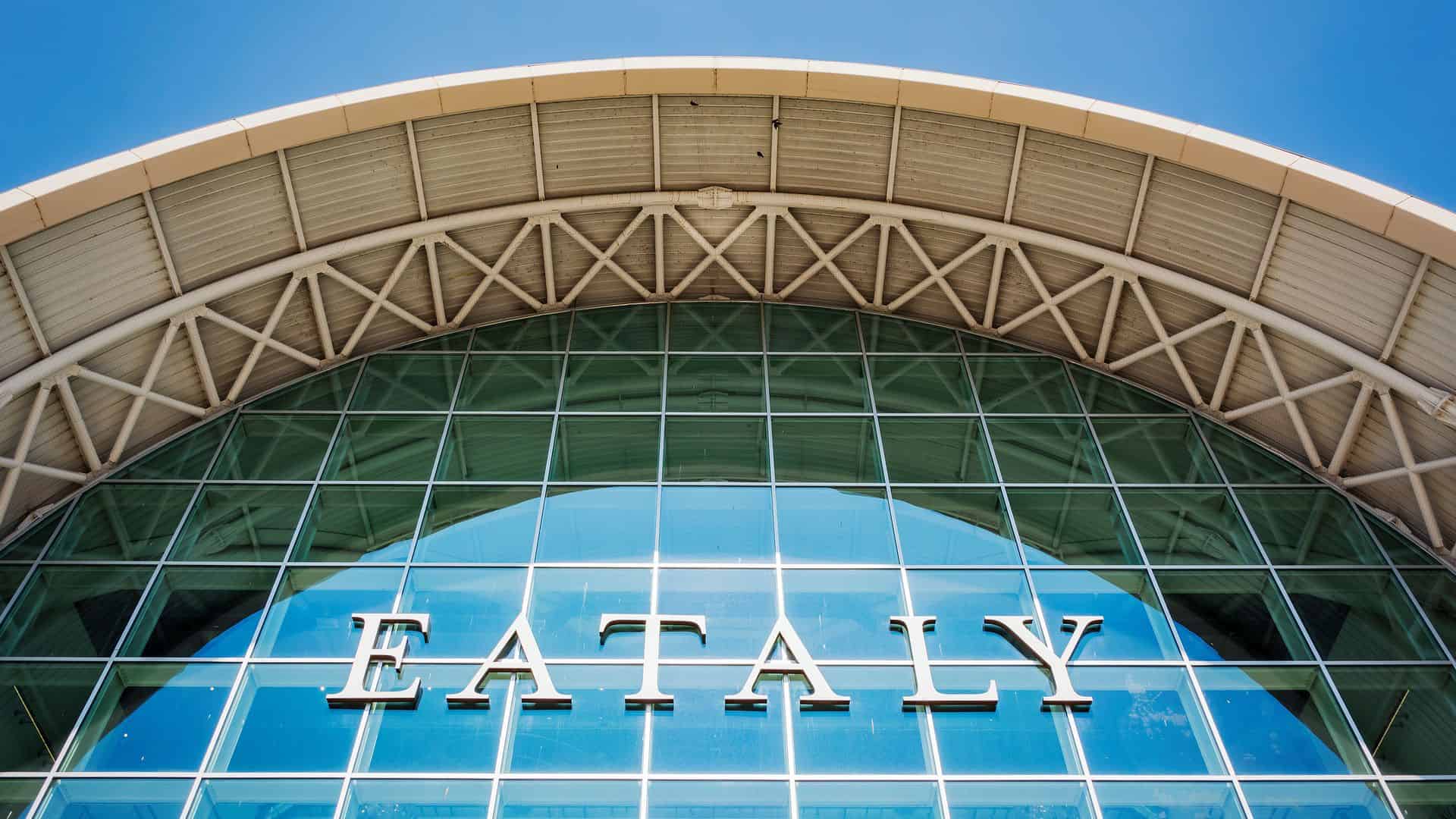 Since its opening in 2012, this multi-level superstore has been considered a fundamental stop for all foodies coming to Rome. Inside you'll find a market selling the highest-quality Italian products, a range of delicious restaurants, and even the opportunity to take cooking classes in situ.
If you're looking to have a gourmet gastronomical experience in Rome, then Eataly (the fusion of EAT and ITALY) is unmissable.
Enjoy Contemporary Art in an Unusual Setting at the Mattatoio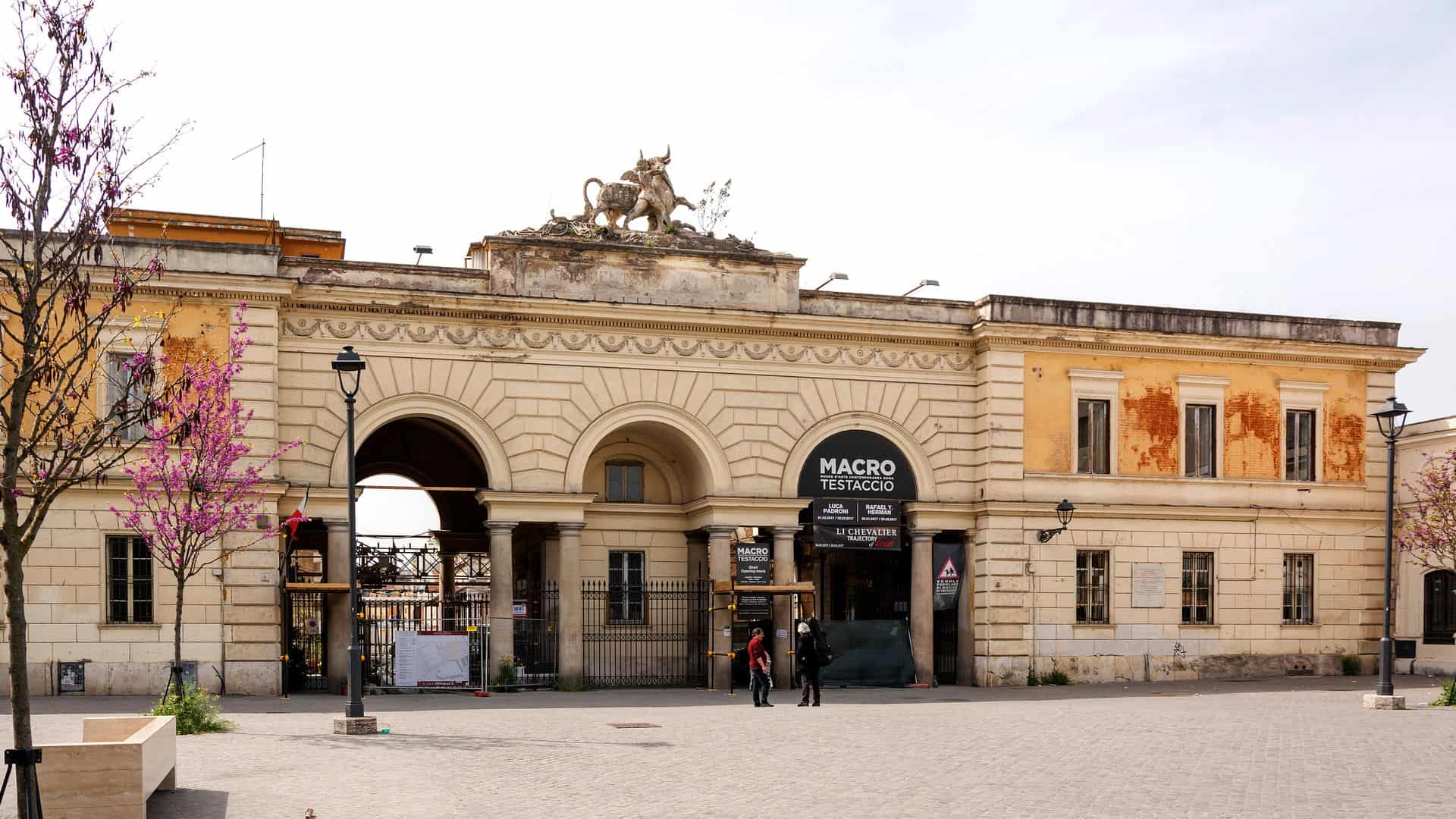 Located in the heart of Testaccio is Il Mattatoio, a museum in Rome that hosts art exhibitions and events relating to contemporary art. What's truly special about this place is that it's been converted into a museum from what was once one of the largest slaughterhouses in Europe.

Talking about unique things to do in Rome.
If you can stomach its macabre past, it's a great place to discover what's up and coming in Roman art today.
Insider tip: Where the animals used to be kept in pens is an open area known as the 'Città dell'Altra Economia', an alternative space that hosts an organic market, a cafe, and a series of ever-changing events such as vintage markets and beer festivals.
See Past and Present Converge at Piazza Venezia
Located right in the heart of the city center, Piazza Venezia is one of Rome's busiest hubs in which several thoroughfares intersect. What was once a vast Medieval and Renaissance quarter sitting at the base of Capitoline Hill is now a relatively modern square that hosts an array of impressive buildings, an infamously iconic modern monument, and even a talking statue.
Discover a Darker Chapter of Rome's Recent History at Palazzo Venezia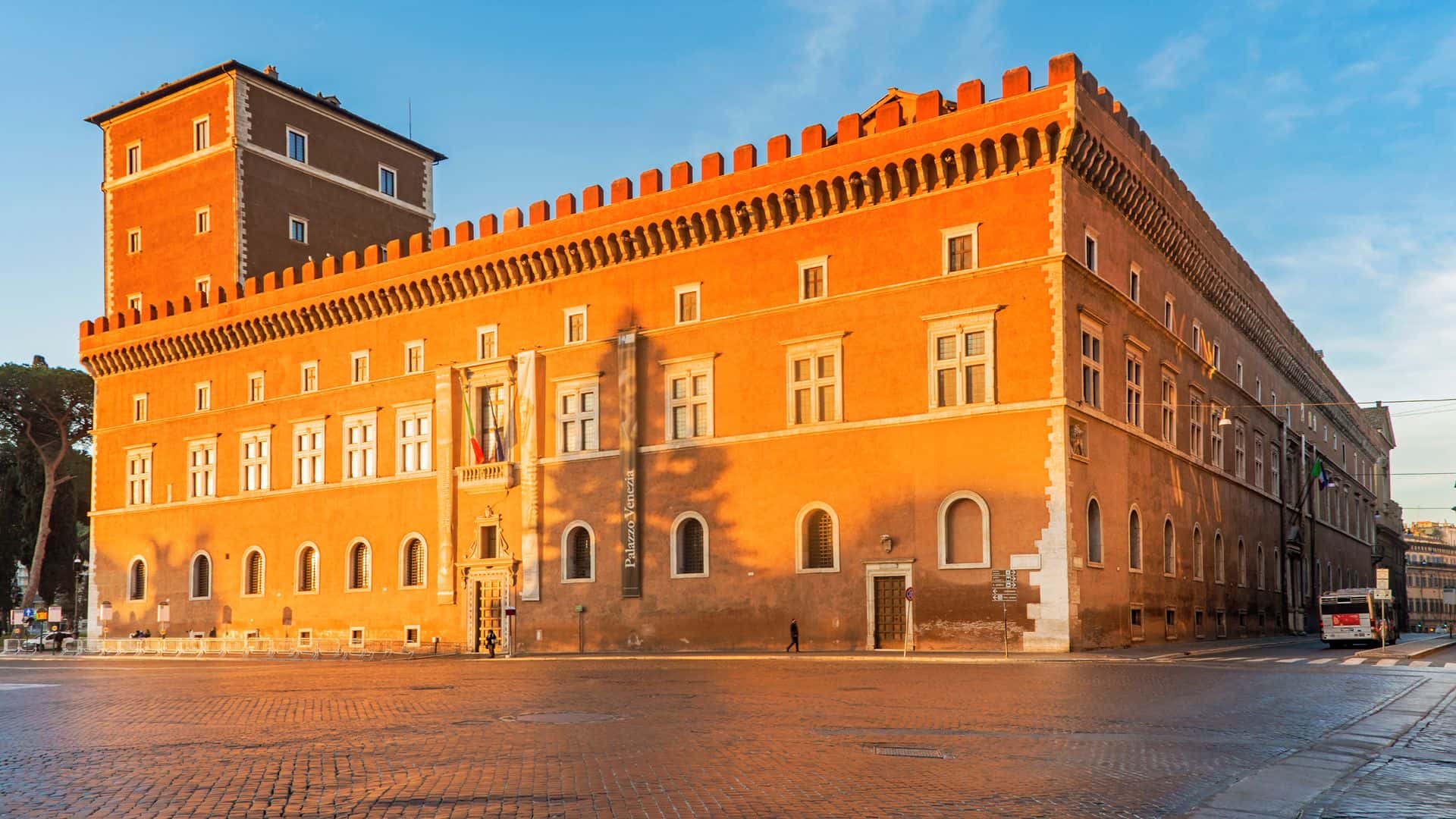 Located on the piazza it gives its name to is Rome's first great Renaissance palace and the oldest remaining building on the square. What started out as a residential palace for a pope and what later became the headquarters of a dictator is now a fantastic museum that displays an eclectic collection of Byzantine and Renaissance art.
Don't miss the interior secret garden, an oasis of peace and greenery in the middle of Rome's busy city center.
Visit the "People's Square" Known as Piazza del Popolo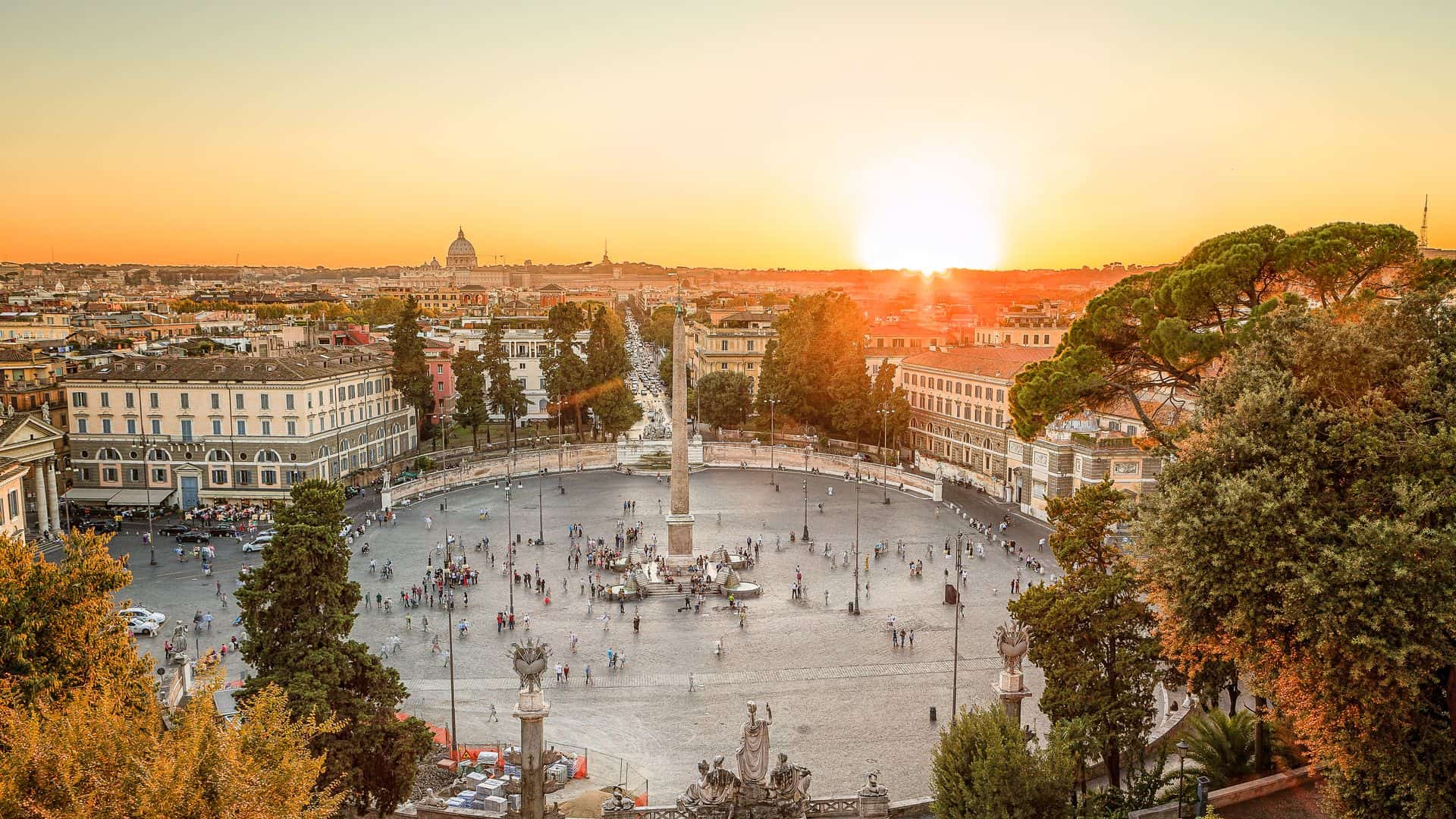 This large and popular Piazza del Popolo is a great place to hang out or meet up with a friend, but it's also rife with interesting things to see. To enter the piazza from Via del Corso, you must pass between the twin Baroque churches of Santa Maria dei Miracoli and Santa Maria in Montesanto, a wonderful display of symmetry in architecture, and at its very center stands a 3500-year-old ancient Egyptian obelisk.
The square is also a popular starting point for protests and demonstrations, living up to its name.
See a Buzzing Apian Fountain at Piazza Barberini
Piazza Barberini might not be as popular as many other Roman squares, but it's still worth a look at just for Bernini's Baroque fountains alone. The piazza has two of them: the more ostentatious Fountain of the Triton, which is the centerpiece of the square, and the more modest (but equally impressive) Fountain of the Bees, designed for a pope belonging to the Barberini family, whose heraldic symbol was a bee.
The piazza is also a great place to grab a drink or catch a screening at the local cinema.
Interpret a 2000-Year-Old Victory Column at Piazza Colonna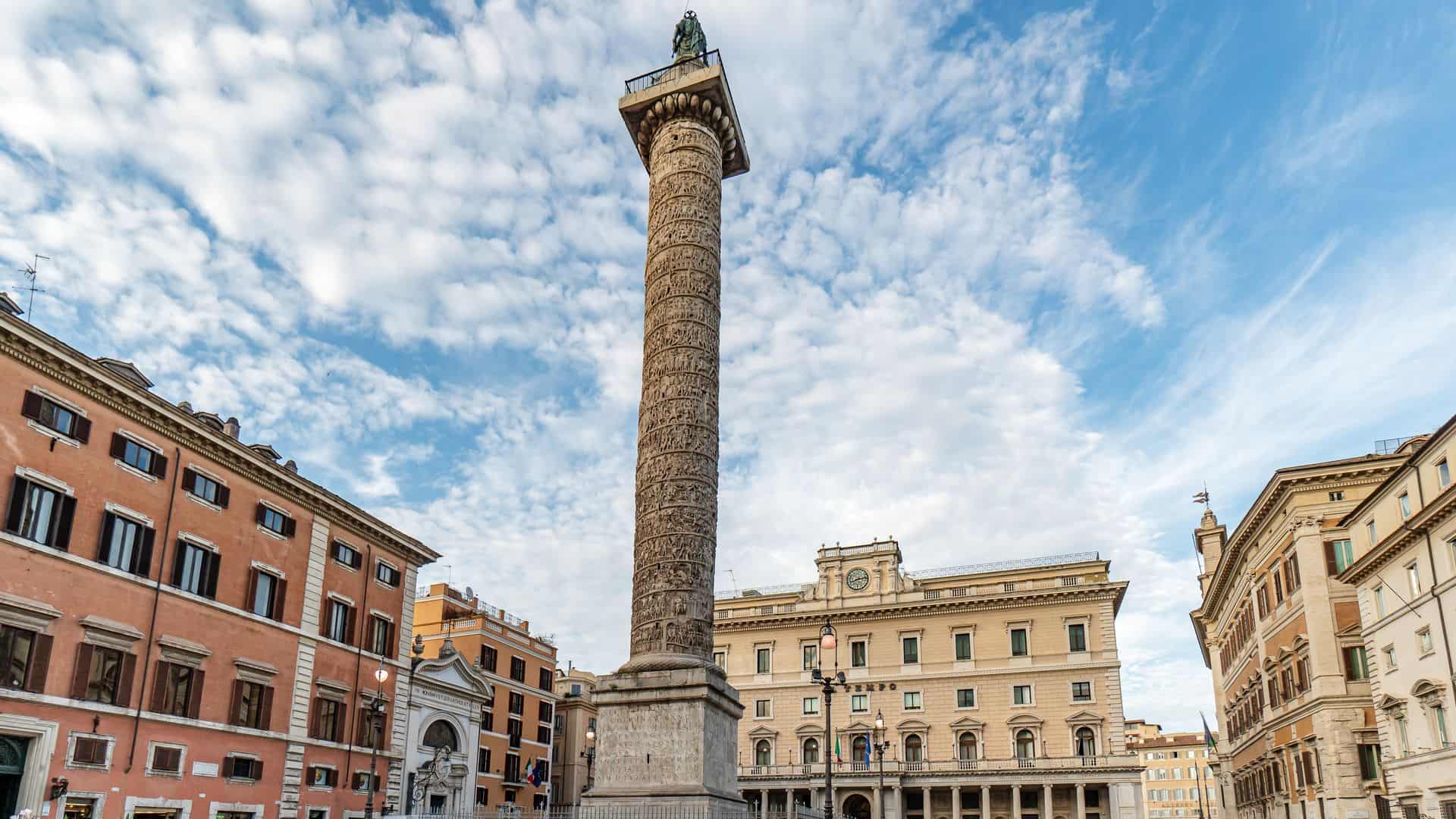 Piazza Colonna is quite fittingly named after the ancient column placed in the center of the square, but that's not its only attraction. Surrounded by an array of beautiful historical and political palaces (and even the home of the prime minister) and located on a busy shopping street, the piazza has become a symbol of the merging of social, political, and cultural values so deeply embedded in Rome.
While you're there, try and decipher the war story depicted in relief form on emperor Marcus Aurelius' victory column.
View Secret Raphael Frescoes at Villa Farnesina
It's not easy these days to view artwork by the great Renaissance artist Raphael without having to elbow people out of the way, but Villa Farnesina is one of the few places today where this is possible.
This opulent and beautiful mansion, built for a wealthy 16th-century banker, not only contains a whole room of frescoes depicting the story of Cupid and Psyche by Raphael and his workshop but the other rooms in the villa are also intricately decorated by a score of impressive artists.
Haggle at Rome's Biggest Flea Market: Porta Portese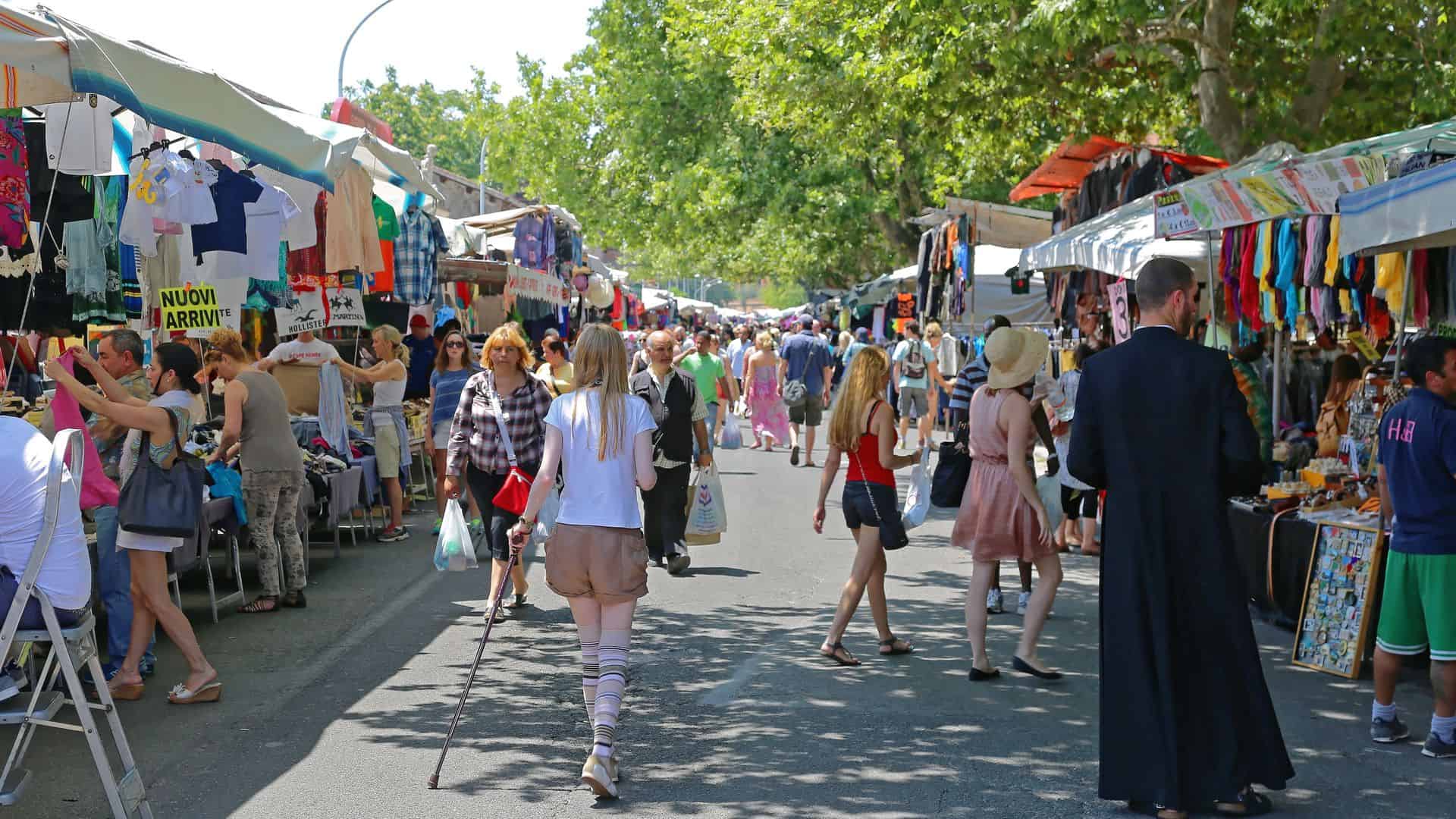 If you find yourself free on a Sunday morning, then head over to Porta Portese, one of the oldest and most popular flea markets in Rome. This labyrinthine market contains hundreds of stalls selling everything from used and vintage clothing to antique objects and anything in between.
There have been some worries in recent years that the market has been saturated with cheap imported junk, but that just might mean that you have to dig deeper.
Get your Modern Art Fix at the National Gallery of Modern Art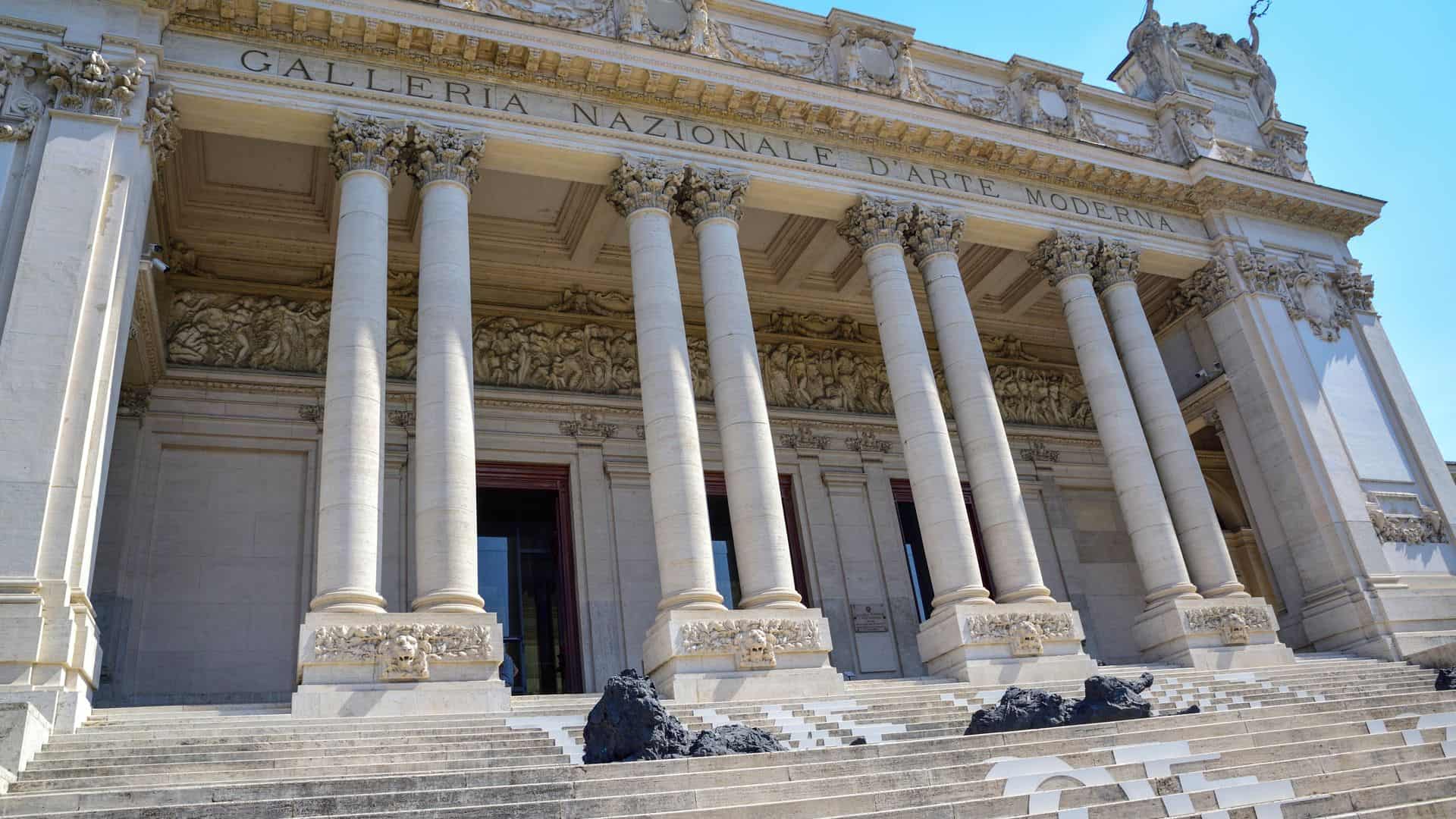 Not all the art in Rome is ancient. The National Gallery of Modern Art is home to the largest collection of modern art in Italy, displaying works from the 19th to the 21st centuries by artists such as Monet, Klimt, Van Gogh, and Pollock.
A must-see for art fans who need a break from the Baroque.
Uncover Three Layers of History at St. Clement Basilica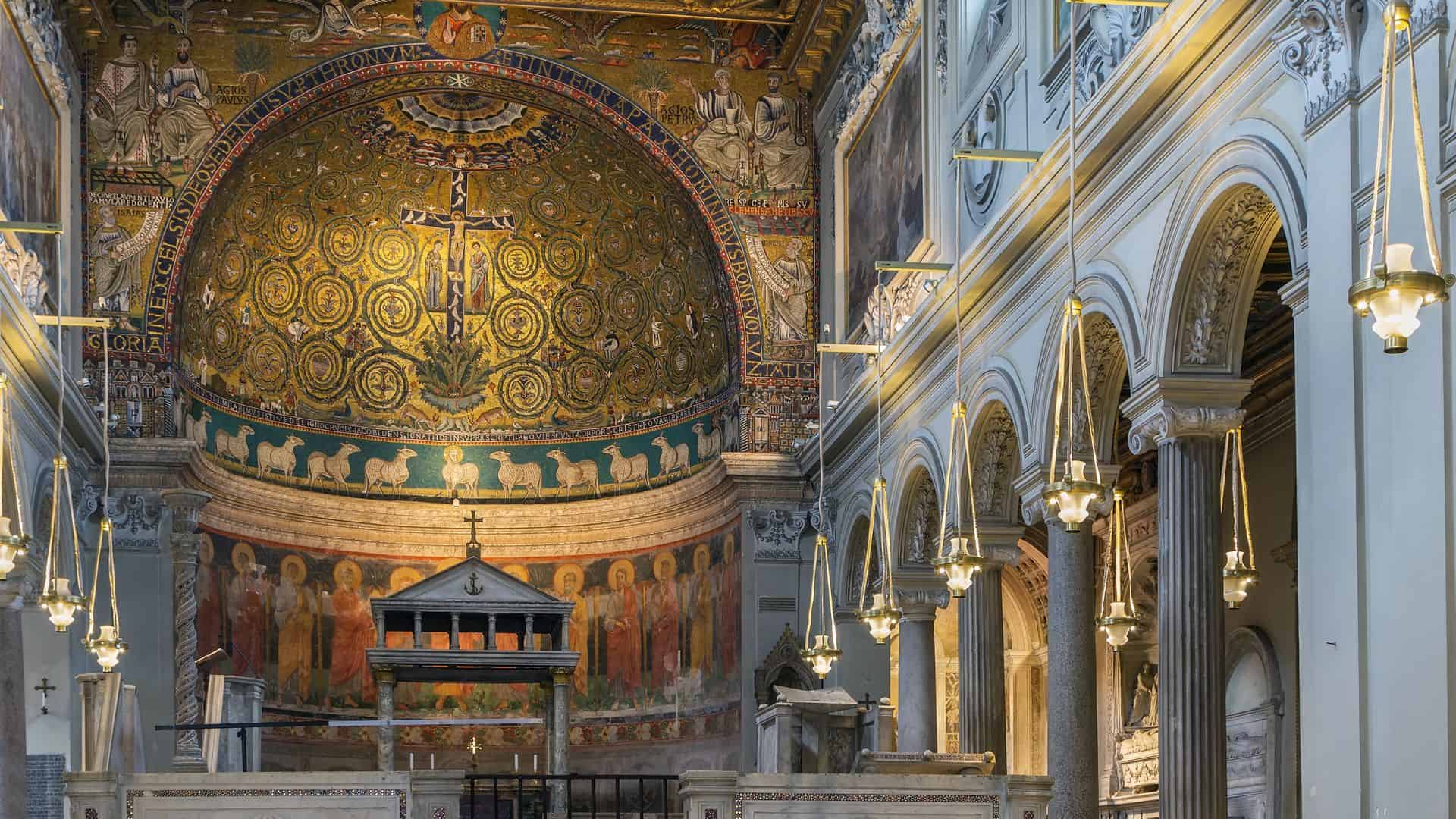 This hidden gem, located close to the Colosseum, might seem like an ordinary church on the outside, but it's hiding three levels of history within.
The current St. Clement Basilica, on level one, is a beautiful Romanesque church renovated in the Baroque style, but the real treasure lies below. Head underground to explore level two, which contains the remains of the first basilica built in the 4th century. If that's not enough, descend deeper to explore the Mithraeum, an ancient temple from the 3rd century.
Admire Hidden Masterpieces at Palazzo Barberini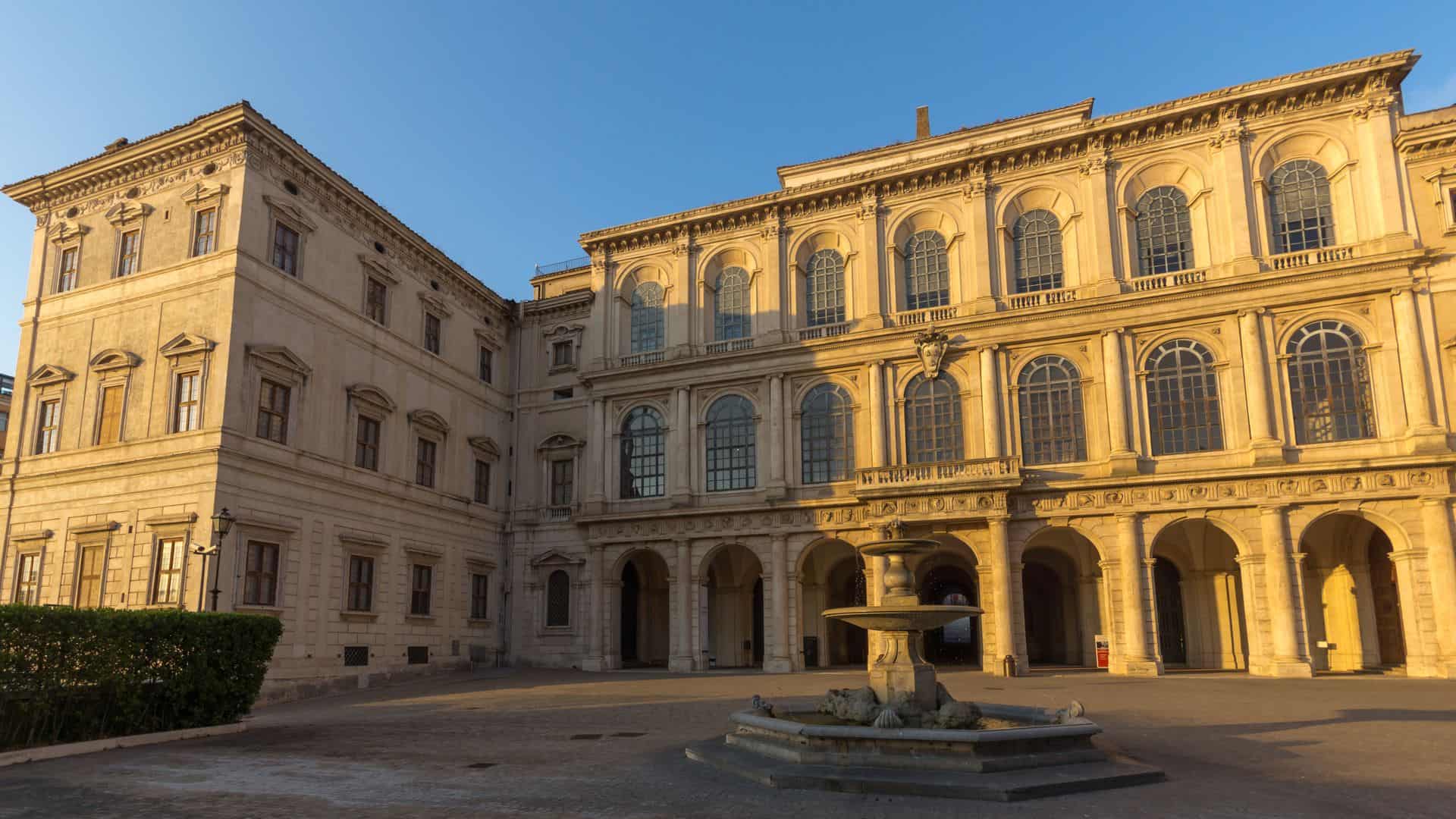 Palazzo Barberini may be one of Rome's more underrated museums, but that just makes it more worth your visit because there'll be fewer people. Its collection alone features masterpieces by artists Raphael, Caravaggio, and Titian, among others, but the palace itself is also stunning.
Check out the two unique staircases designed by rival artists Bernini and Borromini, and gaze up at the flamboyant grand salon ceiling fresco featuring the Barberini family in all its propagandist glory.
Get Creeped Out at the Capuchin Crypt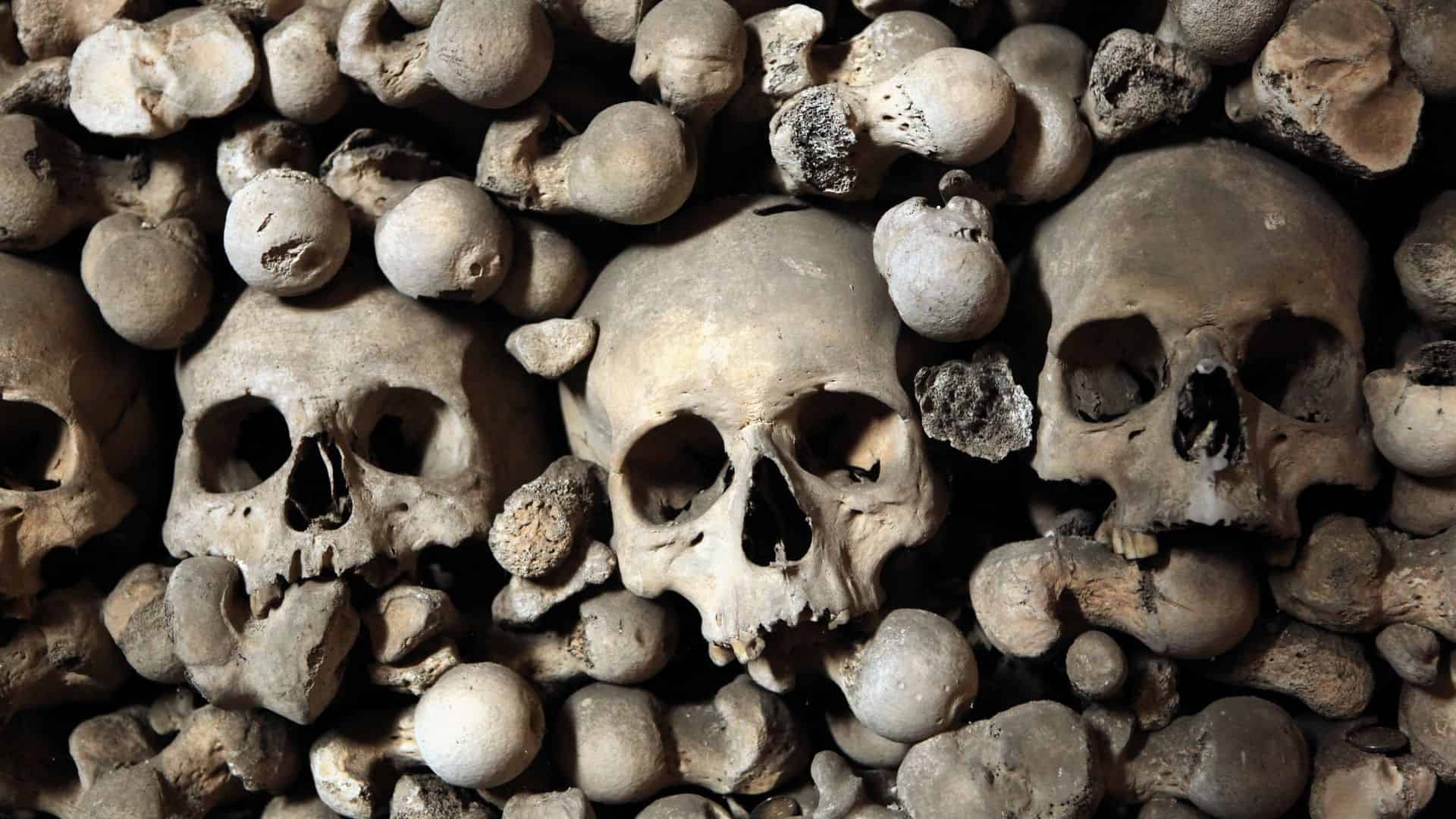 This unique and fascinating crypt is definitely not for the faint-hearted, as it contains the bones and mummified remains of nearly 4,000 individuals.
The museum above the crypt, devoted to the history of the Capuchin Order, is normal enough, but most people skim through it on their way downstairs to the main attraction. The bones are contained in a series of five rooms with suggestive names, such as the Crypt of Skulls and the Crypt of Pelvises, and they're pretty accurate as far as names go.
Although the Catholic order insists it's not meant to be macabre but a space in which a visitor can reflect on their own mortality, I beg to differ.
View the Portrait of a Pope at Doria Pamphilj Gallery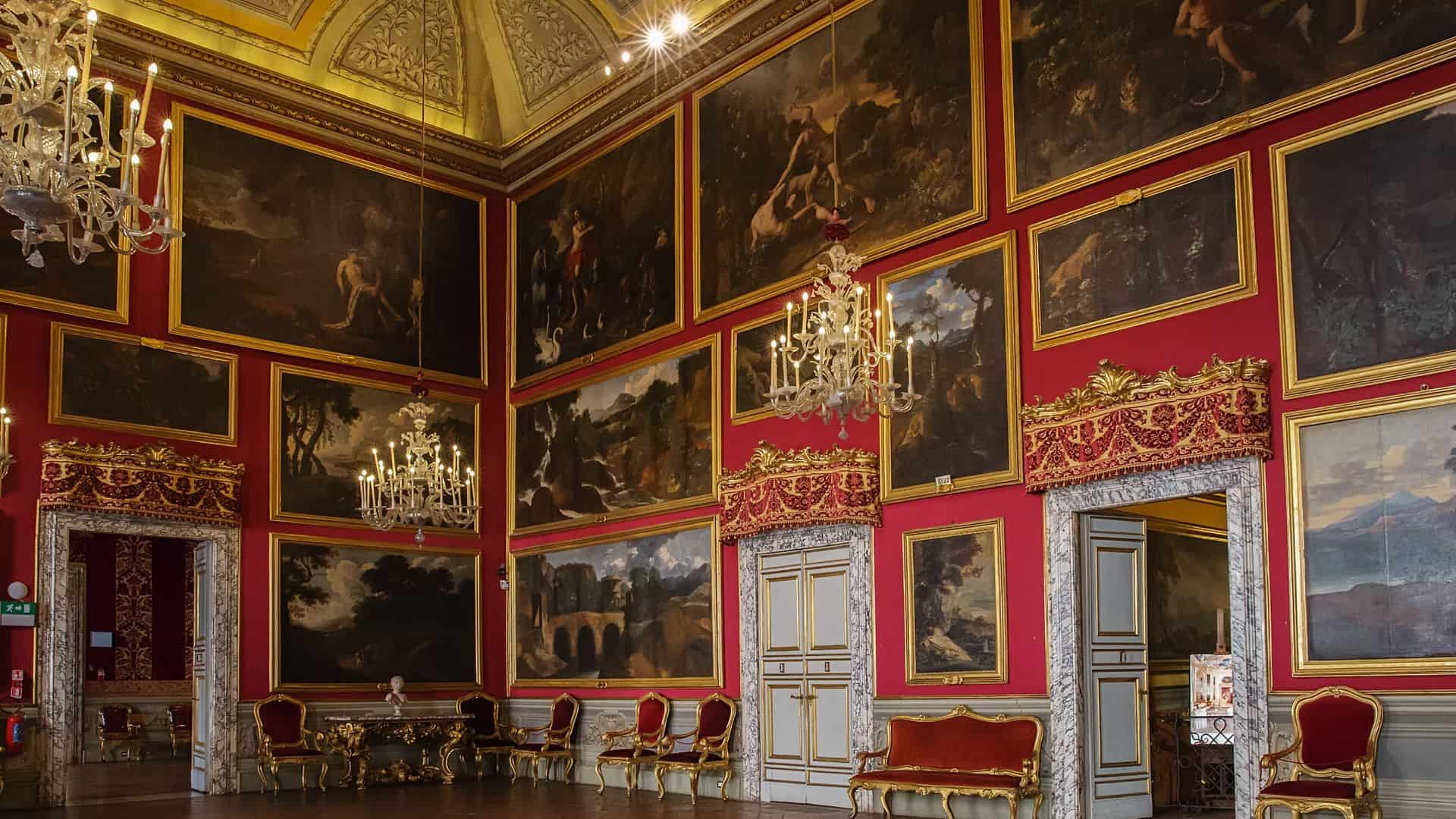 The Doria Pamphilj Gallery is arguably the best private gallery in Rome (though if you've read the whole list, you'll know that Galleria Borghese gets my vote) and has an impressive collection boasting masterpieces by Raphael, Titian, and Caravaggio.
The crowning jewel in the gallery's cap, however, is Velázquez's Portrait of Pope Innocent X which depicted the pope with such realism that it was considered controversial upon its unveiling.
Explore The City with Ease Using a Hop-On Hop-Off Bus Tour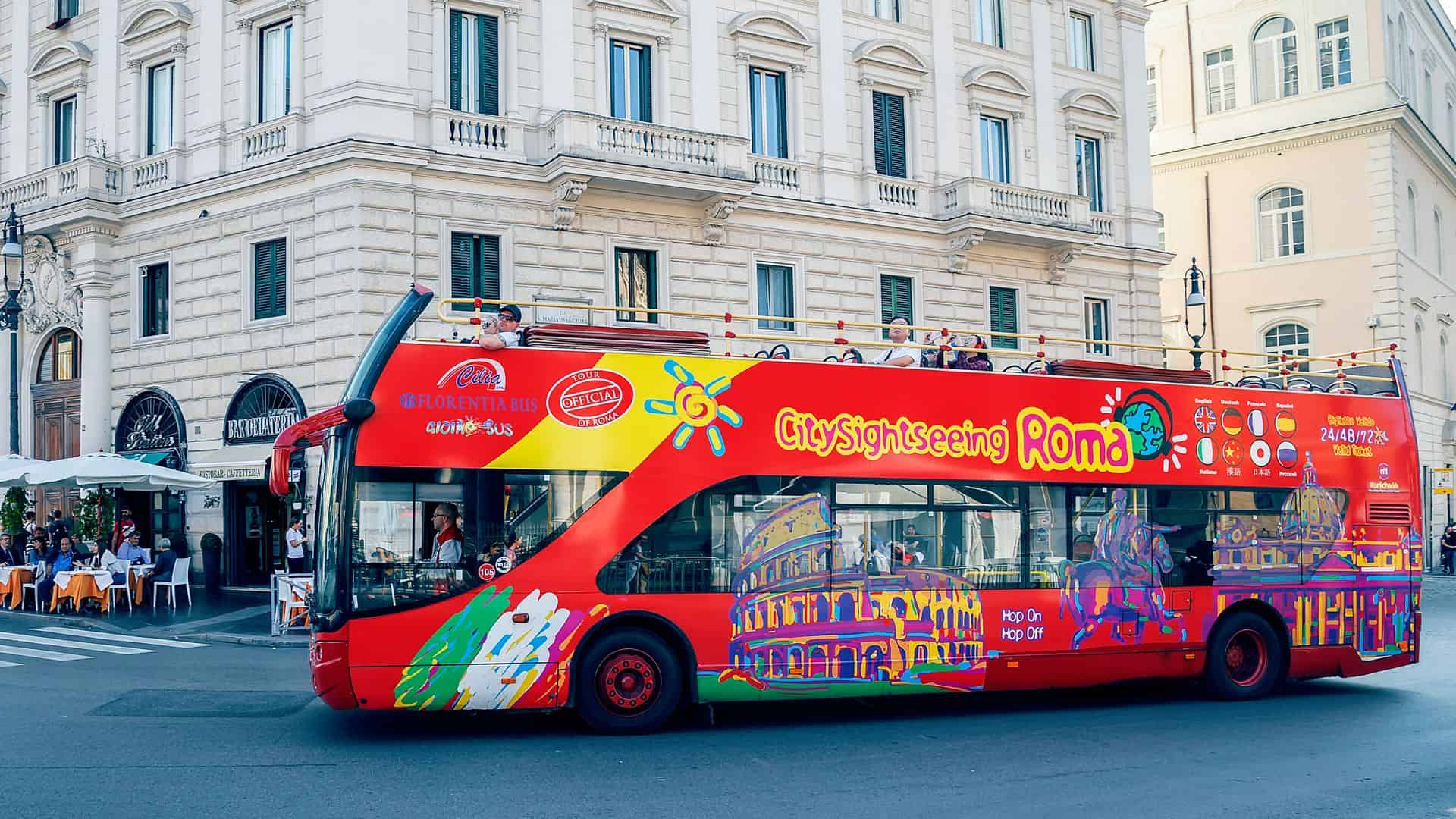 Getting around Rome has never been easier now that there are not one but five different Ho-Ho tour companies to choose from. Spend up to three days hopping around the city on a double-decker bus with 360° views and learning about the different sites with the informative audio commentary provided.
Experience Two Different Versions of Campo de' Fiori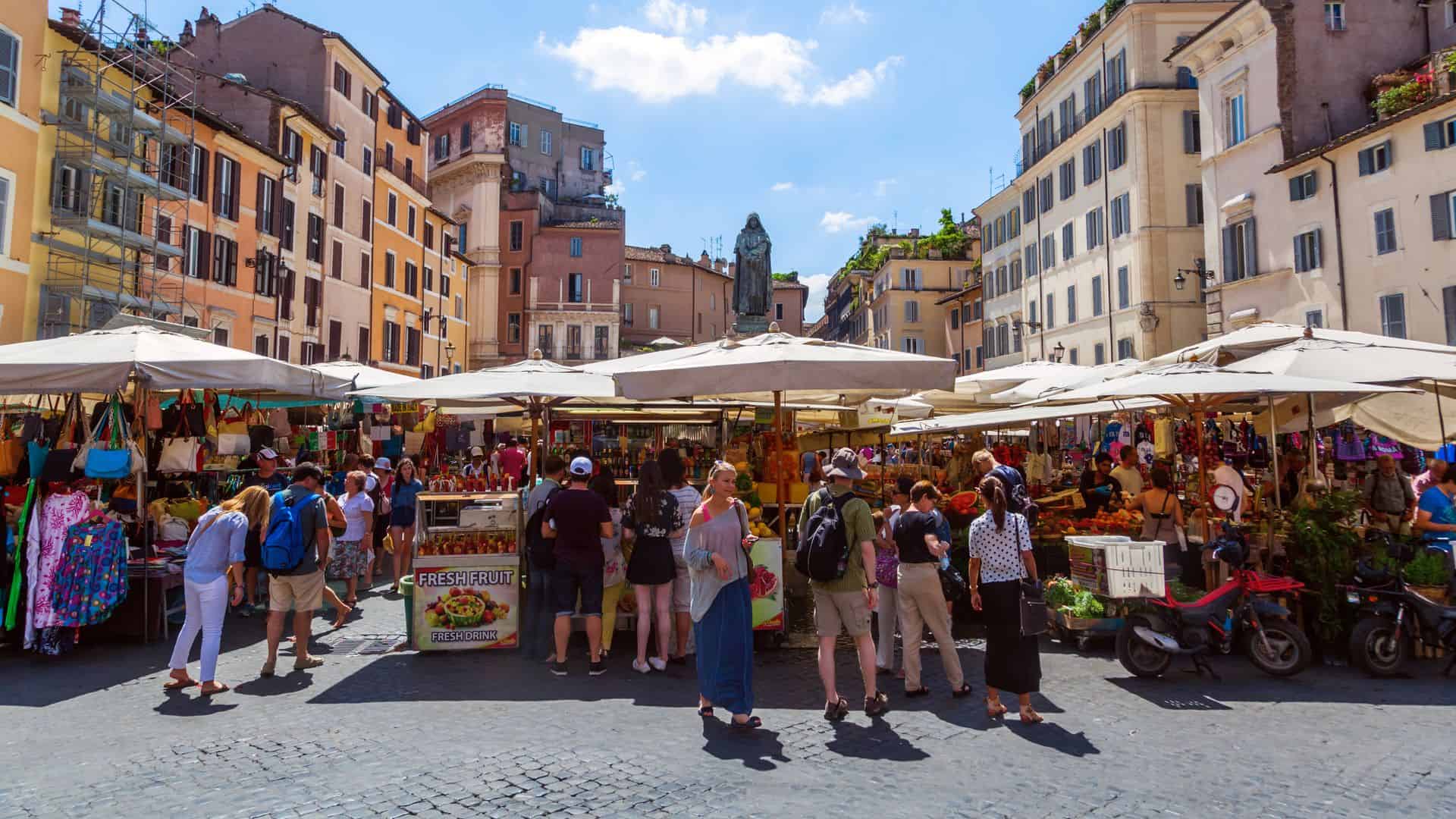 Campo de' Fiori takes its name from the field of flowers that it used to be, though today, it is a paved and lively square in the city center of Rome.
Visit in the morning to enjoy the fruit, vegetable, and flower market that fills the square almost daily, and come back in the evening to grab a drink at one of the many bars lining the piazza and experience a completely different square.
Don't forget to gaze up at the statue of the heretical philosopher Giordano Bruno, who was burned at the stake on the very spot he is now commemorated.
Explore the Excavation Site Known as Crypta Balbi
Crypta Balbi and the surrounding area is an excavation site dedicated to the preservation of an entire Roman city block, which consisted of a theater with a crypt, a block of four apartments, and a patio. Visitors to this unique site have the chance to poke around an archeological dig and see the different layers of 2,000 years of history uncovered with their own eyes.
View an Architectural Optical Illusion at Galleria Spada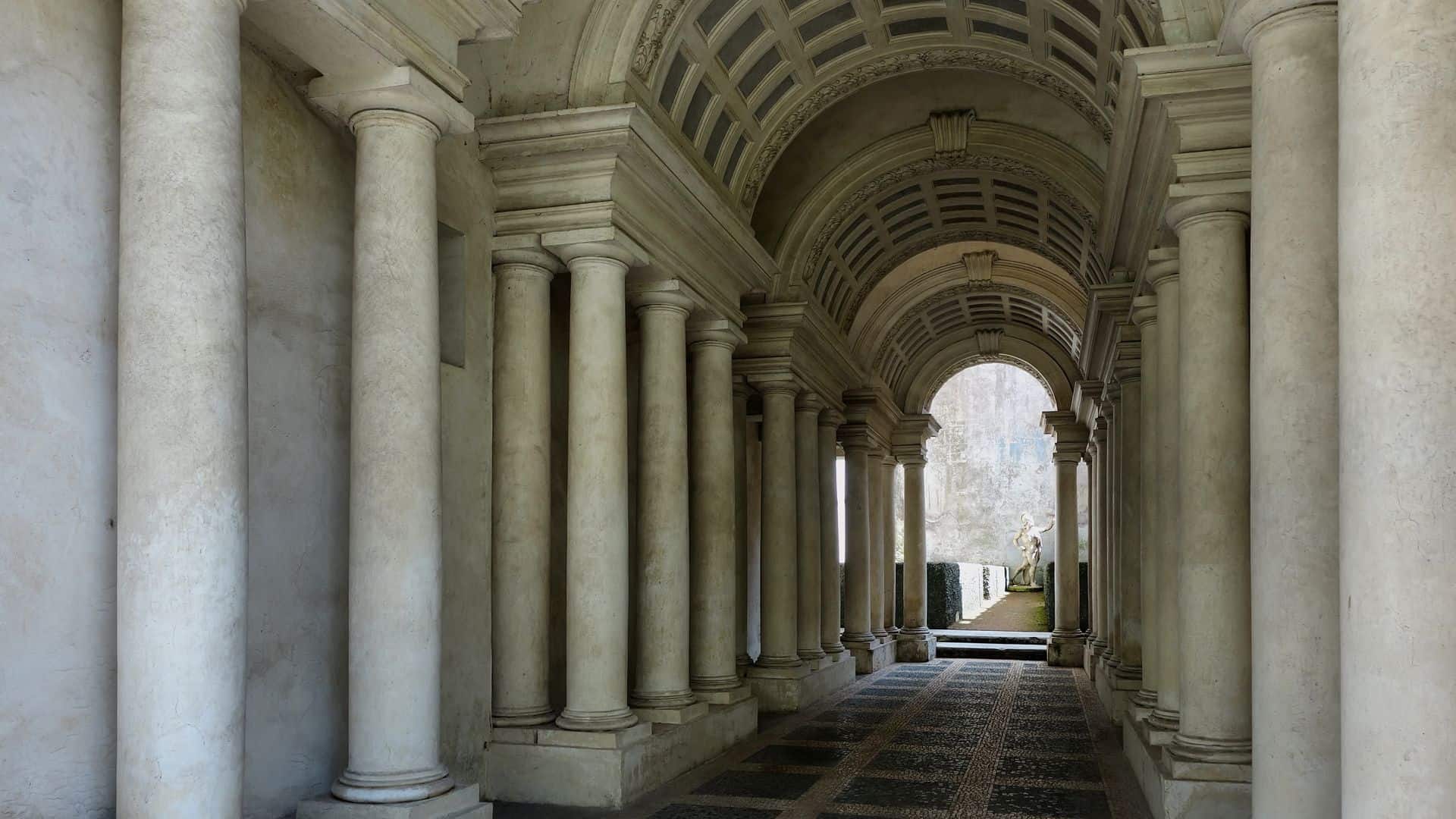 Though small in size Galleria Spada packs a punch. The collection, hung frame-to-frame in its original 17th-century format, contains beautiful works of art by the likes of Titian and Artemisia Gentileschi.
The real draw to the museum, however, has got to be Borromini's incredible perspective corridor, a feat of architectural ingenuity that will have you mistrusting your own eyes as you look down an 8-meter-long corridor that looks more like its 40-meters long.
See a Controversial Sculpture at Santa Maria della Vittoria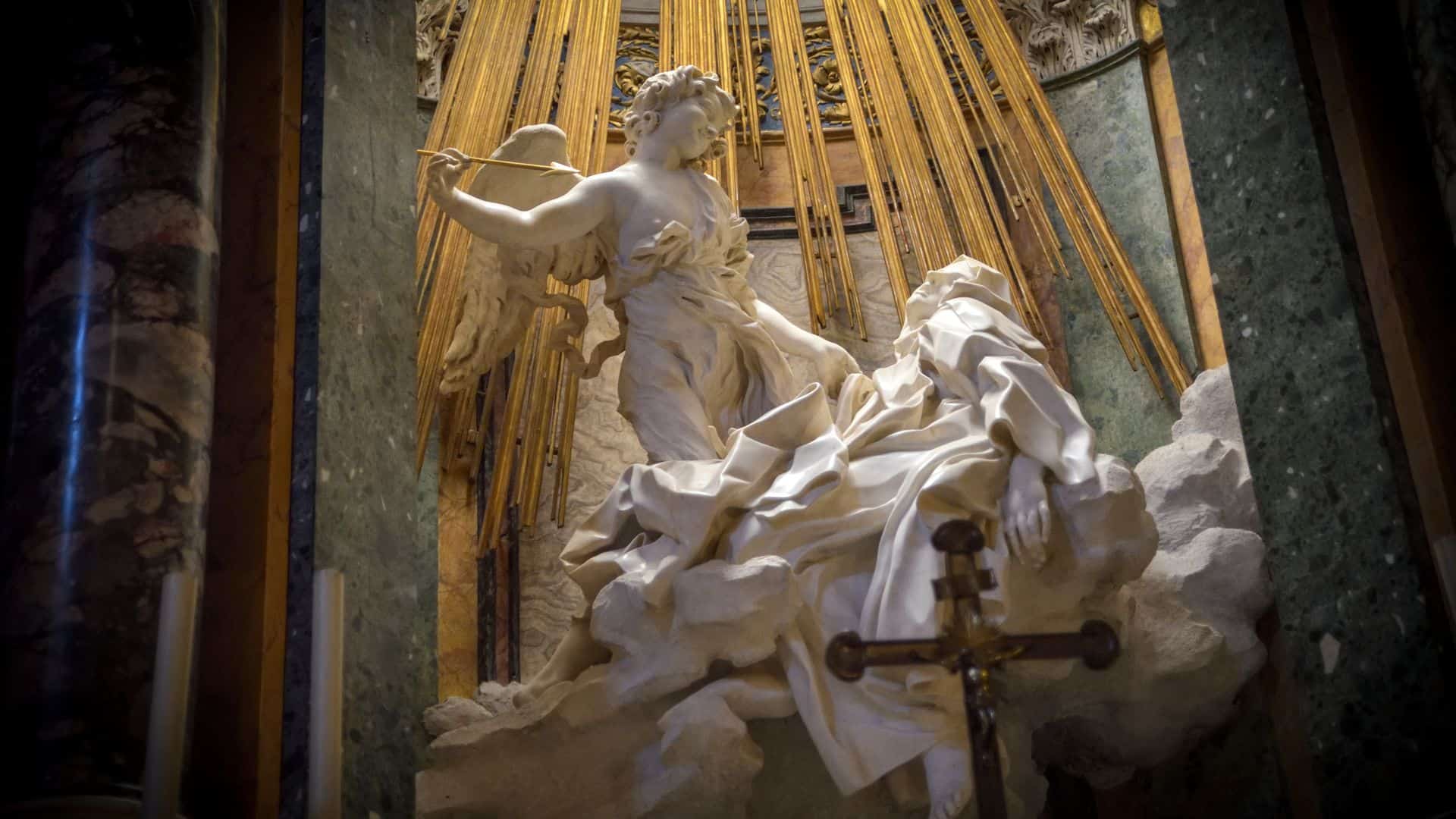 Santa Maria della Vittoria is a beautifully ornate example of a High Baroque church and is well worth a visit for that reason alone, but it has become famous for Bernini's controversial sculpture of the Ecstasy of Saint Teresa that resides within.
Saint Teresa leans back with an expression of pure ecstasy as an angel stands over her, ready to pierce her with a golden arrow. What shocks viewers is the sexually charged nature of the scene, which many don't expect to find in a Catholic setting. Cheeky Bernini got away with it.
Discover an Unusual Tomb at Santa Maria del Popolo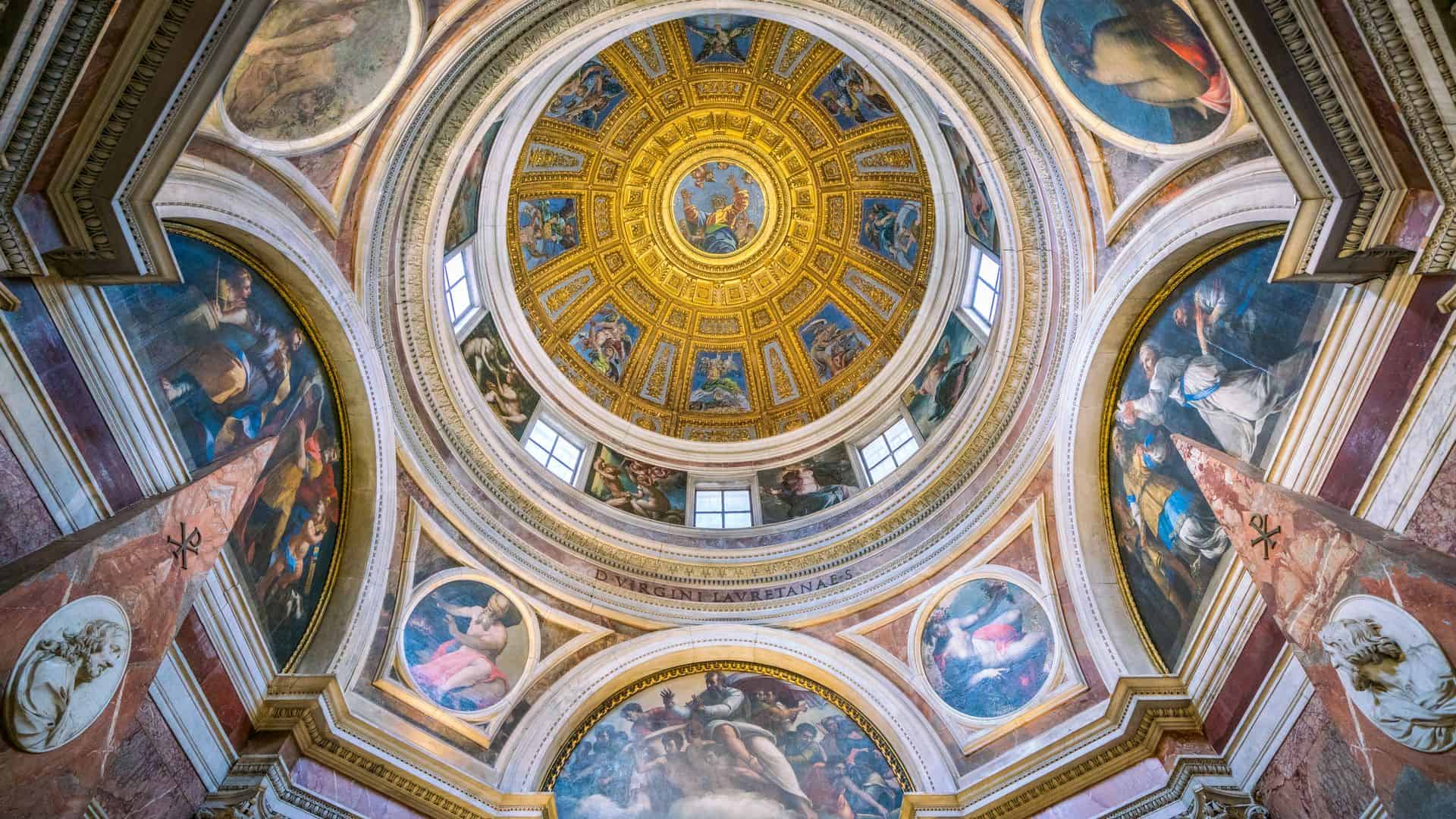 Santa Maria del Popolo's modest exterior belies the extravagant chapels within, the most famous of which is the Chigi Chapel, designed by Raphael and completed by Bernini. What's unique about it is the strange pyramidal tomb where Agostino Chigi is interred.
Don't forget to check out the Cerasi Chapel as well to admire the two dramatic Caravaggio paintings adorning the chapel walls.
See a Double Facade at Santa Maria Maggiore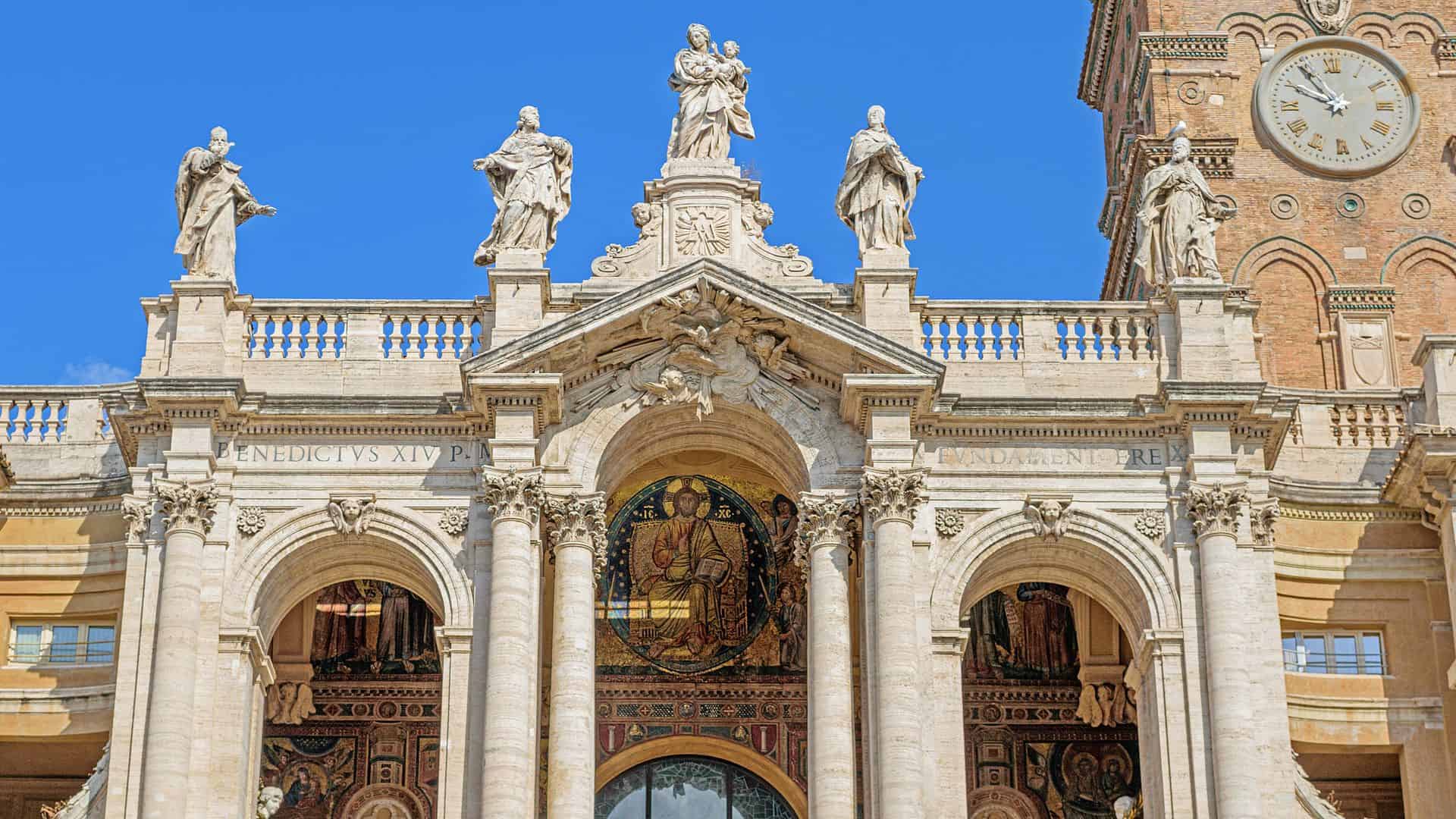 Santa Maria Maggiore is one of the four major papal basilicas, one of the Seven Pilgrim Churches of Rome, and the biggest church dedicated to the Virgin Mary in Rome.
If those impressive titles were not enough to make you want to visit it, the stunning mosaics on the 13th-century facade, partially hidden behind the 18th-century Baroque facade, certainly will be.
Visit the "Mother of all Churches", the Basilica of St. John Lateran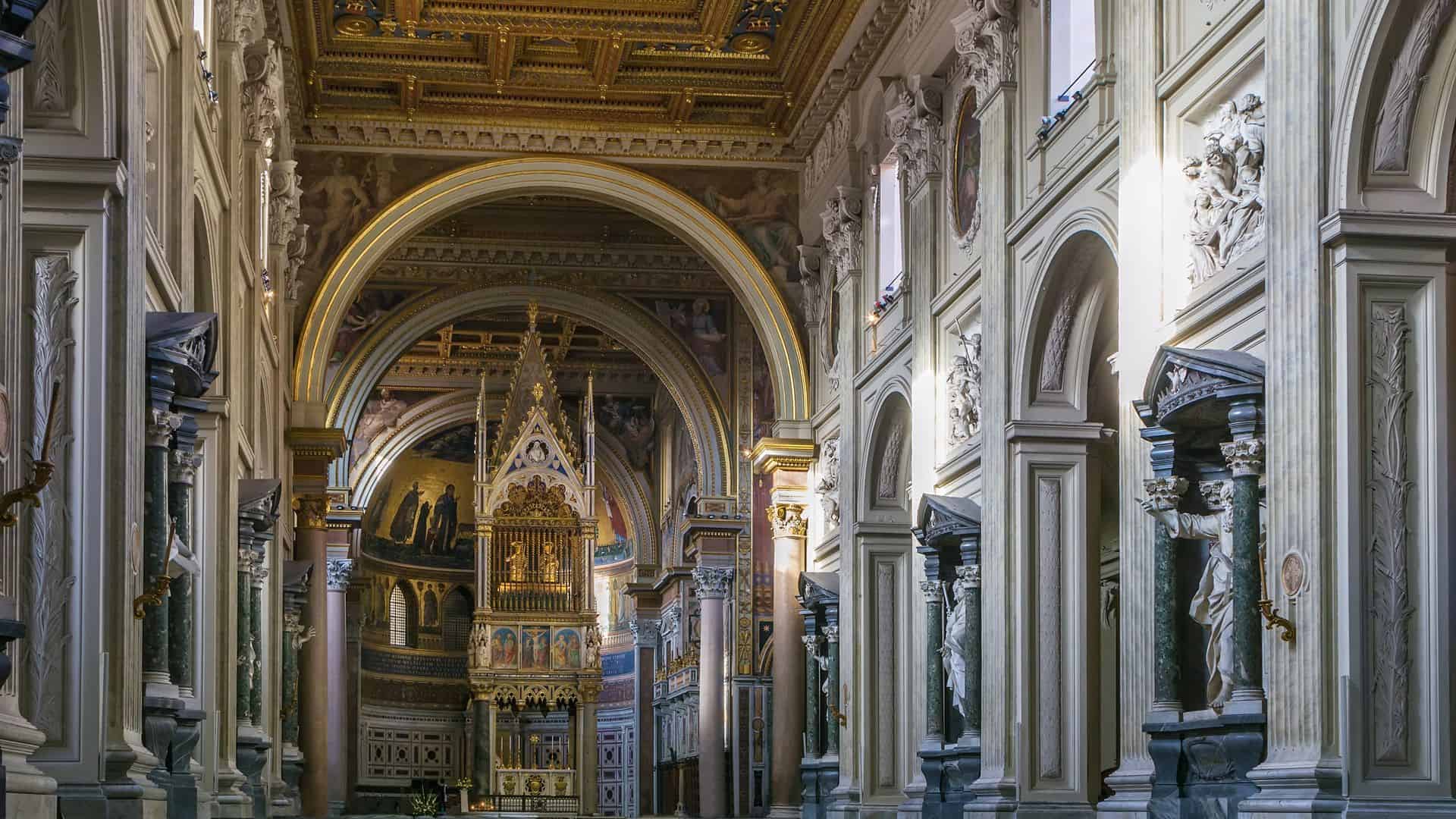 Not only is the Basilica of St. John in Lateran the oldest basilica in the world, but it's also the highest-ranking of Rome's four papal basilicas, even surpassing St. Peter's in the Vatican.
Step inside its grandiose interior and be welcomed by the twelve imposing statues of the apostles, a highlight of the church.
Don't miss out on the Cosmatesque Cloister or the octagonal Baptistery either, both located near the basilica.
Complete a Lap at the Circus Maximus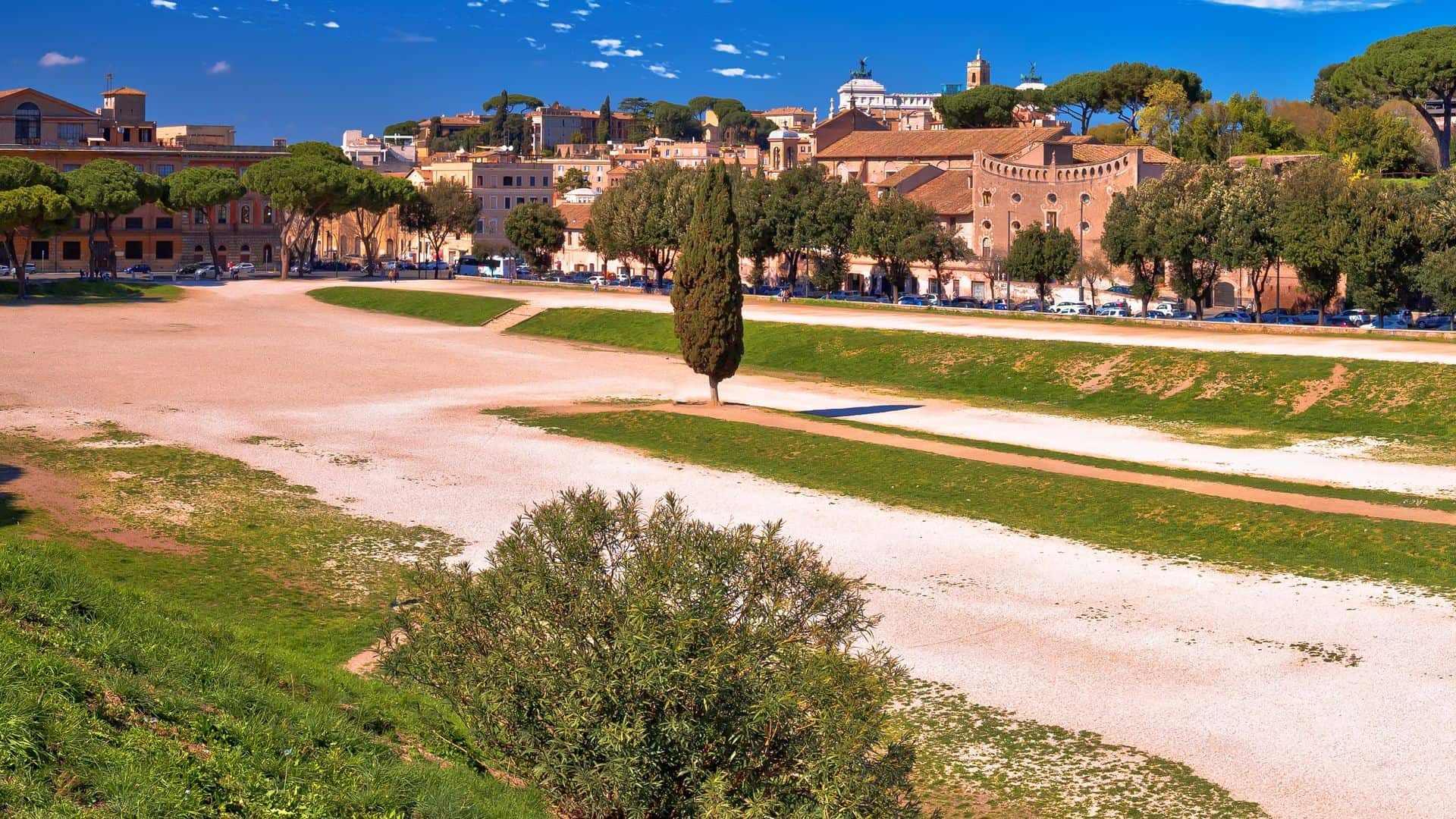 The Circus Maximus was ancient Rome's first and largest stadium, built in the 6th century BCE. This long, oval arena was principally used for chariot racing, and today, though not much else is left, you can still see the well-worn tracks of the circuit.
It's a great place to walk around, have a picnic, and gaze up at the ruins over on Palatine Hill across the road. It's also used as a venue for concerts and other events as well.
Discover a Michelangelo-Designed Cloister Amidst the Ruins of the Baths of Diocletian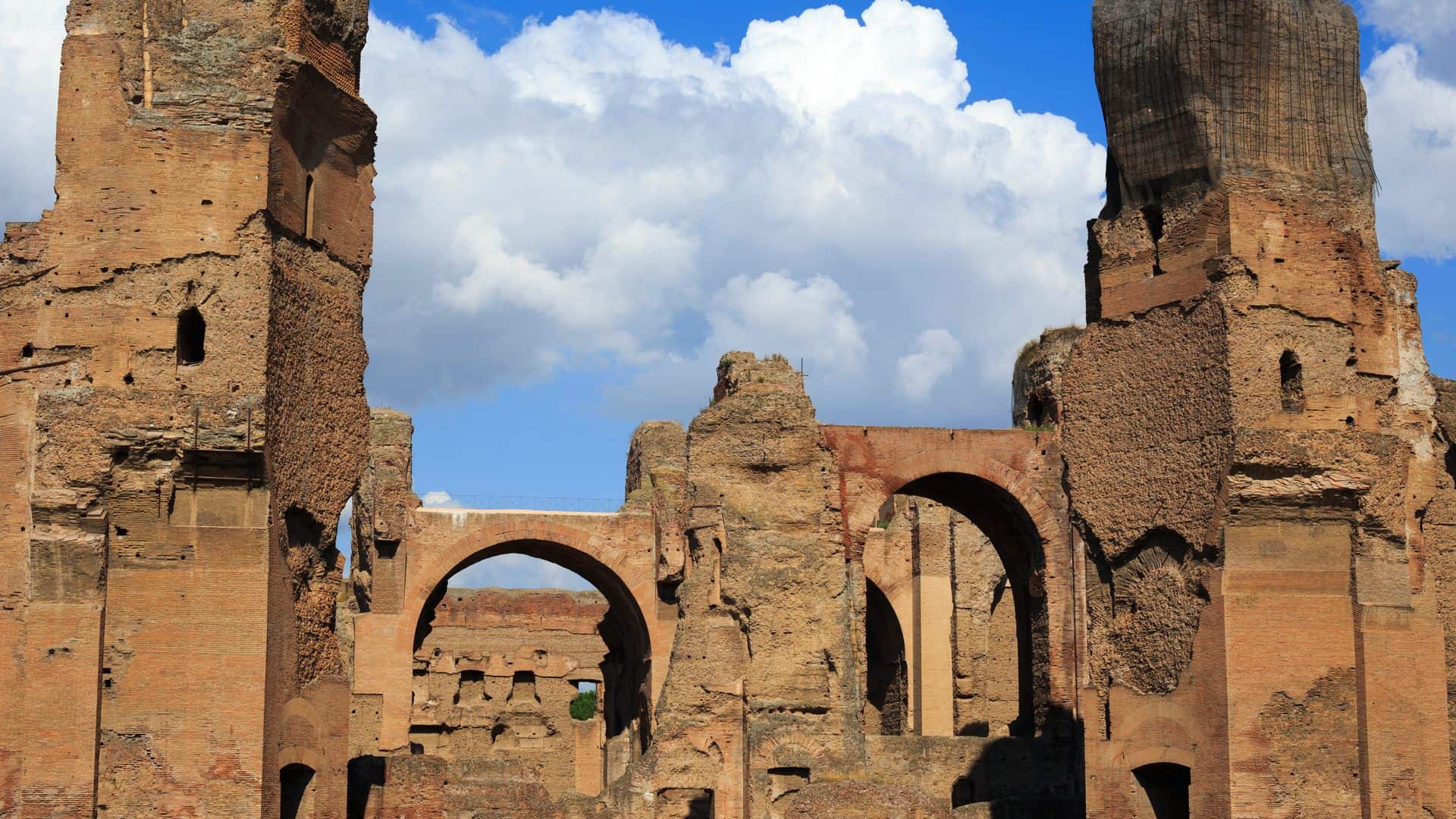 The Baths of Diocletian were once the largest baths in Ancient Rome and could hold up to roughly 3,000 people at a time. One thousand years after they were first constructed, Michelangelo was commissioned to build a church and charterhouse on their ruins.
Today, the complex also contains two museums where you can learn about the protohistory of the Latin peoples and see one of the richest collections of ancient inscriptions in the world.
Visit Rome's Largest Collection of Etruscan Art at Villa Giulia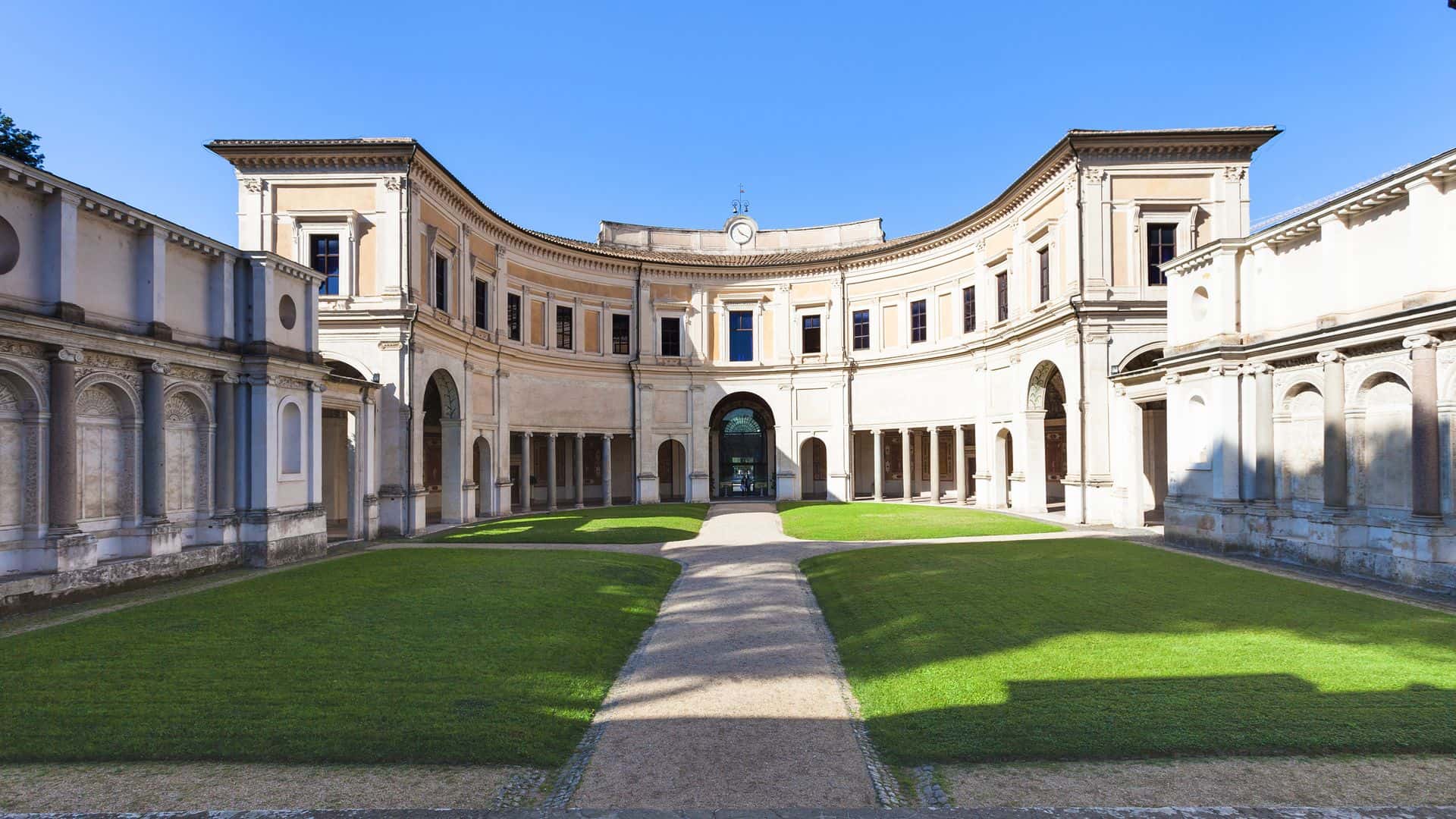 Housed inside a peaceful and beautiful Renaissance villa on the outskirts of the city center is the National Etruscan Museum, Rome's only dedicated museum of Etruscan art.
After you've explored the pre-Roman collection and learned about the mysterious Etruscans, head outside to the villa's lush gardens and check out the Nymphaeum, a monument dedicated to the nymphs set in a water garden.
Explore the World's Largest Collection of Greco-Roman Art at the National Roman Museum
The National Roman Museum actually contains four museums in one: the Baths of Diocletian, Palazzo Altemps, Palazzo Massimo, and Crypta Balbi. Each branch displays its own unique collection and has its own location, but together they make up the world's largest collection of Greco-Roman art.
Seeing at least one of the branches is highly recommended, though why not buy a combined ticket and see all four?
Pose with an Imperial monument, the Arch of Constantine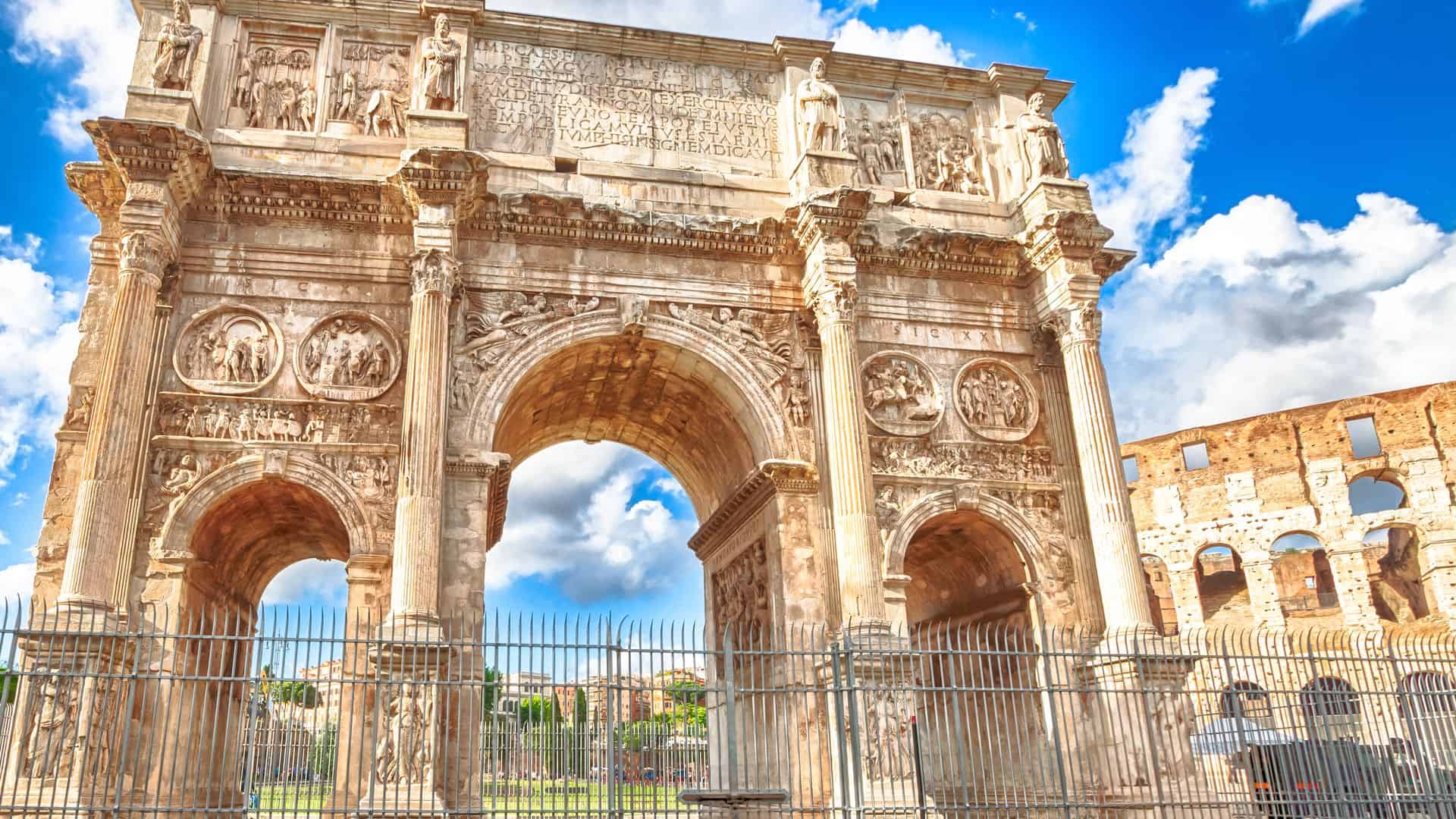 Situated right next to the Colosseum on what was once Rome's Via Triumphalis (the victory road) is what is considered the last great monument of Imperial Rome: the Arch of Constantine.
Constantine's arch was unique because, as well as showing friezes that celebrated his military victories, it also contains recycled elements from even older Roman monuments.
Posing in front of the arch with the Colosseum as a backdrop makes for a very 'Imperial' photo.
See Ancient Propagandist Art at the Ara Pacis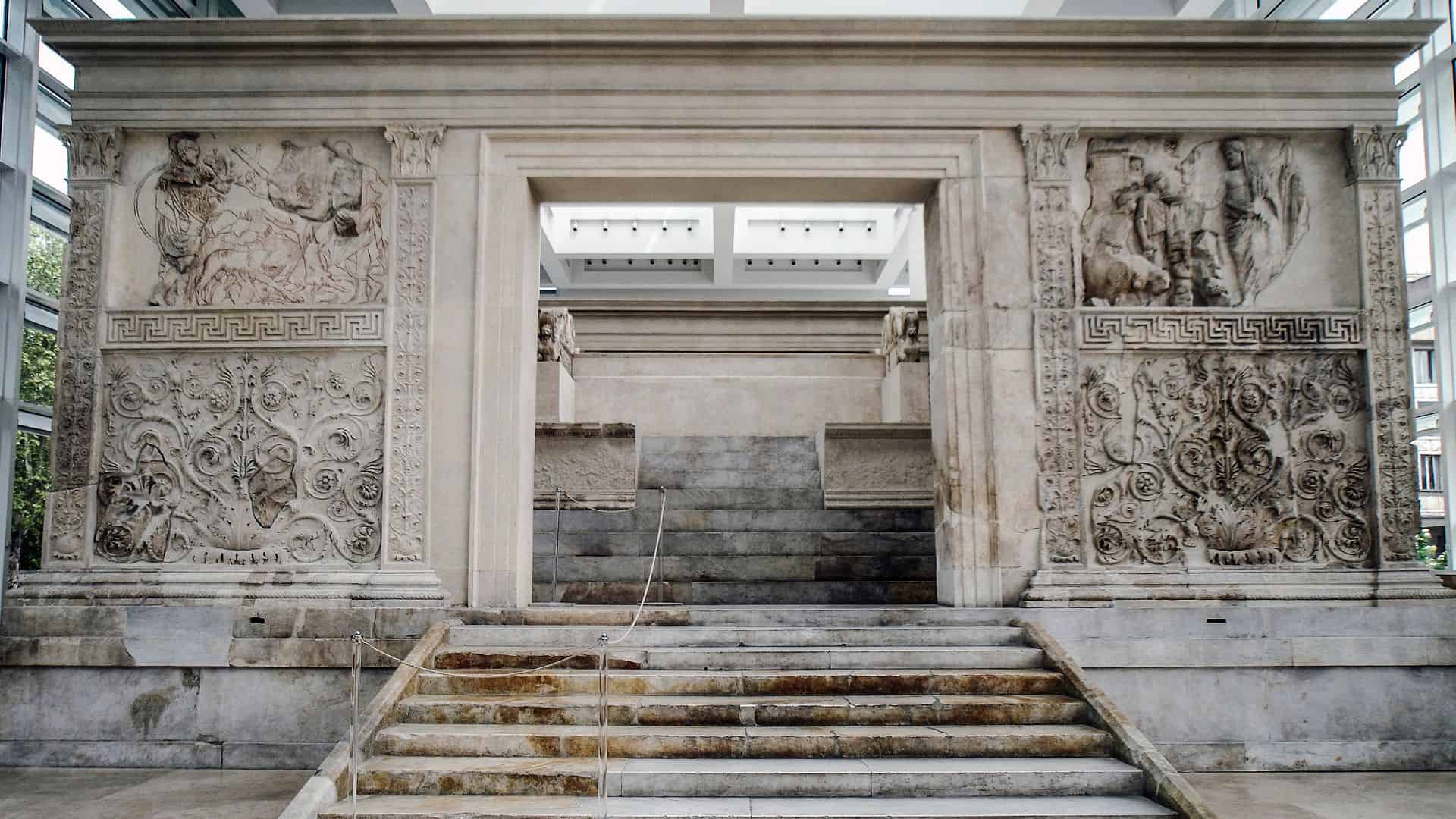 The Ara Pacis, or altar of peace, was a piece of propagandist art erected by Augustus, Rome's first emperor, to illustrate the peace and prosperity that he claimed he brought to the Roman Republic. Ironically, the altar itself was used to make blood sacrifices in honor of the goddess Pax.
Today, the altar is housed inside a sleek and modern glass pavilion that is a work of art in itself.
View Ancient Sculptures Inside a Former Power Plant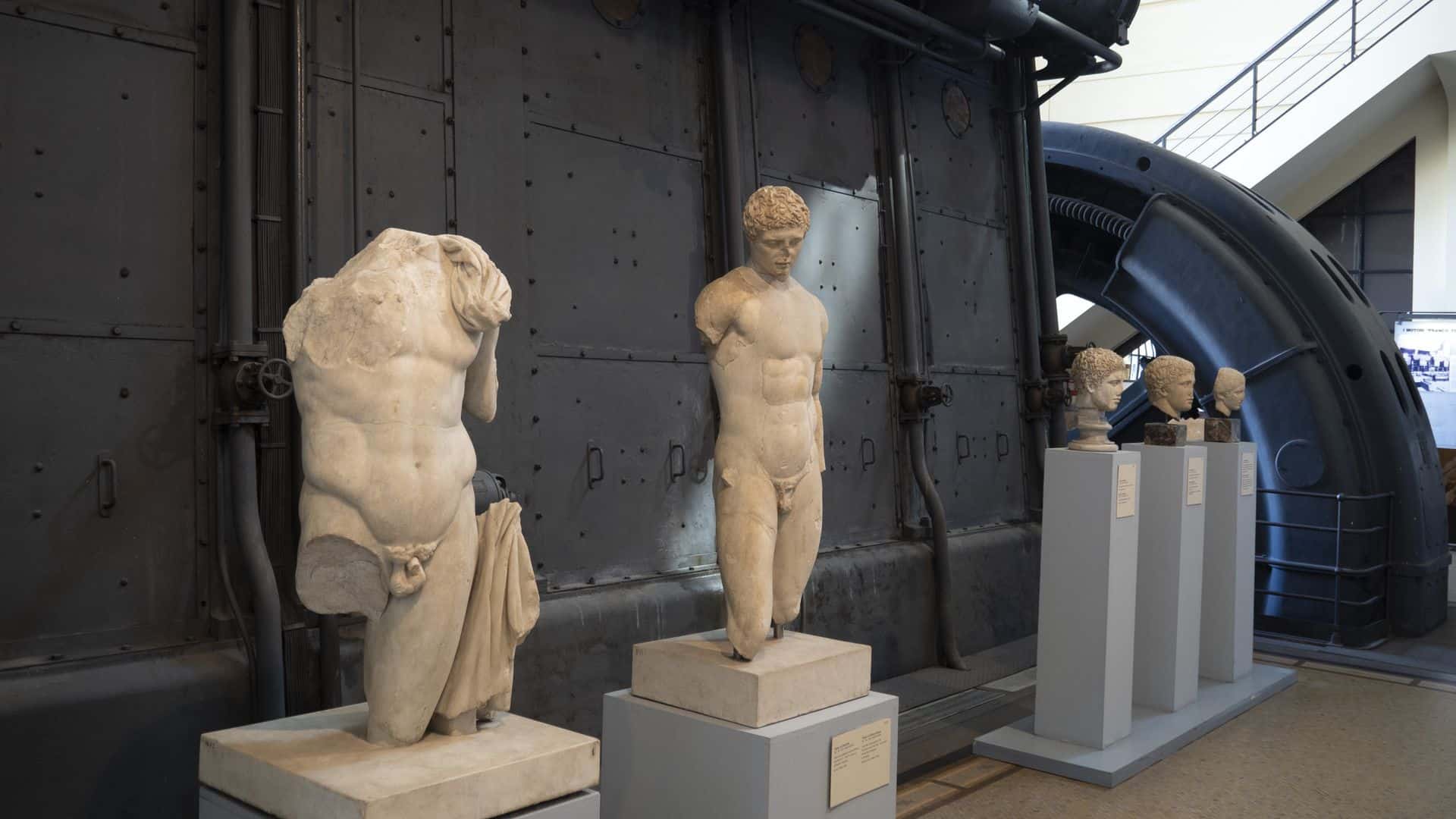 What was once the city's first electrical power station is now a quirky museum displaying ancient Greek and Roman sculptures in an unusual setting.
Located in the Ostiense neighborhood, Centrale Montemartini is a perfect fusion of Classical antiquity and modern industrialism. It's a great place to visit for people who want to see some of the unique things to do in Rome.
Risk Your Hand at the Mouth of Truth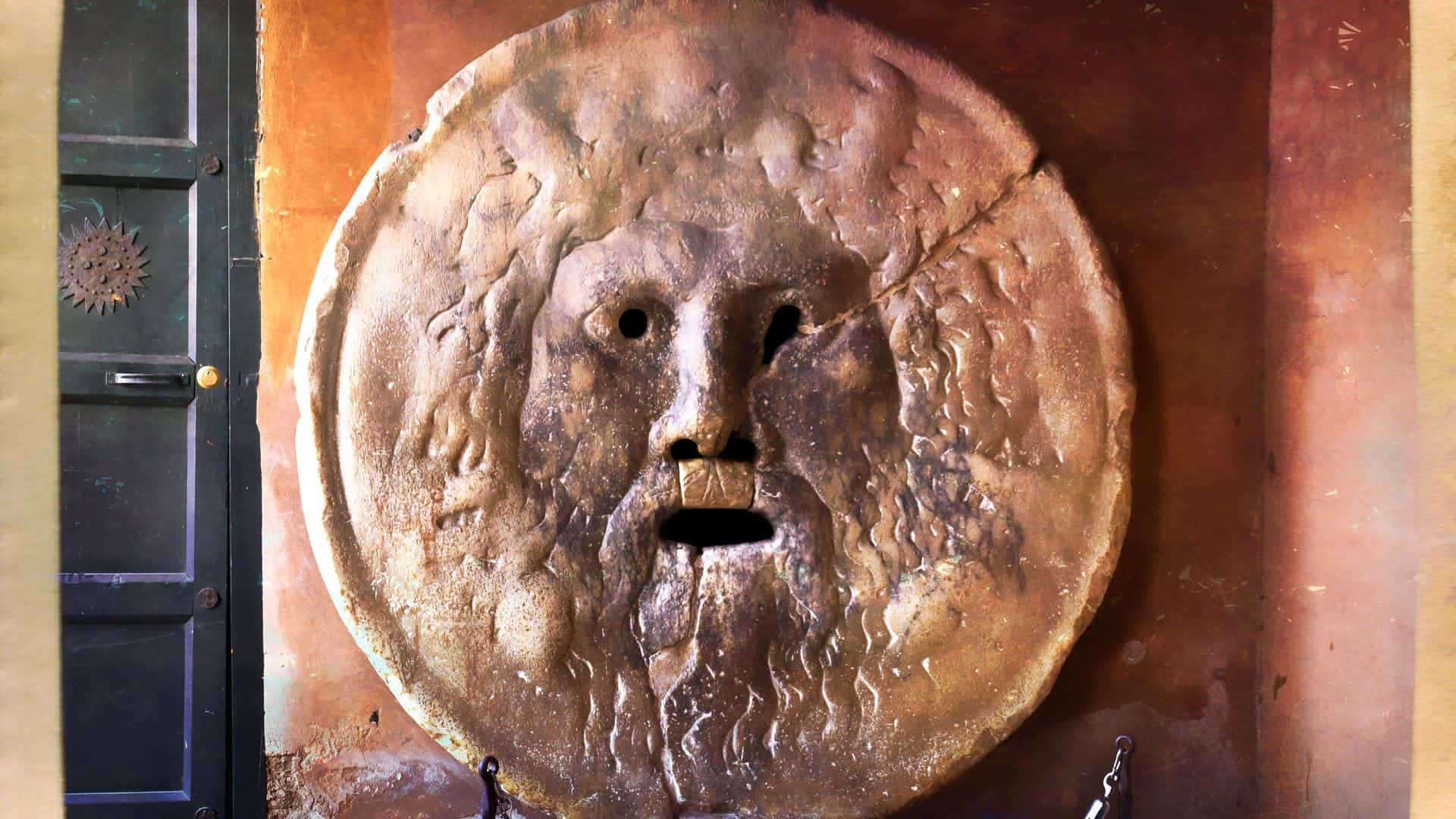 The Mouth of Truth may just well be the world's oldest lie detector. Legend has it that if you stick your hand inside the gaping wide mouth of this ginormous medallion, it will be bitten off if you're a liar.
Though I can neither confirm nor deny the veracity of these claims, I can guarantee that it makes for a fun photo opportunity for anyone who decides to risk it.
Visit the World's Oldest Shopping Mall at Trajan's Market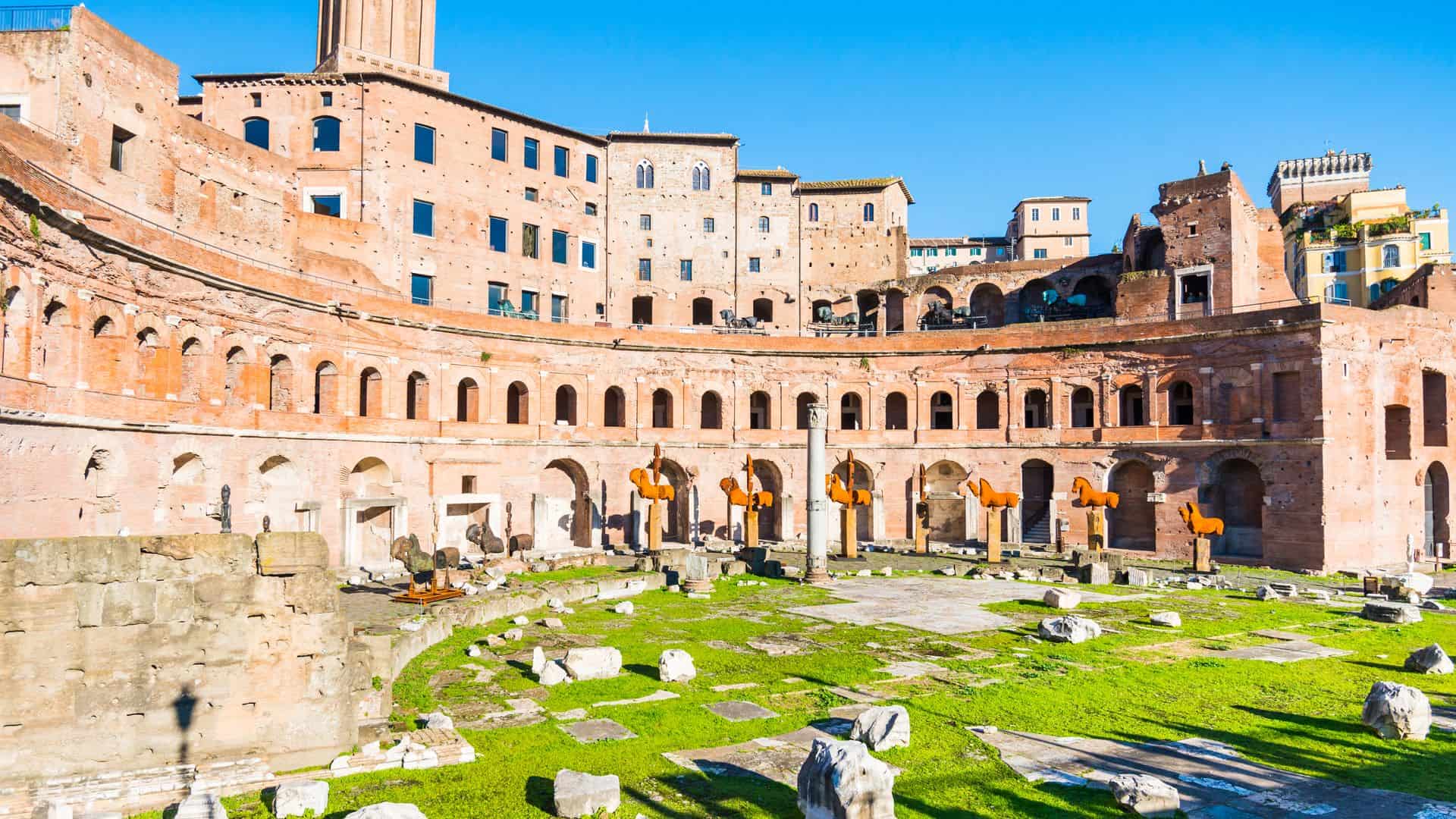 Walk through the ruins of Trajan's Market, a 2,000-year-old market complex that once accommodated 150 different shops and vendors. It also contains one of the few remaining examples of a Roman high-rise building with three floors.
Who knew that visiting a shopping mall could be considered a cultural experience?
Get 360° Views of Rome From the Top of the 'Vittoriano'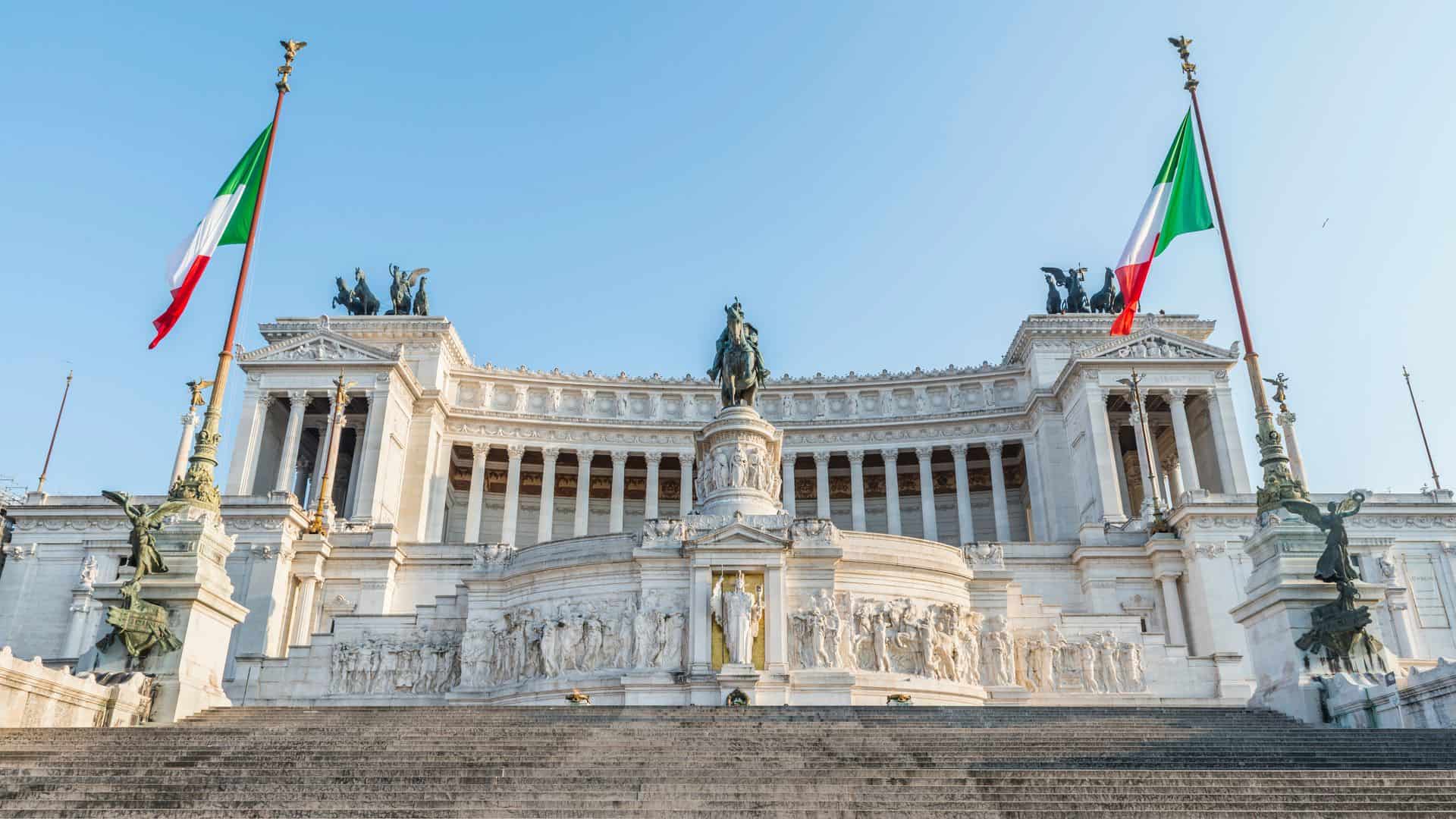 Hop inside a glass elevator and ride to the top of the Vittorio Emanuele II Monument, commonly referred to as the Vittoriano or the Altar of the Fatherland, to get panoramic views of the Eternal City below.
The stark white monument itself is also well worth a visit, though, since its unveiling, it has been regarded as a controversial addition to Rome's monuments by many locals who consider it gaudy and pompous. Whatever you think, it's certainly imposing.
Shop Till You Drop at Via del Corso and Via Condotti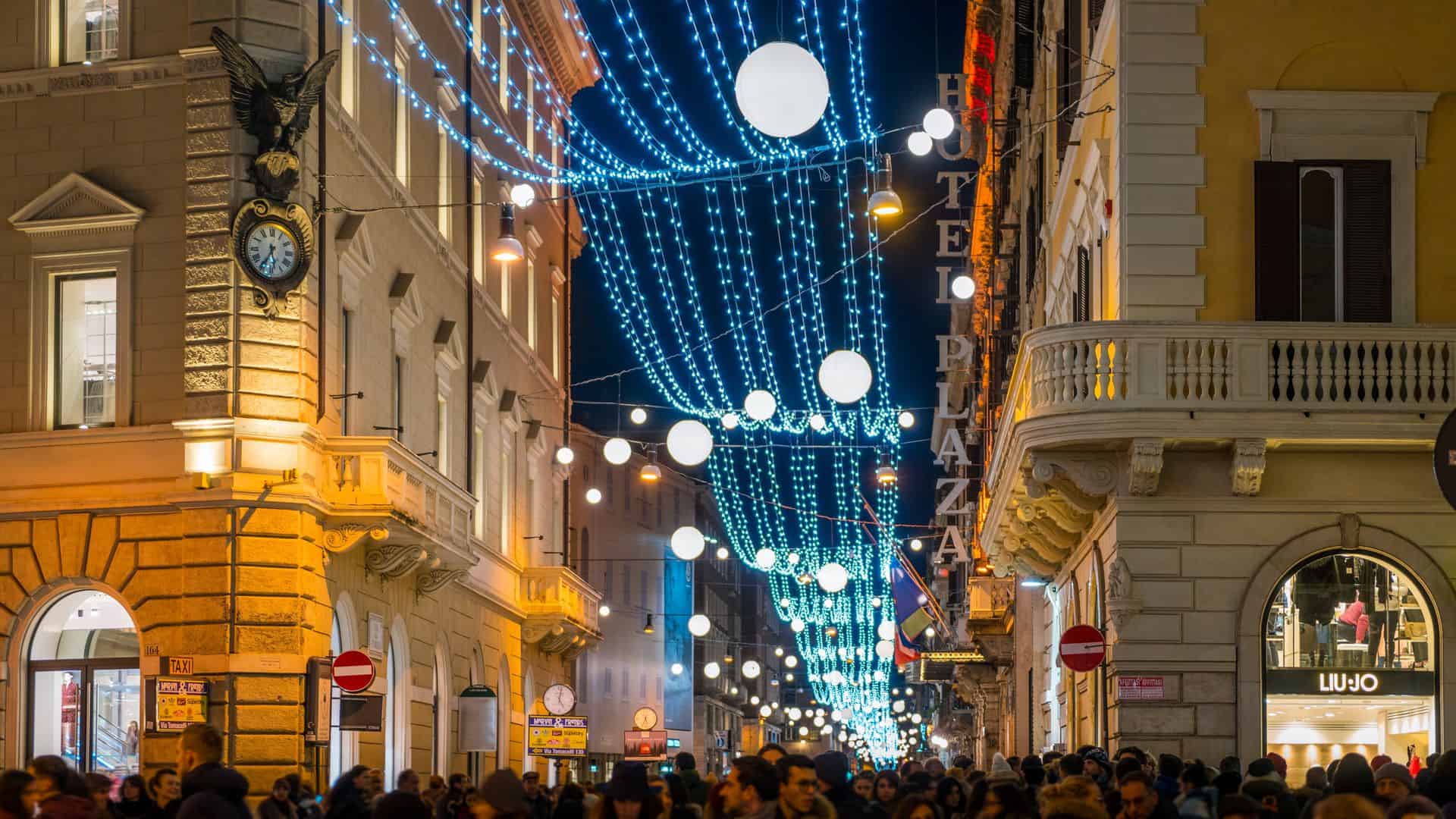 Italy has always been considered a top destination for fashionistas, and although Milan takes the crown as a world fashion capital, Rome is also highly regarded.
Two of the most popular shopping streets in Rome run right through the city center. They are Via del Corso for more high-street shopping (though Fendi has a Flagship store here) and a street that runs perpendicular to it, known as Via Condotti, for more luxury brands.
See Shimmering Gold Mosaics at Santa Maria in Trastevere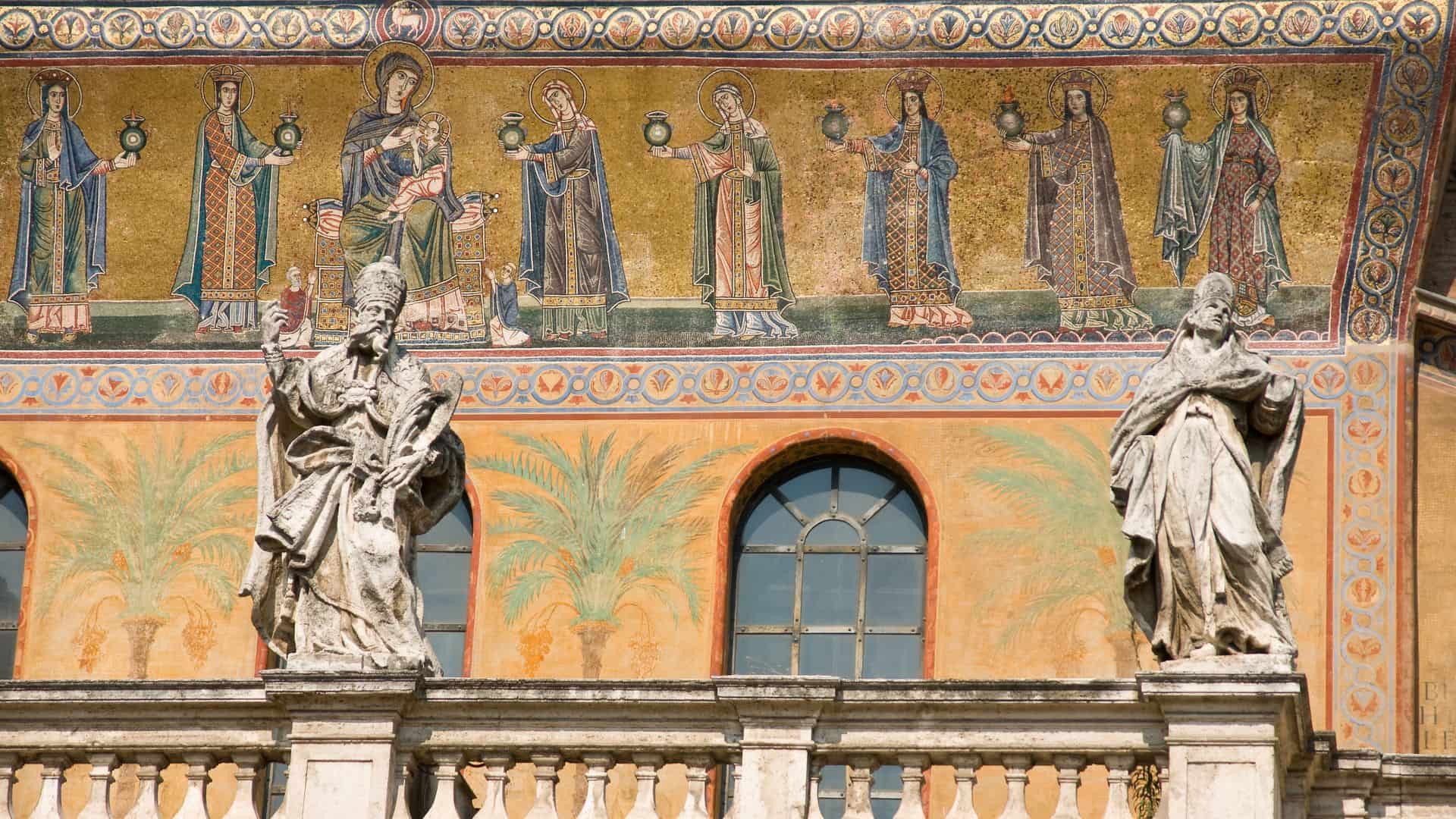 Located in the heart of Trastevere, this Romanesque church has its origins in the third century, during a time when Christianity was not yet accepted, making it one of the oldest churches in Rome.
It's most notable for the shimmering golden mosaics on its facade and in the apse and for its 12th-century bell tower. If you're in Trastevere, you can't miss it.
Chill out in the District of Monti, Rome's Hipster Hotspot
Brimming with vintage stores, artisan boutiques, and trendy bars serving wine and craft beers, Monti has made a name for itself as one of the hippest and most arty districts in Rome.
Mingle with the Roman hipsters on the steps of the fountain in Piazza della Madonna dei Monti, or head to Mercato Monti on the weekends to do some serious vintage shopping.
See Fascist Architecture in EUR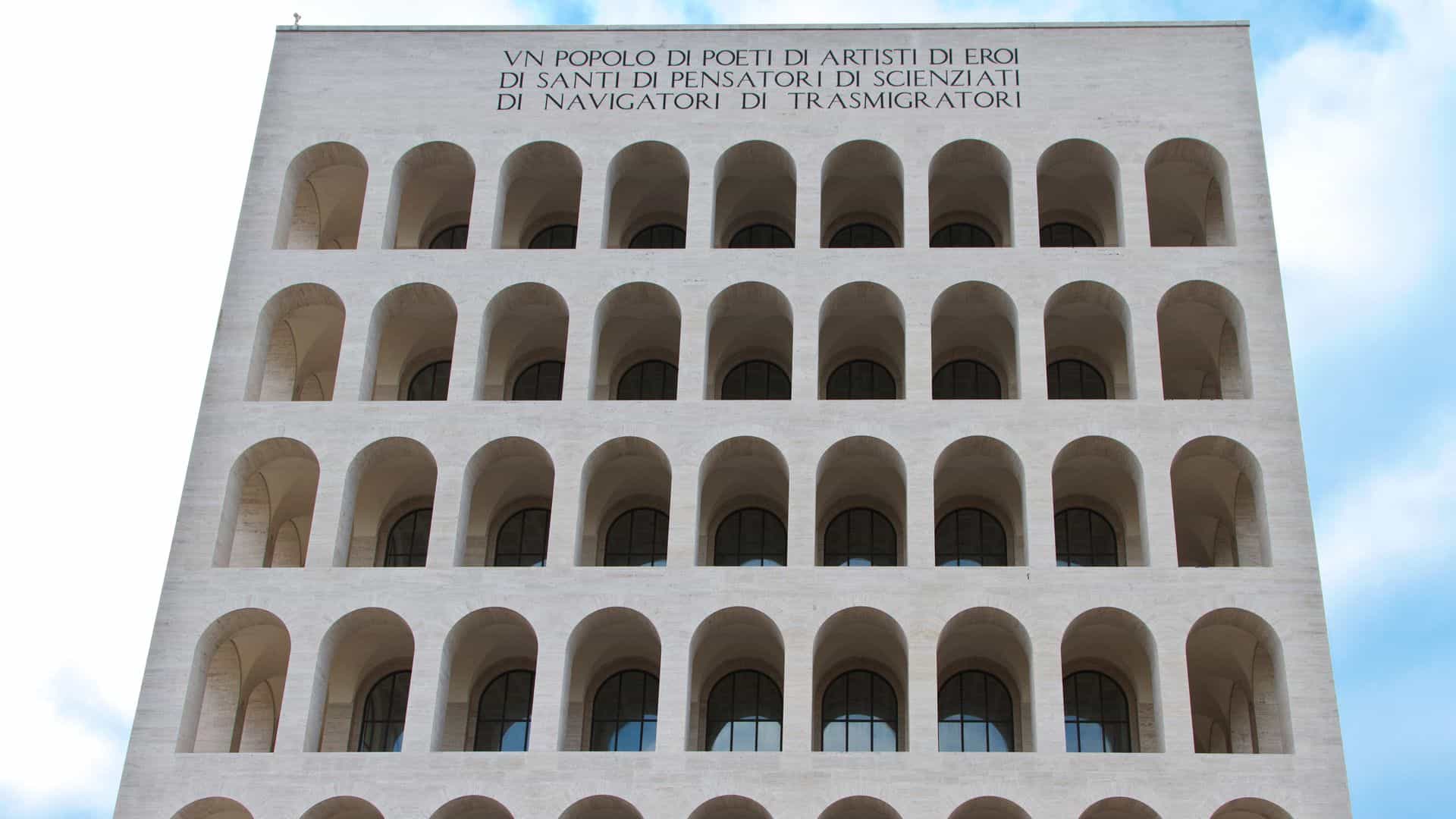 Although originally designed by order of fascist dictator Mussolini to host the World Expo Fair of 1942 and to celebrate 20 years of Fascism, the planned exhibition never took place due to the outbreak of World War II.
Today, the district has evolved into a business and residential area, but it's still a fascinating stop for tourists who want to have a look at the austere fascist architecture – in particular, the building known as the "Square Colosseum".
Forget the Bustle of the City at Villa Doria Pamphili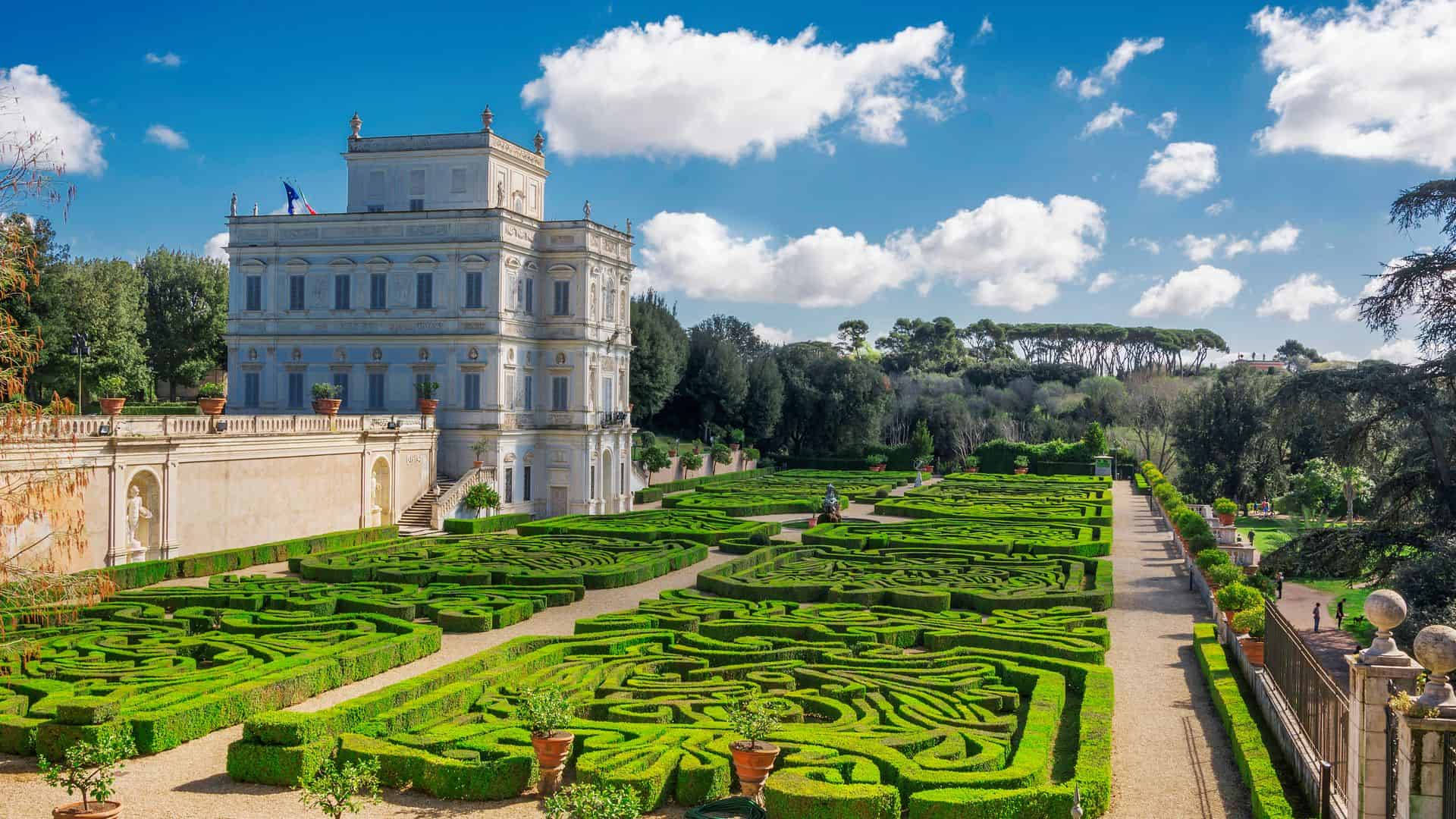 Walking through Villa Doria Pamphili, Rome's largest urban public park, it's easy to forget that you're inside a big and bustling city.
Located on a hill in the Monteverde district, this peaceful park offers a total immersion into nature – apart from the Baroque villa known as the Casino del Bel Respiro ("small villa of good breath") and the presence of beautiful statues and fountains. You're still in Rome, after all.
Eat Pizza al Taglio – Rome's Favorite Street Food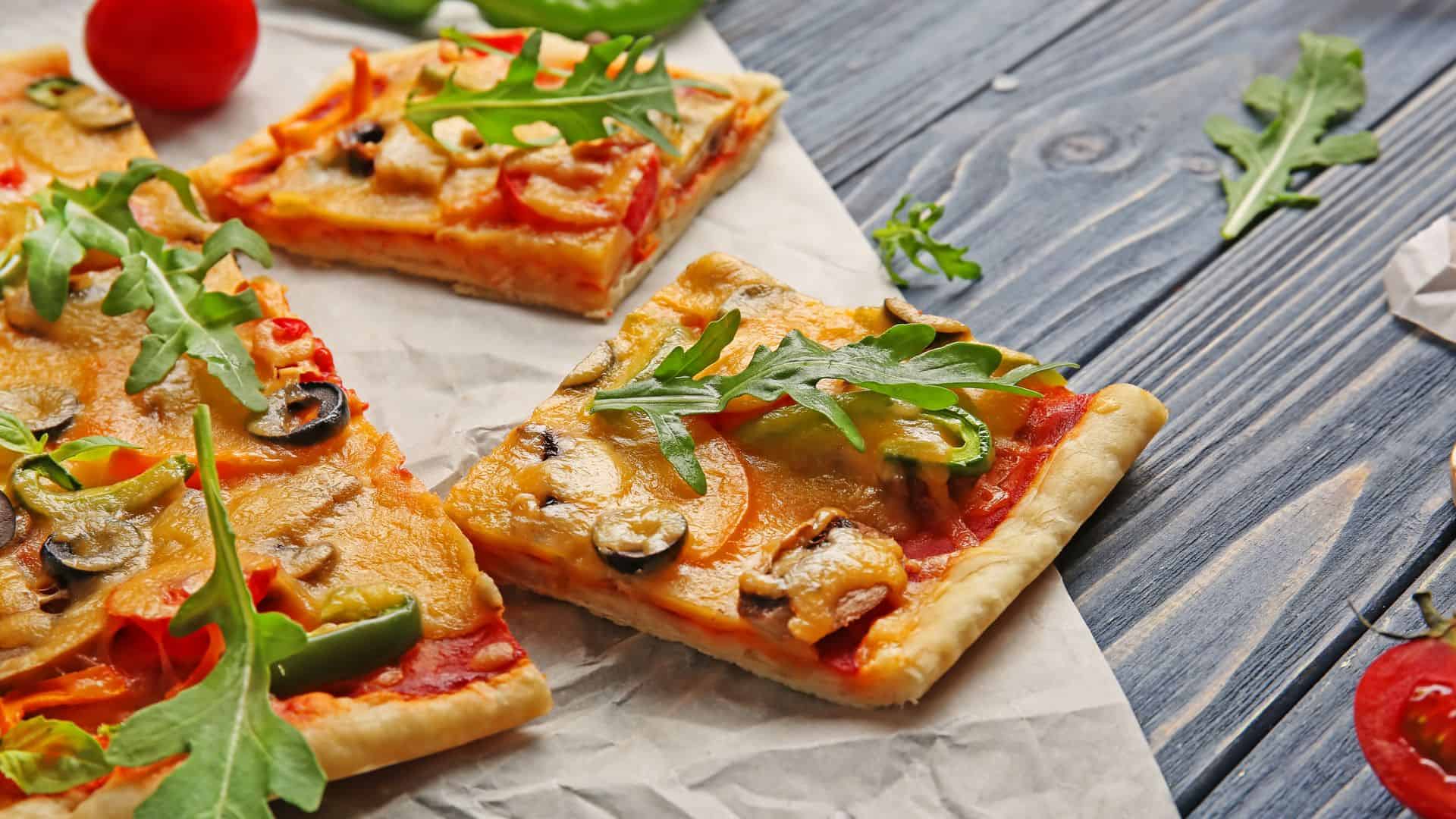 Dotted throughout the city are thousands of pizza al taglio (pizza by the slice) places serving, you guessed it, pizza by the slice. Baked in rectangular trays and with a variety of different toppings, the pizza is then sold by weight depending on how much of it you want, and sliced into a square or rectangular shape.
Many Italians grab a slice for lunch or for a snack when they're too busy to have a two-hour lunch, and it's the perfect option for when you're sightseeing too.
Roma's insider tip: For the best pizza al taglio in Rome, check out "I Suppli" in the Trastevere district and order a suppli (fried tomato rice ball) to go with your pizza slice.
Spend a Night at the Opera at the Baths of Caracalla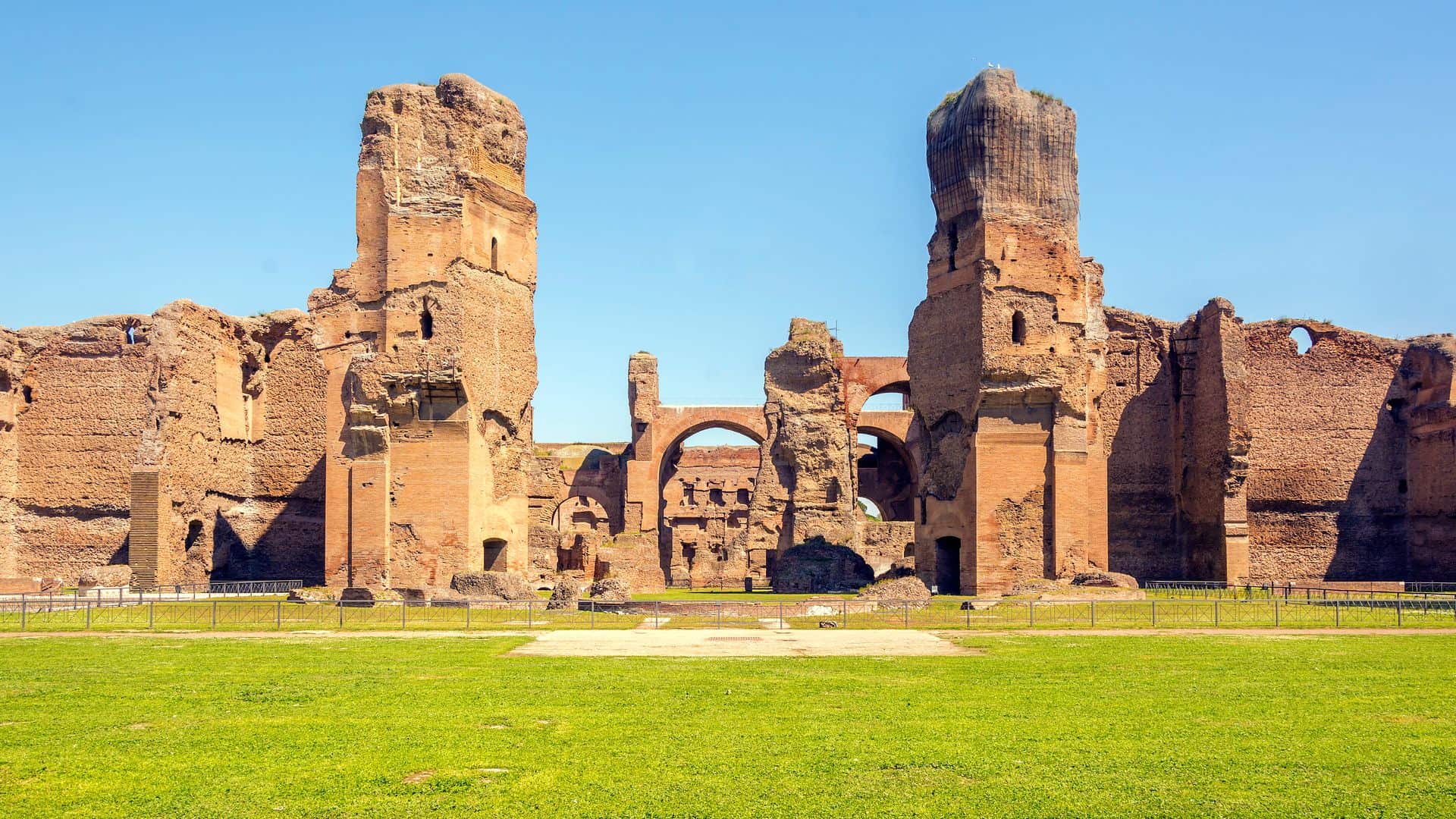 Every summer, from June to August, the ancient ruins of the Baths of Caracalla become the setting for an open-air opera festival. This has been a yearly tradition dating back to 1937, only moving briefly to Circus Maximus for two years since 2020 because of covid social distancing rules.
Now they're back at the baths, and you can enjoy listening to arias and arpeggios in one of the most jaw-droppingly dramatic settings you've ever seen.
Pay your Respects to Percy at the Protestant Cemetery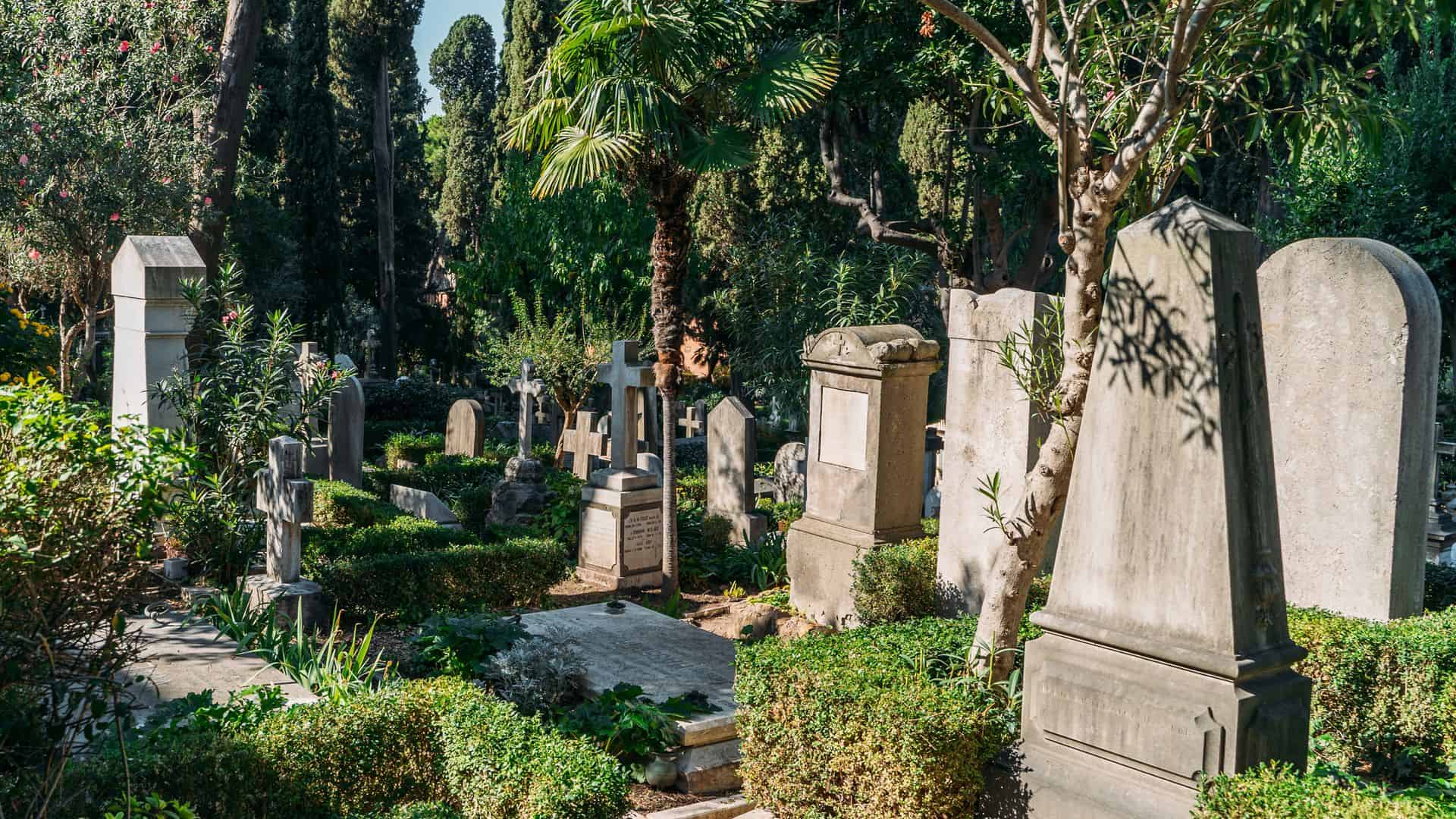 The Cimitero Acattolico (Non-Catholic or Protestant Cemetery) is also often referred to as the English Cemetery because not only does it look like it was plucked straight out of an English storybook, but it also holds the graves of two very famous English poets: John Keats and Percy Bysshe Shelley, both of who died while sojourning in Rome.
If you're feeling particularly 'Romantic', have a wander through the graves as you contemplate the meaning of life and the sublimity of nature.
Bask in The Sun at a Beach Near Rome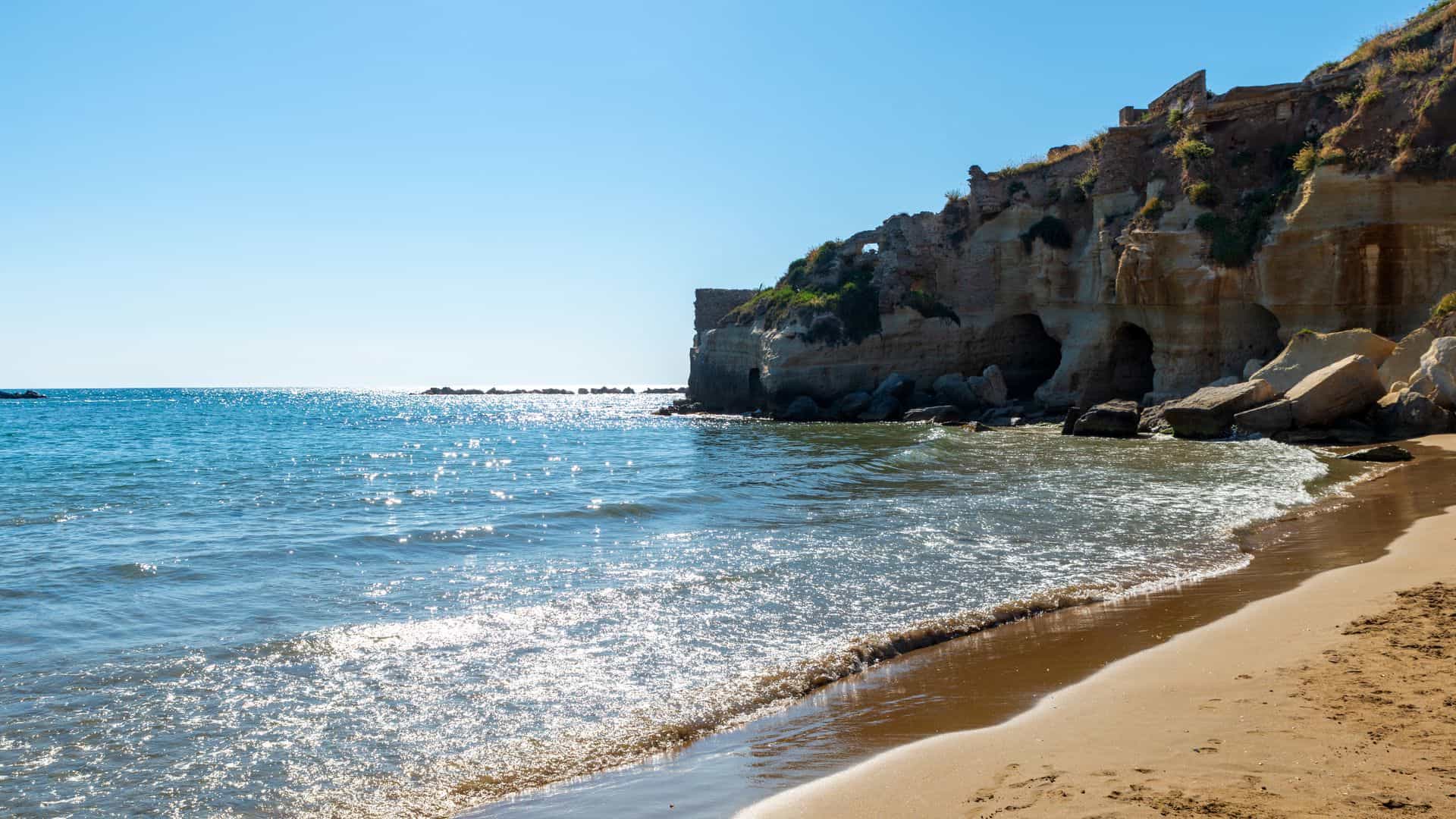 A day at the beach may not be the first thing that comes to mind when you think of Rome, but when those temperatures start to soar, you might find that it's exactly what you need. Many visitors to Rome don't know that there are a lot of beautiful beaches only a short train ride away.
The best beaches within an hour of Rome are: Fregene, Lido di Ostia, Anzio, and Santa Marinella
So slap on your sunscreen, borrow a beach read, and get ready to sunbathe on the sand.
Watch a Movie at an Open-Air Cinema on a Roman Piazza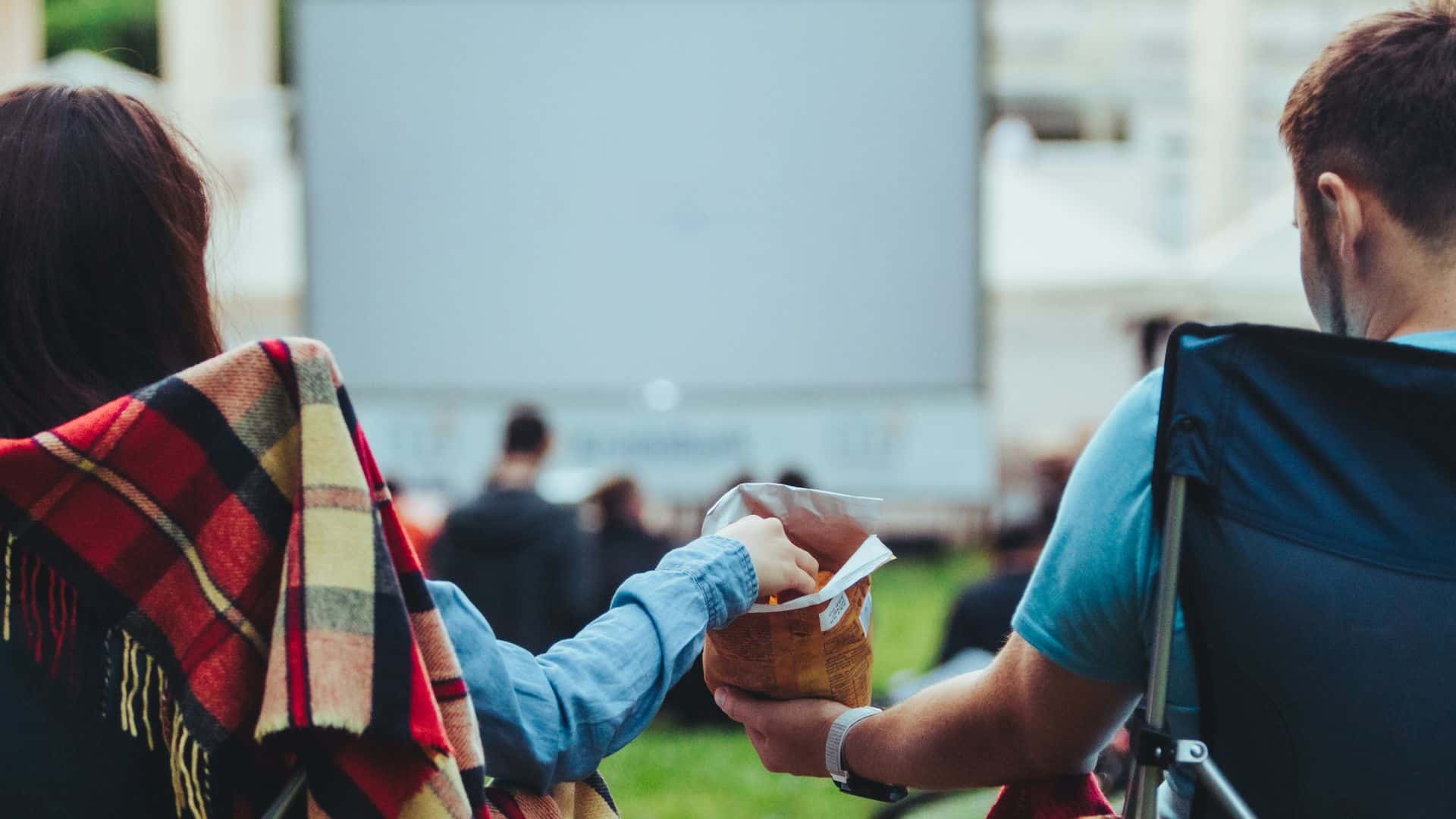 During the hot summer months, Rome is most alive after the sun sets when people no longer need to seek refuge from the hot midday heat. One of the most pleasant ways to enjoy a balmy summer evening is to attend a screening at one of the open-air cinemas that pop up in piazzas and parks during this time of year.
Check out "Il Cinema in Piazza" at Piazza San Cosimato for free screenings in their original languages and "L'Isola del Cinema" on Tiber island for their annual international festival of cinema and culture.
Walk Along an Ancient Aqueduct at Parco delle Aquedotti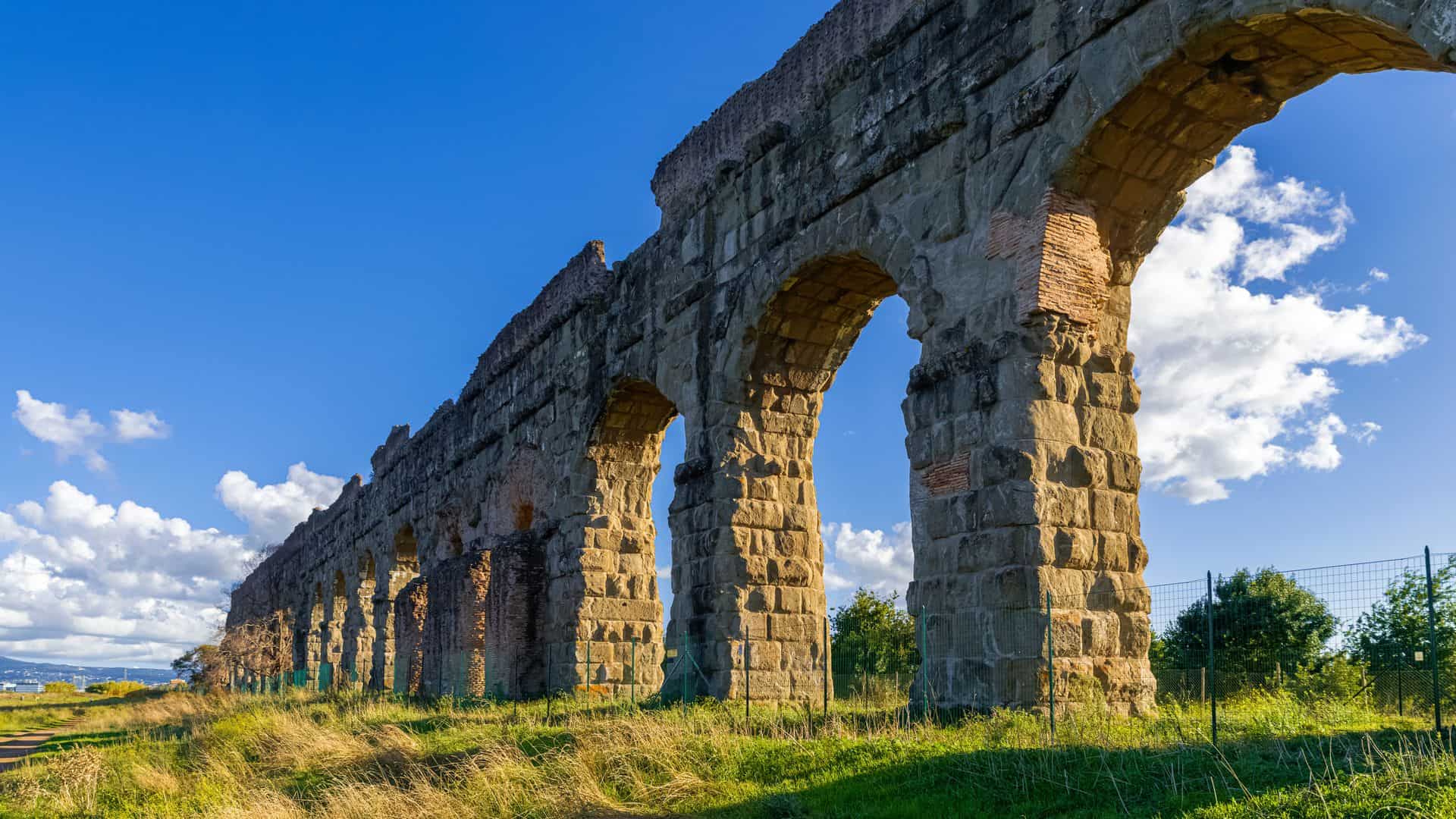 Just a short metro ride away from the city center lies Parco delle Aquedotti, a giant suburban park that holds the remains of two ancient Roman aqueducts. Visitors to the park have the chance to get up close and personal with these incredible structures that used to carry water from mountains in the east of Lazio to the center of Rome as they hike, jog, or cycle beside them.
See Movie Magic at Cinecitta Studios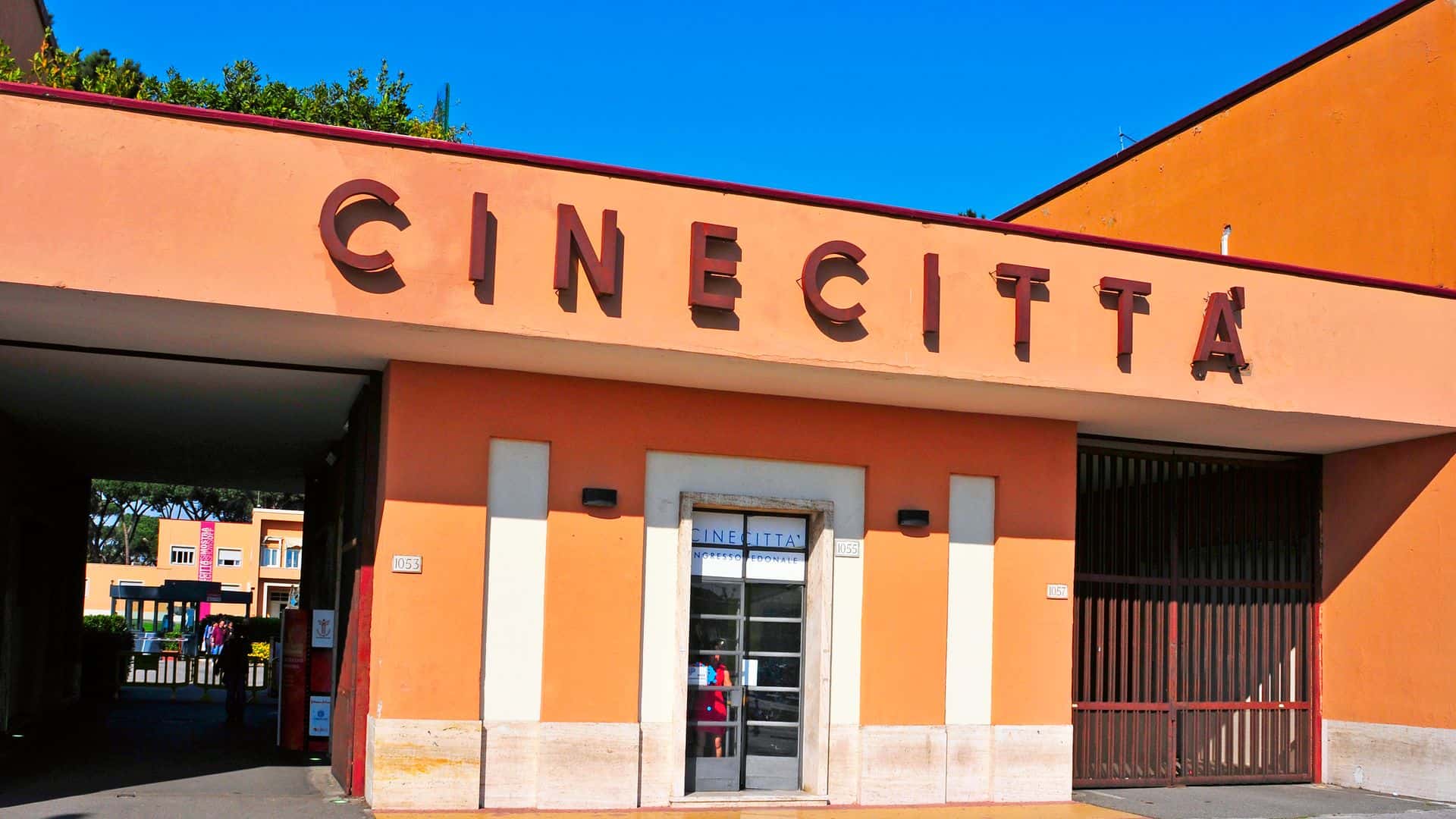 Take a tour of the iconic film studios at Cinecitta, which were used to film many Oscar-winning Italian and international movies. First opened in 1937, the studios now contain many impressive sets and exhibitions. Here you can walk through ancient Rome or 16th-century Florence, learn all about auteur Federico Fellini, and discover the magic behind movie-making.
Step Foot on Tiber Island, Rome's Only Island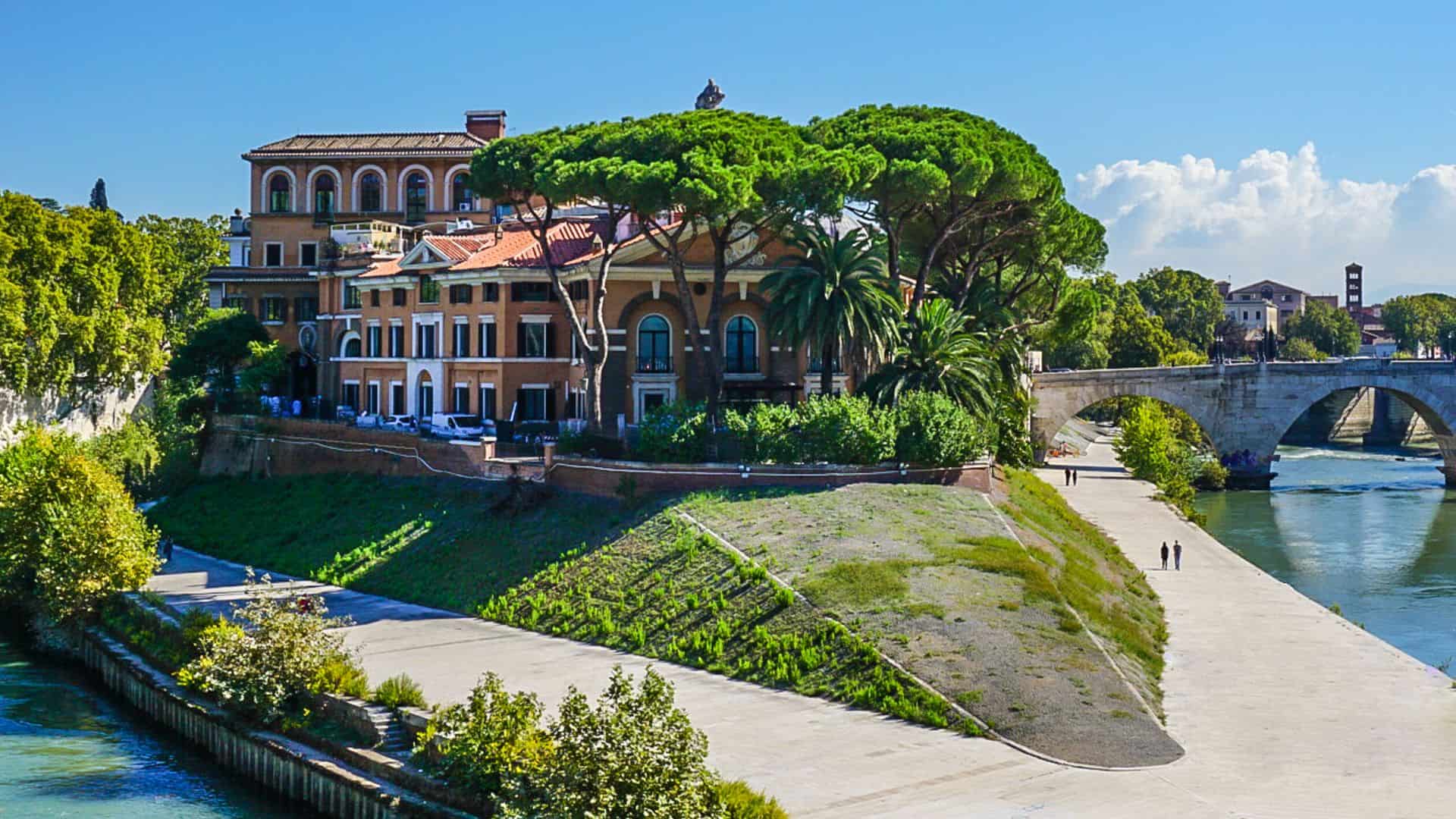 The legendary river island known as Tiber Island was once the site of a temple dedicated to Aesculapius, the Greek god of medicine and healing. Today, this boat-shaped isle continues its legacy of healing by being home to a working hospital first established in 1585.
Although the hospital should only be visited if you're a patient, there's still plenty to do: visit the Basilica of St Bartholomew, which stands on the site of the old temple, admire the "Infamous Column", or descend to the base of the island to look at the Pons Aemilius, the remains of the oldest stone bridge in Rome.
Do a Double Take at the Theatre of Marcellus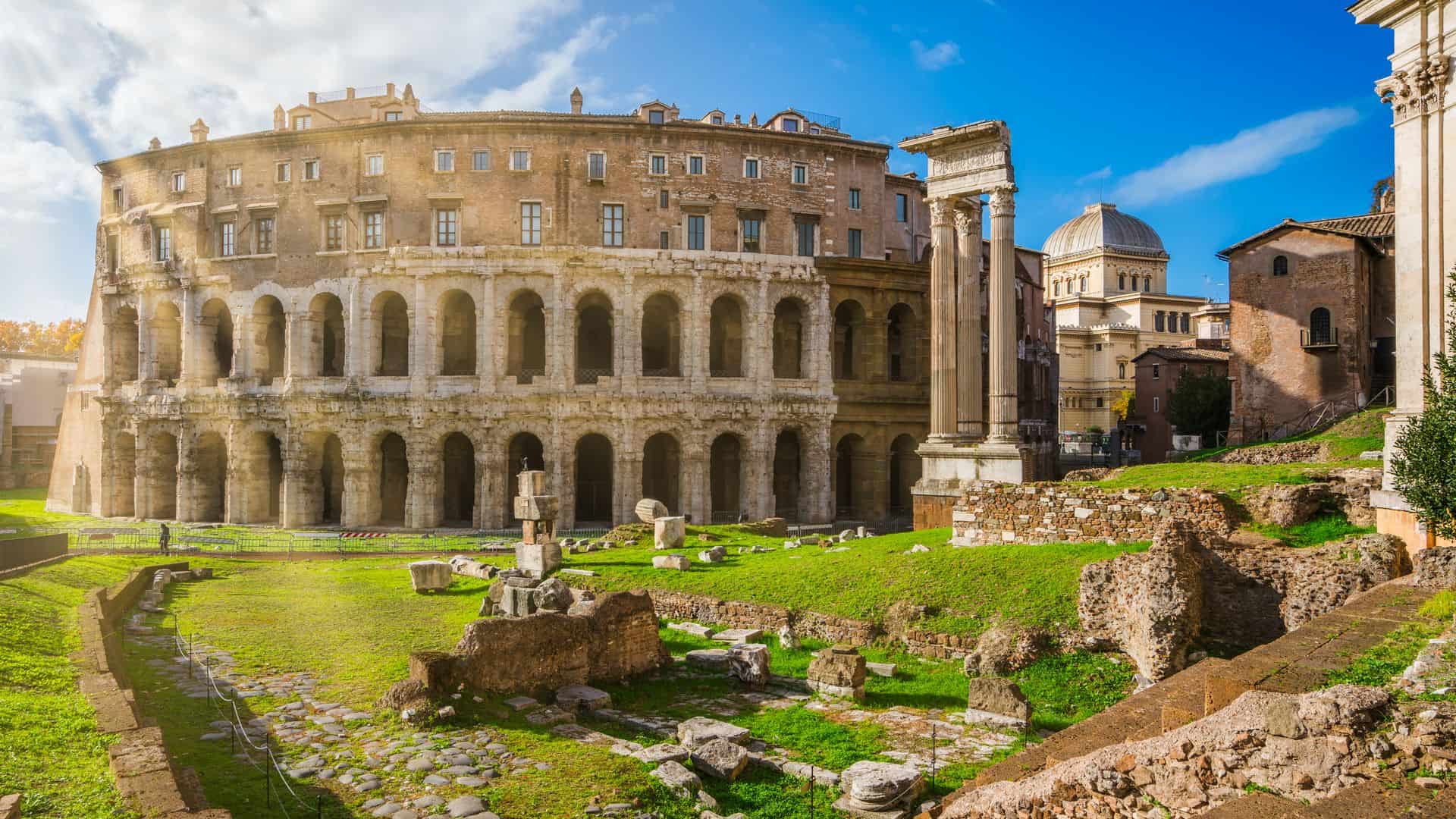 No, that's not the Colosseum you're looking at. Although they look similar, the Theatre of Marcellus is an ancient open-air theater that actually predates the Colosseum by nearly 100 years.
Although you can't go inside, you can walk around the grounds amidst the ruins of ancient columns haphazardly piled around or even walk right up to the arches of the theatre itself. And while the Colosseum itself is always teeming with tourists, this mini version is much more quiet.
Eat Fried artichokes in the Jewish Ghetto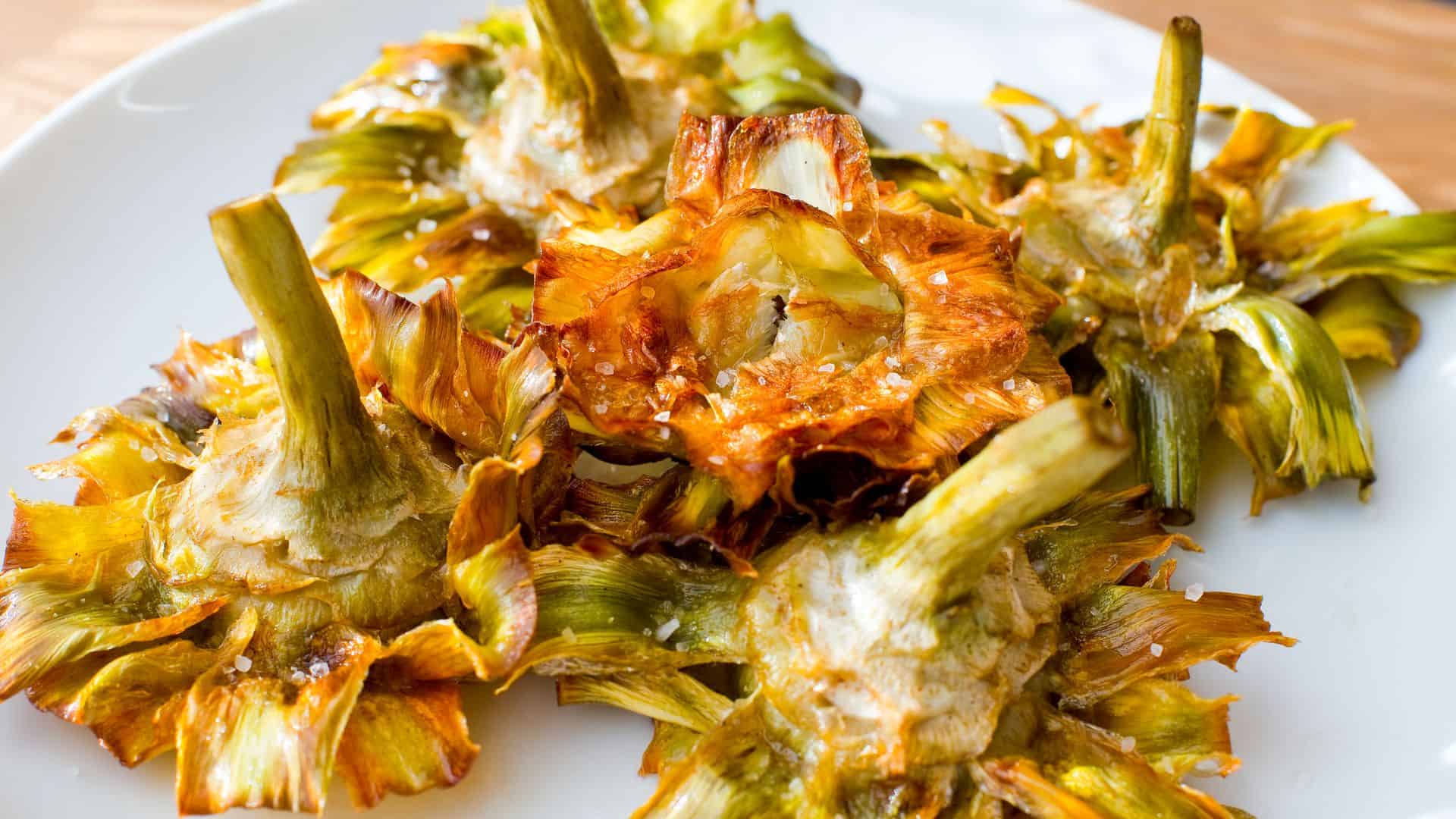 The Roman Ghetto, constructed in 1555, is the oldest ghetto in the Western world. Today, it's considered one of Rome's most beautiful lesser-known neighborhoods, with plenty to see and do.

Walk through the ancient ruins of the Portico D'Ottavia, dating back to the 2cd century BCE; have a look at Bernini's famous turtle fountain; visit the iconic Synagogue, the largest in Rome; or, if you happen to be there on the right season, eat carciofi alla giudia, Jewish-style artichokes that have been fried to perfection.
Eat a Roman Pasta Dish at a Local Trattoria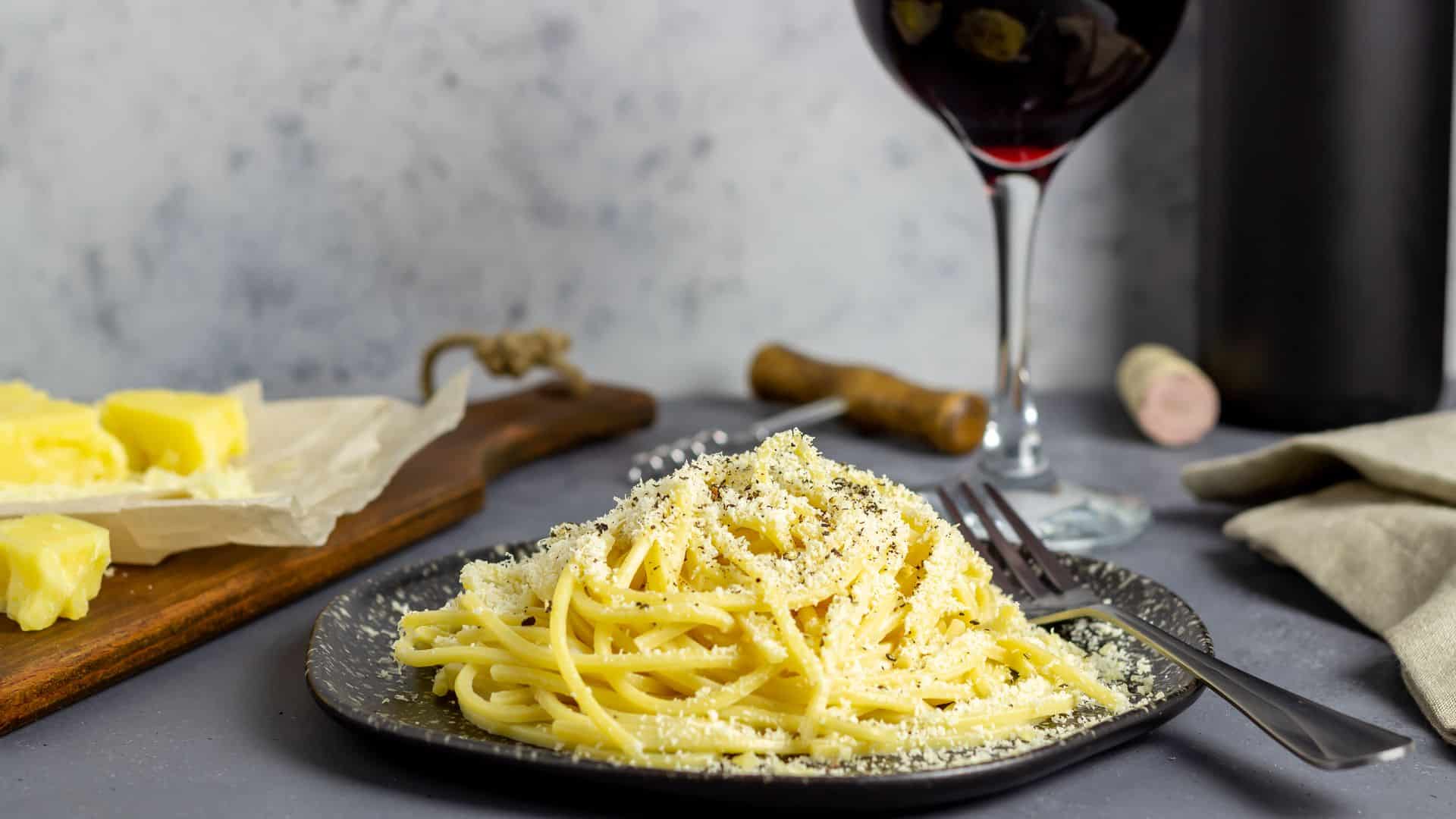 Though pasta is eaten throughout the whole of Italy, there are four pasta dishes that are considered classics in Rome and are the top things to do in Rome on your visit to the city. They are: Carbonara, Cacio e Pepe, Gricia, and Amatriciana. All four recipes use pecorino romano, a sheep's milk cheese considered fundamental to the dishes.
A true Roman will argue that the only place in the world to get a 'real' Carbonara is in Rome. Order one in one of the many local trattorias dotted around Rome. Just don't ask for parmesan on your pasta, that's considered culinary heresy.
Bask in the opulence of Nero's Golden House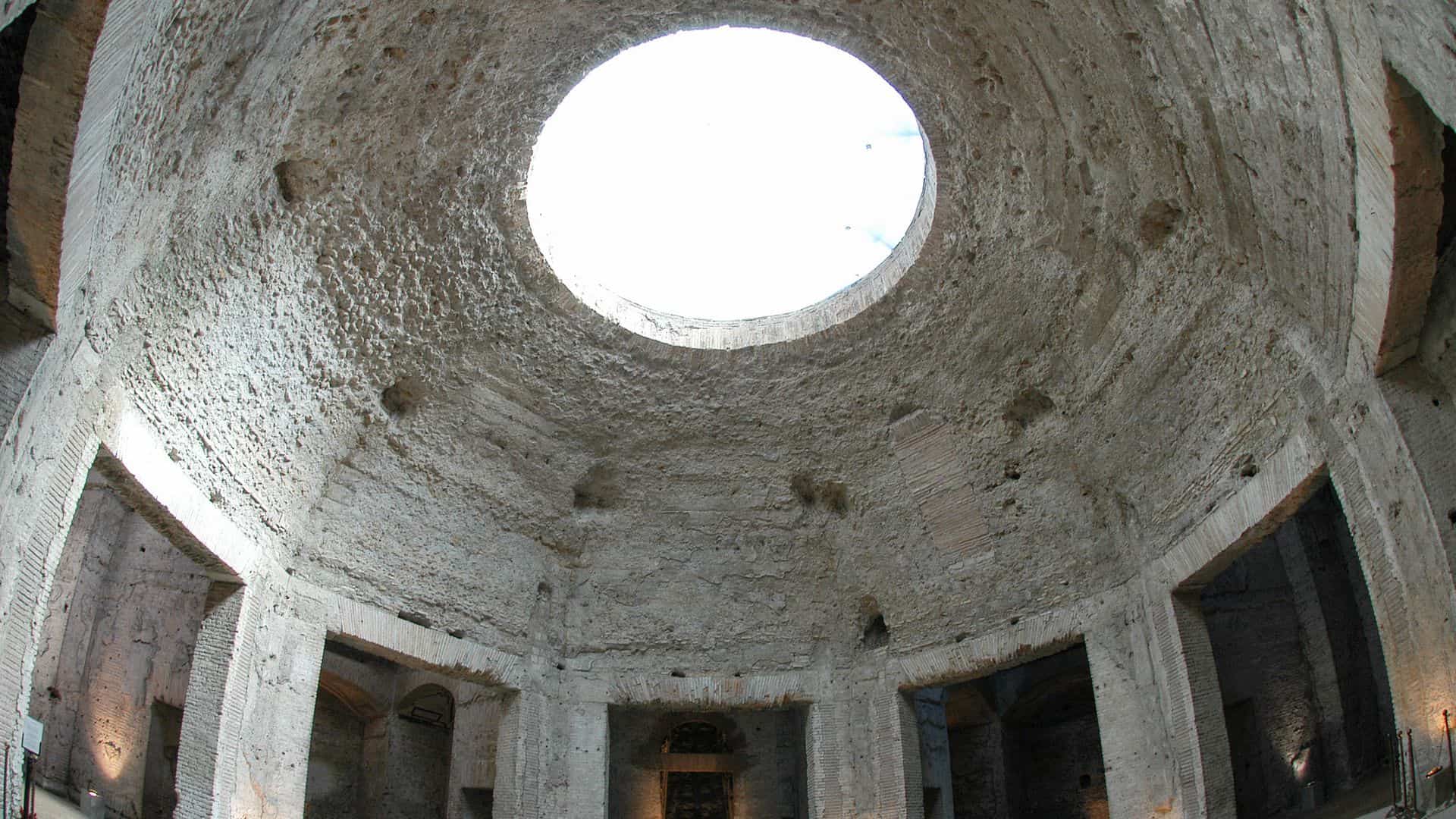 After the great fire of Rome in 64 CE, the notorious Emperor Nero ordered the construction of his new residence, the Domus Aurea. It was a ginormous complex decorated sumptuously with gold, precious gems, and marble and is considered the most extravagant construction in the history of Rome.
Today, only some of the areas of Oppian Hill are open to visitors, but even though they no longer contain any gold, they are still definitely worth a visit.
See the Sunset From the Orange Garden on Aventine Hill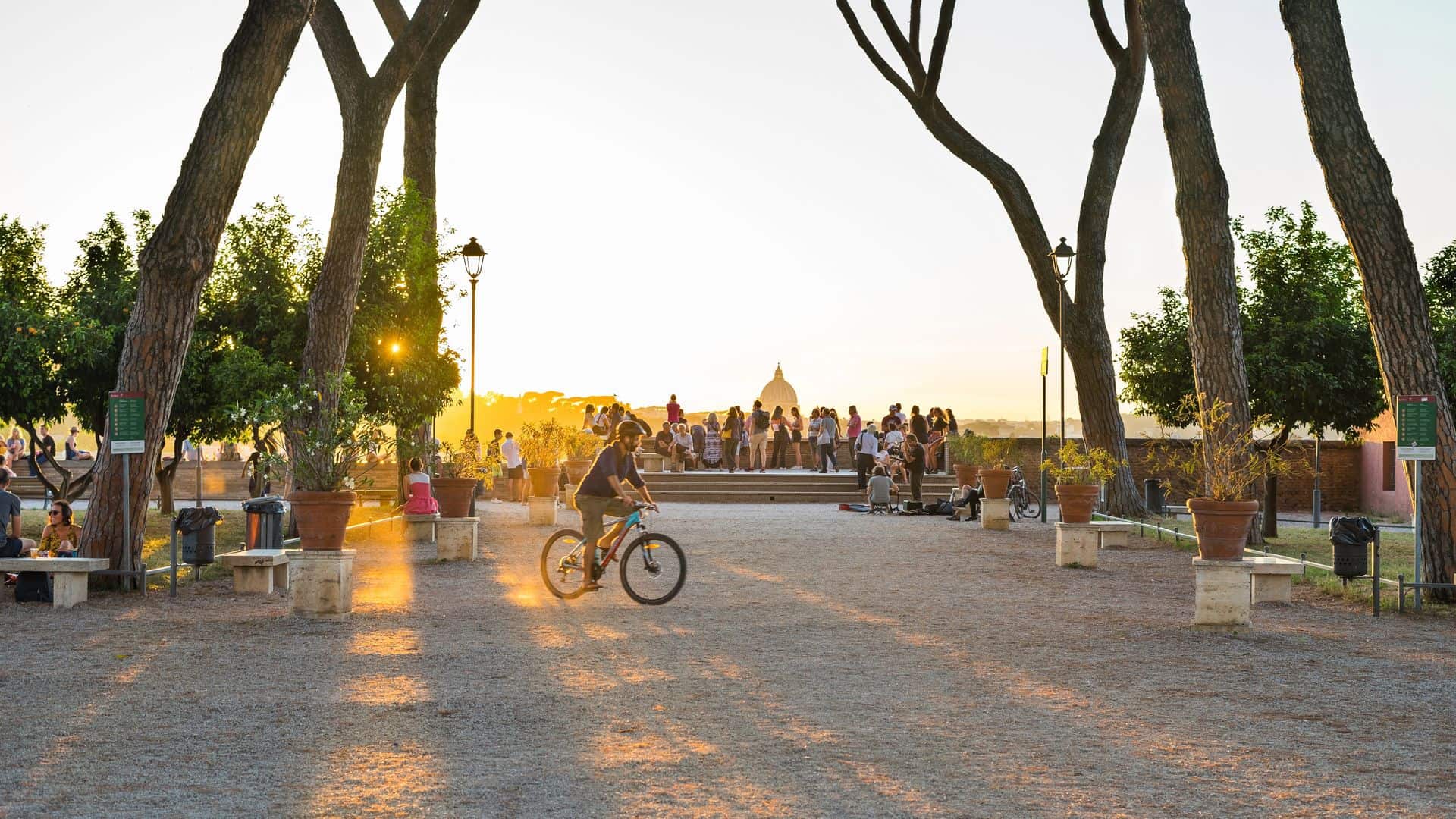 Aventine Hill might not get as much love as some of Rome's other hills, but that just makes it nicer because it's less crowded to visit.
For a stunning view of St. Peter's Basilica and the city of Rome, climb up to the viewing point located in the Orange Garden, a spectacular public garden covered in pretty (though inedible) orange trees and Rome's iconic stone pine trees. For added romance, head up there at sunset and then walk back down through the Rome Rose Garden, which contains more than a thousand varieties of Roses.
Peep at St. Peter's Through the Aventine Keyhole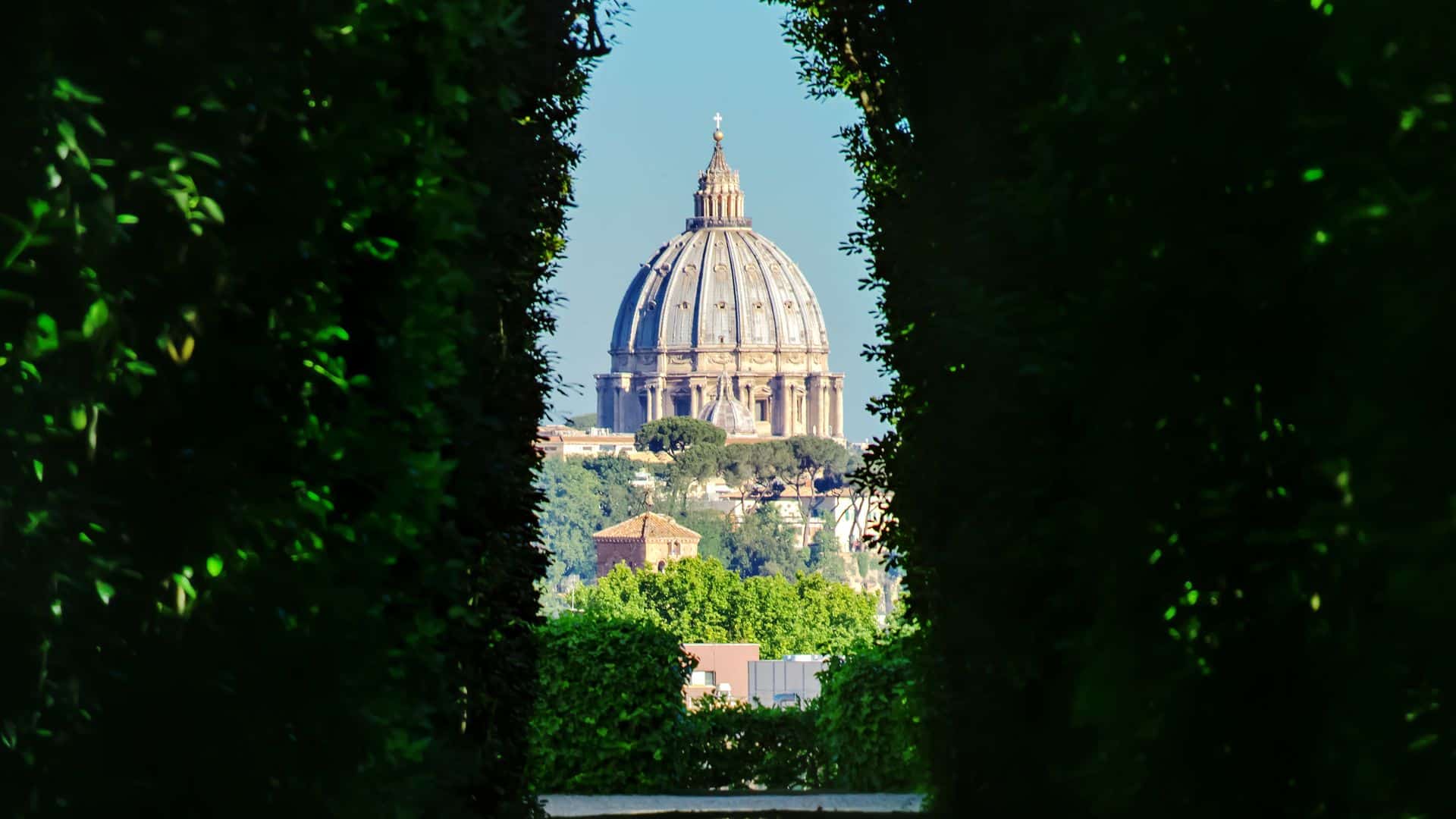 What was once one of Rome's best-kept secrets is now a fairly well-known attraction, though there are still not too many tourists who come here.
Through the tiny keyhole of a nondescript green door (leading to the priory of the Knights of Malta) lies the most stunning and unique view in Rome. Peek through it, and you'll see St. Peter's iconic cupola perfectly centered and framed by the manicured hedges of the Maltese garden.
No one knows whether this viewpoint was planned or just a happy coincidence.
See funky Street Art in Ostiense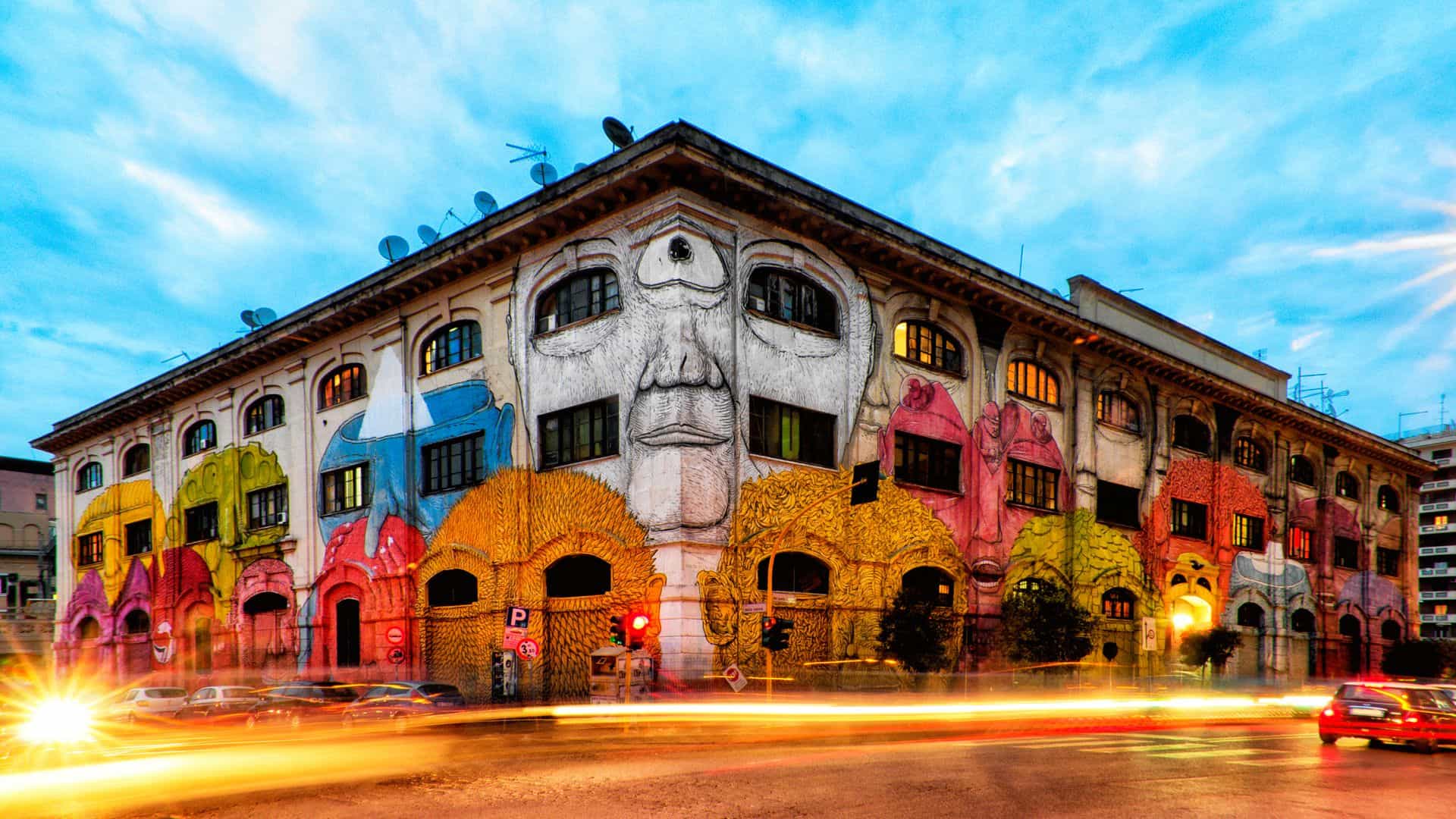 Roman art tends to be of the more ancient or baroque variety, but there is one neighborhood making a name for itself as Rome's leading street art district: Ostiense.
What was once a crumbling industrial district is now an up-and-coming trendy area thanks to an urban art project launched in 2015.
Walk around this colorful quarter to see some of the coolest murals and street art in Rome.
Escape the Bustling City in the Botanical Garden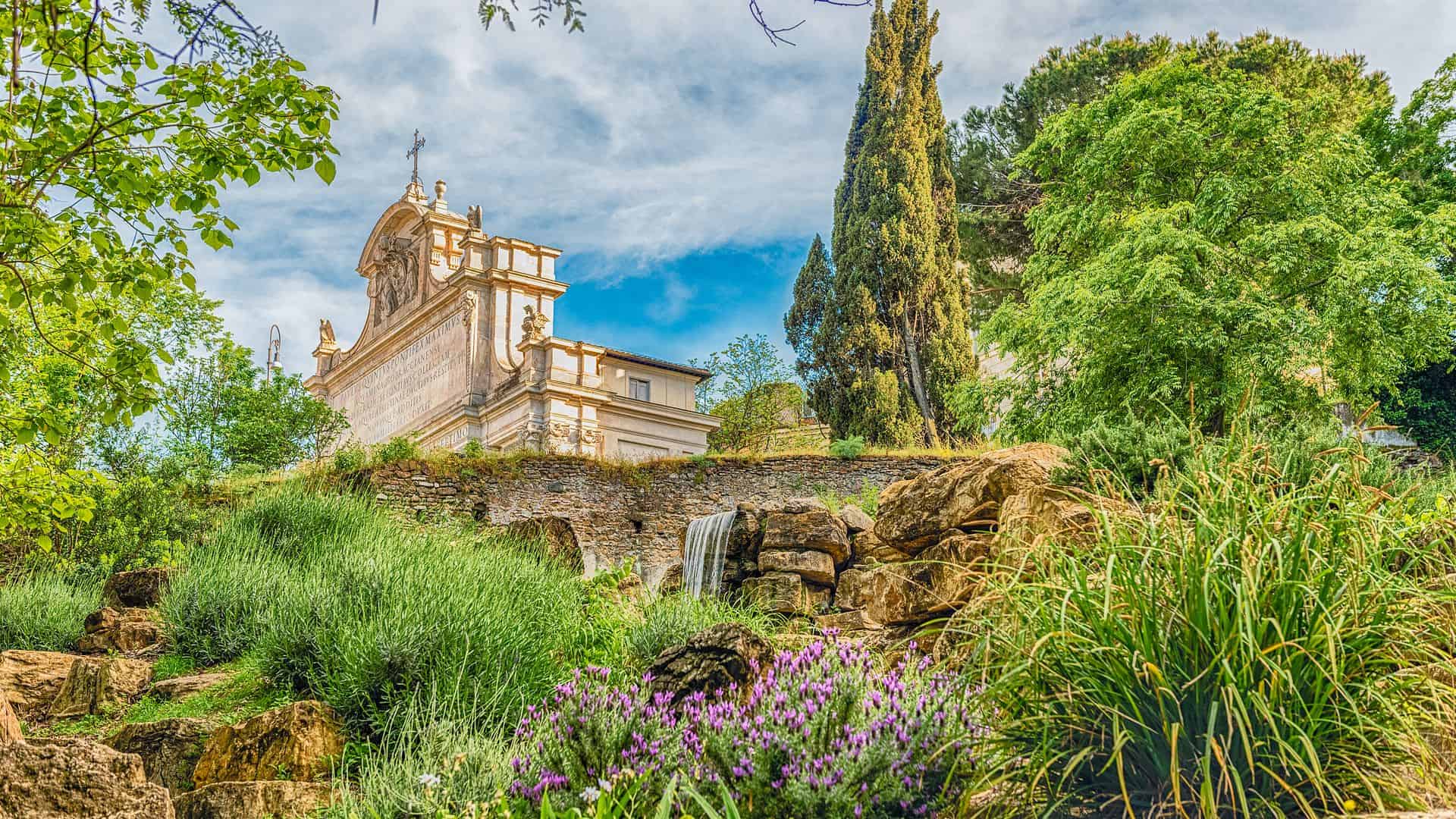 Between the neighborhood of Trastevere and Janiculum Hill lies a serene green oasis not much visited by tourists. The Botanical Garden of Rome covers an area of about 12 hectares and has around 400 species of trees and plants.
Some of the highlights include the Corsini Greenhouse, which contains varieties of succulents and cacti, the Greenhouse of Orchids, some of which are incredibly rare, and the Japanese Garden, which comes alive with color in the Spring.
See Spectacular Views of Rome From its 'Eighth Hill'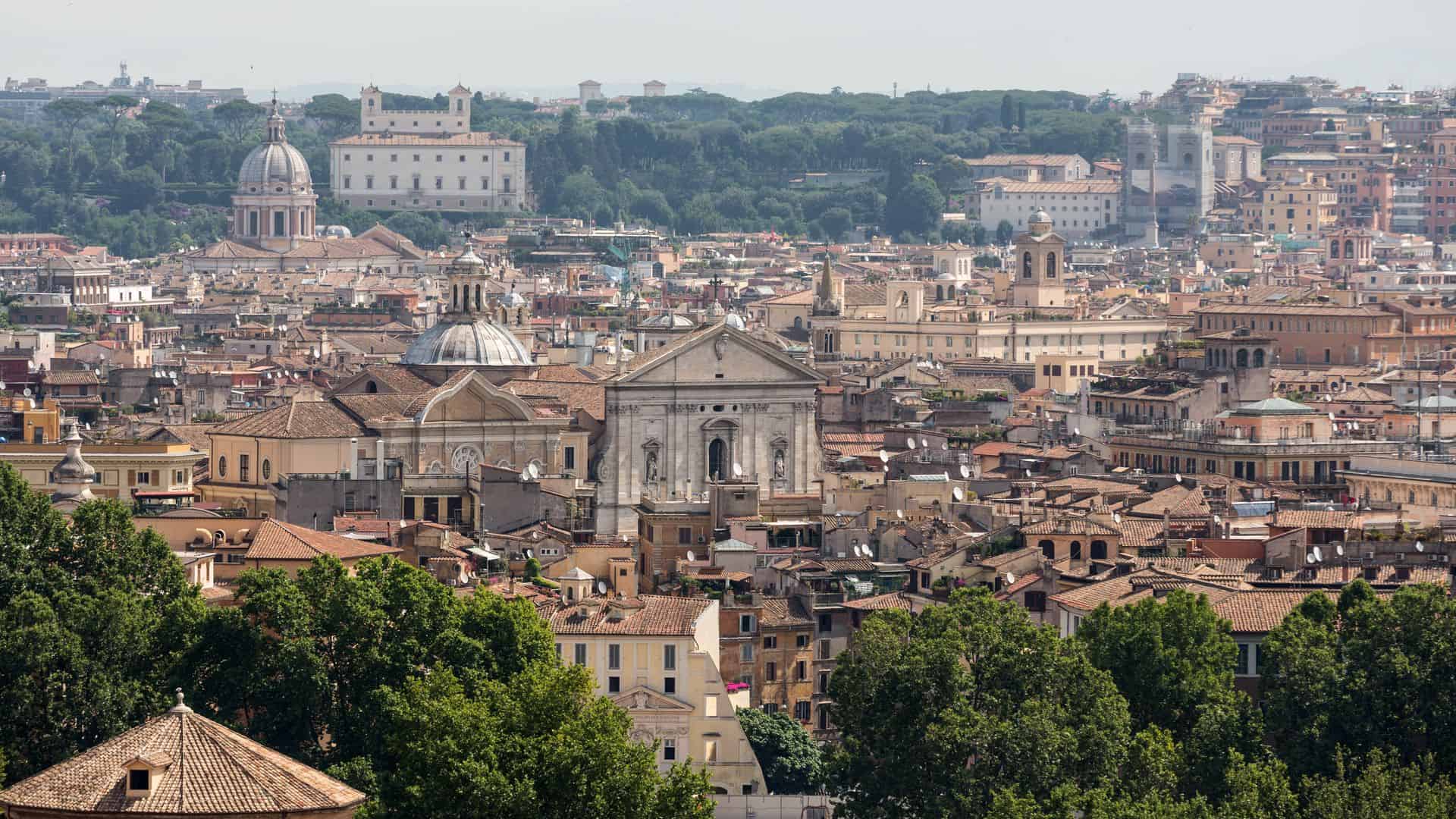 The Janiculum Hill, sometimes referred to as the "Balcony of Rome", offers one of the most stunning panoramas of the city, with a completely different viewpoint from many of the others. Some say it's the best in Rome.
Though sunset and sunrise are the most recommended times to head up there, the view is still spectacular from any time of day. Just don't get startled by the blast of the cannon that goes off every day at midday.
Visit a Local Cat Sanctuary With a Very Dramatic Setting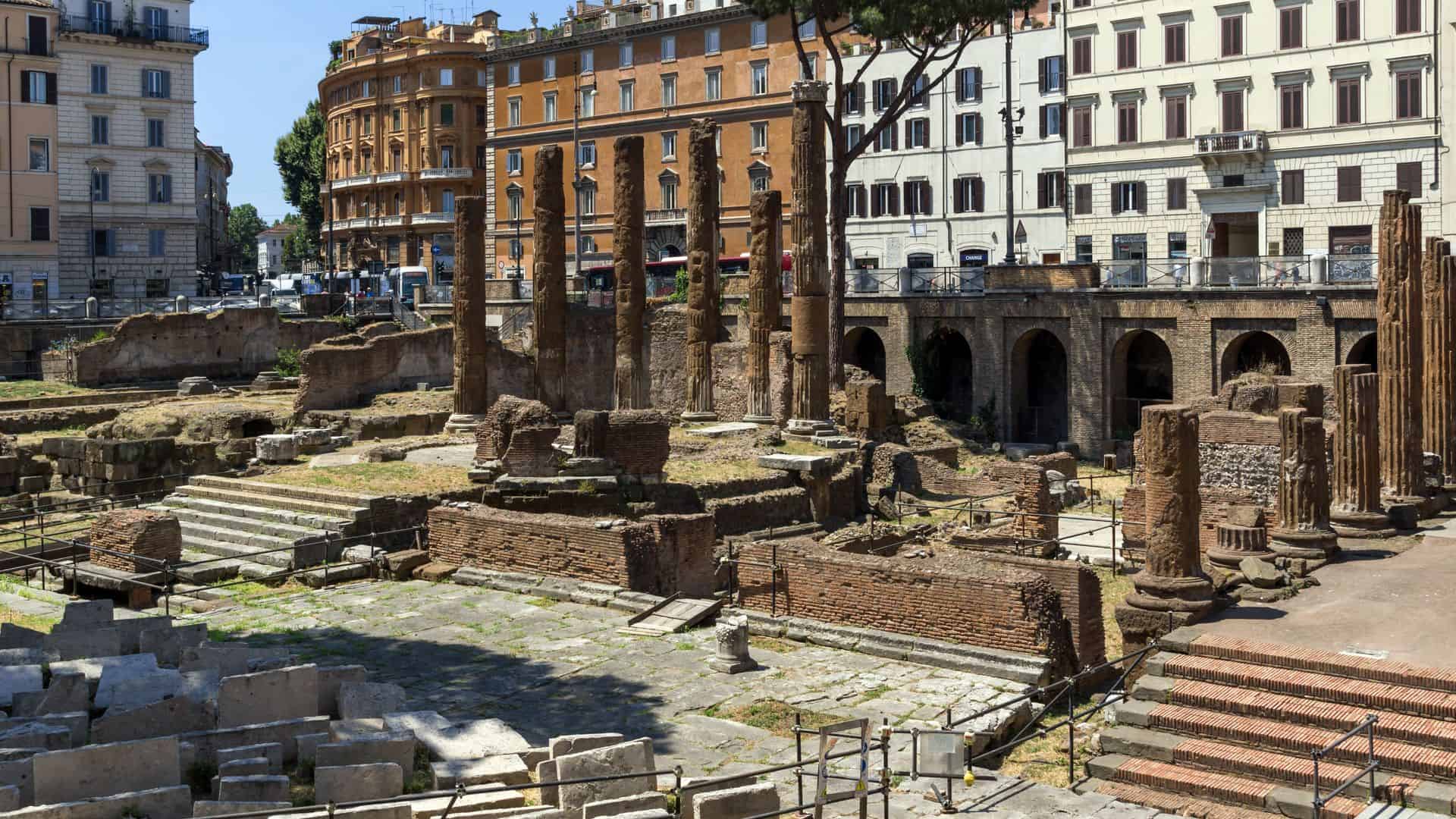 Smack bang in the center of a busy traffic hub lies Largo di Torre Argentina, an archeological site featuring four temples and the Theatre and Curia of Pompey – now turned into a cat sanctuary.
This once tragic location, the setting of Julius Caesar's betrayal and assassination, is now a popular area for cat-spotting. Many come here to snap a picture of the furry felines living their best lives amidst the ruins. Honestly, some of the most unique and fun things to do in Rome.
Contemplate Caravaggio Paintings in the Church of St. Louis of the French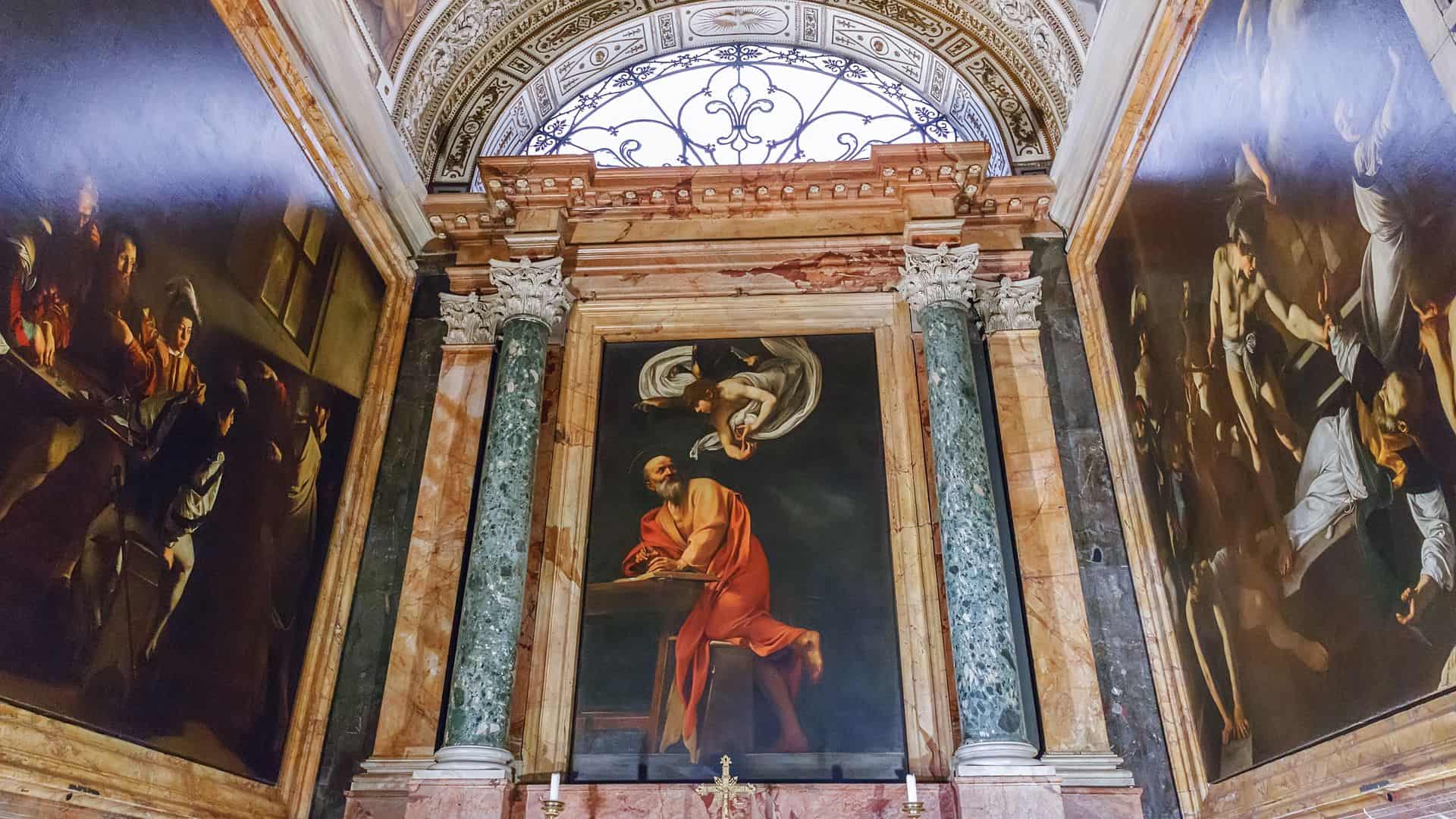 Rome has over 900 churches, and it's virtually impossible to see them all, so it's important to make a well-chosen selection upon your visit to Rome. The Church of St. Louis of the French should definitely be on your list.
While it might just seem like any other church from the outside, it's anything but on the inside. This church is home to an incredible trio of Caravaggio paintings known as the St. Matthew cycle. It's some of Caravaggio's most celebrated work and a fabulous example of his chiaroscuro technique, made all the more dramatic by the setting of the church.
Discover an Architectural Fantasyland – the Quartiere Coppedè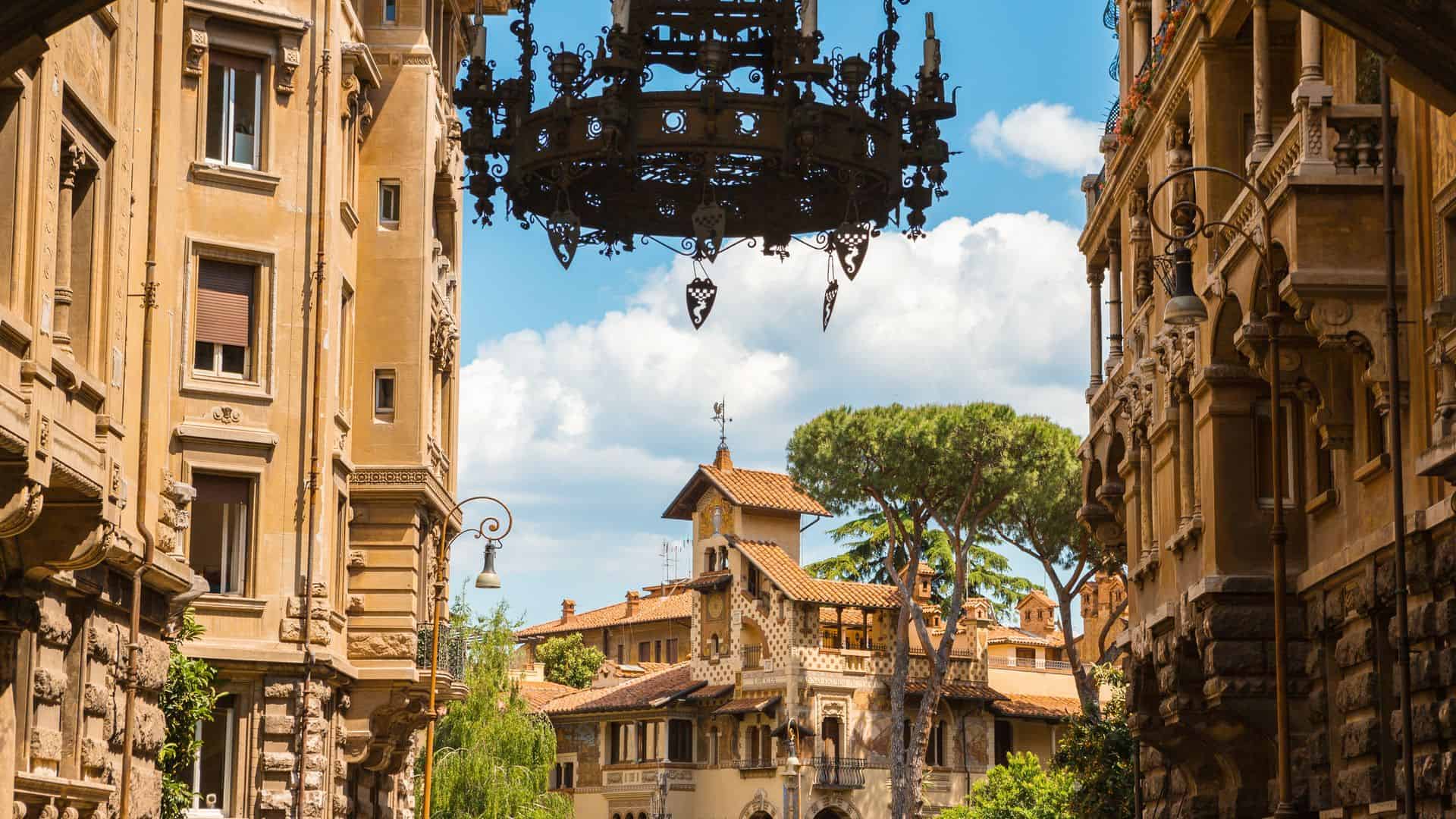 In the northern part of the city lies a fantastical and frankly a bit bizarre area known as the Quartiere Coppedè. This mishmash of architectural styles: Ancient Greek, Baroque, Medieval, Renaissance, and Art Nouveau, was dreamt up by architect Gino Coppedè, who worked on it until his death in 1927.
This whimsical neighborhood is perfect for visitors who want to get off the beaten track. Look out for all the fantastical floral and mythological details that adorn the buildings.
Be Deceived by a Trompe L'oeil at the Church of St. Ignatius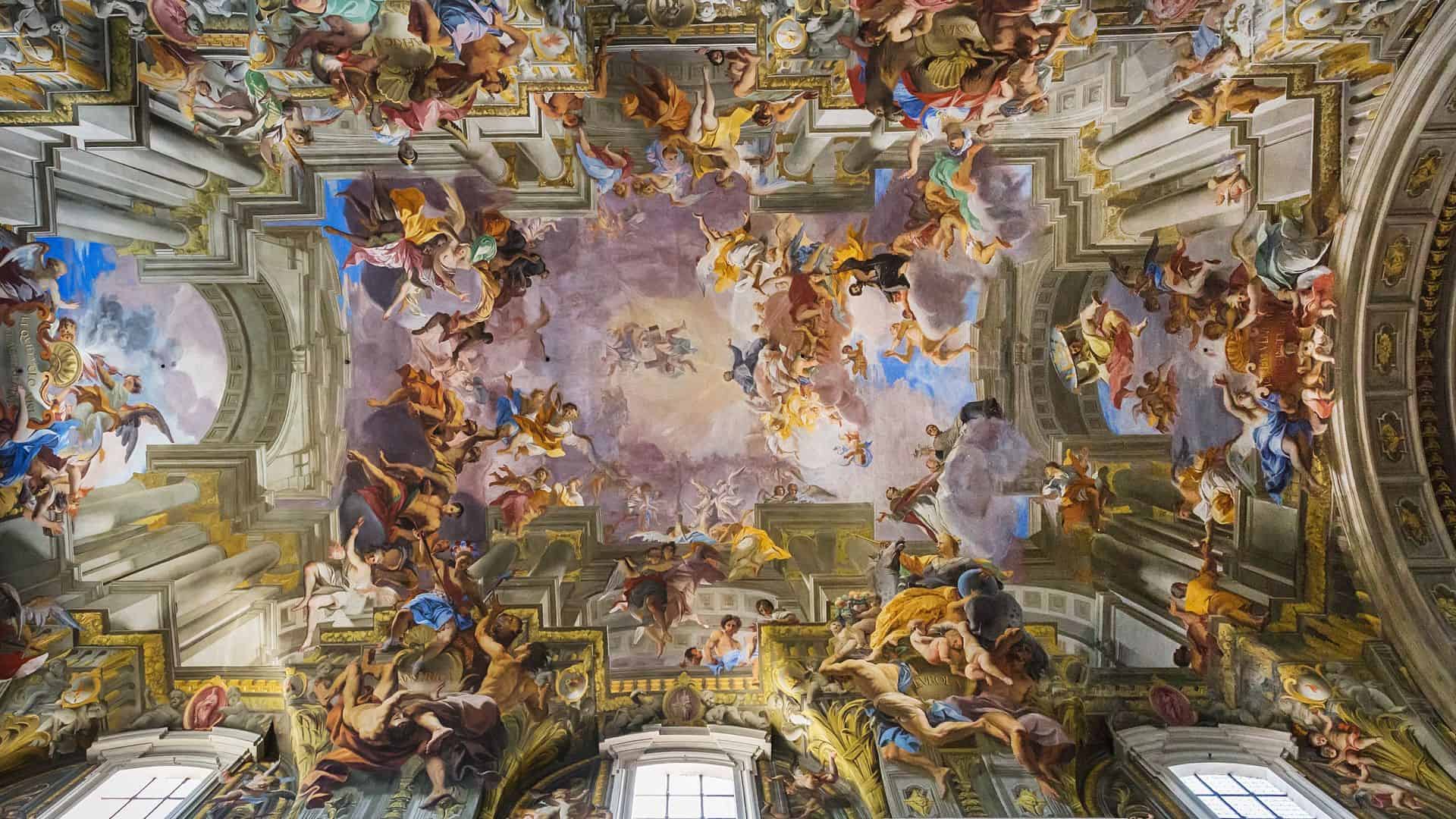 The Church of St. Ignatius of Loyola is one of Rome's most important Jesuit churches and is often visited by pilgrims. But one of its main draws for the more secular visitor is the cleverly-depicted fake dome frescoed by Andrea Pozzo.
Apparently, funds to build an actual dome were lacking, so Pozzo was hired to use his skills to create an illusion of a bigger space. The effect is surprisingly realistic. Use the conveniently-placed mirror to get a better look at the details.
Go Shopping in (Art Nouveau) Style at the Galleria Alberto Sordi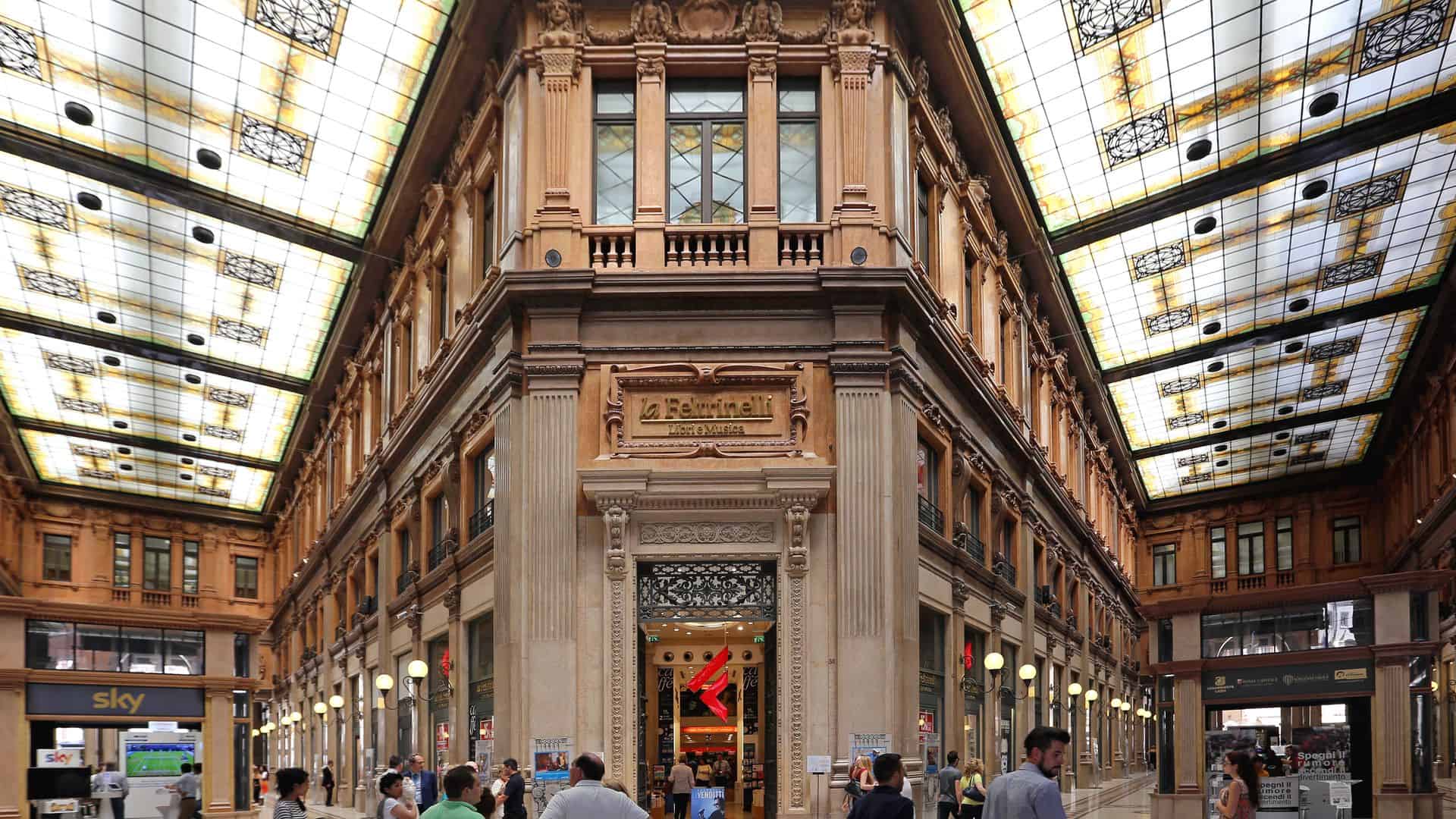 Located on Via del Corso, in the heart of the city center, is the Galleria Alberto Sordi, named after one of Rome's best-loved actors.
This beautiful shopping arcade with its gorgeous glass ceiling is one of the few examples of Art Nouveau architecture in the city center.
Today it's home to around 15 stores, including a famous bookshop and a coffee shop, but it's also just nice to stroll through on your way through the city center.
See Prize-Winning Modern Architecture at MAXXI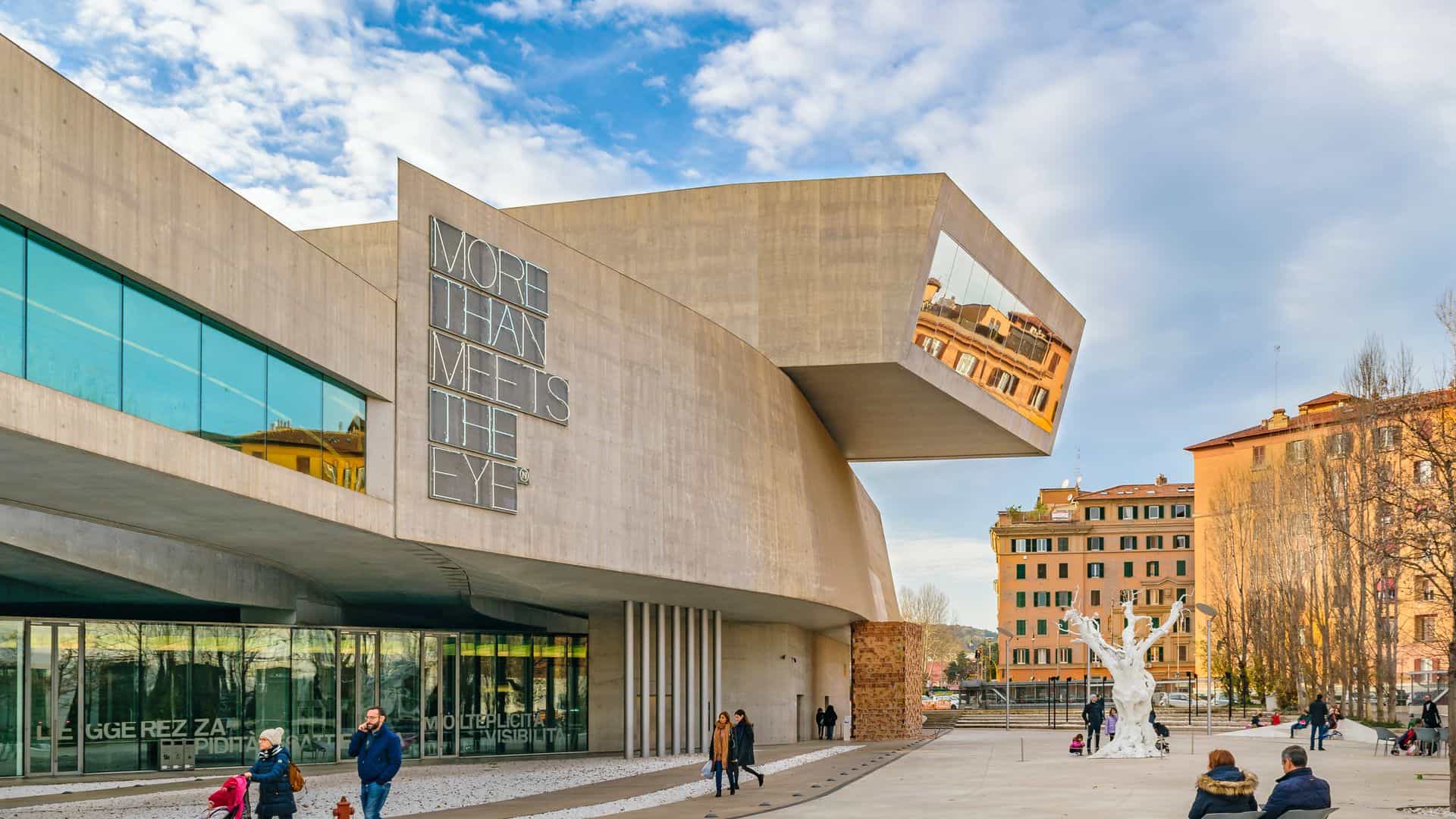 MAXXI is Italy's first national museum of contemporary art and architecture. It's a great place to visit when you need a break from all the ruins, and you want to learn more about Italy's future in art.
One of the main draws, however, is the architecture of the museum itself. Designed by Zaha Hadid in 2010, this prize-winning building manages to hold its own among all of Rome's ancient monuments.
Admire a Cute Elephant at Piazza della Minerva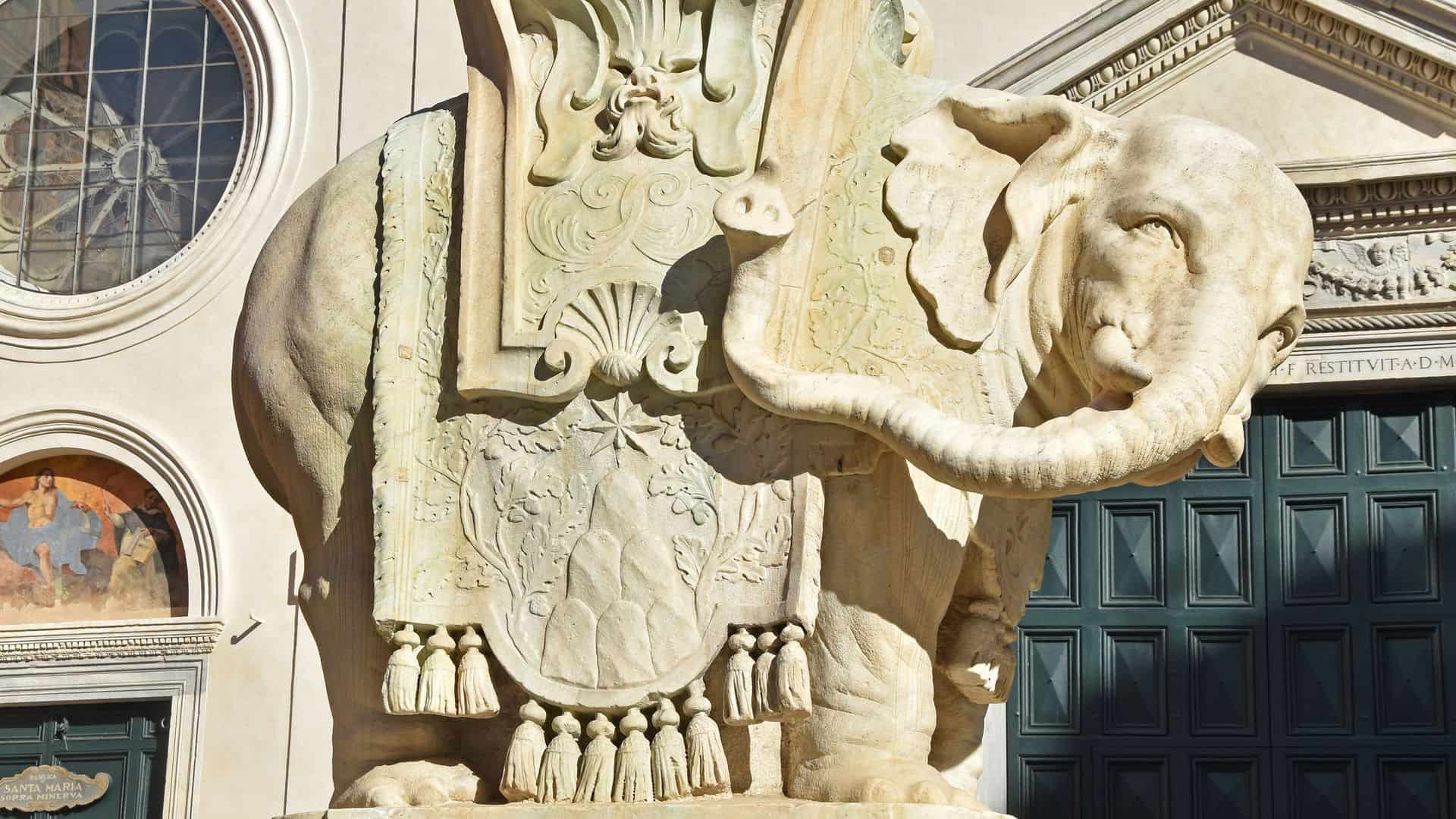 Right behind the Pantheon is a small and mostly-ignored square known as Piazza della Minerva. There are two reasons why you should pay it a visit.
One is to see the adorable sculpture of a little elephant holding an obelisk, designed by none other than Bernini. The other reason is to check out the star-studded ceiling of the church of Santa Maria sotto Minerva located on the piazza. It's different from many other church ceilings.
Visit the Tomb of Rome's First Emperor at the Mausoleum of Augustus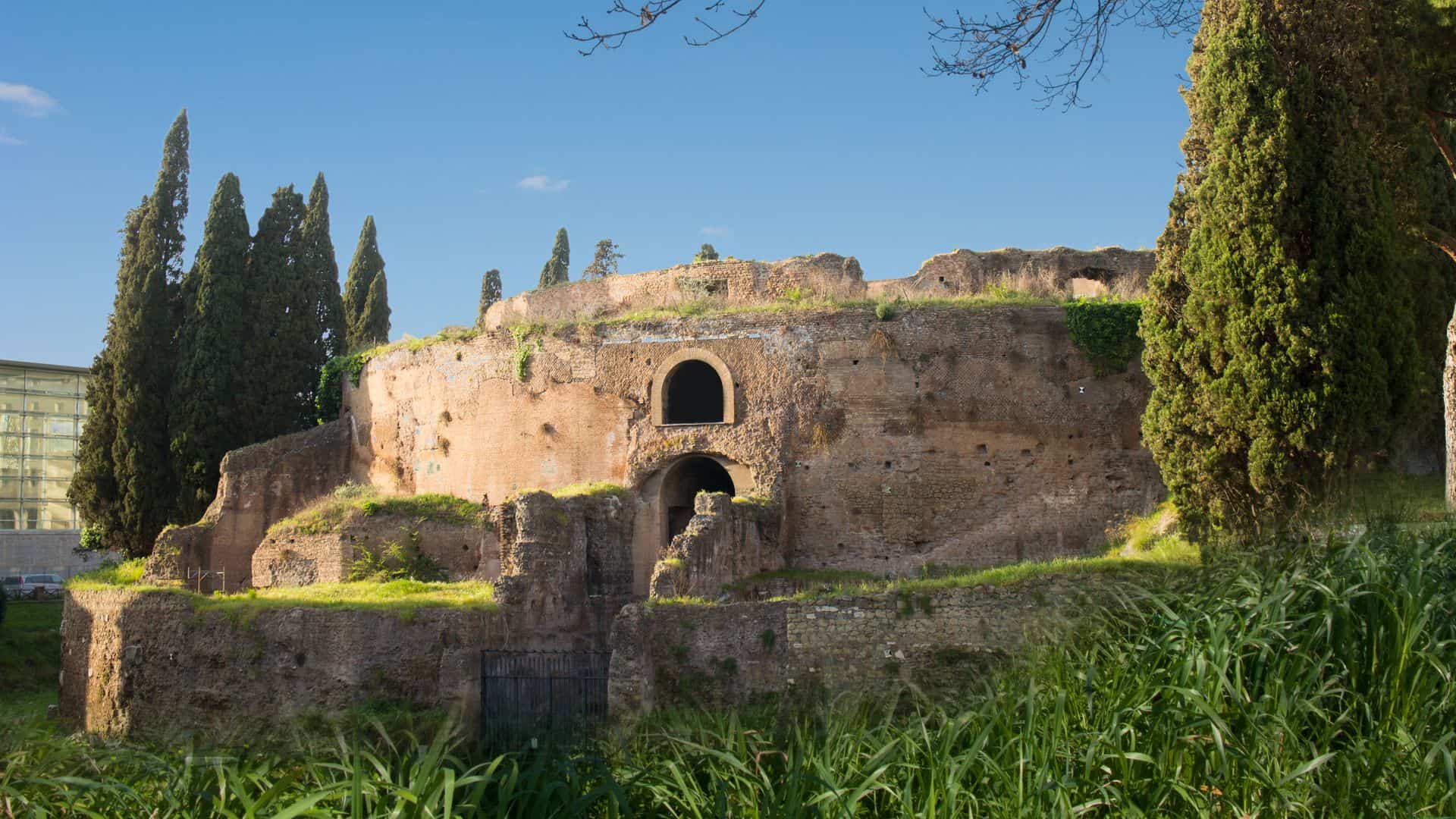 Back in March 2021, after 14 years of closure, Emperor Augustus' Mausoleum had finally been reopened to the public.
Now, visitors get a chance to explore the burial ground of Rome's first emperor in the largest circular tomb in the world and learn all about the history behind this fascinating structure.
Eat Breakfast Italian Style at Your Local 'Bar'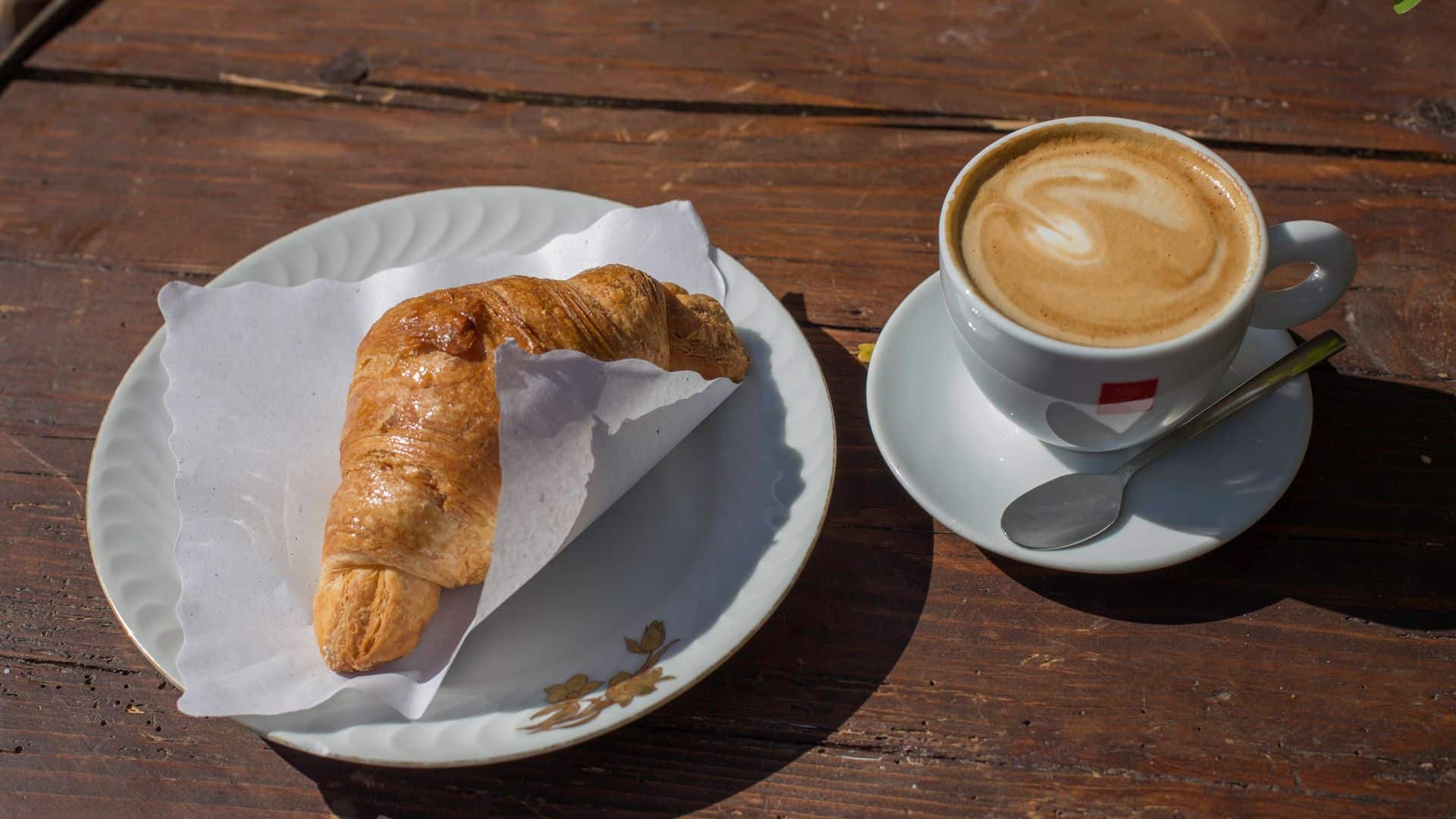 If you want to enjoy colazione (breakfast) as an Italian would, head down to your nearest local cafe, which Italians call bars, and order a cappuccino and a cornetto (croissant) standing up at the counter.
Not only will you pay less than if you got table service, but you might even be mistaken for a local. Just remember not to order a cappuccino after midday, as Italians believe you'll get indigestion from the milk when it's later in the day. Only 'caffès' after twelve, and whatever you do, don't call it an espresso.
Party in San Lorenzo, Rome's Student District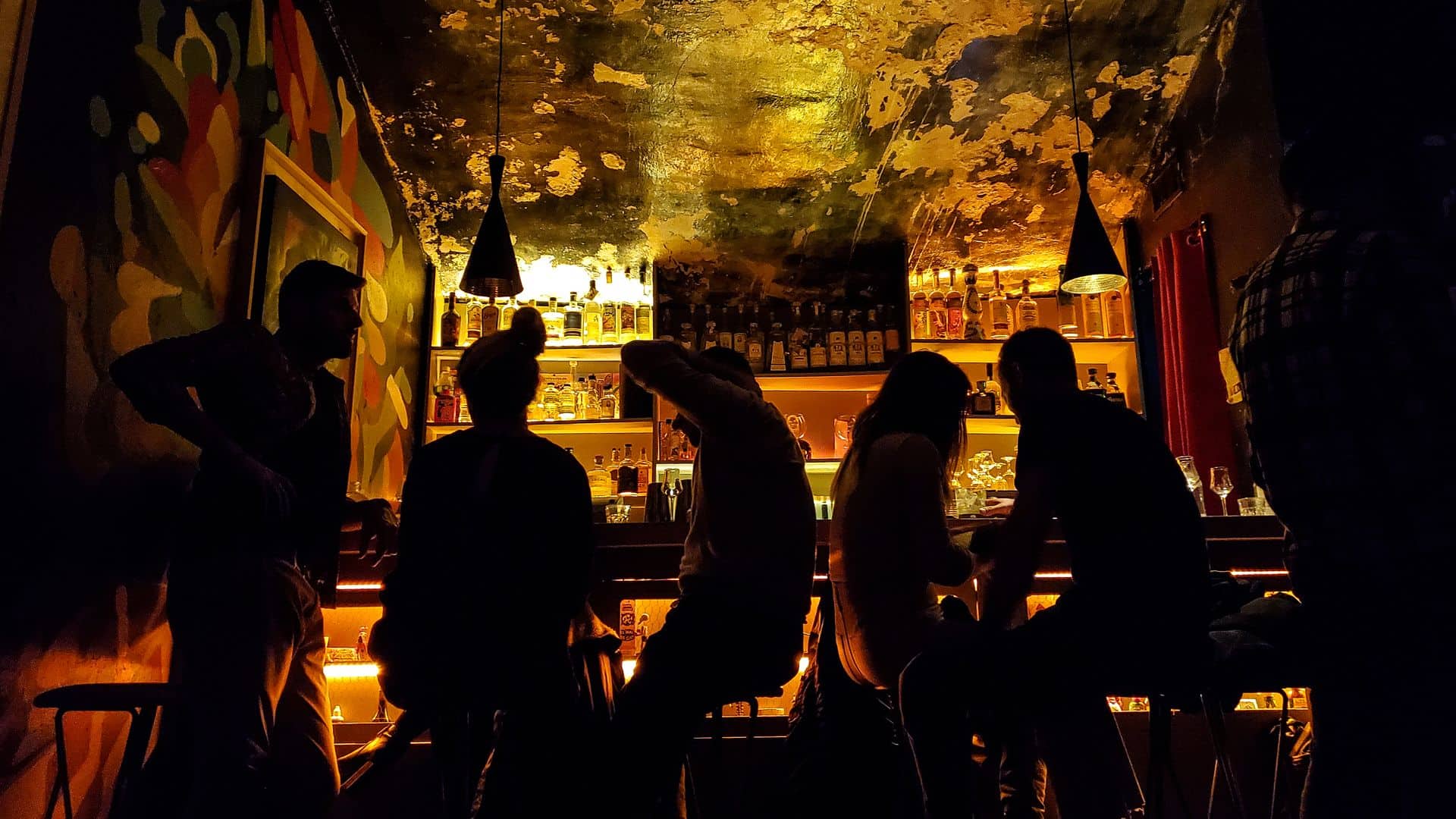 Once upon a time, the district of San Lorenzo was largely snubbed in favor of more tourist-friendly districts, but nowadays, it's considered an up-and-coming neighborhood thanks to its bohemian vibe and thriving student population.
Head there in the evening to check out the street art and grab a drink in one of the many new bars popping up.
Visit Livia's Garden at Palazzo Massimo
One of my favorite hidden gems in Rome is Livia's paradisiacal garden, a delightfully frescoed room discovered in Emperor Augustus' wife's house, the Villa of Livia, in 1863. Now it can be found in a purpose-built room at the Palazzo Massimo.
The walls were frescoed in the years 30-20 BCE, but the Eden-like scene it depicts is still vivid to this day. Gazing at the lush garden filled with ripe trees and delicate birds feels like stepping into a dream, one shared with a Roman empress over 2000 years ago.
See a Unique Floor Plan at Santo Stefano Rotondo al Celio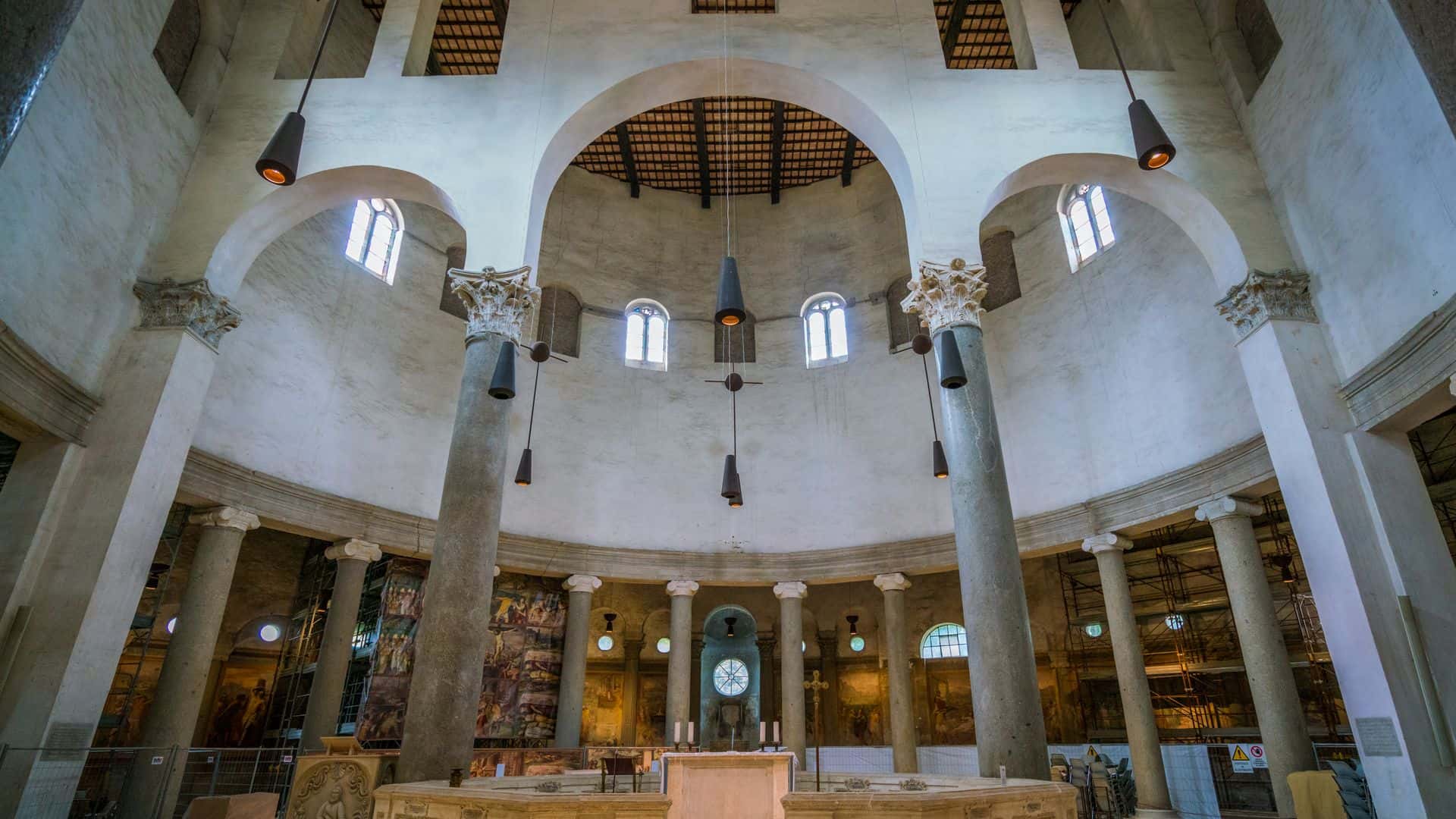 This round church, constructed in 483, was the first in Rome to have a circular plan. In the 15th century, the church came under the care of the Pauline Father, a Catholic order founded by Hungarians, and today the church is considered Hungary's national church in Rome.
What makes it special is its unique round form, a shape often used when constructing Roman mausoleums. It's said that the famous architect Leon Battista Alberti himself helped restore it. Architectural buffs will be delighted by this hidden gem.
Savor an Italian Coffee at Antigua Tazza D'Oro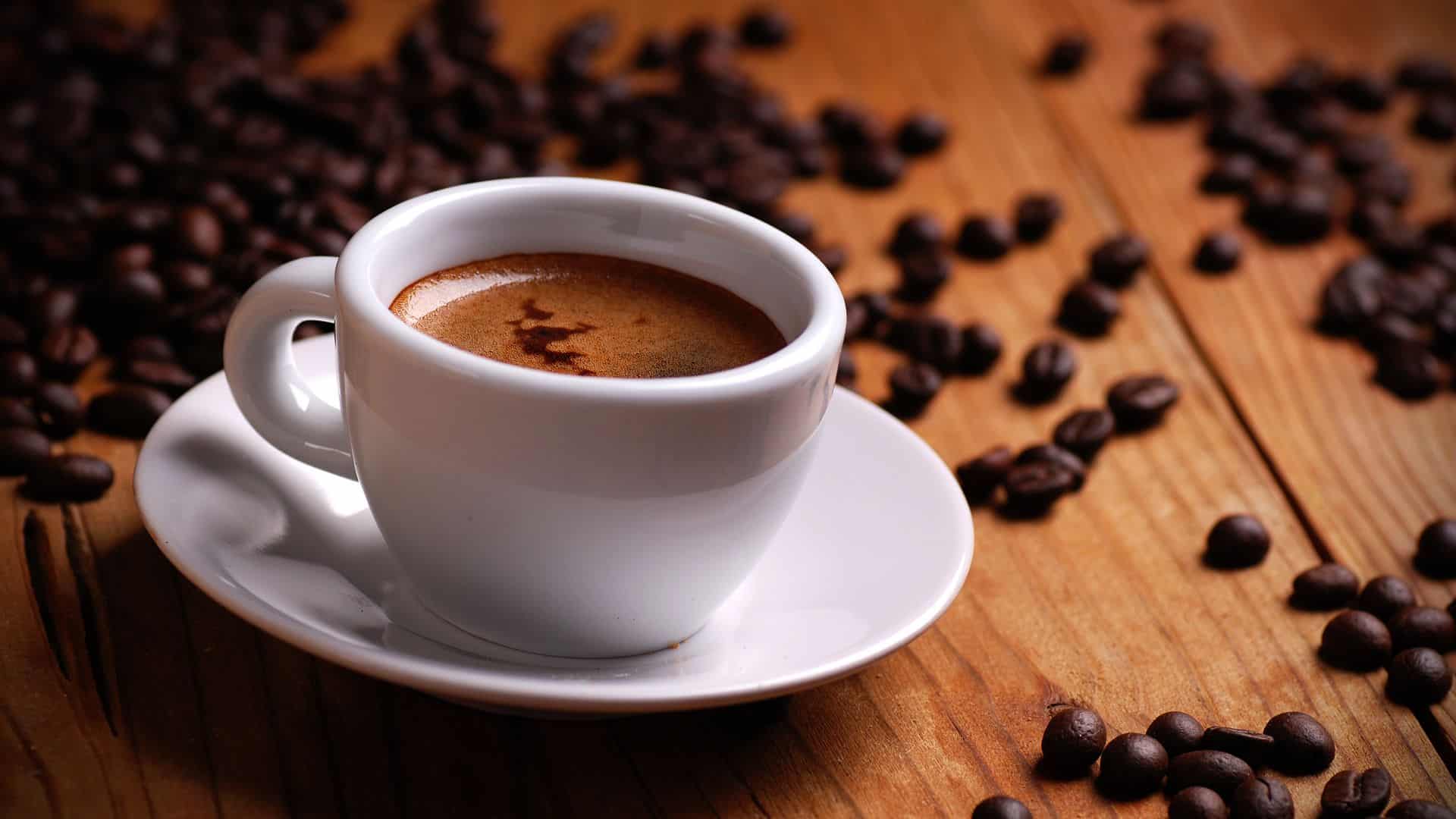 Located just a stone's throw away from the Pantheon, La Casa del Caffè Tazza D'Oro is one of Rome's favorite cafès. Loved by tourists and locals alike for its cheap and delicious coffee, it's the only craft antique coffee company located in the historic center.
Try their famous granita di caffè, an iced coffee with whipped cream on top perfect for the summer months. Otherwise, just ask for a caffè and have it standing at the bar before heading back into sightseeing.
Bike or Stroll Along the Appian Way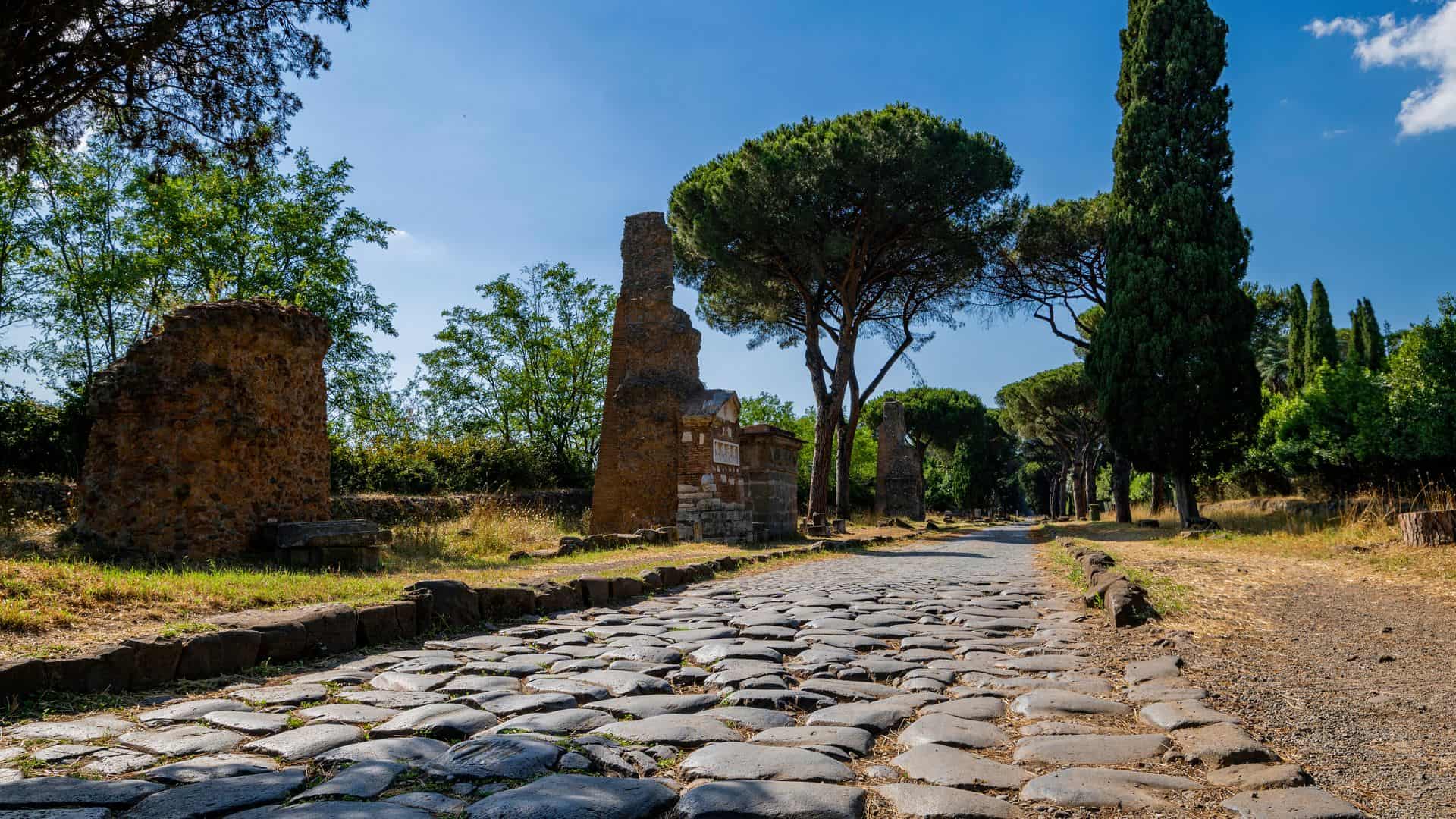 Via Appia Antica, or the Appian Way, is one of the oldest and most strategically important roads to the ancient Roman Republic. It used to connect Rome all the way to Brindisi, located in the heel of Italy.
Today, it's one of the most beautiful roads to walk or bike along, traversing idyllic landscapes and ancient catacombs. Some stretches of the road even have ancient paving stones with visible carriage tracks.
Galleria Sciarra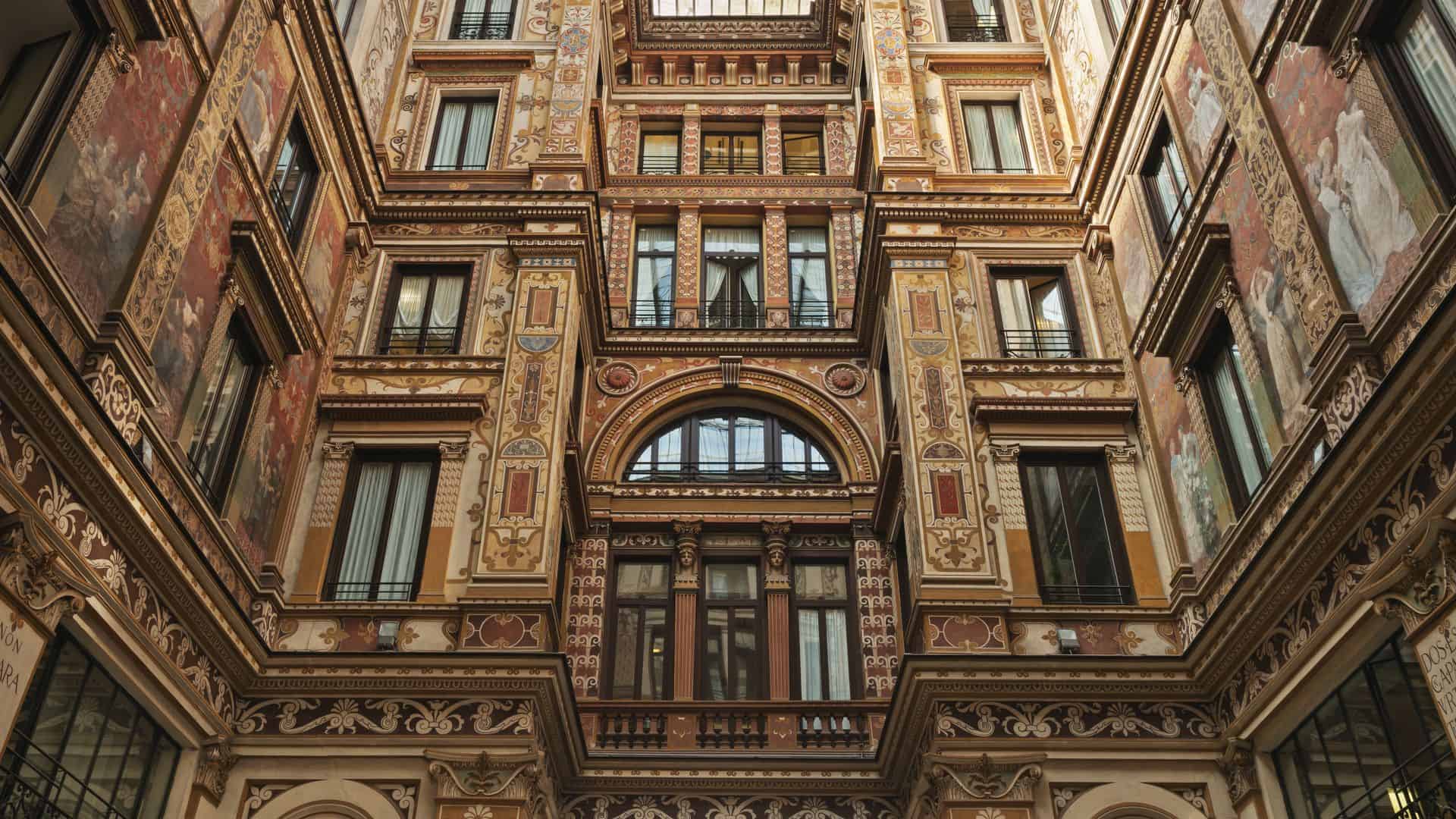 Located just a few steps away from the Trevi fountain, this hidden Art Nouveau courtyard contains opulent frescoes and a glass and iron ceiling that will transport you right back to the turn of the 20th century.
Built for the wealthy Sciarra family, the elegant floral designs and the colorful frescoes of women in various phases of life, which make this building so different from the surrounding ones, are well worth a quick visit.
Catch a Game at the Stadio Olimpico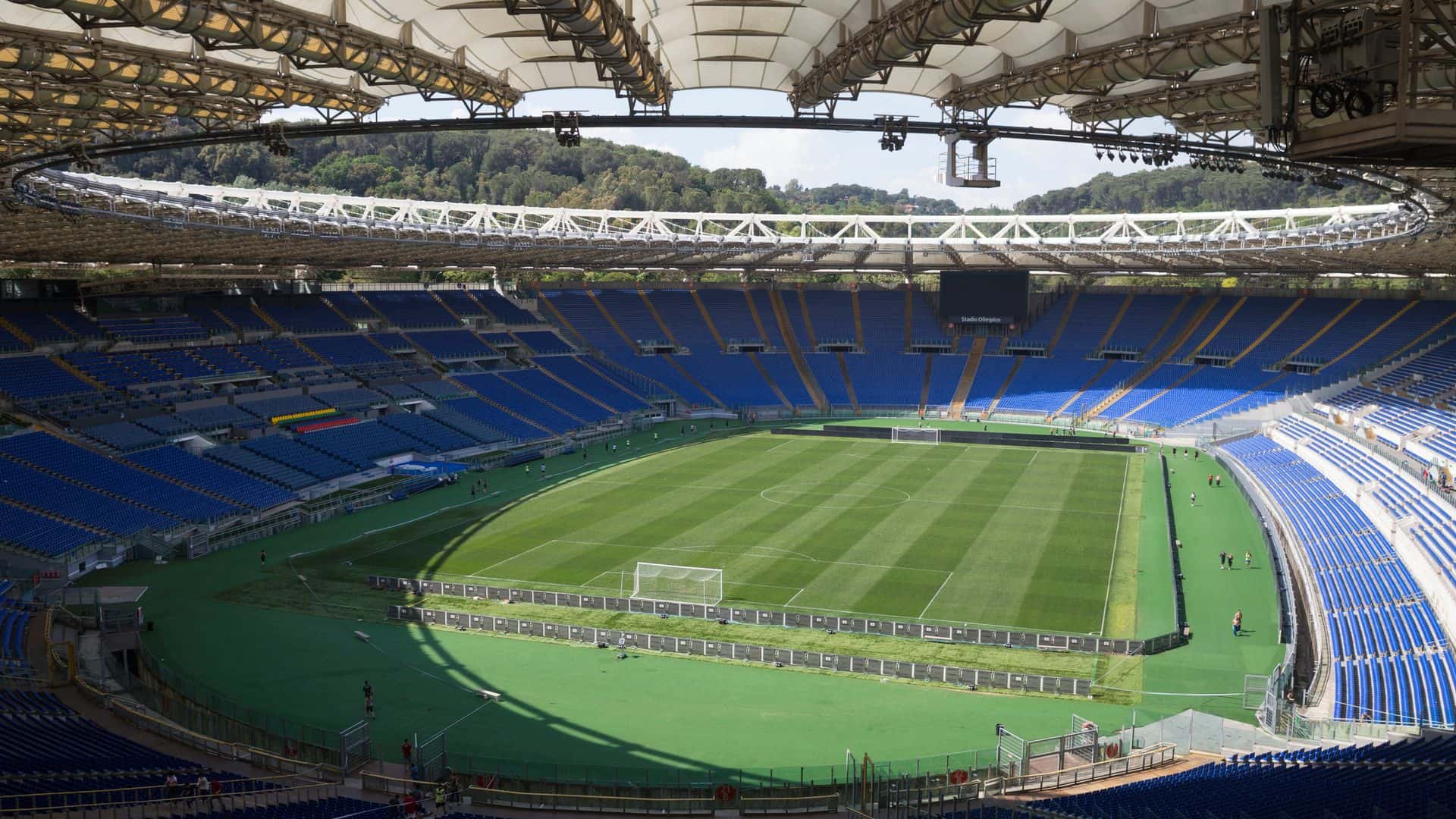 With seating for over 70,000 people, Stadio Olimpico is the largest sports facility in Rome. Called the Olympic Stadium because it hosted the opening and closing ceremonies of the 1960 Summer Olympics, the stadium is now mostly known for being the home stadium of the Roma and Lazio football clubs.
For any football fan, watching a game at the Stadio Olimpico makes for a perfect break in between sightseeing.
Take Part in an Italian Tradition: The Aperitivo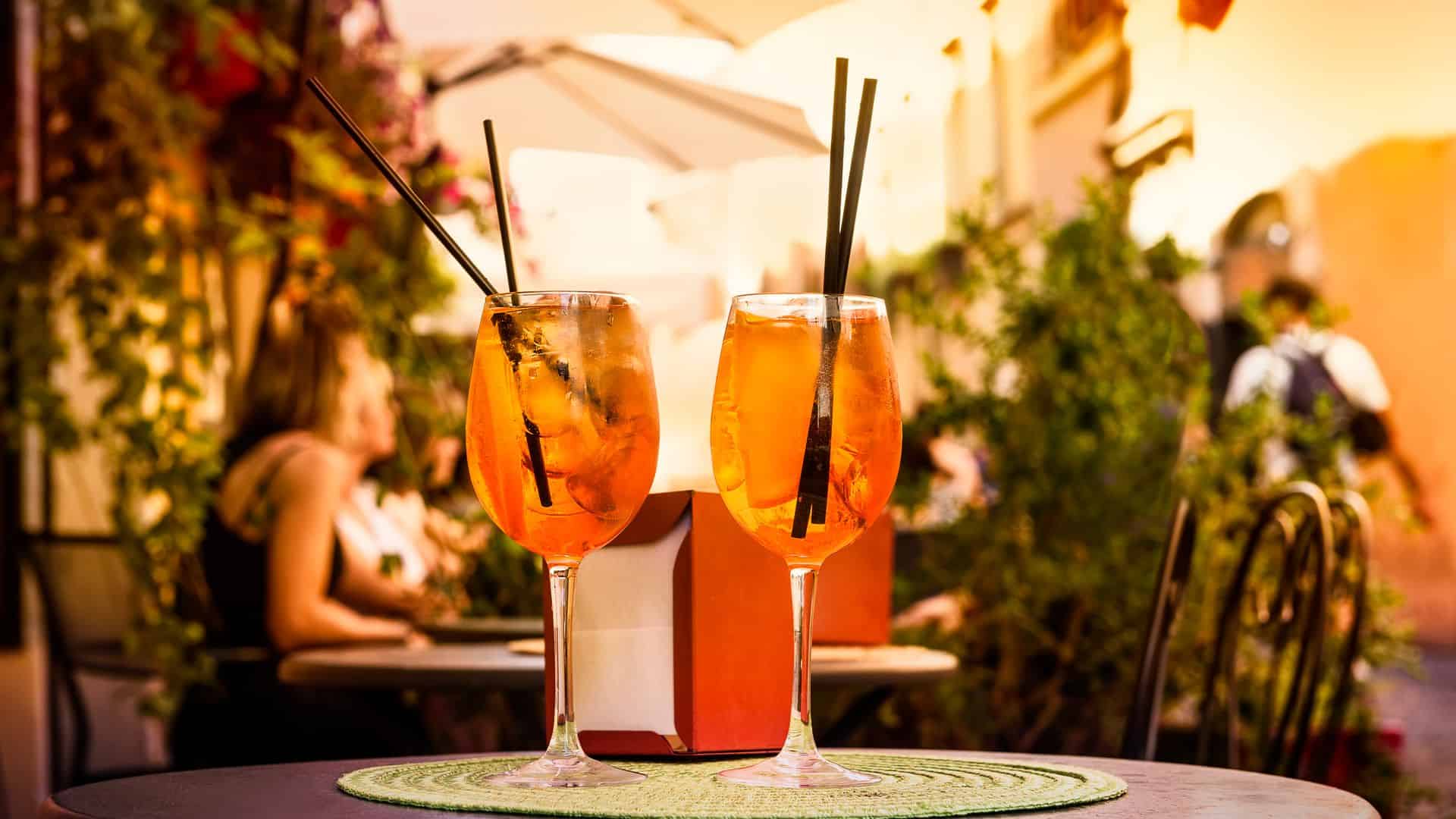 It's common knowledge that Italians love to eat… and that they love to eat late. For some visitors accustomed to a different schedule, this could mean waiting a long time before the restaurants open.
The solution is to partake in one of Italy's favorite traditions: the aperitivo. Designed to whet your appetite before dinner, the aperitivo is a pre-meal drink (think negroni) and snack that occurs between 6 and 8 after the working day has ended.
You know what they say: "When in Rome, do as the Romans do."
Insider tip: Check out Freni e Frizioni in Trastevere for one of the best aperitivos in Rome.
Go for a Passeggiata along the Tiber River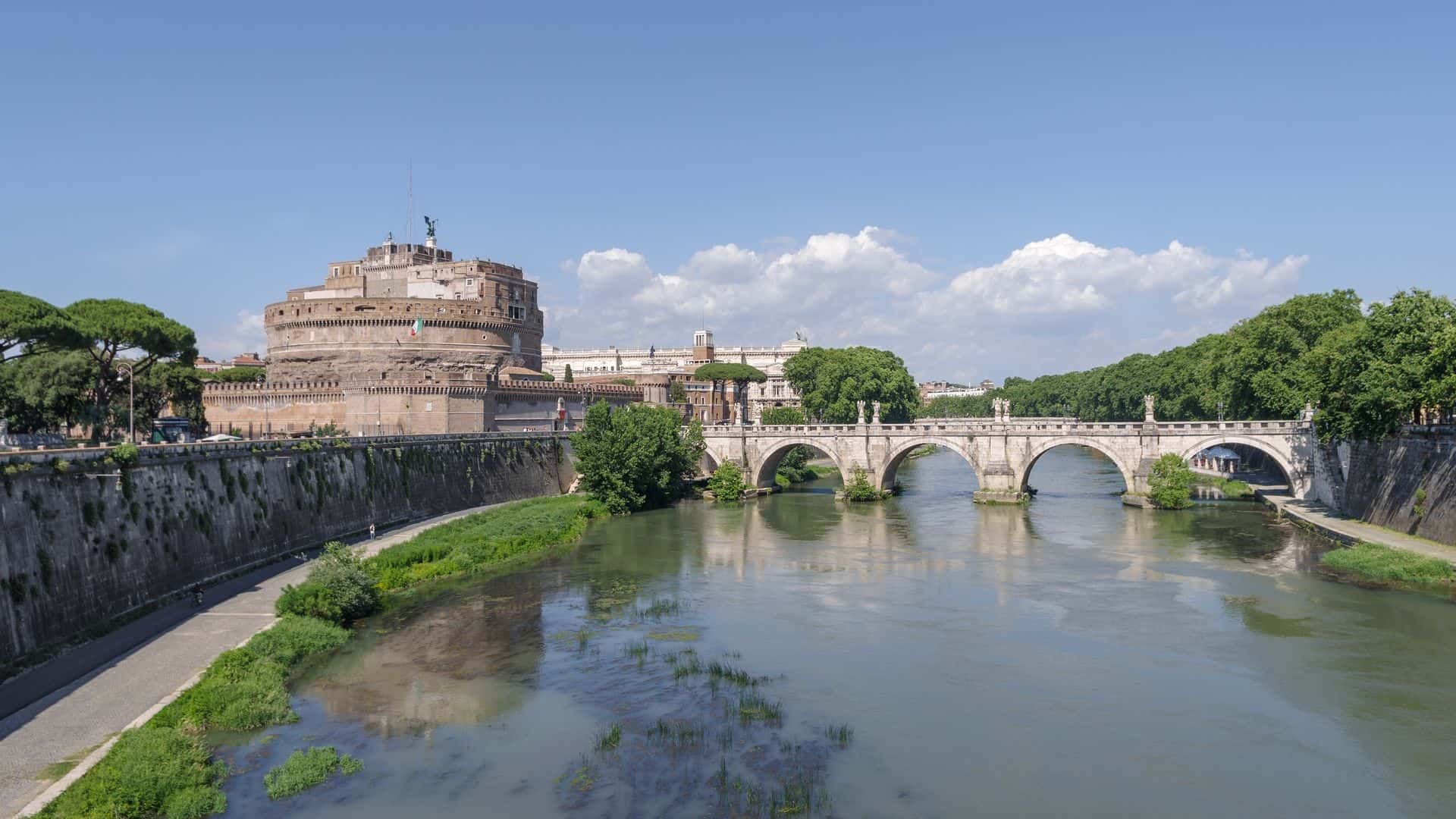 Take part in the Italian rite known as the passeggiata a leisurely stroll usually taken after meals. But, instead of walking through town, why not head down to the banks of river Tiber at sunset and take in the view?
The Tiber banks are a favorite of joggers and cyclists, but it's also just a wonderful and usually quiet area to stroll. The stretch between Tiber Island and Castel Sant'Angelo is a favorite.
Get off the Beaten track in Garbatella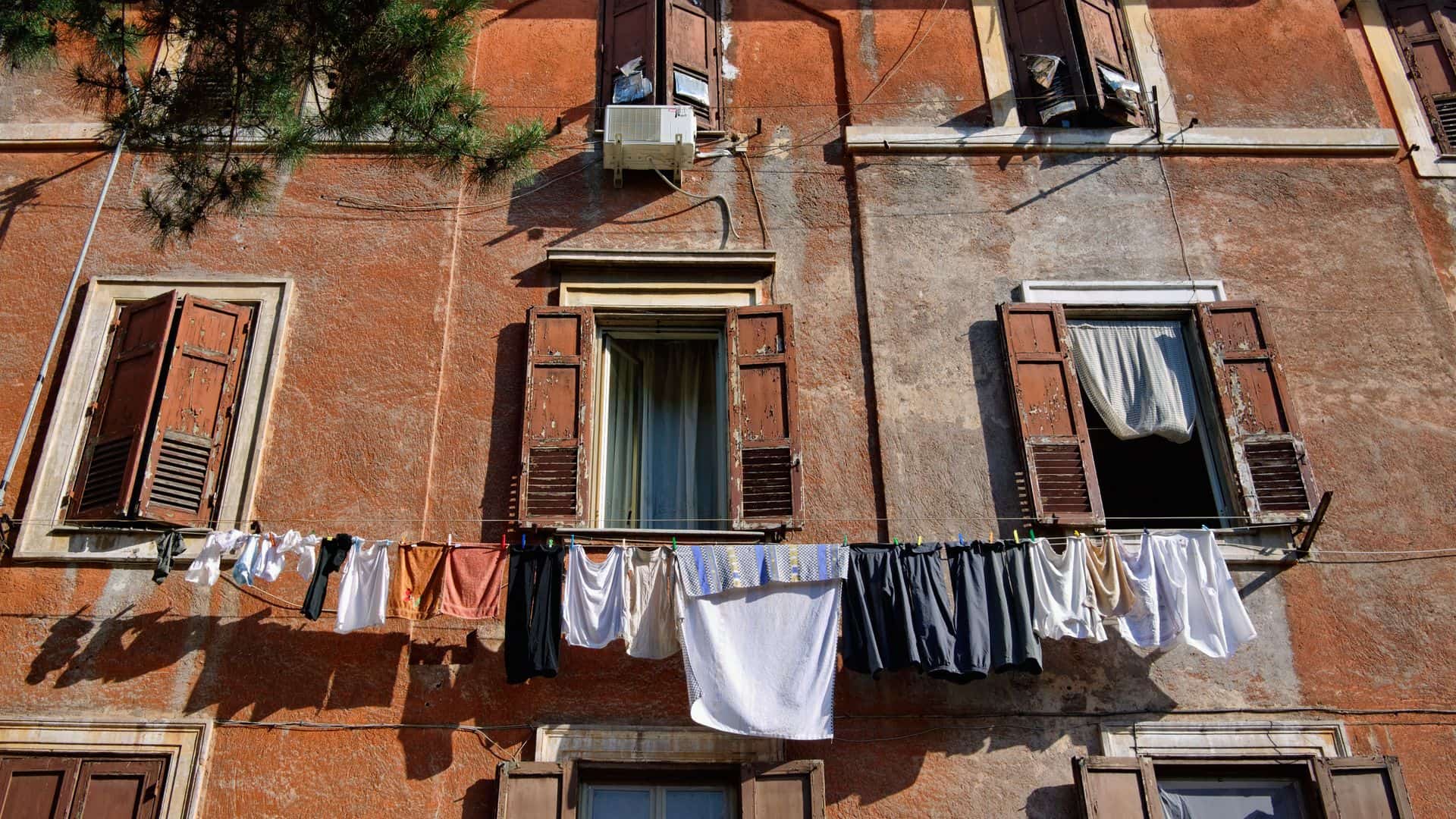 Often overlooked by tourists, Garbatella is younger and quite different from other Roman neighborhoods. Established in 1920 as part of a planned community for workers, it was modeled on the garden city suburbs popular in England at the time.
Walking around Garbatella's serene green spaces and brightly colored streets gives you the opportunity to see a completely different side of Rome.
Spend a Night out in Edgy Pigneto
Often compared to Brooklyn or Shoreditch, Pigneto is fastly becoming Rome's coolest area to get a drink, listen to live music, or simply just hang out.
Located behind Termini train station, Pigneto was once considered a little rough around the edges, but it's now known for its alternative and edgy vibe. Head there for things to do in Rome at night or when you want to grab a cheap drink and party with the locals.
Leave the City Center to see St. Paul Outside the Walls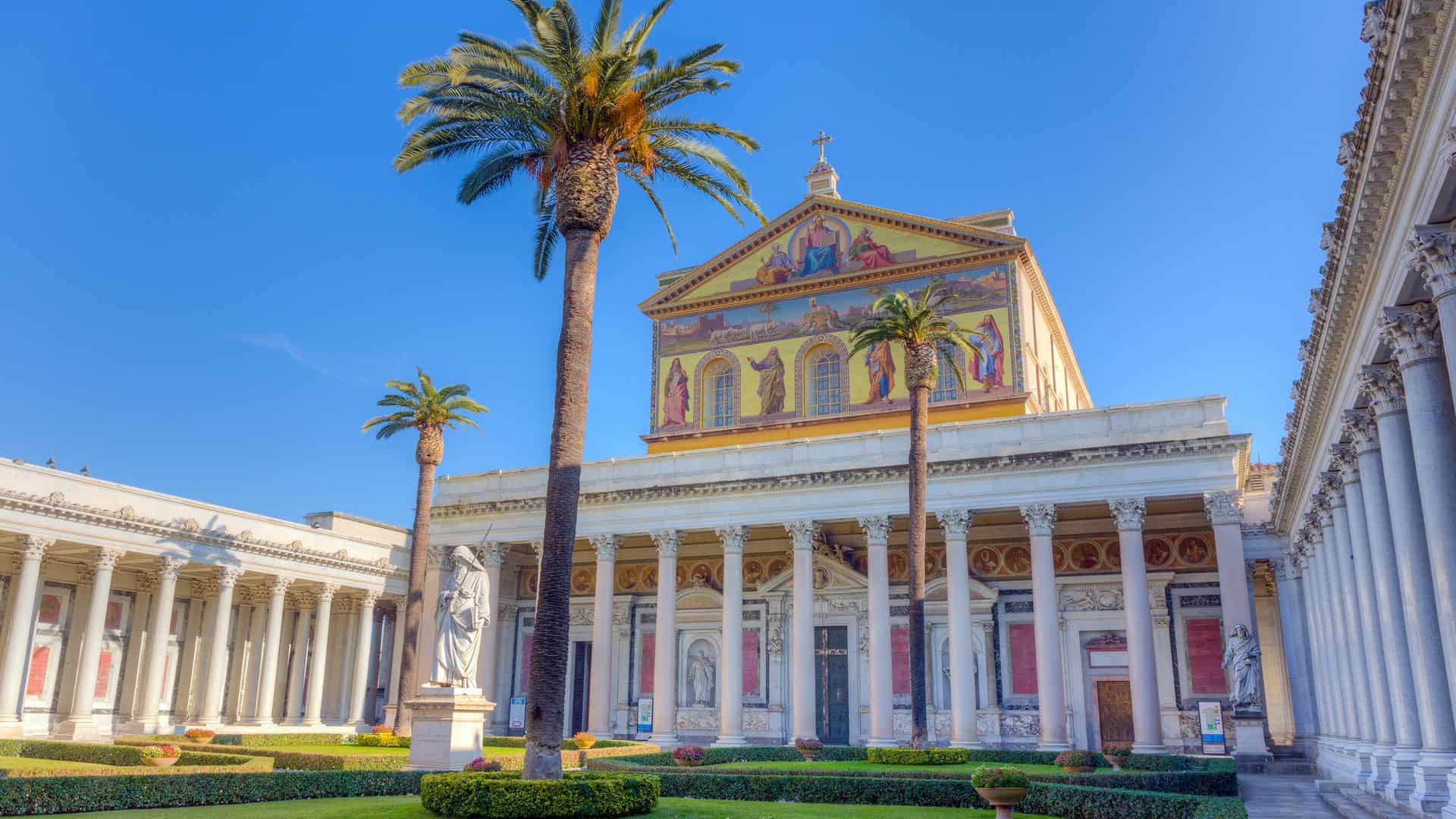 The Basilica of St. Paul Outside the Walls is often passed over by tourists because of its location far outside the historic center, but missing out on this magnificent basilica would be a mistake.
Founded on the burial ground of St. Paul, it's one of the four major papal basilicas in Rome and the second largest after St. Peters. The beautiful golden mosaics alone are worth leaving the city center for.
Eat a Gelato (Fatamorgana)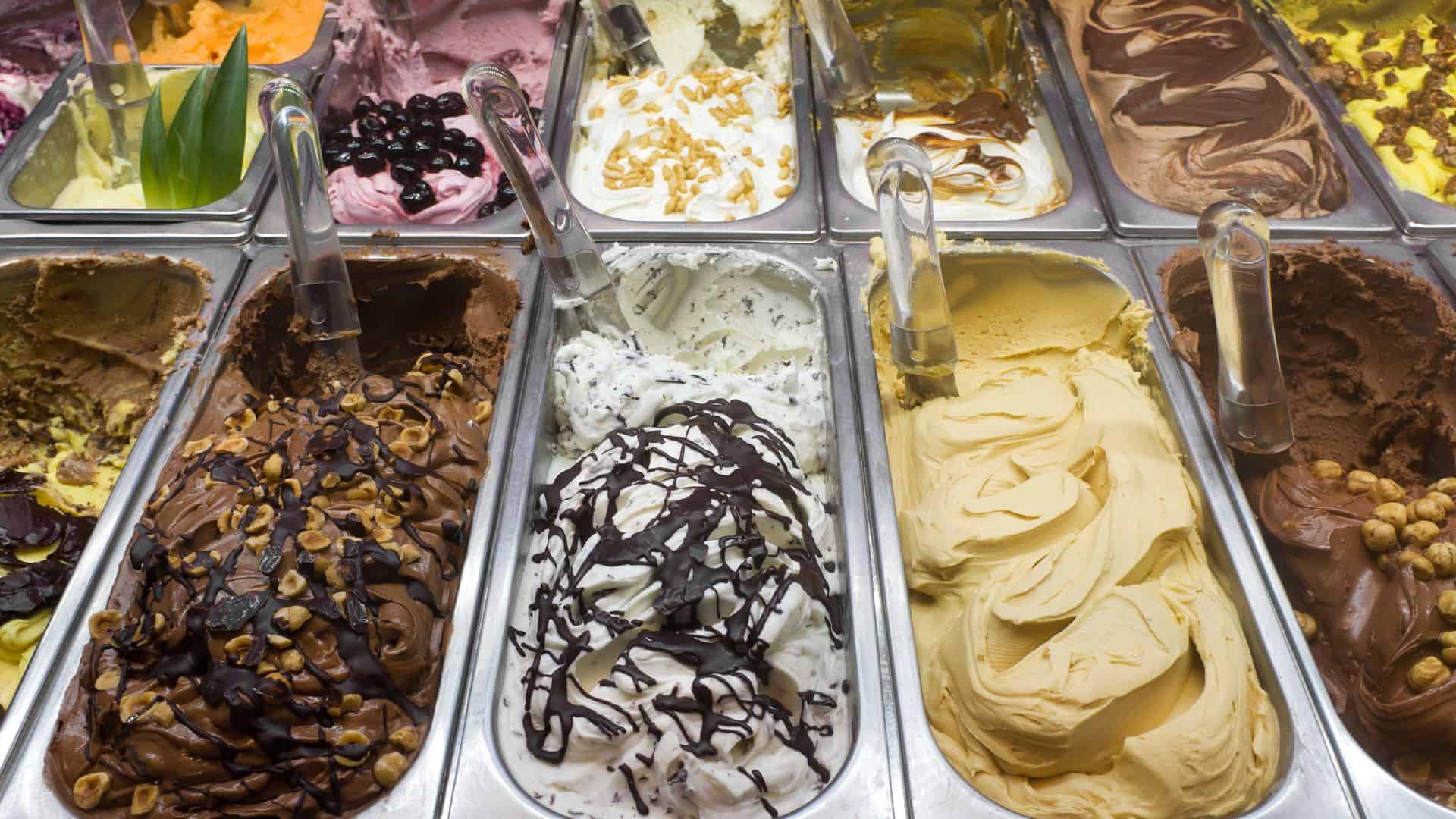 Ge-la-to. Is any other combination of syllables so beautiful?
Whether you're looking for something more traditional (Giolitti) or want to taste something more avant-garde (Fatamorgana), there's something for everyone.
But everyone has a different opinion on what's the best gelateria in Rome, so the only possible solution to finding your favorite is to eat as much gelato as possible as many times a day as possible. Trust me, you won't regret it.
Break up Your Roman Holiday With a Day-Trip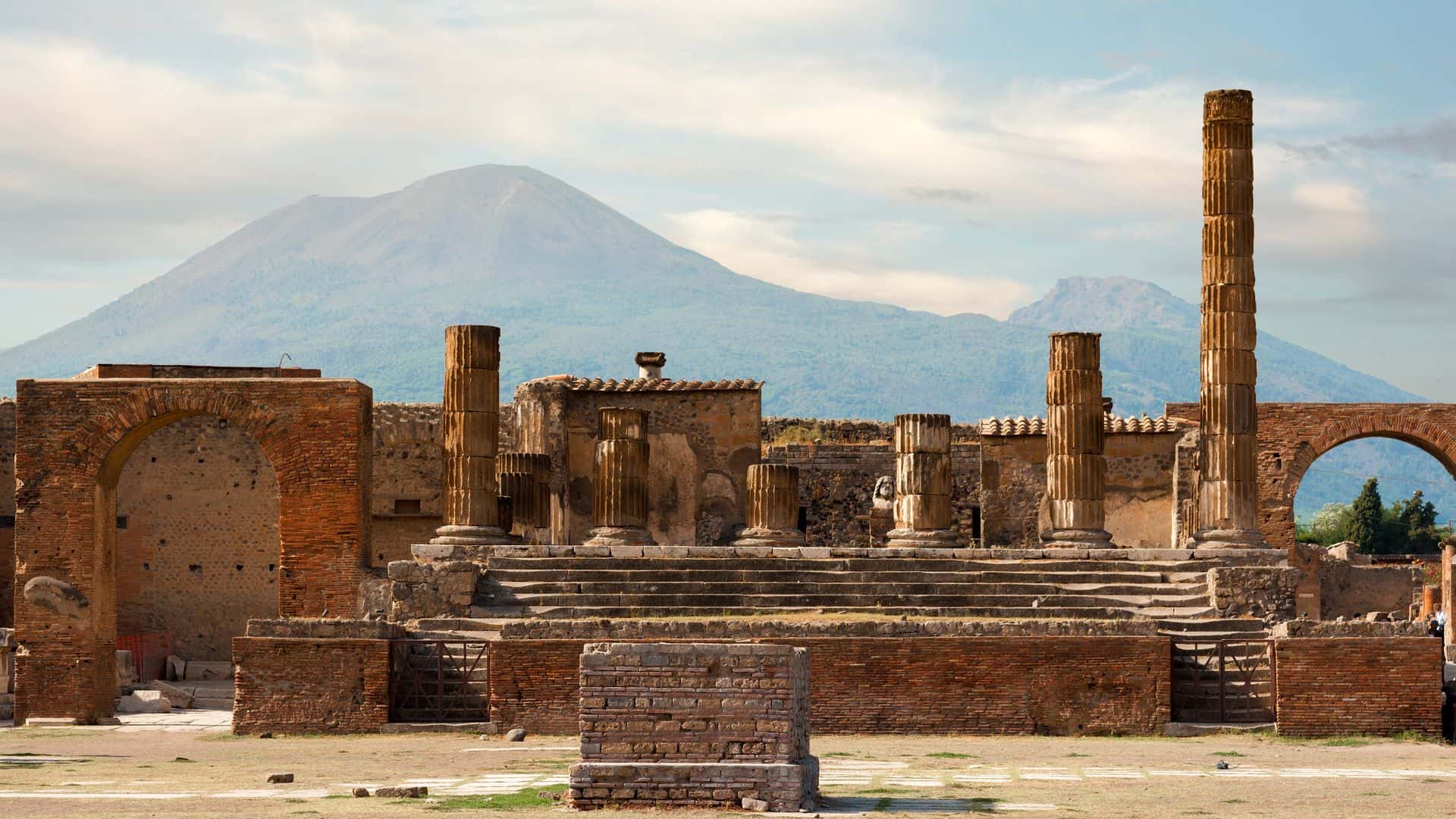 One of the greatest things about Rome is its close proximity to so many other outstanding places. If you want to take a brief trip outside of Rome, the options are endless.
Head to Pompeii to see an archeological site; Florence for a Renaissance city; Bolsena to spend a day at a lake. Or simply close your eyes and point your finger at the map at random, you're bound to end up somewhere spectacular.
And Lastly, Throw Away This List and Follow Your Feet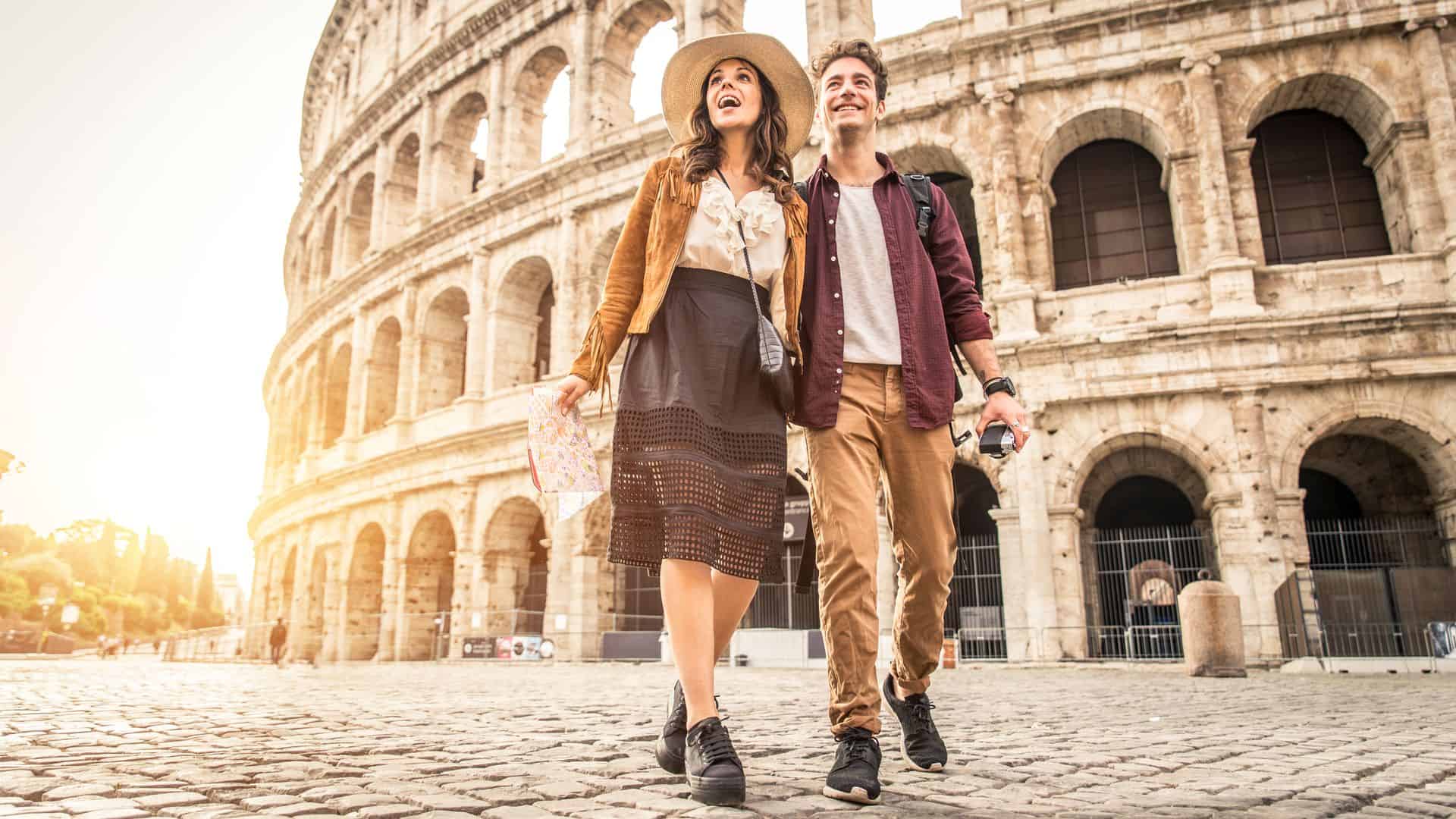 Rome has been standing for over 2,000 years, and it is still evolving today. No matter how many times you go there, there will always be something new to discover. It's impossible for one list, to sum up all the beauty and wonder that makes up Rome – you just need to see it for yourself.
So, close your guidebook, put away your phone, and let your feet guide you and explore memorable things to do in Rome. Peek inside every open doorway you pass and wander down every cobblestoned side street. And remember to drink it all in.
Happy exploring.