Rome, the Eternal City, isn't just renowned for its historic coliseums, breathtaking basilicas, and delectable gelatos. Tucked within its ancient alleys and bustling squares lies a lesser-known treasure trove: a vibrant second-hand fashion scene.
From the iconic American brands that have made their mark globally to the nostalgic allure of bygone Italian grandmothers' wardrobes, Rome promises a shopping experience as rich and diverse as its storied past.
Join us as we journey through the city's top vintage destinations, offering a glimpse into fashion eras that still resonate with today's trends. Whether you're a dedicated fashionista or a curious traveler, these shops in Rome guarantee a shopping adventure like no other.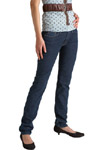 L'Usato
Address: Piazza Campo Dei Fiori, 14
This secondhand shop stocks all three of the legendary American brands, namely Levi's, Lee, and Wrangler.
Seconda Mano
Address: Via del Governo Vecchio, 85, Rome
The smartest of the second-hand clothes shops. A sewing machine in the corner tells you that clothes here are often altered, too, probably to give the clothes more of a contemporary look.
Seconda Mano (2nd)
Address: Via della Lungara, 14, Rome
Despite having the same name (as above), this shop has a totally different atmosphere. It sells all shorts, some genuine goods, stripy shirts, polo shirts with no labels, collarless shirts, and much more.
Sempre Verde
Address: Via del Governo Vecchio, 26, Rome
The window is cracked, the door is broken, and dummies have their heads covered in sheets of newspaper… but not to worry. It's all part of the effect in this 'shabby-chic' shop.
Abiti Usati
Address: Via del Governo Vecchio, 35, Rome
This is the queen of all the second-hand clothes shops. Among the mountains of clothes from all eras and from who knows where, you might find if you have time, the perfect 1960s mini-skirt, but be prepared to rummage.
Mado
Address: Via del Governo Vecchio, 89A, Rome
This is the place to come to find out about fashion in the 1930s. With a cosy bygone decor, this shop sells the clothes and accessories that today's Italian grandmothers might have worn back in their day.
Discount Alta Moda
Address: Via gesu e Maria, 16, Rome
Here you will find bags by designers Gucci and Chanel, as well as Venturi- who is much appreciated by all fashionable Roman ladies.