he striking square and its imposing colonnade lead to the greatest basilica of the Christian world: St Peter's Basilica (Basilica San Pietro).
It also represents the core of the Vatican City, the smallest state in the world.
In the origins, the square used to be the place where Nerone Circus and Gardens where located, and where many Christians, including Saint Peter, suffered from martyrdom.
In the centre of the square stands out an Egyptian obelisk (without hieroglyphics and built during the Ramsete II dynasty) brought to Rome by Emperor Caligola in 37 b.C.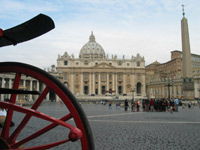 Out of curiosity:
during the Middle Age people believed that Julius Cesar ashes were preserved in the bronze globe on top of the obelisk. The first architect who had worked on the basilica was Maderno, and later (in 1656) Gian Lorenzo Bernini took his role and the construction of the elliptical colonnade started:
The colonnade is composed of 284 columns and 88 pillars in a quadruple row, an impressive work to symbolise, according to the artist, the 'gathering of Christianity'.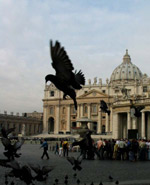 If you look at the colonnade from a precise point of the St Peter's square (close to the obelisk, indicated by a stone) you get the impression seeing just one row of columns instead of four, this is a very particular optical illusion.
In 1936 the architects M. Piacentini and A. Spaccarelli started the construction of via della Conciliazione in order to grant to the square a symmetric and monumental entrance; but this caused the destruction of the old Medieval village and of its typical narrow streets, a choice that aroused bitter controversy.

---
How to get there: Metro line A ­ stop 'Ottaviano'.