The Trevi fountain, inspired by Roman triumphal arches, is the largest and most famous Baroque fountain in Rome (standing 25.9 meters high and 19.8 meters wide).
In 1629, Pope Urban VIII, asked Bernini to sketch possible renovations of the fountain, finding it insufficiently theatrical. After the Pope's death the project was abandoned. Bernini's lasting contribution was to situate the fountain from the other side of the square to face the Quirinal Palace (so that the Pope could see and enjoy it).
The Trevi Fountain as we know it today, was designed by Nicola Salvi in 1732 and competed in 1762.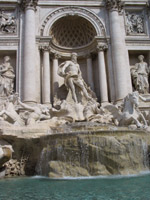 The central figures of the fountain are Neptun (God of the sea), flanked by two Tritons. One struggles to master a veru unruly "sea horse", the other lead a far more docile animal. These symbolize the two contrasting moods of the sea.
The site originally marked the terminal at the Aqua Virgo aqueduct built in 19 BC.
One of the firts-storey reliefs shows a young girl (the legendary virgin after whom the aqueduct was named) pointing to the spring from which the water flows.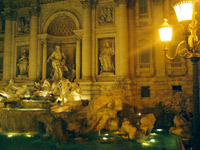 Appropriately for a fountain resembling a stage set, the theatrical Trevi Fountain has been the star of many films shot in Rome, including romantic films such as "Three coins in a fountain" and "Roman holiday", but also "La dolce vita", Federico Fellini's satirical portrait of Rome in the 1950s.
Tradition has it a coin thrown into the water guarantees a visitor's return to Rome.
---
How to get there:
Trevi Fountain is situated in the Trevi square (piazza di Trevi), within walking distance from the Spanish Steps and Piazza Navona.
---
Hotels near Trevi fountain