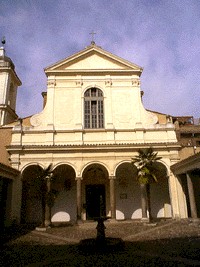 The Basilica that lies on Piazza Saint Clement adjacent to via Saint John in Lateran – not far from the Colosseum – is built on three levels of different epochs. The bottom part, the most ancient, was initially part of Rome's mint, then moved by Domiziano. Close to this in the II century a "domus" (home) was built, in whose courtyard in the III century a Mitreo was built (sanctuary of Mitra, god that was in charge of the equinoxes), where the main of the three areas with lowered vault was covered with pumice stone to fake a cavern.
The Mitreo soon became a "Domus ecclesia" (where the first Christians secretly officiated their rites) maybe of St Clement, identified like the third pope and made martyr by Domiziano. Above these buildings in the IV century the Inferior St Clement Basilica was built, that constitutes the second level. It's divided into three aisles by columns, it's preceded by a narthex and it was one of the most important palaeo-Christian basilicas.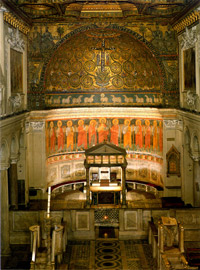 Ruined by the Normans in 1084 it was covered with earth and reinforced to support a new Basilica that was put above the rests of the ancient in 1108 by wish of Pasquale II. Finished in 1123 it presents a nice medieval quadric porch that precedes the entrance of the Basilica di San Clemente. This imitates the underlying church of the IV century with three aisles, each of which ends however with its own apse. The columns that separate the aisles are of different origin. In the central aisle is the Schola Cantorum of the XII century with elements originally belonging to the inferior basilica. In the first chapel to the right, dedicated to Saint Domenico, scenes of the saint attributed to Sebastiano Conca are represented.
In the first chapel to the left dedicated to Saint Catherine we find the famous frescos by Masolino da Panicate made in 1428-31 with the contribution of other artists among which maybe Masaccio.
Between 1713 and 1719 pope Clement XI entrusted of the repair Carlo Fontana, who took care of the actual late baroque decorations. On the façade (that opens on the homonymous square of Saint Clement and that precedes the quadric porch) under the late baroque "make up" of the Fontana the ancient brick vestibule is still visible, with granite columns from the XII century.
---
St Clement church is open daily from 9:00 to 12:30 and from 15:30 to 18:30 (from October to March only until 18:00). Free entrance.
How to get there: get off at the stop Colosseo of the metro and continue on via San Giovanni in Laterano (about 10 minutes). The basilica is on the homonymous square of Saint Clement.