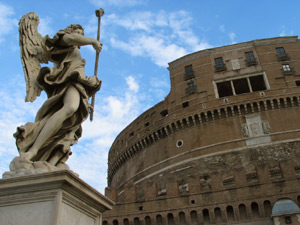 This Fortress was built as a mausoleum for the Emperor Hadrian (AD130-139), but it has also been a prison and a papal residence. It was used by former Popes who absconded there for protection in times of danger. There has been a covered passageway which still connects Castel Sant'Angelo to the Vatican.
The National Museum of Castel Sant'Angelo inside retraces its history. The castle has various exhibits ranging from Renaissance paintings and pottery to antique military weapons. A huge spiral ramp ascends upwards the Castel Sant Angelo for about 400 feet.
As in the last act of Tosca, admire the beautiful view from the terrace but don't throw yourself off – go for a coffe instead in one of the rampart towers.
How to get there:
Castel Sant' Angelo is located on the banks of the Tiber close to the Vatican.
Bus service 40 (express) from the main railway station.
Metro – Lepanto (Line A)
website: www.castelsantangelo.com
contact: info(-at-)castelsantangelo.com
Opening hours: April-September 9am-7pm
October-March 9am-2pm
(last admission 1hr before closing time), closed on public holidays.