Located almost in the 'geometric centre' of Rome (after a complex series of reconstructions),
Piazza Venezia was named after the Cardinal Venezia who, in 1455, ordered the construction of his own Palace (Palazzo Venezia) that later became the seat of 'Serenissima' (Republic of Venice).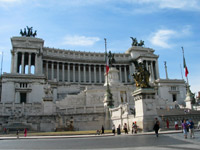 Close to the palace we can find Palazzetto Venezia that was reconstructed in 1882 and placed in the current location.
On the sqare, opposite to the palace we can observe the building of Assicurazioni Generali (insurance company) that replaced old structures.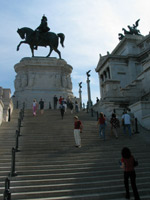 On the southern side of the piazza the outstanding Monument of Victor Emanuel II ('Il Vittoriano') can be easily spotted: it was build between 1855 and 1911 to celebrate the Italian Unification.
On the opposite side (north) we can see the Palazzo Bonaparte (home of Napoleon's mother) and Palazzo delle Aste with via del Corso in between. Close to the Palazzo Venezia stands San Marco Church, founded in 1336 by the Pope Marco, restored in 1792 and rebuilt in 1833 (the tower is the only original part of the church).
---
How to get there: bus n. 40 ­ stop: Piazza Venezia