The four rooms known as the Stanze of Raphael form part of the apartment situated on the second floor of the Pontifical Palace that was chosen by Julius II della Rovere, the Pope. as his own residence and used also by his successors. The picturesque decoration was carried out by Raphael and his pupils between 1508 and 1524.
Room of Constantine
Room of Heliodorus
Room of the Segnatura
Room of the Fire in the Borgo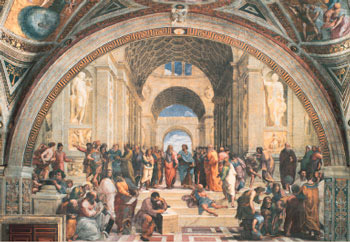 'The School of Athens' by Raphael, Raphael Rooms in Vatican Museum.