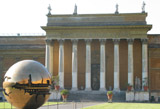 Covering only 110 acres, did you know that Vatican City is the world's smallest recognized independent country?
Vatican City State (Citta del Vaticano), is a one of UNESCO's World Heritage sites and its walled enclave is nestled within Rome (although a state in its own right). Vatican City has a population of less than 1000 people living within the Vatican walls! A tiny state indeed!
The Vatican Museums in Rome house their fabulous masterpieces in palaces originally built for Renaissance popes such as Julius II, Innocent VIII and Sixtus IV. Most of the later additions were made in the 18th century, when priceless works of art accumulated by earlier popes were first displayed.
Vatican Museum is also home to the world's most magnificent masterpieces such as Sistine Chapel and Raphael Rooms.
The walls of the Sistine Chapel, the main chapel in the Vatican Palace, are painted by the finest artists of the 15th and 16th centuries. The twelve paintings on the side walls, by artists including Perugino, Botticelli, Ghirlandaio and Signorelli, show analogous episodes from the life of the Christ and – Moses. The decoration of the Sistine chapel, the ultimate treasure of The Vatican museums, was completed between 1534 and 1541 by Michelangelo, who painted the great altar fresco, The Last Judgement.
Pope Julius II's apartments were built at the beginning of the 16th century and are part of Vatican museums today. Julius was so impressed with Raphael's work that he selected him to re-decorate the four rooms(le stanze). Raphael and his interns began the task in 1508, replacing existing works by several well-known artists, including Perugino's work. The beautiful frescoes express elements of rigidness and philosophical fetaures of the Renaissance.
---
Vatican Museum contacts:
Vatican City (Citta del Vaticano), Rome
Phone: 06/69883333 (Museums)
69884947 (educational activities and visits)
Opening hours:
Mon-Sat, and last Sunday in the month, from 8.45am-1.45pm (ticket office closed at 12.30)
Admission charges: full price €18, concessions €12
web: www.vatican.va