A masterpiece of the XVIII century, the square, with its irregular shape, extends itself at the feet of Pincio hill; on top of it the French Church Trinita dei Monti (1502) is located.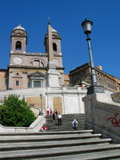 The square and the church are connected by the monumental Spanish steps, built between 1723-1726 (designed by Francesco de Sanctis).
The Spanish steps, once a year in the summertime, host a famous fashion show, and they are used as a catwalk.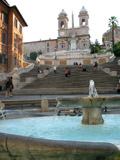 On the square we find the Barcaccia Fountain, built in 1598 by order of the Pope Urbano VIII to commemorate the disastrous flood caused by Tevere river the very same year.
The most glamorous Rome streets lead to Piazza di Spagna (via Condotti e via del Babuino).
The area around Piazza di Spagna is where to find the most prestigious boutiques such as Prada, Valentino, Gucci etc. It is an ideal starting point for your shopping in Rome.
Be aware: Because of the overwhelming number of tourists visiting these historical sights, new regulations have been put in effect. For example eating and drinking on many rome sights including the Spanish steps is forbidden. Also rolling your luggage on them is also forbidden.
---
How to get there: Metro line A ­ stop: SPAGNA