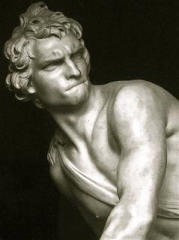 One might become suspicious of the obvious designs of the Baroque period, where bigger, louder, and wilder movement is supposed to express the absolute pinnacle of artistic expression in Western culture. Of course, it often didn't, and there is enough bad and boring Baroque art about to fill several museums. And then there is Bernini.

It seems that every century produces a genius or two, and in the 17th century, there was no doubt it was Gian Lorenzo Bernini. History can provide some very strange bedfellows at times. However, the matching of a great art patron in Cardinal Scipione Borghese with the young Bernini was a match that we still appreciate today.
How fortunate visitors to Rome are to be able to enjoy under one roof at the Galleria Borghese, the most important collection of sculptures of Bernini's long, creative life. And how fortunate we are when we enter Room 2 for the first time and stand in amazement as we look at his David.
The Masterpiece by Bernini
It was commissioned by Cardinal Scipione Borghese, and Bernini carved it at the age of 25 between 1623 and 1624. The piece confronts us, amazes us, and then dares us to remain emotionally passive in its company.
No submissive moment of contemplation here, as you see with David by Donatello in Florence, or the deep concentration, summing up his enemy, as magnificently portrayed by Michelangelo's David in the Accademia, also in Florence.
No, Bernini was an action man, driven by his great skill and his equally great ego to create a new visual ideal, a new David, full of action and incredible determination and self-belief. It's like the action you might see during a Monday night football game where the director freeze-frames a great hit or that perfect catch. A split-second piece of action, frozen and captured on film forever.
To think that this great artist captures a similar 'split second' of movement, frozen in marble that took at least twelve months to complete. Bernini used his own face as the model of his David, perhaps in the image of that pained but determined expression of a job in hand as he plowed through the massive marble block to create his masterpiece.
David had a job in hand as well, and it was to kill Goliath. We all know he succeeded, as did Bernini in this piece.
Bernini's Free-Standing Sculptures
As is often the case with the free-standing sculptures of Bernini, he invites us to journey around the piece, to view it from a variety of angles, and we do, almost as participants in the event. We are told that he received the Cardinal's request to sculpt David while he was still working on the sculpture of Apollo and Daphne.
It seemed he had no hesitation to abandon that project to start work on the new commission. According to records of payment, Bernini had started on the sculpture by mid-1623, while his contemporary biographer, Filippo Baldinucci, states that he finished it in seven months which this writer finds hard to believe.
The Leading Italian Sculptor and Architect
David was the last commission Bernini would take from the Borghese Cardinal. Even before it was finished, his friend and protector, Maffeo Barberini, was elected pope, taking the name Urban VIII. The new pope placed Bernini in charge of all artistic matters in Rome, culminating in his lifelong work in transforming St. Peters Basilica into the church we so admire today.
Borghese's early patronage of Bernini helped to establish him as the leading Italian sculptor and architect of the seventeenth century. A grateful Bernini did finish the Apollo and Daphne after he presented the Cardinal with the much admired David. The rest, they say, is history.