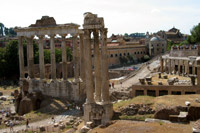 The Roman Forum (Forum Romanum) was the central area of the city around which ancient Rome developed. Here was where commerce, business, prostitution, cult and the administration of justice took place. Space where religious activities were conducted and the communal hearth of the city.
The Roman Forum was designed by the architect Vitruvius with proportions 3:2 (length to width). For centuries, the Forum Romanum was the site of the city's most important public buildings, such as the Arch of Septimius Severus, built in AD203 and the Roman Forum Rostra or platforms for public speeches. The reliefs on the triple arch represented many of Rome's victories over oriental tribes and the Rostra was decorated with prows of warships captured during battles. The Roman Forum became the spectacular showcase of the Roman Empire filled with beautiful statues and architecture.
The main sight of the Forum include the Arch of Titus (Arco di Tito), the Temple of Saturn, Temple of Vesta, and the church of San Luca e Martina. These are all linked by the Sacra Via, the main road through the Forum.
Links: